Online marketplaces are great for sellers to find customers. Here is the 13 best marketplaces to sell products on in Australia and New Zealand
There are plenty of online marketplaces to sell your products on these days. It's even possible to sell products in the metaverse. If you're a seller based in Australia or New Zealand, you're definitely not starved for choice.
We've compiled an up-to-date list of 13 sites where brands can sell almost any product imaginable in 2023. Here are the online marketplaces we'll cover:
Why should you use marketplaces to sell online
As a brand or retailer, you may already have your own webshop or other distribution channels.
If that's the case, looking for marketplaces to sell your stuff on can seem like a pointless waste of time. "Creating separate seller accounts on dozens of third-party sites just to list my products? No thanks!"
But as we've argued in this article, there are lots of good reasons to sell on third-party marketplaces, especially if you are looking to increase sales in D2C. These include:
Going where your customers already are
Gaining additional exposure for your products
Strengthening your brand across multiple platforms
Turning new buyers into loyal customers
So don't be afraid to dip your toes in the water by A/B testing your product data and then listing your products on at least a handful of the following marketplaces.
1. Amazon (Worldwide | All Product Categories)
Amazon needs no introduction. It's an ecommerce juggernaut, serving over 300 million active users. In Australia, 54% of online shoppers have used Amazon to buy something in 2020.
And Amazon is only going to grow further. It's expected to reach a whopping $356 billion in revenue in 2022. (Up from $316 billion in 2021.)
Amazon's truly global reach and the fact that it covers all major product categories make it a no-brainer for any brand eager to reach huge audiences.
As a seller, setting up an Amazon account and listing your products is a pretty straightforward process. You can even take care of your own order fulfillment via Fulfillment by Amazon (FBA), if you so choose.
Selling on Amazon offers great opportunities as you sell on one of the world's most well-known and trusted platforms, with a potential reach of millions of customers. If you're only going to pick a single marketplace to sell on, Amazon is a natural choice. Don't know where to begin? We answered the most frequent questions, including the first steps to optimising your online business.
2. eBay (Worldwide | All Product Categories)
eBay is another obvious online marketplace to consider. While not quite the behemoth that Amazon is, eBay has 182 million users globally. That's definitely nothing to sneeze at.
When it comes specifically to Australia and New Zealand, eBay is actually the largest online marketplace, with 62 million monthly visits compared to Amazon's 29 million.
From its humble beginnings as a pure auction site, eBay has since grown to serve as a true online marketplace for the sale of new products. Just like Amazon, eBay allows sellers to list products in every mainstream category.
eBay makes it easy for new sellers to get started. You'll get access to preset templates, price setting recommendations, and promotional tools. If you're mainly after the local ANZ audience, eBay is the way to go.
3. Catch (Australia | All Product Categories)
Launched in 2006, Catch is an Australia-based online marketplace. It carries products across a wide range of categories, even including groceries. The site's focus is to make online shopping affordable for regular Australians. Catch currently boasts over 3 million active customers.
What makes Catch stand out is its commitment to helping new sellers. As a Catch seller, you'll get dedicated support to optimise your product listings, promote your brand, and so on.
At the same time, Catch calls itself a "curated marketplace," which means the team carefully vets each potential seller. As such, you may find yourself ineligible to sell on Catch. It all depends on the match between your company and their acceptance criteria.
But if you can make it past the initial hurdle, you'll join a club of quality sellers on one of Australia's largest marketplaces.
4. Kogan (Australia | All Product Categories)
Kogan is another Australia-focused online retailer with a broad selection of products across all categories. Kogan is home to thousands of brands. It offers sellers a comprehensive suite of marketing tools including email campaigns and seasonal deals like Black Friday, etc.
Kogan claims to have an award-winning platform that excels at matching the right products with shoppers who're most likely to buy them. The team behind Kogan pride themselves on building long-lasting, win-win relationships with sellers, customers, and partners.
With 3 million customers and over 5 million products sold during 2021, Kogan is not a marketplace to ignore.
5. MyDeal (Australia | Home Products)
This Melbourne-based online retailer specialises in home and lifestyle products. They curate a list of over 1,000 sellers. MyDeal's product range spans furniture, gardening tools, books, electronics, sport & hobby equipment, and more.
Founded in 2011, MyDeal has since grown into one of Australia's largest online marketplaces with over 3.5 million monthly visitors. In 2020, MyDeal was listed on the Australia Stock Exchange (ASX) and is set to continue its growth.
If you sell home and lifestyle products and are looking to reach a targeted audience of Australian shoppers, MyDeal fits the bill nicely.
6. Bunnings Marketplace (Australia & New Zealand | Home Improvement)
Bunnings is Australia and New Zealand's undisputed leader in the home improvement space. Its physical stores supply contractors and DIY enthusiasts with the necessary tools and equipment. The bunnings.com.au website holds the impressive #1 rank in the "Home and Garden" category in Australia.
In 2019, Bunnings took the shopping experience online with the aptly named "Marketplace." Here, buyers of lifestyle and home products can purchase these directly from a list of "Trusted Sellers" curated by Bunnings.
Sadly, becoming a "Trusted Seller" on the Bunnings Marketplace isn't a matter of a few simple clicks. You must first fill out a "Seller interest form" and hope to get chosen. Still, being associated with a power brand like Bunnings is well worth the effort.
[Start selling on Bunnings Marketplace]
7. The Iconic (Australia & New Zealand | Fashion & Sports)
Founded in 2011, this Sydney-based retailer has since claimed the #1 spot in Australia within the "Fashion and Apparel" category. The Iconic sells products within the fashion, lifestyle, and sports categories and serves over 17 million monthly visitors.
The site's credo is empowerment of all people, including customers, employees, and partners. So our guess is that selling on The Iconic as a brand must be a pretty sweet deal.
At the same time, there's no self-service setup for a seller account. Instead, brands have to reach out to The Iconic and enquire about forming a partnership. With their brand roster boasting heavyweights like Nike, Calvin Klein, and Tommy Hilfiger, you'll be in great company.
8. TheMarket (New Zealand | Lifestyle)
TheMarket is a relative newcomer to the world of online marketplaces.
Launched in August 2019, the site has quickly reached the status of the largest ecommerce platform in New Zealand: Today, it's ranked #1 in New Zealand within the broad "E-commerce and Shopping" category.
TheMarket is home to hundreds of retailers. It maintains a curated selection of over 3 million lifestyle products within fashion, books, electronics, and more. It also offers shoppers a subscription program with free shipping and other perks (ala Amazon).
To become a seller, you fill out an application to submit your brand and product details. If approved, you'll get access to the largest online shopping audience in New Zealand.
9. Lazada (Southeast Asia | All Product Categories)
Founded in 2012, Lazada stakes a claim for being the leading eCommerce platform in Southeast Asia. Its main markets are Indonesia, Malaysia, Philippines, Singapore, Thailand, and Vietnam.
Lazada carries a huge selection of products in almost every category from over 155,000 sellers and 3,000 brands. It claims to serve 560 million consumers, which is more than 10 times the size of Australia's and New Zealand's populations combined. It's a pretty big market, is what we're saying.
For sellers, Lazada offers many different ways to get listed depending on their preferences. The sign-up process is free and straightforward. So if you're looking to expand your reach beyond ANZ, do give Lazada a try.
10. TradeMe (New Zealand | All Product Categories)
TradeMe started in 1999 as an auction and classifieds site like eBay. Today, it's expanded into one of the biggest online marketplaces in New Zealand. In fact, it's the fourth most visited site in the entire country, driving over 20 million monthly visits. TradeMe also holds New Zealand's #1 rank within the "Auctions" category.
The "Marketplace" section of the site lets sellers offer products across a broad range of categories. Creating a "Business Account" is a matter of filling out a single form. Then you're ready to create your product listings. Not only that, but the company provides seller onboarding and helps you optimise your listings for maximum effect.
TradeMe might just be one of the easiest ways to reach over 650,000 NZ shoppers on a daily basis.
11. MySale (Malaysia | Fashion)
MySale is the Malaysian subsidiary of the Sydney-based MYSALE Group, which also runs OZSale in Australia, NZSale in New Zealand, and SingSale in Singapore. It's Malaysia's prime shopping destination for fashion, homewares, and beauty items. MySale is home to dozens of instantly recognisable brands like Calivn Klein, Lacoste, and Puma.
But getting listed on MySale isn't exactly a self-service process. Your best bet is to first reach out to the parent MYSALE Group with an enquiry. If your brand is a good match, you'll be joining an impressive catalogue of fashion products with worldwide recognition.
12. Vivino (Worldwide | Wine)
If you're a wine connoisseur, you probably have the Vivino mobile app on your phone right now. Danish-based Vivino has become almost synonymous with wine reviews and shopping. Its database covers a mind-melting 14 million wines and serves almost 55 million users.
Vivino started out as a rather simple wine listing and comparison app but has quickly grown into a major community of wine lovers. The company has since launched an online marketplace that lets merchants sell directly to consumers and grow their reach. Thanks to its smart recommendation engine, Vivino can match the right wines with people most likely to enjoy them.
Vivino treats its merchants as partners, helping them reach a wider audience of eager wine shoppers. If you're a wine producer, there's likely no better marketplace to sell on than Vivino!
13. OZsale (Australia | Fashion)
OZSale is MySale's Australian counterpart, offering a similar selection of fashion brands, beauty products, accessories, and homewares. The company serves over 1 million monthly shoppers.
OZSale are specialists in off-price inventory sales, helping brands reach the more price-conscious consumers with discounted products.
OZSale is perfect for quality brands to offer affordable prices and expand their reach beyond their typical segment.
Just as with MySale, you can't get your products listed automatically. You'll want to first fill out a contact form to get in touch with the company and discuss a partnership.
Get a head start with selling on online marketplaces
Now that you know where to sell online, there's still a minor matter of how to go about it.
To help with this step, we've put together a "Selling on Marketplaces" ebook. It covers the challenges and benefits of selling on online marketplaces, as well as specific strategies you can follow. Specifically, you will learn:
The marketplace machine
Benefits of selling on marketplaces
Common mistakes sellers make
7 strategies for marketplace success
We also offer a sister guide to this one - The 14 Best Online Marketplaces to Sell On in the UK.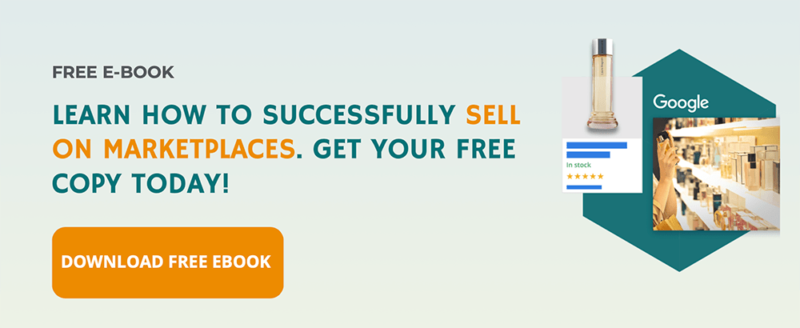 Expand your online visibility
Grab your free copy and launch into new marketplaces today!
Download free eBook
Tags