What are the benefits and disadvantages of Product Listing Ads? And how do you create them?
If you are selling online, it's vital to understand Product Listing Ads. They are sometimes simply known as Shopping Ads or PLAs. Whatever you wish to call them, the important thing to know is that they encourage clicks through to your website and can be excellent at increasing impressions, clickthrough rate (CTR) and ultimately, your revenues. Let's find out what Product Listing Ads are, how to set them up and their benefits.
What are Product Listing Ads?
Product Listing Ads are specifically designed for ecommerce and use a product data feed to display more detailed information than text-based ads. This encourages clicks on the products, which drives traffic to your ecommerce website or marketplace.
Google provides Product Listing Ads and as such, they can appear on many Google properties including Search, Google Shopping, Images and the Google Search Partner Network.
Competitors to Google have their own version of Product Listing Ads and frustratingly, they all have slightly different names. Facebook and Instagram have Dynamic Product Ads while Bing has Product Ads. They are broadly similar in their requirements but also have subtle differences meaning it pays to have a separate product data feed for each channel.
When someone thinks about advertising online, they might fear how much they cost. The important thing to remember about Product Listing Ads is that they are a form of PPC advertising (pay per click). This means that you don't waste money on any ads that don't link through to your website.
What do Product Listing Ads look like?
You'll definitely have seen a Product Listing Ad even if you didn't know that is was a PLA at the time.
As you can see in the examples below, they are a highly visual form of advertising and call to mind 'a picture speaks a thousand words'. Unlike text-based ads, the Product Listing Ads stand out and are particularly in the first example, are given top billing. Rather than long sentences of description, the product title, image and price are shown.
As well as this, they may have added pieces of information such as product reviews, location (if you wish to pick them up today) and 'Sale' tags. By pulling all of this information from a product data feed, it is much more likely for customers to click and convert.
These ads will show even more prominently if a user clicks the Shopping tab too, which definitely shows high intent.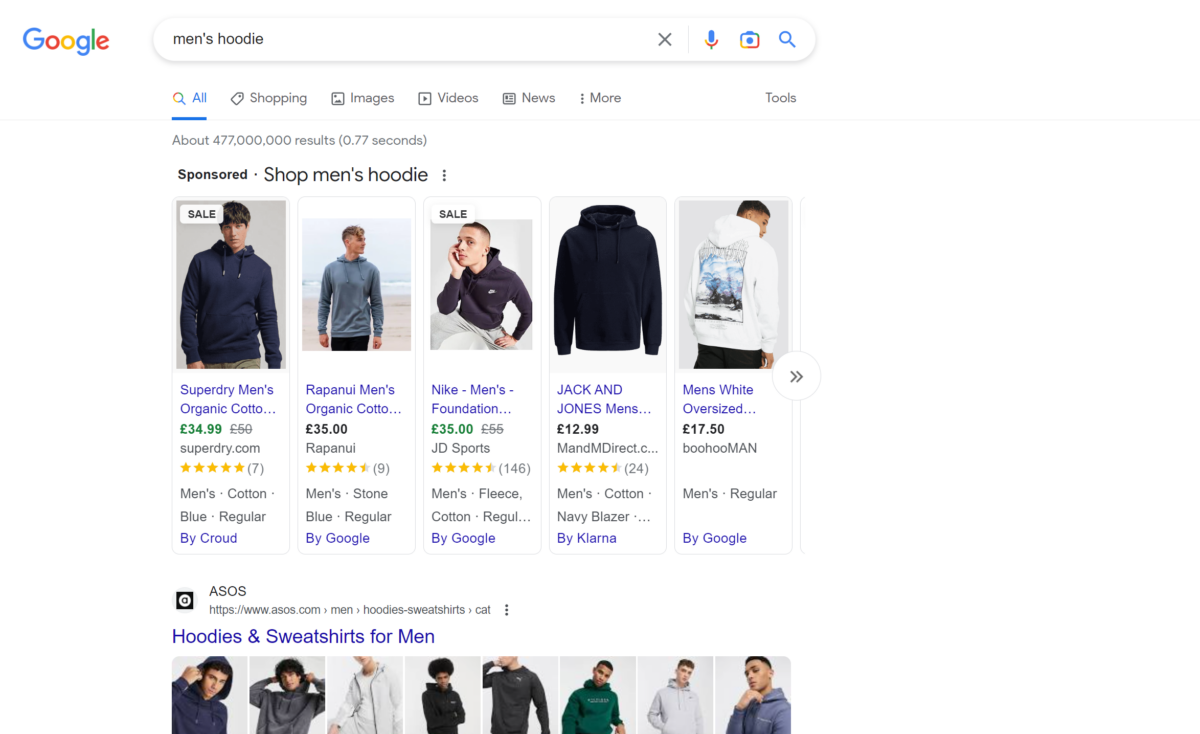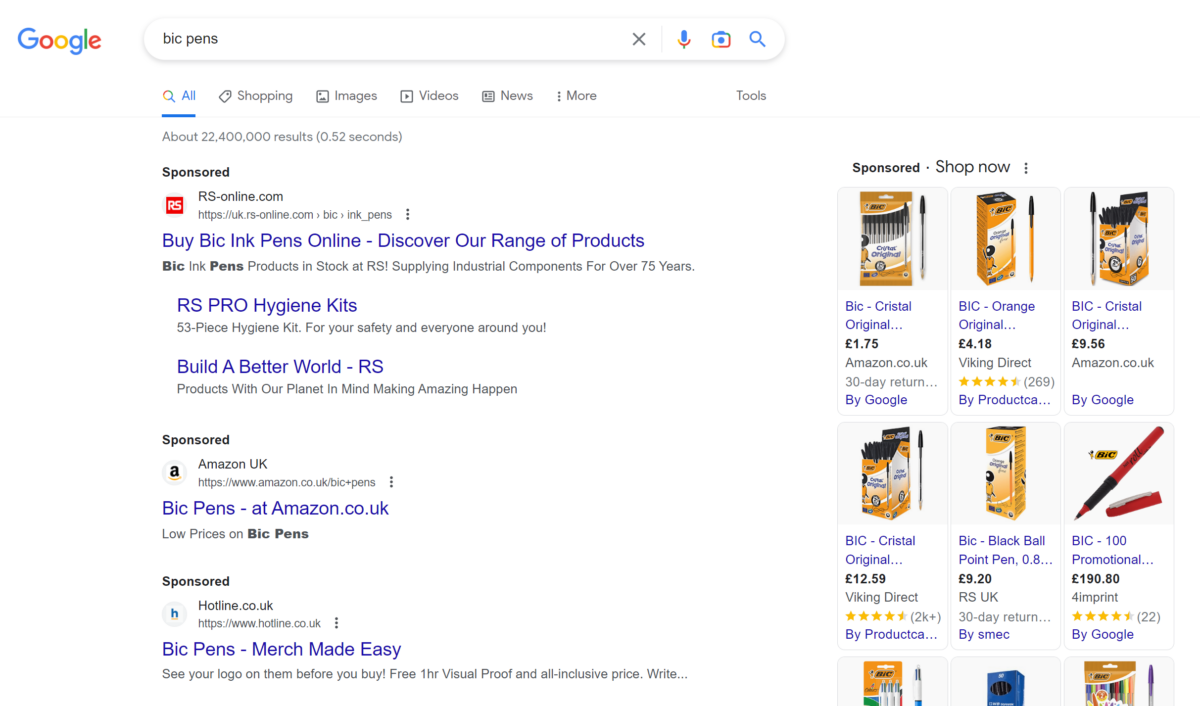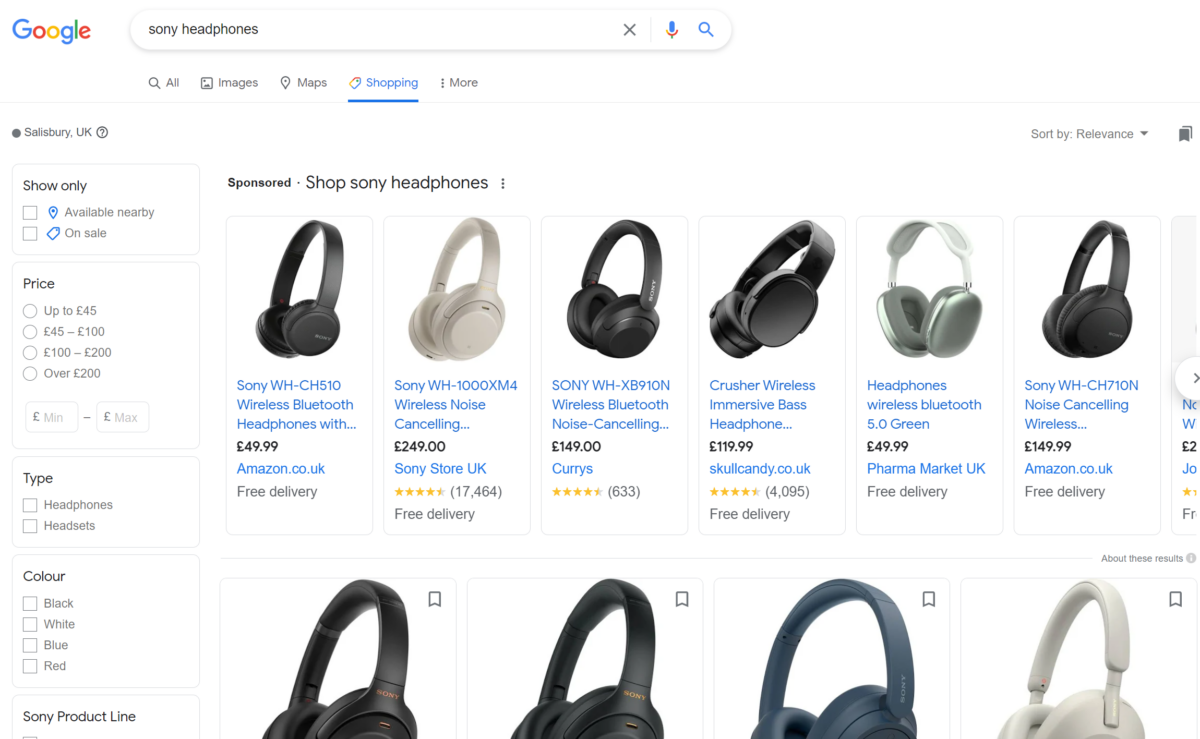 How does Google decide which PLAs to show?
Google decides which Product Listing Ads to show based on the intent of a user's search. Because Google generates PLAs from product feed data, it is important that this is fully complete.
It also pays to continue optimising the data. This ensures that your Ads show to the right customers at the right time. After all, you don't want a product showing if the user only wants to click but has no intention of buying!
The aim is to be the highest ranking of the ads to maximise the possibility of improving your clickthrough rate (CTR). Achieving this is a case of constantly A/B testing product titles and other data using a module like Content Experimentation.
As PLAs use your product data, it is important that you have a highly optimised product feed to make the most of the opportunity. Book a product feed audit from one of our experts and turn your products into bestsellers!
What are the benefits of Product Listing Ads?
The main benefits of Product Listings Ads are:
Visibility improvements – Rather than only a single ad showing, many of your products can show after a Google search. Your text-based ad may even list as well!
Higher CTR – PLA campaigns are shown to get more clicks due to being larger, their visual nature and because they offer more information to shoppers than other result types.
Better conversion rates – Because the product listing shows an image and price in the result, those clicking know what to expect and are more likely to convert.
Wider reach – Your products will have a wider reach as you expand your online marketing strategy.
Top billing – Ads are often the first item people will see when they conduct a Google search. This is especially true on mobile.
In short, if you are selling directly to consumers, it is pretty much a must to use PLAs. That being said, there are some disadvantages to them.
What are the disadvantages of Product Listing Ads?
Although PLAs are great for most ecommerce businesses, some might struggle to make them work. The main disadvantages of Product Listing Ads are:
Bidding can be expensive – Brands and retailers with smaller advertising and marketing budgets might struggle to leverage the benefits of PLAs. Even so, it doesn't hurt to start small and see how it goes!
Inventories need to be high – PLAs improve product visibility but this can be affected by smaller product amounts. If there are fewer than 500 different SKUs in your feed, they might not be the right option for you.
Competition – Independent retailers might struggle against competitors with larger pockets. If they are also bidding on competitive keywords, visibility improvements may fail to arise.
One way around these disadvantages is by selling on 3P marketplaces (otherwise known as third-party marketplaces). For independent or smaller businesses, the likes of Etsy or Amazon will cover this form of advertising as part of your fee. The downside? They might be advertising a competing small business instead!
How to set up a Product Listing Ad
Setting up a Product Listing Ad is straightforward and follows a simple five part process.
Upload your product data feed to Google Merchant Center (or Google Merchant Center Next). You can continually optimise and update your product feed by using Intelligent Reach.
Create a new PLA campaign in Google Ads and set your goals.
Create Ad Groups targeting specific products, ranges or categories in your data feed. Again, Intelligent Reach can take these to the next level with our Label Manager, which uses automatic dynamic labelling. Products move in and out of your categories autonomously.
Set your bid. Product Listing Ads operate like an auction and charge a cost-per-click. An advert shows based on relevancy and your bid price.
Monitor campaign performance. By tracking reports and statistics, you can see how your PLAs are performing. By using Data Connector, it's possible to access all this data from one platform.
Amend campaigns based on performance. Rinse and repeat as required!
Unlike text-based ads, no keywords are specifically targeted. Instead, Google shows your Product Listing Ads if your product data matches the user's search query. That doesn't mean you can't work around this! It's important to therefore make sure that the keywords you wish to rank for are mentioned in the product title, product type and description fields.
Does good product data affect Product Listing Ads?
Making sure you have good quality product data is a must when running ad campaigns.
It's best to start with the basics and this means making sure that you are conducting good product feed management by filling in every possible field in your feed. Intelligent Reach offers a data quality score within the platform, highlighting any areas that require improvement. Not sure if your feed is up to scratch? Book a free product feed audit.
Because of the way PLAs work, certain attributes are more important than other. Having a clear, high quality image is a must. Be sure to check out our article offering great Google Shopping Images tips.
Alongside this, make sure that your data also includes all of the most important product information in the product title and its description. Is your product seasonal? Perhaps change the product type to reflect this.
Find out the difference between Product Type and Google Product Category.
Although product titles can be 150 characters long, the first 25 and 50 are the most important. This is because these are the most likely to be shown in the ads themselves before getting cut off.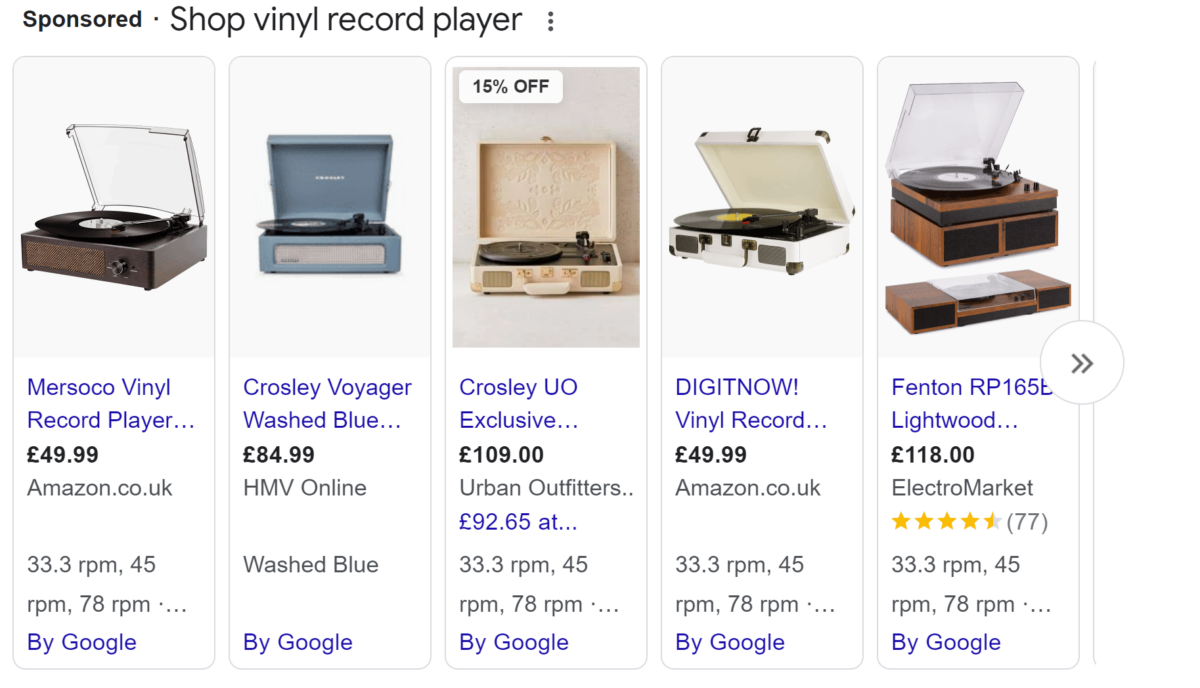 Reviews, price or whether product has local inventory or free delivery are also great to include in your PLAs.
Advice for Best Results
As with anything, there is some best practice to be aware of when starting a Product Listing Ads campaign. Aside from optimising product feed data, which has been emphasised a lot in this article, these are some other things to be aware of:
Product segmentation – An excellent way to achieve optimal performance with your ads is to use product segmentation. By using this correctly, you can make sure that you are only bidding on products that you want to feature in your ads. It ensures that you are able to show more inventory and optimises your bidding process. Learn more about product segmentation and dynamic labelling.
Content experimentation – By A/B testing your data, you can scientifically prove what works and what doesn't. Does putting the brand in the title work for your products? Or perhaps your products benefit from a special product type? Improvements will vary depending on what you are selling and there is unfortunately no one size fits all approach.
Enhance ads – By highlighting special offers, promotions, ratings, reviews and more, customers enjoy a better user experience and more likely to click on your products.
Look into Local Inventory Ads if selling locally. They are Google's version of Facebook Store Traffic ads and rely on geo-tagging the advert to a particular location. Extremely useful if you own a shop that you would like customers to visit.
How do I find out how my Product Listing Ads are doing?
Find out how Product Listing Ads are doing by regularly checking Google Merchant Center. Not only will it shows reports and advanced data metrics, it will also help you to identify errors and report warnings on your product feeds.
This can be made easier by using Intelligent Reach. Data Connector brings all of this data into the platform while offering a data quality score, one click fixes at scale and much more. Saving time and improving productivity, it is an ecommerce platform that offers an award-winning product feed management solution (most recently at the SaaS Awards 2023 for Best SaaS Product for Product Analytics).
Conclusion
Product Listing Ads are an excellent way to take your ecommerce efforts to the next level. Not only are they more visible on search engines and supply more product data to customers, but they also improve clickthrough rate from high intent consumers.
Even so, as ecommerce increases in complexity, it can be difficult to maintain control of everything there is to know about product data. This is especially true when you move onto advertising on other sites like Facebook, TikTok, Pinterest and YouTube. By using a product feed management tool such as Intelligent Reach, you can take your PLAs to the next level.
Want to Learn More?
Discover the true power of the IR platform - book your demo today
Book a Demo
Tags