If, like many retailers out there, one of your biggest issues is a lack of product exposure on ecommerce channels, then you've come to the right place.
We've been implementing experimentation for more and more of our clients lately, and have seen some excellent results – so, we thought we'd share them with you!
Why experiment on product data content?
Manual product data optimisation and management can only get you so far sometimes. Taking your Google Shopping campaigns a step further requires a more scientific approach.
There will be times when you'll want to compare keywords, attributes or images to find out what makes your ad perform the best. The best way to do this is with A/B tests.
Getting started with product data quality
Doing all that work of managing your data feeds and seeing no return is a frustrating experience that keeps many digital marketers awake at night.
It was this pain point that led us to our Experimentation module. Sometimes you simply cannot guess what will make customers click – or make your ad appear.
You need to test, scientifically. And once you've got concrete results, you'll find that you:
Feel more secure in your decisions
Meet your key-performance-indicators (KPIs) sooner
Drive return-on-ad-spend (ROAS)
Get a promotion (hopefully!)
Product data management & optimisation: a prerequisite for success
Make a non-branded search for a product on Google and see what comes up. It's probably something like this: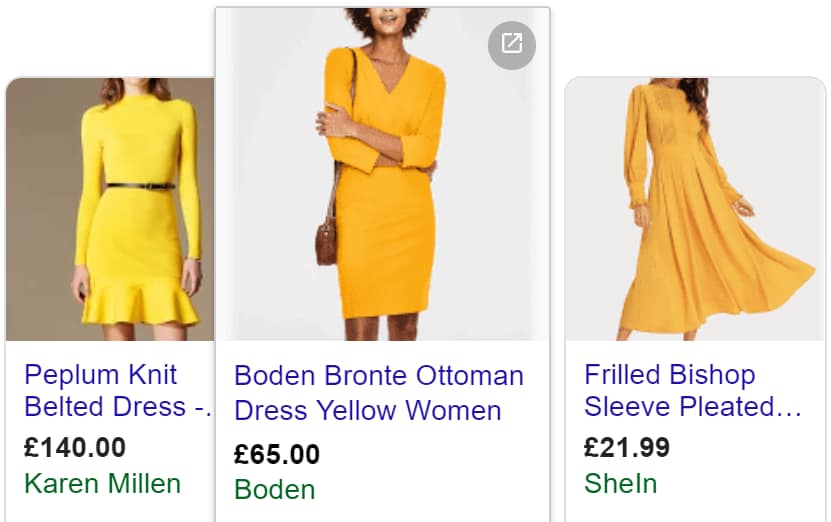 These retailers are doing something right. To appear at the top of searches, you need a complete, optimised and rich product data feed as well as a great bidding strategy.
This is because your product ads are fed from your data. The attributes you use will determine the ads' relevancy to consumer searches. Accuracy will also increase your Google quality score (or relevance score on Facebook), which is a big factor influencing how you rank.
These three steps can be taken to achieve a good quality score and a top-ranking ad:
Follow the product data specifications and have an accurate data feed
Include high quality, attractive images
Categorise the products accurately and granularly
In a recent study, Intelligent Reach found that more than 70% of retailers had incomplete or incorrect product data feeds, impacting their ability to be seen.
How does experimentation on product data work?
Management and optimisation can only go so far. Product data experimentation takes care of the next step – that is, determining what product attributes drive the best engagement.
What's more: experimentation ensures that your campaigns are fetching the highest revenue and customer acquisition rates possible without increasing your ad spend.
Product data experimentation offers insight into emerging trends and evolving best practice, which means that you don't need to keep inventing the wheel. It will also provide you with a piece of mind, knowing that you won't miss a thing.
There are three different types of experiments that work with product data:
A/B testing – The most popular of the three. Most experiments we run are A/B tests. This is where we take one or a group of ads and split it into two groups. The first is the control; it's unchanged. The second has some variant adjusted, which could be the title, image or category. We run the two groups beside each other for about thirty days, then monitor performance.
Before and after – This a similar scenario, just that we run the ad for thirty days as it is then for another thirty days we change the variant and see how the performance differs.
Multivariate testing (MVT) – This is where we take one or a group of ads, split it into two groups (similar to A/B testing) then adjust variants in both groups. We then run the two groups beside each other and see which performs best.
You can experiment with three different product data attributes: title, category and images, across a variety of channels such as Google Shopping, Facebook, Pinterest or Amazon.
The Experiments
Titles
Titles are great to experiment with as they are not only essential for driving product visibility but also drive engagement. Put the wrong things in your titles and your ads will end up invisible or simply unappealing; resulting in low engagement and click-throughs.
Experiment #1)
Client A, a grocery retailer, was struggling with visibility on Google Shopping. After examining their product data feed, we realised that they weren't including the product type in the title. The product we specifically experimented with was alcoholic drinks.
In an A/B test, we added the product types, "wine" or "beer" to the title, then ran it against the original titles. By doing this we were able to catch non-branded searches as well as branded. Client A, as a result, saw:
Experiment #2)
For client B, we wanted to test around internationalisation and experiment with different product names in the title. We ran an A/B test, where we tested "jumpers" against "sweaters" in the US. As a result, the changed group with "sweaters" saw:
Category and product type
Categories are more important than you may think in terms of appearing for the right search terms – or of course – appearing at all!
This is because it's yet another way for Google Ads to learn about the product you're selling. The more the channel knows about it, the better it can match it with relevant search queries.
Experiment #1)
Client C, a US footwear retailer, was struggling with visibility as their product types weren't being optimised for seasonality. After examining their campaigns, we found that a possible way to increase clicks and impressions was to run an MVT test. We added "spring break footwear" to one group and "vacation footwear" to the other. As a result, we saw that impressions rose because they were matching with seasonal keyword queries. The result?
Experiment #2)
For client D, a footwear brand, we decided to run a before and after test around the Christmas period. By adding phrases such as "Christmas Gifts", "Christmas Formal Shoes", "New Year's Eve Formal Shoes", we were able to drive:
Images
Images are a key driver in clicks, so it's important that your images be high-quality, and that care is taken as to how you present the image.
As always, the image needs to follow the channel's rules. For example, Google Shopping forbids overlay-text or watermarks, whereas Facebook allows such adjustments. You need to work out what works best for which platform.
Experiment #1)
For Client E, a clothing retailer, we noticed that their Shopping Ads weren't converting as highly as they should have been. We saw that their images did not include a model; just a pair of trousers against a white background. We experimented by using model images instead.
This saw an immediate result, with more people clicking through and converting.
Experiment #2)
For the same client, we tested two types of images against one and other. We noticed that Shopping Ads that included images of normal legs were converting less than those where the model's legs were tanned. We experimented by replacing all the pale-legged images with tanned-leg images.
The result? Impressions and clicks were increased, and this particular retailer said bye-bye to pale legs!
Clicks: +67%
Conclusion
Experimentation works - this we can attest to. Instead of leaving certain things up to guesswork or luck, scientific testing offers a great way to maximise the profit from your campaigns.
If you would like more information surrounding experimentation or would like to speak to us regarding how we can help you start testing your product ads, get in touch!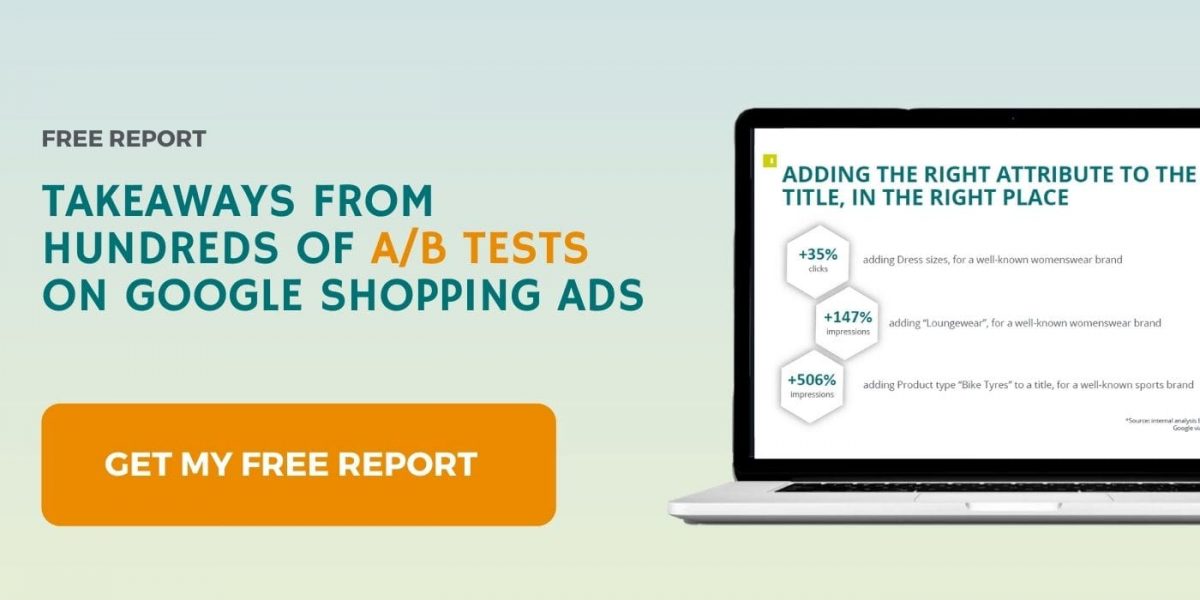 Want to step up your content experimentation?
We run hundreds of a/b tests every year, and we've summed up some key takeaways
GET MY FREE REPORT
Tags