Product feed management tips that are easy to do. Fix your product feed in time for Black Friday and watch the results.
Product feed management doesn't have to be difficult and with Black Friday coming soon, you'll be wanting to maximise your sales. That doesn't always mean that you need to be increasing your ad spend either. A lot of tricks for better Black Friday sales come from your product data feed and its optimisation. We'll be covering:
Product Feed Management begins with High Quality Data
Increasing clicks, impressions, and return on ad spend (ROAS) on Black Friday all starts with your product feed. How does it look? By opening your product feed and spending some time going through it, you will notice how to improve it.
The first thing to think about is 'is every category and field filled?' This is product feed optimisation 101. Most product feeds that we see are not complete. This means that Google Shopping and other e-commerce websites are not working from a full data set! Applying for a job without a complete CV or resume would be foolish. So why are you sending data to these channels without filling out all of the data that they require? Some fields may not be mandatory but if marketplaces such as eBay or Amazon are asking for them, it makes sense to fill them in. The rewards could be huge!
A quick example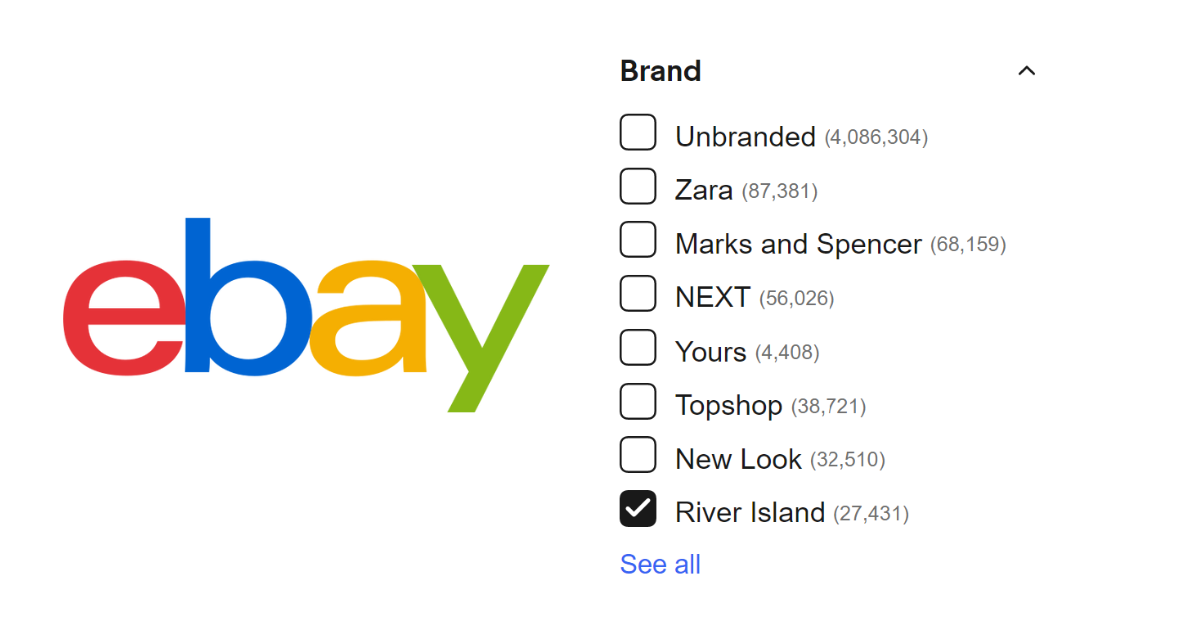 A customer on eBay may want to purchase a pair of jeans. Having typed in 'Jeans', they decide they want something branded. Therefore, on the left side of their screen, they select 'River Island'.
If a seller put 'River Island Jeans' in the Product Title but failed to fill out the Brand category with 'River Island', their product will be omitted from results.
So that's tip number 1 – make sure that your product data feed is of a high quality. Achieving this simply means filling in every section of your product data feed.
Note: Each marketplace may have slightly different guidelines for what is required. To save time, why not use a product feed management service such as Intelligent Reach? Our platform will highlight invalid fields, missing categories, and more.
Use the terms customers are using in your product feed
It's difficult to focus on increasing clicks and impressions if customers aren't searching for your products. When conducting analysis of your product feed, it's good practice to assess your field and category choices.
The product title is a good one to focus on because that is what customers will be searching for on Black Friday. Moreover, colours are also a great are to update. Do you generally such for a dragon-coloured jumper or would you search for something green? Vermilion may be a shade art students know, but most consumers would use 'red'.
The product type is also an excellent area to update, especially if a company is operating worldwide. Shoes > Sneakers may make sense in the US but in the UK, Shoes > Trainers would make more sense. Likewise, Australians and Americans have pants, which those in the UK call trousers. Pants in the UK are very different! (Don't get us started on the surprise an Australian might have if they were searching for what the British call 'flip-flops' either; thongs are very different in the UK!).
Note: Find out the difference between Google Product Category and Product Type.
A quick example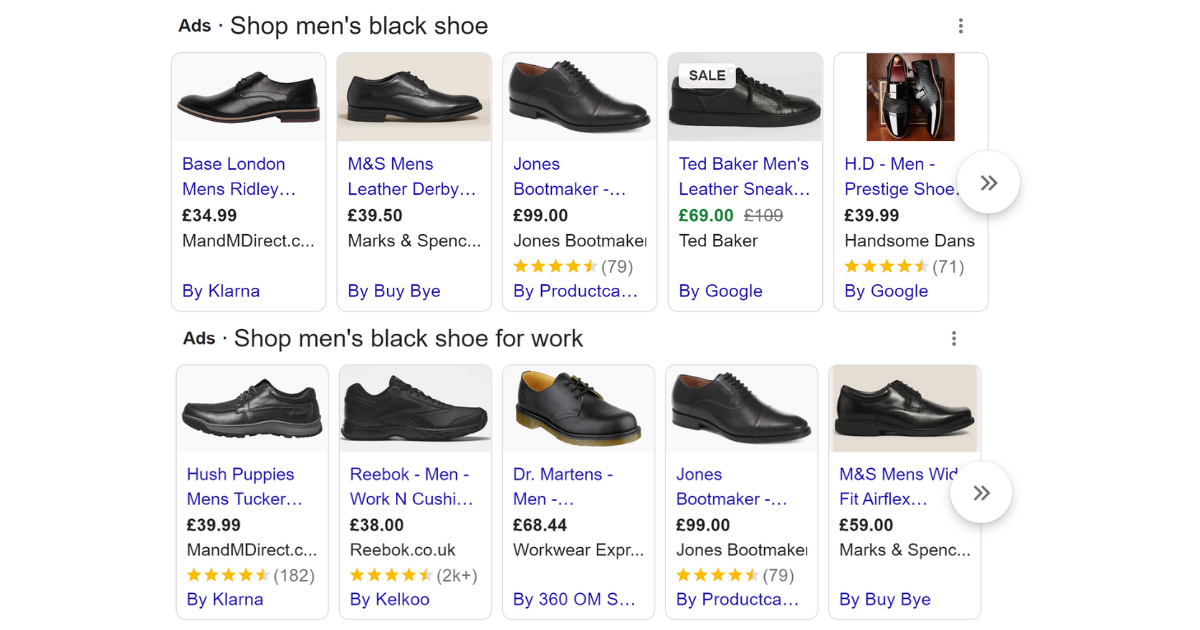 The product title is what comes up when people visit a search. In a nutshell, what is your product? Will someone searching for a 'men's black shoe for work in a size 7' find the black shoe that you offer? Or have you neglected to mention that the brand new 'SUPERIOR EXCELLENCE GENTLEMAN'S EDITION' is a black shoe? Very few customers will be searching for 'Superior Excellence Gentleman's Edition' but they will be searching for a man's black shoe.
You can test this out by heading to Google and searching for different variations of the same product. 'Men's black shoe' will give different results to 'Men's black shoe for work' (see above). So get optimising!
Focusing on what customers use has seen incredible results for companies. One large fashion retailer found that adding gender to more than 10,000+ SKUs saw a 26% increase in Click Through Rate (CTR). Think of the effect that might have on Black Friday.
Be where customers expect you to be
In the traditional days of commerce, customers would visit a shop to buy an item. They could only shop around as much as was possible within the high street. If only three shops sold CD players then they would be purchasing a CD player from one of those very soon!
Nowadays, customers are far more likely to shop around, most often to find the best price. Marketplaces make it a lost easier to find many different versions of the same product from multiple retailers. Finding the best product for your needs has never been easier.
Although brands and retailers might like to think that most customers visit their shop because of brand loyalty, that isn't always the case. From our research (click here for the free report on the product data challenge in the UK), we found 44% of searches for a specific product begun on marketplaces. This was higher for older demographics - 51% of those aged 45-54 and 58% of those aged 54+ begin searching for a product on marketplaces.
Searching on Google was the next most popular option with only a small number of customers beginning searches on a retailer or brand's website. What does this tell us? You need to be in as many as possible to reach consumers. Many retailers are ignoring this advice with only 54% selling on marketplaces and 31% advertising on them. A missed opportunity ahead of Black Friday? We think so.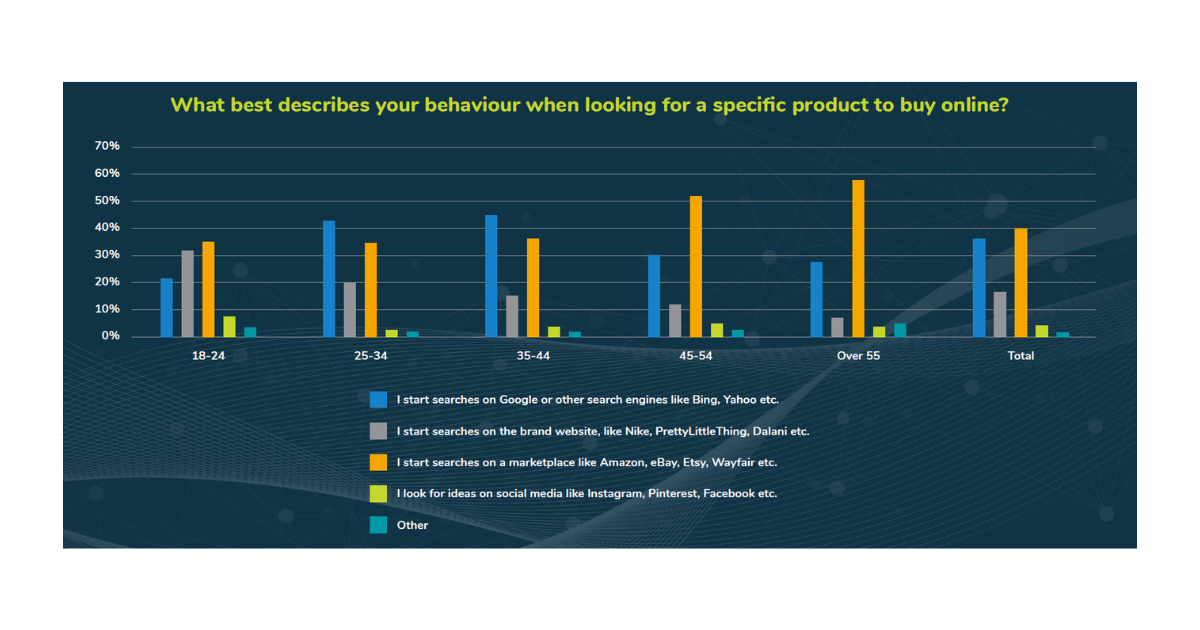 A quick example
River Island is a UK-based fashion retailer that has a presence in 125 countries worldwide. Before working with Intelligent Reach, they didn't feature on Google Shopping. We worked with them on their launch, which saw clicks increase by 35%, orders up by 42% and a revenue increase of 49%.
River Island was able to use its successful Google Shopping launch to assist in their Black Friday and Cyber Monday campaign later in the year, leveraging the Intelligent Reach platform to boost their 'Cyber Weekend' success. Read the River Island case study.
Conclusion
Sales during the peak season don't have to be difficult. Yes, it's competitive and harder this year due to the cost of living crisis, but brands, retailers and digital agencies are succeeding. They are doing so by ensuring the basics are covered. So remember:
Product feed management begins with high quality data
Product feed optimisation - use the terms customers are using in your product feed
Be where your customers expect you to be
If you follow these three basic data feed management tips, brands and retailers will give themselves a great chance of increasing sales on Black Friday.
Want to Learn More?
Discover the true power of the IR platform - book your demo today
Book a Demo
Tags