Announced by the company at Google Marketing Live 2023 in May, what is Merchant Center Next?
Fresh from announcing Project Magi, Google has been busy creating Merchant Center Next, a new and simpler version of Google Merchant Center. But what is it? What are its limitations and how does it differ from its predecessor? Most importantly, how can you import products into it? Let's find out.
What is Google Merchant Center Next?
Google Merchant Center Next is the company's latest version of their ecommerce dashboard. Alongside a new user interface, some features are receiving upgrades while others are disappearing from the platform completely. It's an interesting development for product feed management.
In theory, it will provide a better user experience for ecommerce marketers. After all, the main focus of the upgrade is automatic detection of product data from your website. Google will pull information such as product title, description, price and product image directly into Merchant Center Next, making feed maintenance a lot easier for companies with thousands of SKUs.
A benefit of this is, of course, that there will be fewer errors in your product data feed for selling on Google Shopping.
Download our guide on How to Sell on Google Shopping.
When is Google Merchant Center Next released?
Google is already rolling out Merchant Center Next and expects to be doing so until some time in 2024.
Desperate to upgrade? Unfortunately there is no way to manually switch to the new version – you simply have to bide your time!
On the flip side, if your business already has access to the new platform (new accounts will do so), it is currently possible to return to Google Merchant Center instead. If you choose this option, you will not be able to return to Google Merchant Center Next. Or at least, you won't be able to do so until Next completely replaces the current version for all users.
How to import product data to Google Merchant Center Next
Although in its infancy, Google has already written about how to import product data into Merchant Center Next.
There are five methods available to users – automatically from an online store, automatically from an ecommerce platform, from a feed file, from a Google Sheets document and manually one-by-one(!)
How Merchant Center Next automatically detects products on your website
Automatic detection of product data is Google's big new feature and it's easy to set up.
After adding the URL of your website, Google will crawl it, syncing the most recent data with Merchant Center Next. It really is as easy as that!
Having said that, it is important that Google is able to crawl your site. This means ensuring that your website has a sitemap and that you are using structured data markup. If you have been selling for a long time, it is likely you will already have these things in place.
As with everything in Google, changes might not be immediate. It can take up to 3 days for products to appear in Google Merchant Center Next. Since it's automatic though, the process will be ongoing for as long as you are selling on Google Shopping.
The benefits of using Google Merchant Center Next
Aside from the automatic product data updates, there are other benefits to using Merchant Center Next.
UX improvements
The Merchant Center has undergone a glow up! Google has prioritised a cleaner look for Merchant Center Next with an improved organisation system. By improving the visual dashboard for users, it should be easier to navigate once you have gotten used to everything.
An example of this can be seen under the product diagnostics tab. A pie chart replaces the bar graph in detailing what has been approved, or not approved as well as what is under review or has been limited. This slightly different wording is meant to make things clearer for users (with 'expiring items' no longer used).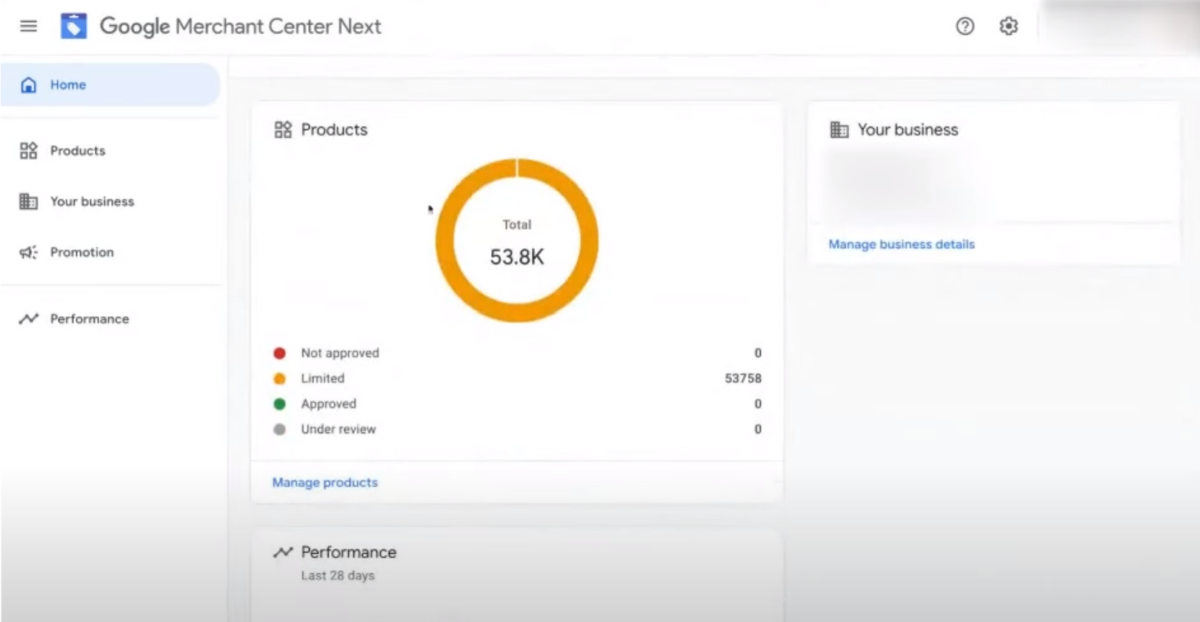 Edit products within the platform
It is now possible to edit products with Google Merchant Center Next. Whereas previously it was only possible to upload or delete products, now it is simply a case of clicking a product and editing its attributes directly in the platform. As part of Google's streamlining, there are now fewer filters available to users too, again to aid simplicity, though whether this is a benefit or a negative will depend on if you used the now-deleted options.
Click Potential
This is a very cool new feature for marketers. 'Click potential' is a new tab that predicts how likely it is for your users to click on your product listing ads (PLAs). This is based on historic data from your account, as well as comparisons to the performance of your other product ads. The idea is that you will be able to optimise your listings effectively, turning those with low clicks into bestsellers.
What are the negatives?
Change isn't always good for some users. If you are unsure whether or not to switch to Google Merchant Center Next, consider these current negatives.
Fewer filters
When wanting to filter products, there are currently fewer filters than previously. This is all part of Google's streamlining efforts but your favourite filters may well have been removed in the current incarnation of Merchant Center Next.
No way to see the product feed
Wanting to see your product feed in the new version of Google Merchant Center? Unfortunately you can't. The Feeds tab has been removed. Thankfully checking the source of your data is still doable within the platform.
Diagnostics timelines aren't available
Google Merchant Center provides a product diagnostics timeline when users look at their product data and whether items have been allowed or not. This timelines has been lost in Google Merchant Center Next, a problem if you like to see the progress that you and your team are making.
Growth tab is gone
The Growth tab in Google Merchant Center is extremely useful because it gives users access to various reports (bestsellers, price competitiveness, etc.) It was a way for users to improve their product feeds and campaigns, driving clicks and stimulating growth. It's removal feels like an odd decision but perhaps Google feels 'Click Potential' replaces the need for it. (Either that or the Growth tab will return but…not yet!)
Product performance date ranges can't be changed
If you are a fan of manipulating product data to see how your products are performing then you may wish to hold off on moving to Google Merchant Center Next. Although the Performance and Promotion features are still present, it's not currently possible to change the dates on a product's performance. This feature is still available in Google Merchant Center.
Optimising is a manual process
Although being able to edit product attributes directly in Google Merchant Center Next is great, it's a manual process. By that we mean that marketers have to update each product one by one. That's right, there is no bulk edit option! This makes optimising cumbersome and slow.
If you want to optimise your product data effortlessly and in bulk, find out more about Intelligent Reach.
No help for selling elsewhere
Google Merchant Center Next is only useful for helping you sell your products on Google. This seems obvious but if you sell elsewhere – like on marketplaces or via social commerce – Merchant Center Next is not the solution to your problems as it's yet another dashboard that you'll still need to maintain.
If you wish to sell on marketplaces, your own website, Google, social media channels and more, it's probably best to look into using a product feed management platform.
Learn how to sell on Pinterest and how to sell on TikTok.
Improve product feed management with Intelligent Reach
Selling on Google Shopping, running Product Listing Ads or working on Performance Max campaigns? You'll have to use Google Merchant Center in some form whether it's through the well-known dashboard or the new Next offering.
Even so, that shouldn't be the end of your product feed management. By using a third-party platform like Intelligent Reach, it makes optimising product feeds easier for use on any digital channel across the web.
Sell on more channels easily
Every digital channel on which you sell requires a specific version of your product feed. Fields that might be required for selling on eBay might not be a requirement for selling on Facebook or through 3P marketplaces. It is hard to keep on top of all of this manually, which is why top brands are using Intelligent Reach to improve listings on more than 1,500 digital channels!
Improve product analytics
At the SaaS Awards 2022, Intelligent Reach won the award Best SaaS Product for Product Analytics. Combining modules including Data Connector, allows users to gain performance insight for complex Google Ads setups. As well as this, Label Manager and Content Experimentation shows how clients can create tests on different product segments while tracking impact with unlimited dynamic labelling (e.g., 'bestsellers').
These integrate with our bespoke machine learning technology. This ensures thousands of products have optimal product categories, especially as category mapping is a major pain-point for customers. The result is an easy-to-use platform - a complete Product Data Management solution. This has been developed with self-serve tools, allowing users to setup product feeds for new markets in minutes.
"The SaaS Awards were truly taken aback by how comprehensive and potent the provided solution is. The performance viewer, when used in conjunction with content experimentation and other modules, enables businesses to identify underperforming items and provide explanations for why they are underperforming, which is a very unique capability. Well done, Intelligent Reach!"

Christopher Southall - Lead Judge, SaaS Awards
A/B test product attributes and bulk edit product data
With Content Experimentation, it's possible to run A/B tests and MVT test on all of your product data across any sales channel. If an experiment is successful (for example, changing product titles), it is possible to implement this at scale across your products in just one click. Alternatively, it is possible to bulk edit using the Product Viewer. This isn't currently possible in Google Merchant Center Next.
Achieve impressive growth
There is no guarantee to improve ecommerce results but by using Intelligent Reach, client are at least giving themselves the best tools possible. On average, across a 12-month period, customers saw +79% impressions, +109% clicks and +16.7% conversion rate.
Learn more - book a demo of Intelligent Reach and see what you could achieve.
Want to Learn More?
Discover the true power of the IR platform - book your demo today
Book a Demo
Tags