From TikTok ad types to social commerce and selling on TikTok Shop, our comprehensive guide covers everything you need to know about selling on TikTok.
TikTok has rapidly grown in popularity over the past few years, becoming one of the most widely used social media platforms in the world. With its more than 1.5 billion active users, it is no surprise that brands are looking at ways to sell on TikTok as the platform offers a vast and diverse audience to whom businesses can market their products.
In this guide, we explore how businesses can sell on TikTok, the benefits of social commerce and selling on TikTok Shop, the various ad types, and tips for maximizing your sales potential on the platform. We'll also look at going beyond TikTok and enhancing your marketplace management strategy. So whether you're a mega corp or a D2C seller looking to increase sales, this guide is for you.
What is Social Commerce?
Social commerce refers to the use of social media platforms to sell products and services. Social media platforms like TikTok, Instagram, and Facebook have made it easier for businesses to connect with their customers and drive sales. By leveraging the power of social media, businesses can reach a wider audience and increase their brand visibility.
Social commerce also allows businesses to build relationships with their customers, create personalized and targeted marketing campaigns, and receive instant feedback on their products and services.
Learn more about the rise of social commerce.
Why Sell on TikTok?
TikTok is the social media app of the moment. With more than 1 billion users logging into the app each month, it is an excellent place for brand engagement. The hashtag #tiktokmademebuyit had enjoyed 10.1 billion views by June 2022, while 79% of TikTok users in the UK have discovered new brands via the app. 54% of users have gone on to purchase a brand after seeing it in the app. In short, TikTok is a fantastic place to be selling and growing your business in 2023, especially if targeting men and women under 35.
Women make up the majority of users on TikTok (57%), with women aged 18-35 making up 41% of the social media platform's global user base. To keep it simple, we've outlined the demographics that make up 73% of TikTok users below:
Women aged 18-24 – 23.8%
Men aged 18-24 - 17.9%
Women aged 25-34 – 17.1%
Men aged 25-34 – 13.9%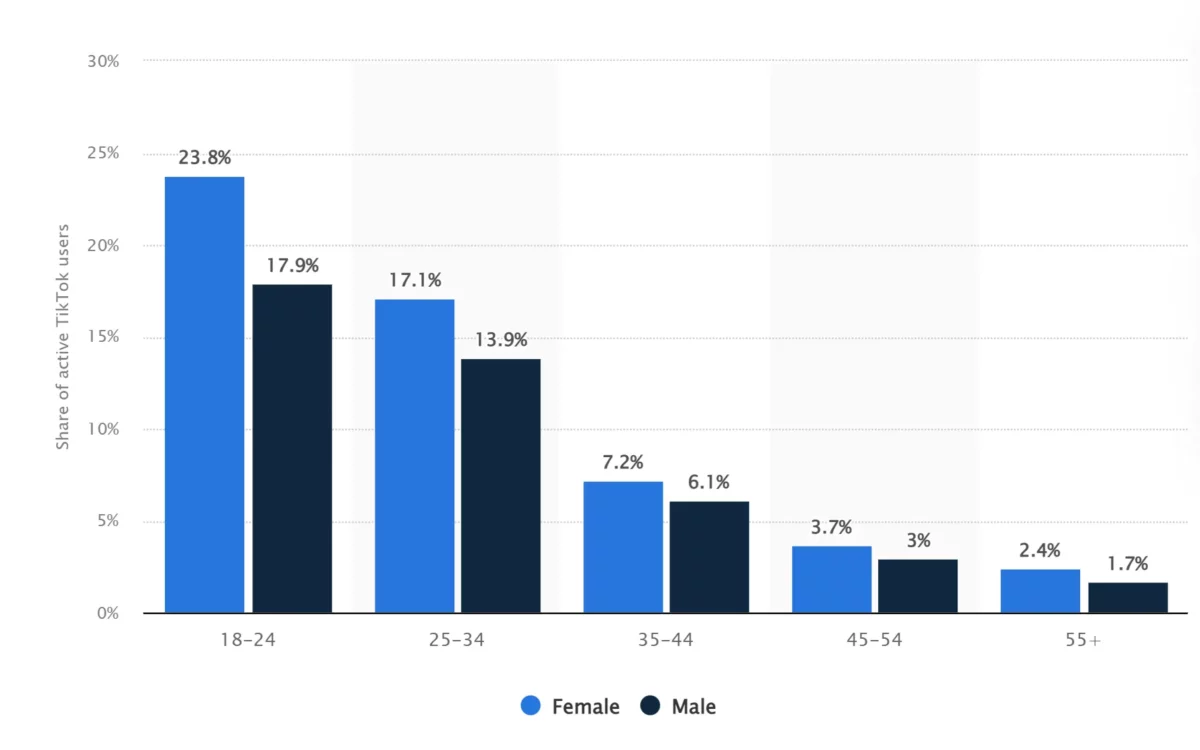 As of 2022, TikTok is most popular in the US, where it has 136.5 million users. Other countries with large populations also use the app heavily – Indonesia (99.1 million users), Brazil (73.6 million users), Russia (51.3 million users), and Mexico (50.52 million users). If you're wondering how many TikTok users there are in the UK, it's just under 17.5 million users while Australia has roughly 7.3 million.
How to Build a Presence on TikTok
Building a presence is key to getting ahead on TikTok. Here is a (massively over simplified!) way to building a presence on the platform.
Open a TikTok account
The first step to selling on TikTok is to establish a presence on the platform. This means creating a TikTok account and building a following. You can do this by creating engaging and relevant content, and by utilizing hashtags, filters, and other features of the platform.
Utilise TikTok's ecommerce features
TikTok has several ecommerce features that businesses can use to sell their products and services. These include the ability to add a link to your TikTok profile, adding a shopping icon to your videos, or creating product catalogues (see more on this in our TikTok Ad Types section below).
As well as this, TikTok offers TikTok Shop - the platform's social commerce offering. TikTok Shop is currently only available in the US, UK, and six regions in Asia (Malaysia, Thailand, Singapore, Philippines, Indonesia and Vietnam). Businesses can advertise and sell to users without them ever needing to leave the app! Intrigued? Check out our section on setting up a TikTok Shop below.
Create engaging and informative content
Creating engaging and informative content is crucial for driving sales on TikTok. This can include product demonstrations, unboxing videos, and tutorials. Alongside this, you can run live streams to maximize engagement with your audience.
By providing valuable information about your products and services, you can build trust and credibility with your audience.
Use Influencers
Influencer marketing has become a popular and effective way for businesses to reach new audiences on TikTok. By collaborating with popular TikTok influencers, businesses can tap into their large following and reach a wider audience.
On average, users spend more than 1.5 hours per day on the platform, so they love coming back for more. Likewise, influencers have an almost 6% engagement rate on the platform, which dwarfs Instagram's 1.41%.
Consider going LIVE
TikTok LIVE is great for driving brand awareness but is also good for driving sales. In the US, 50% of TikTok users have bought something after watching a TikTok LIVE event. A skincare brand in Wales, Mallows Beauty, have remarked that a two-hour LIVE event brought in more revenue than an entire week of sales at their flagship store in Cardiff.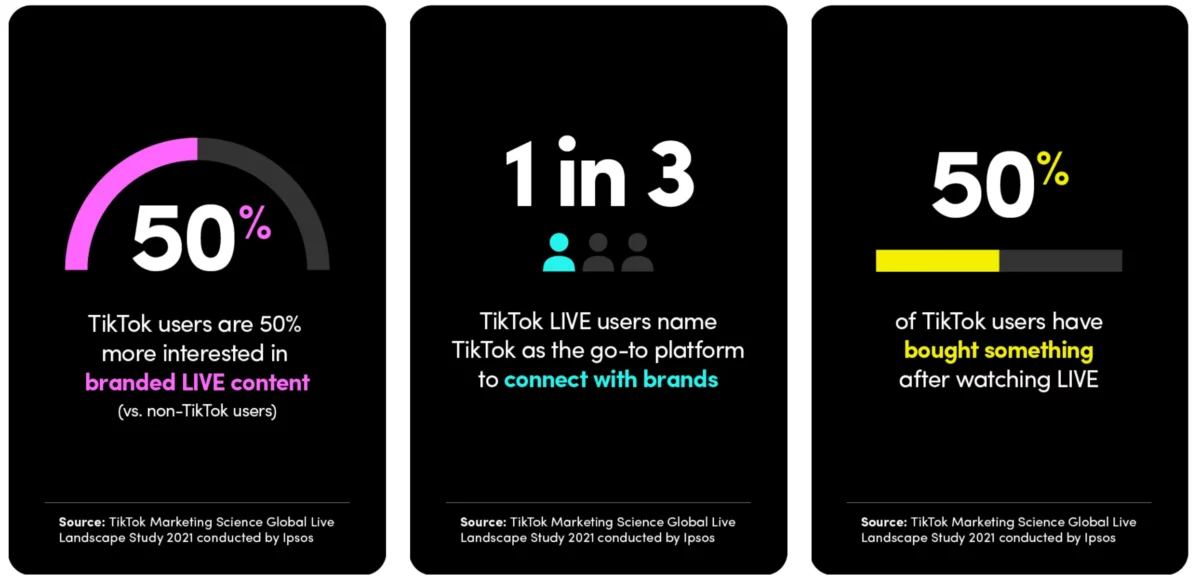 How to Sell on TikTok Shop
There are 4 processes that businesses are required to go through to start selling on TikTok Shop.
Sign up to sell – This takes just 2 minutes. All you need is an email address and country-specific phone number or your TikTok account.
Fill out the application form – This will take slightly longer but not by much! Roughly 10-30 minutes depending on if you are in the UK or US. You will need some form of identity to complete the form, either in the form of a certificate of incorporation, a driver's licence or a passport.
Wait – The easiest (but most frustrating!) process of all – TikTok will get back to you within 1-2 days with the result of your application.
Link your account – Once accepted, you'll need to link your TikTok account to your brand new shop. You're now ready to begin selling on TikTok Shop!
Once that's done, it's a case of making the most of the possibilities TikTok Shop has to offer.
TikTok Ad Types
Your TikTok Shop is all set up, so now is the perfect time to delve into the different types of ad on TikTok. We're highlighting the most important ones below.
TikTok In-Feed Ads
In-Feed Ads are the most common ads users see on TikTok. Shown in a video format, they appear when users scroll through their 'For You' page, from one video to the next. TikTok in-feed ads can be so good that unless you're looking for an ad, you might not even notice that you're watching one!
Users viewing the ad can interact with it in much the same way as any other video on the platform. They can like, share and comment, while businesses can add multiple call-to-action buttons if desired. Examples might include encouraging them to visit your TikTok Shop, download your app, follow your profile or to shop now. Find more on Video Shopping Ads below.
Be as creative as you like but remember that it is recommended that in-feed ads are between 9-15 seconds. So no crazy narratives, simply focus on compelling, eye-catching content!
In-Feed Ad sizes and specifications
Aspect ratio - 9:16, 1:1, or 16:9
Video dimensions – 540px x 960px, 640px x 640px, or 960px x 540px
File types - mp4, mov, .mpeg, .3gp, .avi
Max. video length – 60 seconds (but 9-15 seconds is recommended)
Max. video size – 500mb
TikTok In-Feed Spark Ads
TikTok Sparks Ads are a relatively new, native form of advertising on TikTok. Having launched in April 2022, Spark Ads allow companies to promote organic content that is already creating engagement.
The most crucial thing to know about Spark Ads is that they don't have to be created by the company. As long as a user has allowed permission, brands can boost content from influencers and content creators that are praising their products. Alternatively, a brand might choose to sponsor videos that align with your brand purpose or values.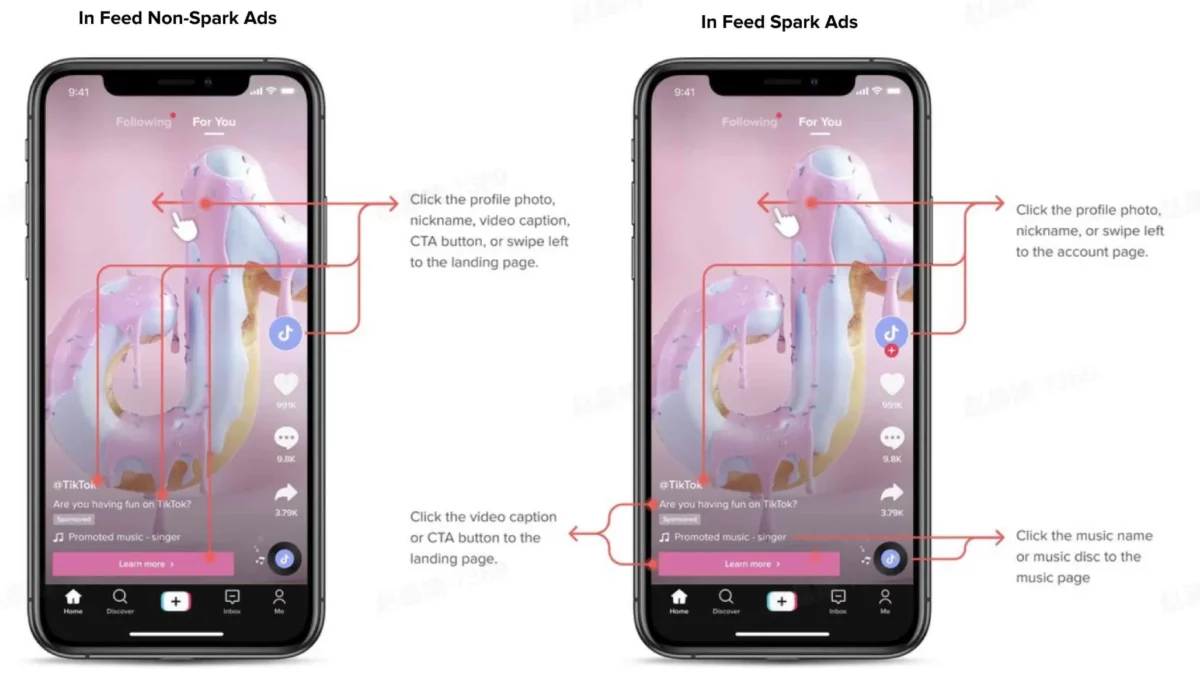 Product Feed Ads
There are a few ads that sync up directly with the product data from your data feed. These TikTok product feed ads work seamlessly as long as you are using optimized data from your product content syndication. Unsure? Why not get in touch for a free product data audit from Intelligent Reach.
TikTok Catalog Listing Ads
TikTok's Catalog Listing Ads are the most straightforward product feed ads on the platform. They combine product data with TikTok's algorithm to create and showcase product ads to relevant TikTok users. They really are tailor made for ecommerce growth.
The best bit for ecommerce marketers is that it is wholly based on your product feed data. This means that there is no need to create any video content. It's an easy and efficient way for brands to show their products to TikTok users with TikTok itself pulling the data from your product data feed. These are then shown in areas where shopping links are possible (such as on the 'For You' page).
Note: TikTok Catalog Listings Ads are now a part of Video Shopping Ads - we have chosen to highlight them here as they may be a key part of your ecommerce strategy.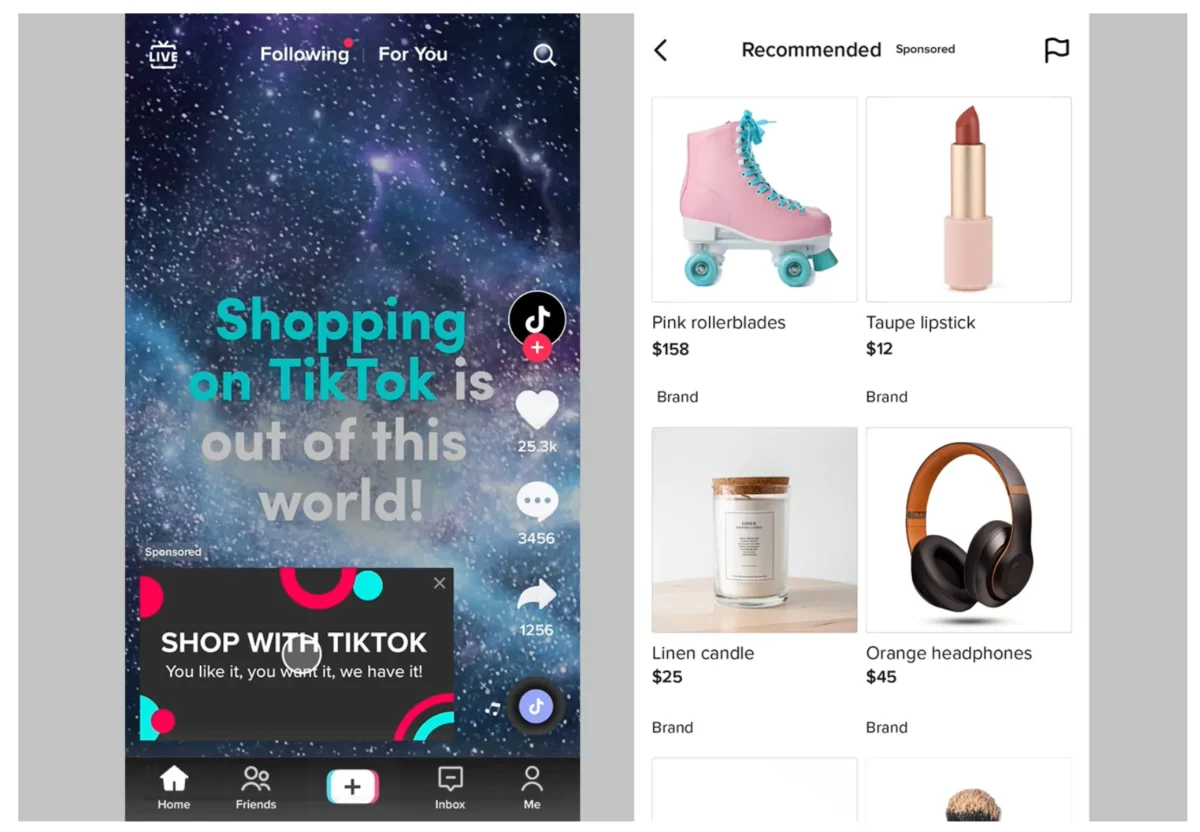 TikTok Dynamic Showcase Ads
Dynamic Showcase Ads are created by TikTok based on an ad template. They take the form of personalized video ads with your product data being added to the template in real-time.
For those marketers unfamiliar with TikTok, the best comparison is Google Dynamic Product Ads. In essence, online brands and retailers use Dynamic Showcase Ads to advertise large product inventories to relevant buyers at scale.
TikTok Collection Ads
Collection Ads are a type of in-feed ad that leads viewers to an Instant Gallery page.
This allows TikTok users to browse products directly within the app, hopefully enticing them to purchase from your shop.
Note: Dynamic Showcase Ads and Collection Ads will be phased out from February 16th 2023. Global advertisers will not be able to create, edit, or duplicate existing Collection Ads from 31st March 2023.
Video Shopping Ads (for Catalog)
Video Shopping Ads are the replacement for Dynamic Showcase Ads and Collection Ads. Just with those formats, TikTok Video Shopping Ads (for Catalog) work by using the data from your product feed. They are currently only available in beta testing but it is expected they will enjoy a wider release soon.
Unlike other ad formats, they don't require the brand or retailer to have set up TikTok Shopping. Brands simply upload their catalog on the TikTok Business Center, upload or generate videos alongside them, and then publish a campaign.
Video Shopping Ads (for TikTok Shopping)
Since this is a blog about how to sell on TikTok Shop, this is most likely to be one of the most popular ad types you'll be using. As such, make sure your TikTok Shop is connected to your Ads Account in the Business Center or the Seller Center.
Appearing as in-feed ads, Video Shopping Ads allows brands and retailers to make their videos shoppable. This means that when users see the ad, there will be a link to your TikTok Shop within the video. Perfect!
TikTok Brand Takeover Ads
A TikTok Brand Takeover ad is sponsored content that appears when users open TikTok. After watching the ad, their screen will become the 'For You' page. Because of the nature of the ad, it is displayed full screen for maximum impact and is guaranteed to receive impressions!
If you are looking for your brand to gain attention quickly, this is an excellent ad choice. When aimed at the right audience, it can lead to a fantastic increase in sales as it features clickable links to your Shop. It's worth noting that the ad can also appear on a user's For You page as well.
Brand Takeover ads can appear as videos, images or gifs. They last 3-5 seconds so pick your image wisely! If using an image, make sure it is less than 50mb and a jpeg or png file.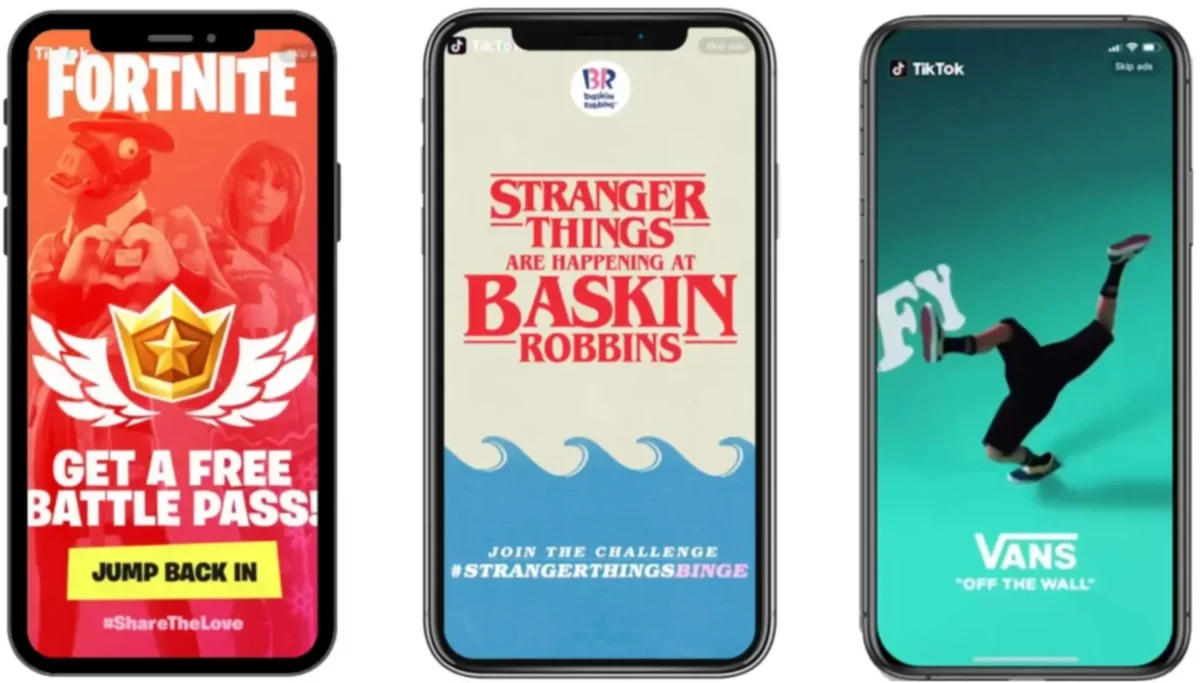 TikTok TopView Ads
TikTok TopView ads are almost identical to Brand Takeover Ads except they don't take over the user's whole screen as soon as they open the app. Instead, as the name suggests, a TopView ad will be the first in-feed post for a few seconds.
A TopView ad is great for brand recognition and awareness. After the initial few seconds, a video up to 60 seconds can play, complete with the usual additions of music and auto-play turned on.
Links can be both internal – to your TikTok Shop – or external, to a related landing page.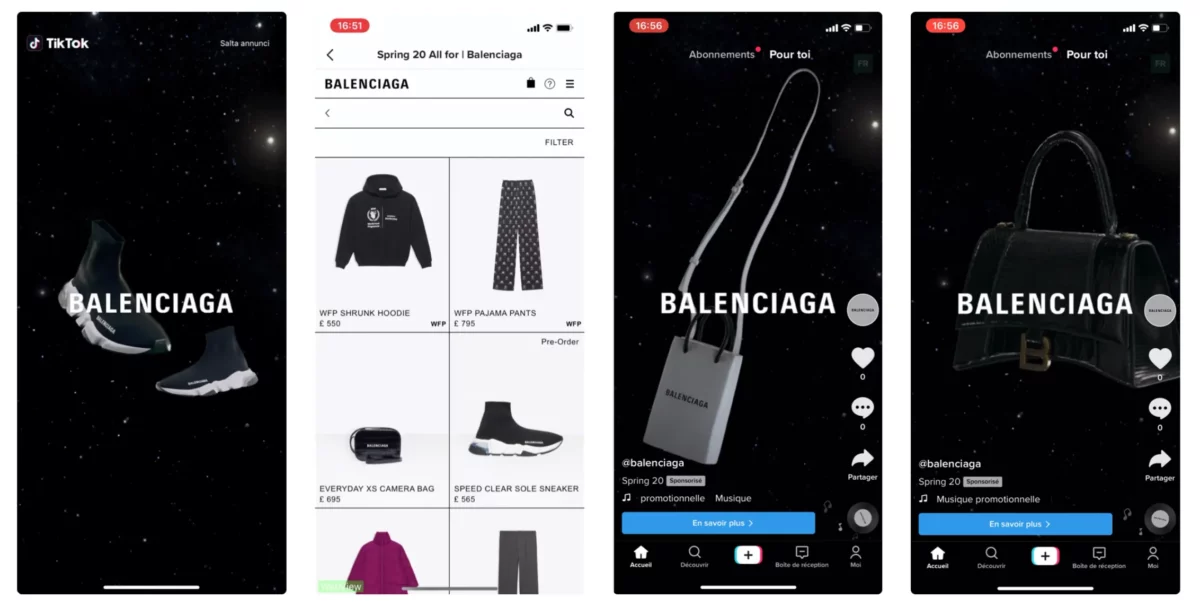 TikTok Branded Hashtag Challenges
One of the most popular types of ads on TikTok, Branded Hashtag Challenges have often gone viral. A great example is The Weeknd's Blinding Lights dance challenge, which went viral during the pandemic.
Appearing at the top of TikTok's Discover page, companies create challenges under a specific hashtag. These often take the form of learning a dance or acting out a sketch or funny prank. Each challenge comes with specific audio that can be reused for the challenge (a great way to make a song go viral!) Although challenges can be 5-60 seconds, TikTok recommends a sweet spot of 21-34 seconds.
When users click on the hashtag, they are taken to a landing page, which describes the challenge alongside the advertiser's logo, website link and videos of other users performing the hashtag challenge.
As one might expect, the main use-type of the ad is brand awareness and campaigns normally last from 3 to 6 days. Because of the nature of TikTok though, the challenge itself can go viral for many weeks after that!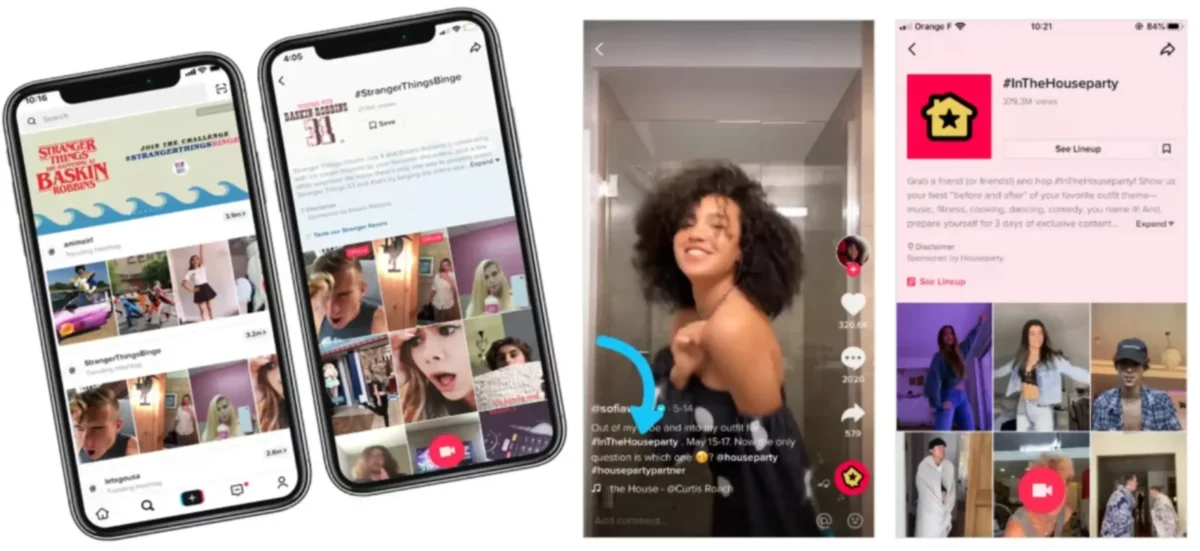 TikTok Branded Effects Ads
Similar to the filters that made Snapchat so popular, Branded Effects ads allow users to engage with stickers, effects and filters made by the advertiser.
If you are running a more playful brand, it's an exciting and fun way for your consumer base to interact with your offering. They add a whole lot of personality to your ads and it's a great opportunity to create something eye-catching!
Live for up to 10 days, this ad is all about user engagement.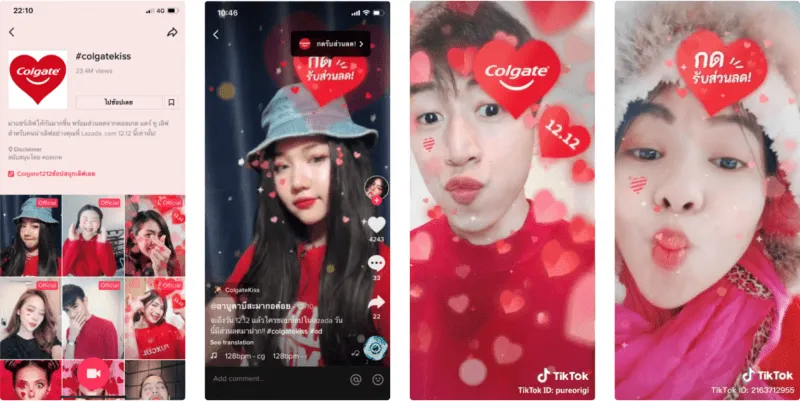 Tips for Maximizing Your Sales Potential on TikTok
Although ads help in connecting your brand with users, organically growing your following is another way to drive revenue growth. Here are some simple tips to help you in getting ahead of the competition. There should be no surprises if you've read this far!
Use the right hashtags
Using the right hashtags can help increase your reach and visibility on TikTok. By using relevant and popular hashtags, you can reach a wider audience and increase the chances of your content being seen by potential customers.
Popular hashtags might stay in vogue for hours, days or weeks, so make sure that you are constantly analyzing results. (And be ready to jump on a new hashtag if it's relevant!)
Utilize the power of video
TikTok is a video-based platform, and businesses should take advantage of this by creating high-quality, visually-appealing videos that showcase their products and services. Video content is more likely to be shared and engaged with, increasing the chances of driving sales.
Typically, brands and retailers need to capture attention within the first 3 seconds of the video, so think carefully about how to keep people watching your content. Quick edits? Or how about considering reaction videos if you think they will work with your target market! There's nothing more intriguing than seeing someone highly emotional before discovering why.
Engage with your audience
Engaging with your audience is key to building relationships and driving sales on TikTok. This can include responding to comments, and hosting giveaways and contests.
When replying to comments, embedding another video as an answer to a user question is an excellent way of gaining more views on your content.
Keep tracking your results
Tracking your results is essential for understanding the effectiveness of your social commerce strategy on TikTok. This can include monitoring your follower growth, engagement, and sales.
As well as this, it pays to analyse the ROI of your ad campaigns. Don't jump to conclusions on one advertising format failing if there may be mitigating circumstances. Build up a good profile of data to understand exactly what works and what doesn't for your brand.
Beyond Selling on TikTok
Learning how to sell on TikTok is key to many modern B2C company ecommerce strategies. Even so, it isn't the only channel that you should be selling on. Alongside the rise of social commerce - selling on Pinterest, selling on Instagram, etc., businesses need to think about how their customers are shopping and making sure to meet them in their favored environments. Read our article on connected commerce to learn more.
As well as selling on social media platforms and digital channels, marketplaces are also growing with 56% of consumers beginning their search for products on one. We've written a number of informative articles if you are interested in selling on marketplaces in the US, marketplaces in the UK or marketplaces in Australia and New Zealand. Or perhaps you want to sell on the best online fashion marketplaces in the world!
You might wish to also learn about Google Project Magi, Google's way of ensuring you can shop without leaving their search engine.
Conclusion
In conclusion, TikTok is proven to be a valuable platform for businesses looking to sell their products and services, especially to the under 35s.
Social commerce on the platform allows businesses to connect with a wider audience, build relationships, and drive sales. By establishing a presence on TikTok, utilizing TikTok Shop and its ecommerce features, creating engaging and informative content, and working with influencers, businesses can effectively market their products and services to the TikTok community.
As the platform continues to grow in popularity, businesses should consider it as a valuable sales channel to add to their social media strategy. With the tips and best practices outlined in this guide, including improving the product data feed, businesses can maximize their sales potential on TikTok Shop and take advantage of the platform's powerful ecommerce capabilities.
Products not showing? It's probably your product feed.
Before you increase your ads budget, book our free feed audit to see simple changes that can improve your product visibility overnight!
BOOK A FREE PRODUCT FEED AUDIT
Tags