Today, there's no shortage of online marketplaces to sell your products on. If you're a seller based in the US, you've got access to dozens of online market sites.
Below, we've compiled an updated list of 12 best USA marketplaces that let brands sell almost any product imaginable in 2023. We'll be covering the following major ones:
Based in a different country? Why not check out our other articles on the best marketplaces in Australia and New Zealand, and the best online marketplaces in the UK?
What exactly is an online marketplace?
In short, online marketplaces are platforms that connect buyers and sellers. The most common are known as 3P marketplaces (or third-party marketplaces).
They share some similarities with ecommerce stores, but they typically offer a wider range of products and—importantly—allow third-party sellers to list and sell their products alongside the marketplace's own offerings. They are perfect whether you work for a big brand looking to gain more market share or a small retailer learning how to increase sales in D2C ecommerce.
With this in mind, let's check out the best online marketplaces to sell on in America.
1. Amazon (Worldwide | All Product Categories)
Let's start with the obvious one: Amazon.
Amazon's brand and reach are massive. The company serves over 300 million active users worldwide. In the US, Amazon is expected to account for almost 40% of all retail ecommerce sales in 2022. That's more than the next 14 digital retailers combined!
And there's no sign of its sales trend slowing. In fact, Amazon's net sales are projected to reach a whopping one trillion dollars by 2026.
Because of its worldwide presence and the fact that it covers virtually every product category, Amazon is really a natural first choice for any seller considering an online marketplace.
Amazon makes setting up an account and listing your products very straightforward. For those looking to manage their own orders, Fulfillment by Amazon (FBA) offers that alternative option.
In short, if you're starting with just a single marketplace, Amazon is probably your best bet.
2. eBay (Worldwide | All Product Categories)
You probably won't be surprised to find eBay near the top of this list.
It's no Amazon, but it is the second most visited US marketplace with almost 800 million monthly visits. It also boasts the second-largest gross merchandise volume (GMV) in the country: 87 billion dollars!
eBay started out as an auction site but has since evolved into a full-fledged online marketplace in its own right. The site lets sellers list products across all major categories, making it a viable alternative to Amazon for most merchandisers.
Getting started as a seller on eBay is a breeze. Not only is the process quite streamlined, but eBay goes the extra mile with useful templates, tools to help you set the right price for your products, and marketing assistance.
If Amazon isn't quite your cup of tea, eBay just might be.
3. Walmart (USA | All Product Categories)
While Walmart's physical stores often get ridiculed for the types of audiences they attract, the company's online presence is certainly no joke!
Walmart is now the third-largest online marketplace in the US. That's not too shabby for a site that only opened to third-party sellers in 2016. Walmart is looking to capitalize on its massive brick-and-mortar presence, leveraging millions of existing customers to encourage online purchase.
And it's working!
Walmart is projected to reach 48 billion dollars in ecommerce sales in 2022—an 11% year-on-year growth.
To attract sellers, Walmart boasts competitive pricing with no monthly or setup fees. The company also makes it easy to create a seller account and gain access to its huge audience.
No matter what products you're selling, Walmart is a safe choice.
4. Etsy (Worldwide | Arts & Crafts)
There's no competition: Etsy is by far the world's largest online marketplace for arts and crafts.
From its humble origins in 2005, Etsy has grown into a megastore with around half a billion monthly visits worldwide. Around half of that is in the US alone, making Etsy the fourth largest online marketplace in the country despite its niche product focus. It's no surprise that the company made 2.3 billion dollars in US revenue in 2021, up by a whopping 35% from the year before)
Within the arts and crafts category, Etsy lists a broad range of items. You'll find everything from art and jewelry to books, vintage goods, and even stuff for your pets. Because Etsy caters to a niche audience, it's easier for sellers to find highly engaged and well-targeted shoppers.
For its sellers, Etsy offers a transparent pricing model with a one-off listing fee. Other than that, you'll pay nothing extra until your item sells. Not only that, but Etsy offers a range of tools to manage and promote your presence, as well as access to dedicated support teams.
If you sell arts and crafts, there really is no better option.
5. Lowe's (North America | Home Improvement)
Lowe's is a true giant in the home improvement segment with 96 billion dollars in global net sales in 2021. Its website gets around 100 million monthly visits in the US.
While lagging behind its main rival—The Home Depot—Lowe's online presence is particularly strong when it comes to people buying and selling tools. Within the home improvement space, Lowe's offers thousands of products ranging from appliances to smart home devices to lighting fixtures and bathroom accessories.
If you want to become a Lowe's registered supplier, you'll have to first fill out a registration form. There are specific requirements in terms of your insurance levels, compliance with Lowe's code of conduct, and more. It's a bit of a cumbersome process and there's no guarantee you'll get selected. At the same time, there are no application fees, so you have little reason not to try.
If you're selected, you'll gain immediate access to millions of potential buyers.
6. The Home Depot (North America | Home Improvement)
With 151 billion dollars in global sales, The Home Depot confidently outperforms Lowe's when it comes to revenue.
While the company's online presence only accounts for a percentage of its total revenue, The Home Depot did reach ecommerce sales of over 18 billion dollars in 2021.
The Home Depot gets around 180 monthly million visits to its website, making it a clear leader within the "Home and Garden" category. There's a lot of overlap with Lowe's in the types of product categories it covers, although The Home Depot generally offers a wider range of items.
Just as with Lowe's, there's an application process to go through if you'd like to become a "merchandising supplier." You should expect to hear back within around 60 days after submitting your application. So yes, it's a bit of a wait.
But if you're in the business of selling home items and home improvement goods, The Home Depot is a no-brainer.
[Start selling on The Home Depot]
7. Macy's (Worldwide | Fashion)
Macy's roots go all the way back to the ancient year of 1858.
Today, Macy is among the largest chains of department stores with a stable level of annual net sales hovering around 25 billion dollars worldwide. Around 7.5 billion of those came from its ecommerce presence in 2021.
In addition to multiple items within fashion, clothing, and accessories, Macy's website also carries a selection of home products.
If you're interested in becoming a Macy's supplier, you'll first have to fill out a questionnaire about your business and products. Macys' vendor team will then get in touch to discuss things further.
Unfortunately, Macy's doesn't exactly make it a breeze to become a seller on their site. There's a vendor portal with some background, and Macy's pays special attention to encouraging supplier diversity through its "Supplier Diversity Program." But there's precious pure information about the application process, costs, and expectations.
Still, should you be accepted by the company, Macy's is an instantly recognizable brand that guarantees you a solid online presence.
8. Target (USA | All Product Categories)
This big-box department store chain has US net sales that hit almost 105 billion dollars in 2021.
Target's online presence was quite modest until 2020. But ecommerce sales jumped rapidly to 16 billion during the Covid-19 pandemic and are expected to reach a record 22 billion in 2022.
The company sells pretty much everything under the sun, so most merchandisers should be able to find an appropriate product category for their own items.
Would-be sellers can find a lot of detailed background info about Target's supplier standards. To get listed, you'll have to fill out an enticingly named "Supplier Intake Form." Then you should eventually hear from Target's merchandising team.
Because of its broad product range, Target should be a viable online channel for many sellers.
9. Best Buy (North America | Consumer Electronics)
Best Buy is among the largest players in the consumer electronics sector. It sells a broad range of products including phones, laptops, home audio equipment, cameras, drones, and gaming accessories.
Datanyze lists Best Buy as the third largest consumer electronics and computer retail companies worldwide. Its global revenue for 2022 is close to 52 billion dollars.
As for Best Buy's online presence, the store's US ecommerce revenue for 2022 is around 16 billion US dollars. For reference, it was just under 6 billion US dollars in 2018, so there's a clear upward trend (although 2021 was the best year with 19 billion dollars in revenue).
The sign-up process to become a merchandiser on the platform varies depending on whether you're based in the US or Canada. Regardless, the Best Buy Partner Portal is the best place to start.
10. Wayfair (North America and UK | Home Products)
While Wayfair's share in the US ecommerce market hovers at just around 1%, that seemingly low number is misleading.
For one, it still puts Wayfair right around the top 10 ecommerce companies in the country. But it also hides the fact that Wayfair is the largest online-only retailer within the home furniture category. Its ecommerce business has been growing rapidly, reaching around 14 billion US dollars in annual revenue for both 2020 and 2021.
Compared to some of the other entries on the list, Wayfair's third-party seller portal is refreshingly helpful. They genuinely focus on being a one-stop partnership site for merchandisers, helping them with product listings, order fulfillment, actionable insights, and growth prospects.
With an audience of 23 million shoppers looking for home products on its site, Wayfair is an excellent partner for sellers carrying those types of items.
With 1.4.% of the total US ecommerce market, Kroger sits as #10 on the list of the largest American ecommerce companies. This is especially impressive considering its exclusive focus on groceries.
The company's online revenue has been steadily growing and reached a current peak of almost 13 billion US dollars in 2021. And this growth shows little sign of stopping: Kroger is expected to double its ecommerce net sales to almost 24 billion dollars by 2027.
So it's a great time to jump on board if you're in the business of perishable goods and other grocery items. Sadly, the vendor site isn't as intuitive as it could be. And you first need to fill out a "Prospect Vendor Pre-Registration" form to be considered.
Still, it should be worth it to get listed with one of the top grocers in the United States.
Bed Bath & Beyond has had a rough couple of years, with its worldwide net sales falling from a high of 12,3 billion US dollars in 2017 to below 8 billion in 2021.
Curiously, despite ecommerce revenue hovering around 30% of the company's total, its online customers actually outspend their retail counterparts. In 2021, Bed Bath & Beyond had ecommerce sales of just under 3 billion US dollars.
Want to get listed on Bed Bath & Beyond's marketplace? You start the process by submitting a "Request to sell" form. From here, there's approximately a one-month waiting period. You'll also have to wait for the approval to hear about the company's exact fee structure.
If you sell furniture and other home products, Bed Bath & Beyond should be on your list.
[Start selling on Bed Bath & Beyond]
Why should you use marketplaces to sell online?
Here's the thing: As an online seller, you already run your own webshop.
So creating multiple separate accounts on third-party marketplaces must seem daunting and unnecessary.
But, as we've previously argued, there are many benefits to selling on marketplaces, including:
Reaching your customers where they shop
Exposing your products to new audiences
Building your brand across a wide range of platforms
Converting casual shoppers to long-term customers
It certainly doesn't hurt that online marketplaces increasingly account for most of the shopping done on the Internet.
So it makes good strategic sense for brands and sellers to give online marketplaces a try. Note that you don't have to go all in. Start by listing your products on a few most relevant marketplaces, then see how it goes.
How to improve your product listings for an online marketplace?
The best way to make sure your products' are properly visible on online marketplaces is to maintain an organized and accurate product feed. We have covered the process of managing your product feed in great detail before.
The challenge you'll face with multi-vendor ecommerce is that each marketplace typically has a different way of handling your data feed. The way marketplace feeds are structured, updated, and presented will often vary.
If you're selling on more than a single marketplace, maintaining a separate feed for each of them can quickly become overwhelming. The most straightforward solution to this issue is to turn to product feed management software that automatically maintains your feed for multiple channels.
Whichever way you tackle the challenge, never lose sight of your underlying product feed, as it can make or break your entire ecommerce strategy.
Get a head start with selling on online marketplaces
Now that you know where to sell online, there's still a minor matter of how to go about it.
To help with this step, we've put together a "Selling on Marketplaces" ebook. It covers the challenges and benefits of selling on online marketplaces, as well as specific strategies you can follow. Specifically, you will learn:
The marketplace machine
Benefits of selling on marketplaces
Common mistakes sellers make
7 strategies for marketplace success
Grab your free copy today!
[Get the "Selling on Marketplaces" ebook]
FREE GUIDE TO MARKETPLACES
Download our free guide to the world's top marketplaces. Find the best marketplaces for your business and sign up instantly.
Download the free guide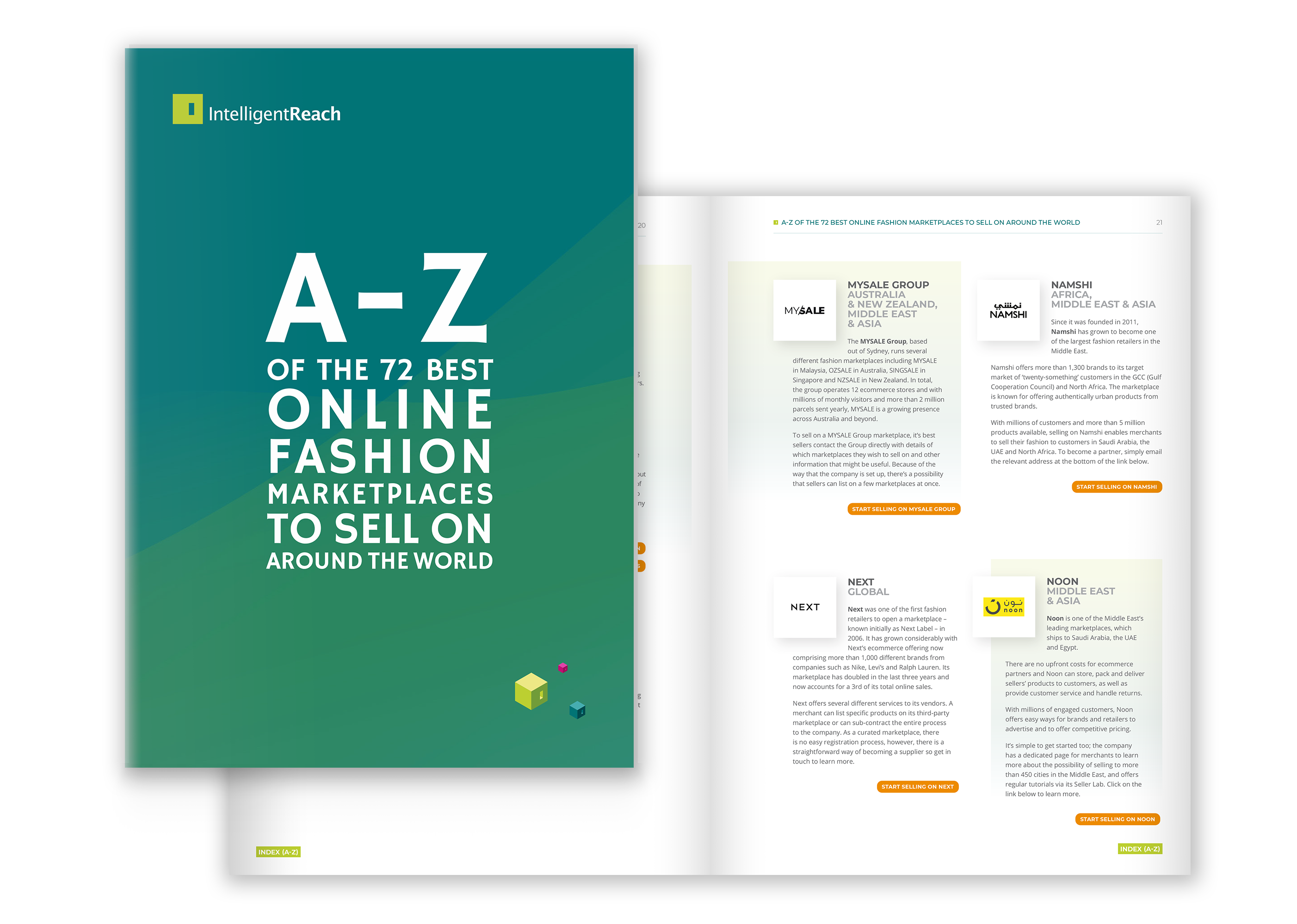 Products showing low impressions and clicks? It's probably your product feed data
Learn how to improve your ecommerce sales across marketplaces by booking a FREE product feed audit.
Learn More
Tags