80% of products uploaded to Google Shopping are invisible! We offer a free product data feed audit to help you improve visibility, as well as increasing sales and return on ad spend.
Intelligent Reach offers a free product data feed audit to indentify any issues with your product data feeds. There is no catch. After receiving your free report, there is no obligation to work with us afterwards (though obviously we hope that you will).
So what goes into a free product feed audit? Why might somebody sign up and give us their current product data feed? Let's get into it.
What is a product data feed?
A product data feed (sometimes simply called a 'product feed' or 'data feed') is a file full of product information. Many companies should have a master feed, which forms the basis of all of the product data that they push to their website, 3P marketplaces, and other digital channels on which they sell.
This means that the product data feed contains every piece of information a brand or retailer requires to sell the product online. From the obvious ones like product title, product type or images, through to less obvious ones like material or country of origin. It might also contain things not directly attributed to the physical product such as a Google product reviews and ratings or stock quantity.
Why would I need a product feed audit?
In a product data challenge survey that we ran in conjunction with IMRG, we discovered that 1 in 8 companies only check their product feeds yearly. Some even checked less frequently than that! Many brands and retailers are happy to work with what they have and if products aren't showing on Google Shopping or elsewhere, they simply increase their ads budget.
This is not a sensible idea.
Google selects which product ads show in their listings based on two criteria: The first is to do with your budget but the second is around product relevance. This means that your relevant product will show above a brand with a bigger advertising budget.
To ensure that your product listings are always relevant for selling on marketplaces, it's best to update your product data feed regularly. From changing a product title to filling in fields that were previously blank, product feed optimization can lead to instant results.
As you can see, by optimizing its product data, a product that previously got zero impressions quickly rose up the rankings.

What do you get in a free product data feed audit?
Signing up for a free product data feed audit will instantly send your details to one of our product experts. They will then reach out to you requesting your current product feed. There's nothing to be concerned about – it's simply a way to quickly assess your product feed data.
They will create a bespoke presentation based on your product feed, outlining how to improve your listings.
This will outline the overall health or quality of your product data feed. This includes highlighting top level changes – filling in missing fields, for example. It is always best to completely fill in your product feed data before optimizing it. We call this good data hygiene.
Product feed management isn't easy but there are easy ways that you can get ahead of the competition. By optimizing a product feed, it is possible to push your products to the top of Google Shopping. The product title is the easiest one to optimize for your audience but there is no 'one size fits all' approach.
Brands and retailers can use up to 150 characters in a product title, but the first 75 are the most important. So what should you write? You can learn more in our articles on A/B testing product titles and testing any product data attribute. It's an ongoing job to find what works best but it can be done effectively with the Content Experimentation and Data Connector modules.
Possible Product Feed Enhancements
Below you can see how a black shoe comes up when its brand name is used. But how often do people know the exact brand and model they want? Most would simply write 'black shoe' and the product doesn't show. If selling on fashion marketplaces, this is a key area where your product title comes into play.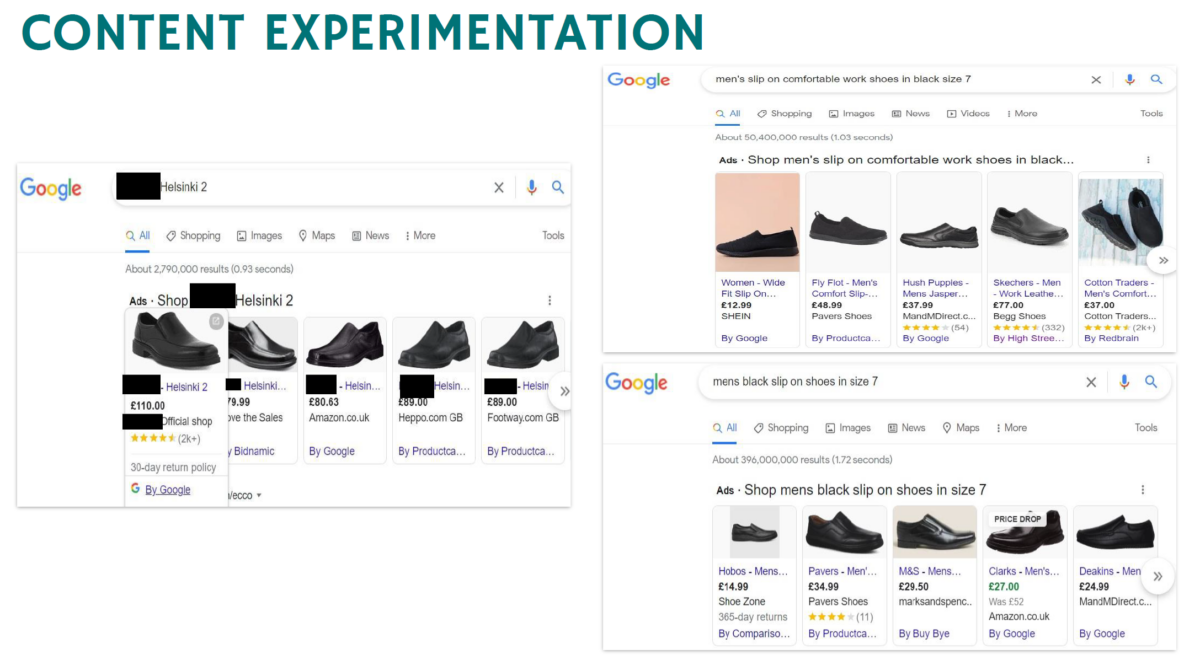 Having the right product type can be an excellent way to gain impressions and clicks as well. Not sure how to pick a product type? Check Google Trends to see what most people are searching. You can go a long way beyond simply 'business shoes'. Note the difference between countries too - men in the US are more likely to search for work shoes. Men in the UK are more likely to search for smart shoes. Is your product data optimized for the country marketplaces in the US or UK? Remember to change 'trainers' to 'sneakers' if it's the former!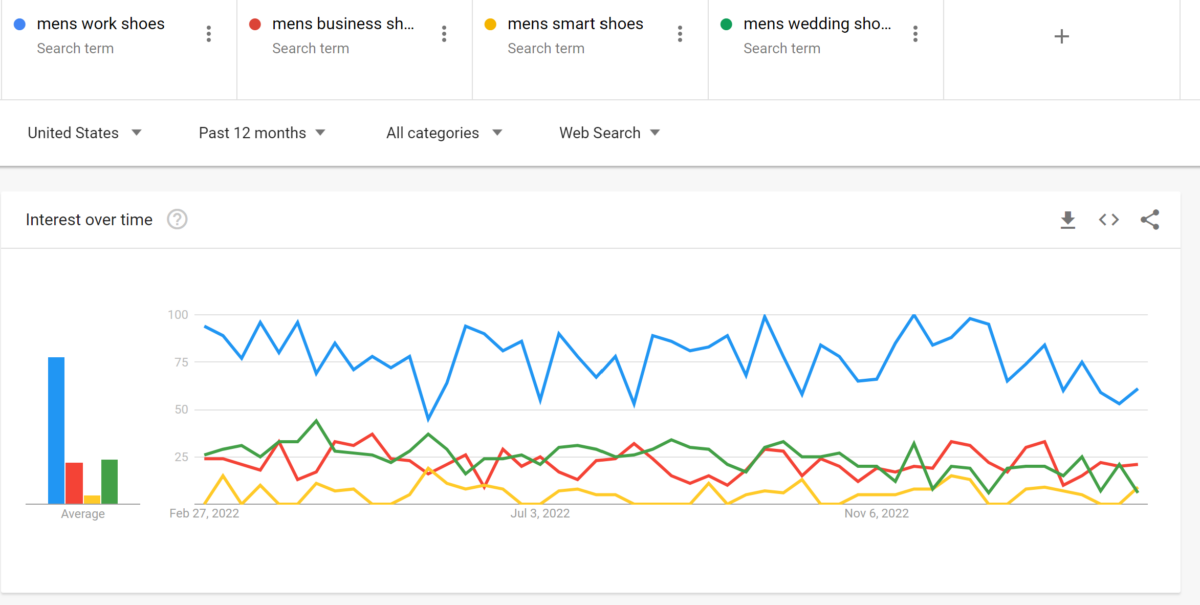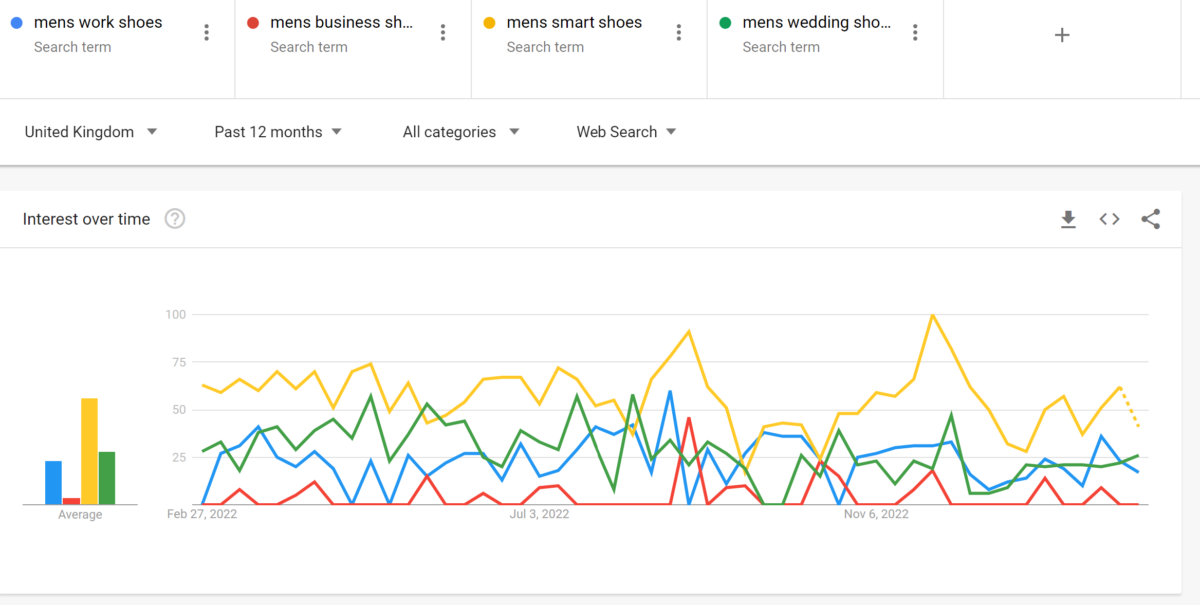 Improve Your Product Data Feed management with Intelligent Reach
Intelligent Reach provides an award-winning product management platform that is used by hundreds of leading brands, retailers and digital agencies. It dramatically increases revenue through product data.
Getting products in front of online shoppers across digital ad channels and marketplaces should be easy. Unfortunately, without a simple way to keep on top of the health of your product data feeds or the optimization of your listings, it can be difficult to centralise different systems and sync data in (almost) real-time. These problems often translate into a loss of sales. If you can't keep track of your own data, how can you expect products to remain visible, enticing customers to buy?
Our intuitive ecommerce management platform empowers digital ecommerce and marketing teams to quickly launch their product listings with beautifully curated product data. Our ability to integrate into different systems keeps data synchronised and inventory accurate. And by optimizing feeds with actionable insights and content experimentation (A/B testing product titles for example), our clients get a competitive edge to increase their exposure and digital revenue.
With a global client base including hundreds of well-known brands and clients, why not see how your clicks, ROAS, and revenues can be improved by working with Intelligent Reach?
Products not showing? It's probably your product data.
You've seen the examples and now you can benefit! Book your free product data feed audit now.
Book Now
Tags