You need to send high quality, relevant product information in the right format, to all partners, globally…

…to be found in online searches by customers looking for your exact products.
We ensure all your products are found more often, by higher converting buyers, through exceptional product information and clever bid management.
How We Do It
Our technology and support helps you visualise and improve product information, put it in the right format for all partners like eBay, Amazon, Facebook and Google and help improve your bidding and experimentation with alternatives.
The Impact
Increased visibility in shopping rankings

More relevant clicks

More sales
We share our expertise as and when you want it, to make you successful – and our customers tell us it's one of the things they value about working with us. We focus on ensuring the right consumers, who want your products, can find you and buy from you.
Product Data Trends, Tips, Webinars & More
Get access to industry trends, product data best-practices, webinars and our customers' top data quality tips.
Experiment
Having the right title and image affects you being found by the relevant consumers.
Run A/B tests to test different words, titles and images and to learn what drives engagement, clicks and sales.

Drive performance
Optimise bids by device, location, time of day and day of week using our algorithmic, product-level, bid optimisation.

Send to many, globally
Send in the right format and best optimised for all the different channels you sell through – to any of our 1400+ supported international partners.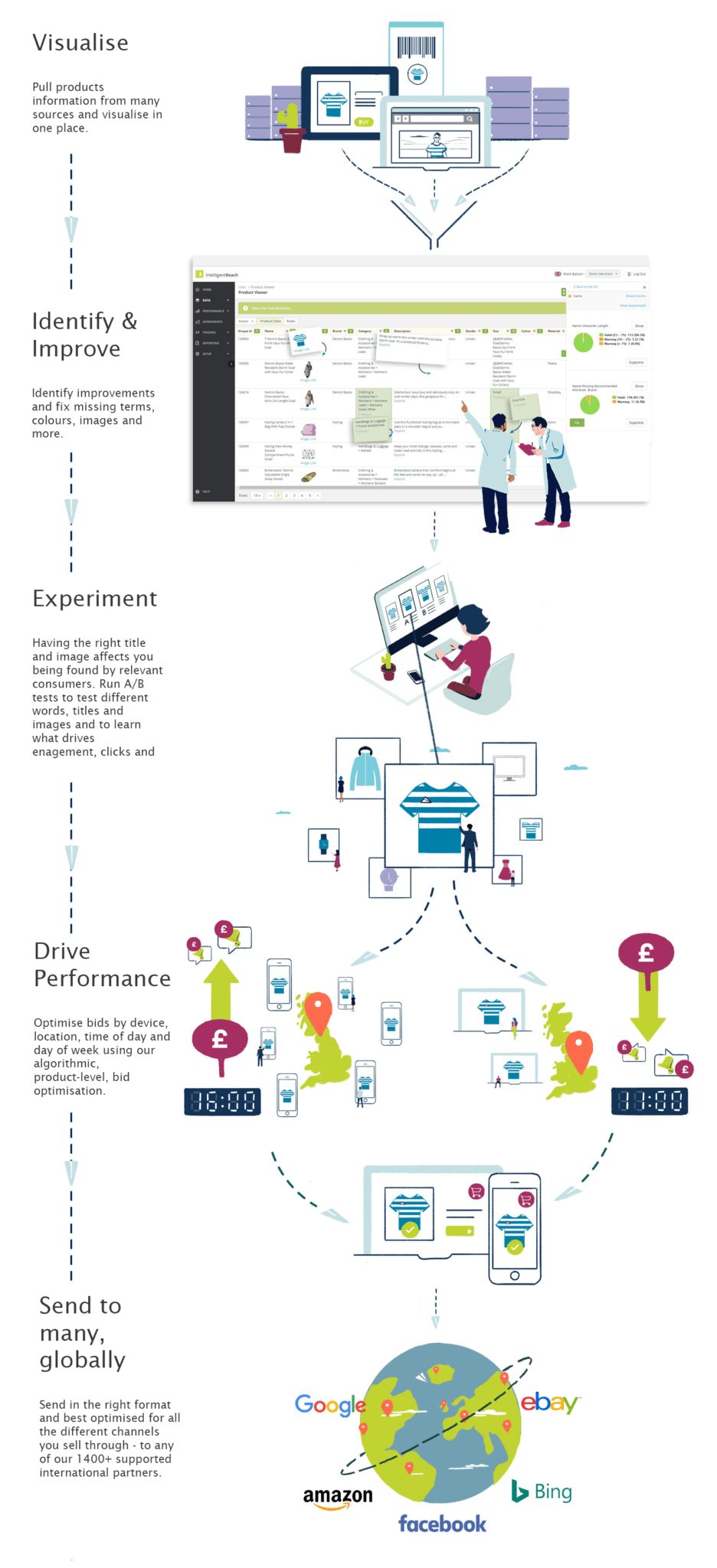 Public Desire Success Story
42% Increase in Gross Profit
"Working with Intelligent Reach provides us with a platform for managing and optimising our product feeds, with specific expertise that we don't have in-house, helps us improve our product ads across multiple channels and provides us with a regular service that is also available to us when I am not in the office. " Laurence Taylor, Acquisition Manager, Public Desire
Read Some of Our Case Studies