Optimising your product data is as critical to business success as SEOing your website. This comprehensive guide shows how it's done, using the Intelligent Reach product marketing platform.
According to the 2021 state of marketing report from Hubspot 40% of marketing professionals list SEO as their primary approach to marketing.
75% feel their SEO tactics are 'extremely' or 'very effective' at helping them achieve their marketing goals.
Many global retailers state that they optimise their website continuously, yet very few optimise the product data they use to power their product marketing campaigns. In effect they are running paid media campaigns using unoptimised, frequently broken, product data.
In this article we explain how to fix and optimise product data, quickly and easily, to achieve close to 100% visibility on Google Shopping and other channels. This helps to substantially increase clicks, sales and ROAS.
Getting started with product data feed management
At Intelligent Reach we typically work with clients who have multiple data sources. The first thing we do with incoming data is we clean it and standardise it to create a master data feed that is as good as it can possibly be. This creates a solid foundation of data, that can be remapped, via templates, to channel-specific feeds. This, in turn, will power your campaigns.
What is product data cleaning?
Product data cleaning (AKA 'housekeeping') can be split into two key areas:
1. Improve data validity – identify and fix broken and missing attributes in your master product data feed.
2. Establish basic data quality – modify attributes in your channel-specific feeds to exactly match the requirements of your chosen channels.
What is advanced data quality?
Using the Intelligent Reach platform you can create experiments, that use performance data, to scientifically optimise product data feeds. For example, the experiments module is a self-serve tool powered by machine learning, that helps you build experiments. Most importantly, it makes the process quick, easy and, most of all, safe.
What is the data visualiser and how does it identify broken product data attributes?
The Intelligent Reach data visualiser checks data validity, and monitors the health of every product feed in your account, by automatically testing for things like missing attributes, invalid attributes, missing categories, unmapped categories and out of stock items.
Feed health is represented by a funnel. In a healthy feed there is no narrowing of the funnel, showing that no products are being excluded from the master feed due to missing or broken attributes during the validation process.
In the example shown here, the funnel narrows dramatically. This can sometimes signify that a merchant has deliberately excluded products from a feed, perhaps because they are out of stock. But more often it means that a large number of products in the feed are effectively broken, i.e., they cannot be distributed to any channel.
The easiest and quickest win in any product marketing campaign is to fix broken products so that they be distributed to your channels and contribute to sales.The Data Quality funnel gives clear, quantified information about the issues affecting your feed and how many products are being
Google's advice on product data optimisation
Google's advice on product feed optimisation is to map out your customer journey from search query to checkout.
In other words, manage your product data feed the way you would SEO the most important pages of your website. 
Before doing anything else, make sure all the information about your products is present in the attributes of every feed. This goes beyond just backfilling mandatory attributes, like gender, colour and size.
There are 45 different fields available in the Google Product Listing Ads spec. You should use as many as possible to say everything about your products that the specification allows. For example, brand is going to be important in most markets, but material is going to be especially important in fashion. Size and weight are important in other sectors e.g., furniture.
Try to populate all the attributes that are applicable to every product. Google uses all the attribute fields to decide if your products match a particular search. 
Note: Many Google attributes are mandatory. For example, every product in a Google feed, must include brand, shipping, product description and EAN (where an EAN or other unique identifier exists). Products missing these attributes will not be approved and therefore will not be displayed on Google Shopping, regardless of other optimisations.
For other categories of products, there are different mandatory fields. For example, in 'Clothing & Accessories', pattern and material are additional required fields. For fashion products, it's also mandatory to use a Google product category.
Interested in knowing more? Read our in-depth guide on How to Sell on Google Shopping
What are the key Google shopping attributes?
Your product data feed is a file that contains information about your catalogue of products. It is similar in structure to a spreadsheet, with each row representing an individual product, or variant, and each cell defining an attribute of the product (e.g., name, price, size, colour etc).
Before doing anything else you must ensure that your master product feed is in the best possible shape because it is the source and the centre of all your product marketing. A minimum viable master data feed is one where:
The feed is fully populated with all the key product attributes, especially brand, name, colour, size and product type – see the full list below.
Words and phrases are normalised around everyday words that people use when they search for products.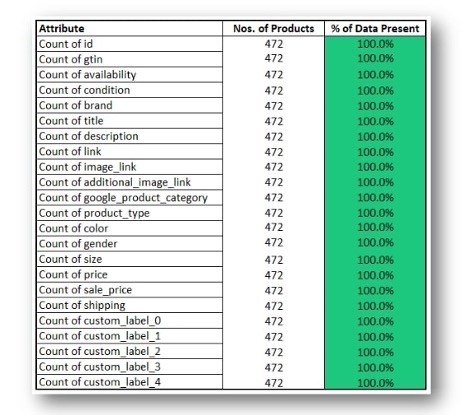 The minimum standard in a Google Shopping feed is to populate all key fields with normalised attributes. E.g., yellow is a more common search term than 'daiquiri'.
On Facebook, it is essential to include Availability and Condition if you don't want a product to get delisted.
The IR platform will guide you through this minefield and make sure that all essential fields are mapped accurately, for every channel.
What are the key Facebook product data attributes?
Without the required attributes, your Dynamic Product Ads won't show up on Facebook at all. For Facebook's Product Catalog make sure the following are present for every product in your feed:
ID
Title
Description
Image_link
URL link
Price
GTIN, MPN or Brand
Availability
Condition
How to import your source feed and create your master product data feed?
Intelligent Reach has API integrations with the main e-commerce platforms including Salesforce, Adobe Commerce (Magento), Shopify, WooCommerce and many others. We also integrate with PIM systems such as Akeneo so we can help you integrate with just about any e-commerce platform.
Note: Onboarding is a critical activity that affects every aspect of the performance of your product marketing campaigns. The Intelligent Reach platform is self-service so one of your team or your agency will be able to do this. However, it is extremely important. As such, we often do this for customers so they can get maximum value as quickly as possible.
How to map your source feed to your master product data feed?
The Intelligent Reach platform uses a recommendation engine, underpinned by machine learning, that helps to map each data field in your source feed to an attribute in the master feed in the platform. Setting up a master feed is simply a matter of reviewing recommendations for each of the 40+ required and recommended fields and deciding whether to accept them.
To map colour in the master feed, for example, the system will automatically find colour in your source feed, and any variations of it, and recommend the one for you to connect to. If you agree, simply click to move on.
If you don't agree, select a different option.
Each time you accept a recommendation the system creates a rule, describing the mapping, so that you can come back and edit the connection at any time.
What is category mapping on Google Shopping and marketplaces?
Category mapping is the complicated business of adding your products to multiple categories in your master data feed, so that they are correctly categorised when we output them (to over 1,400 different product marketing channels).
Google allows you to map your products to five or six different categories, which is excellent for making your products findable. But it means that a feed containing many thousands of products that you want to sell across hundreds of channels is going to create at least 5 (categories) x 1000 (products) x 100 (channels) categories to map. This is not something you would attempt without a product data management platform.
Our category mapping tool uses machine learning to suggest the best match between the categories in your master feed and your source feed and also checks to make sure that your products are in the correct category.
How to analyse the quality of your master product feed using the product viewer?
Once your data sources have been mapped to your master product feed, that is not the end of the process. The combination of platform and master data feed is, effectively, a sandbox where you can break data down into individual attributes and build them up again to create optimum performance in every channel.
In a typical source feed, the product name field is made up of a number of attributes. Typically, there will the brand, and the colour and in fashion, there would also be size and material. The product name already contains three or four attributes! But are they the right ones?
The Intelligent Reach platform allows non-technical users to separate out attributes and to remix them in the best possible way for every channel. It is then easy to create experiments to scientifically prove whether a change has improved performance. (This sounds like a lot of work, but, through a combination of machine learning and drag-and-drop functionality, it is incredibly quick and easy to build an experiment and to make it live)
How can you assess the overall data quality of your product data feed, using Data Quality Score (DQS)?
Loss of visibility is perhaps the biggest problem affecting product data feeds, but it is a broad issue. In order to assess quality in a more nuanced way, the Intelligent Reach platform calculates the data quality score (DQS) at the master feed level (what is the overall quality of the master feed), at the attribute level (what is the quality of the feed for each sector-specific attribute, e.g. product name and colour) and at the product level (what is the quality of the data for every individual product).
If a feed is generating a low DQS for product name, for example, the platform will recognise the problem and will recommend ways to fix it. In the example shown, the product name is missing its colour in 5,556 of the products that are known to be invisible on Google shopping.
The platform offers to auto-fix the problem by adding colour to the end of each product name (but only where it is absent), or to assist with a custom fix. (Perhaps colour should be inserted at the beginning of the name, or in the middle? Perhaps a standard colour is better than the custom colour used in the source feed?)
The system assists by displaying a rule for the recommended fix, which you can use to apply colour wherever you want it.
When you accept a change the platform applies the fix, not just to every currently affected product but to any products that suffer from the same problem in future.
How to use labels in a product data feed management platform?
We can apply a label to a segment, to dynamically manage its contents, to use it for targeting and to reuse it in future. We can also add labels to other labels to create ever larger segments.
Because labels are dynamic, the products in each segment are constantly updated according to logical rules.
Labels are usually given a descriptive name, so the label for this example segment could be: "Jeans Invisible on Google for 90 days."
If in the future, another pair of high margin jeans becomes invisible on Google, it will automatically be added to this segment, because it now conforms to the rules.
Any segment in the master feed can be copied to a Google shopping feed, or any other feed on the platform, and at that point we are ready to run an experiment.
In order to devise an experiment that will give meaningful results, we first need to analyse the invisible products themselves, to try to understand why they are not showing.
In other words: we look at data to create a hypothesis that we can test in an experiment on a targeted group of products.
At this point, you will have made significant improvements in the performance of your campaigns in a way that is efficient, powerful, and most of all, safe.
Your master source feed has been augmented by additional sources, and modified by rules that match the attributes of your feeds to the requirements of your chosen marketing channels. And it has all been made possible using just the core data management module of the Intelligent Reach Product Data Management Platform.
The beauty of the system is that it is not technical to use. It is designed for marketers who want to optimise their own campaigns, in a risk-free way, without needing technical teams.
Go further with advanced tools
Intelligent Reach offers advanced tools who want to go further. If you want to learn more about these advanced data quality tools that are available as upgrades to the core data management module, click one of the links below:
Data Connector module - connect performance data from Google and eBay to create filters and rules based on actual performance data.
Content Experimentation module - quickly perform experiments based on performance data and scientifically optimise your product feeds to generate more sales and higher return on ad spend.
Tags