There are so many ecommerce channel strategy ideas that it can be hard to decide which you should be using. As such, we are going to run you through the most common ones to consider. As well as this, we will show you a successful case study from one of our clients, which we hope allows you to ponder all your options.
How to decide on an ecommerce channel strategy
Deciding on an ecommerce channel strategy begins with looking at your business. Although it's tempting to jump straight in – loving that enthusiasm! – you need to consider your digital marketing goals. What is your business hoping to achieve with new ecommerce channels. What is the strategy?
You might be wanting to:
Focus on finding new customers that are currently unaware of your business
Increase the quality and quantity of traffic to your store
Engage current customers who are shopping through search listings
Re-engage customers who have either abandoned their basket checkout or haven't shopped with you recently
There might be other reasons but these are probably the main ones. Increasing brand awareness, increasing customer satisfaction and hopefully increasing sales!
Once you've decided on your reason for branching out your ecommerce channel strategy, it's time to see your options.
Marketplaces
Online marketplaces are on the up with many companies looking into them to advance their ecommerce strategy.
Listing on a marketplace give you the chance to sell to customers who are actively looking to buy a specific product. Why else would they be on a marketplace?
In a recent survey that we conducted with IMRG into the product challenge in the UK, we found that marketplaces are where most customers start their search for a specific product. Over 50% of product searches conducted by those aged 45+ start on a marketplace.
In fact, marketplaces are so popular that high street retailers are beginning to create their own online marketplaces to rival the likes of Amazon and eBay. Boots in the UK and Macy's in the US are just the latest companies to announce their plans. There is also the possibility of soon being able to do product advertising in the metaverse.
Of course, when launching on a marketplace can be difficult as you will want your products to stand out. That's why we've written a post that offers product optimisation examples. Check them out to enhance your product feed today! Still not sure? Book a free product feed audit today by clicking below.
Amazon is perhaps the most well-known marketplace that you can list on but there are many more. Alongside larger marketplaces like eBay, Etsy or Wayfair, there are also smaller marketplaces that might be more suited to your niche.
If you are selling garden furniture, you might like to list on B&Q. If you are selling sporting goods, Decathlon might be the answer. It's almost certain that there are marketplaces in your area that will help you gain more visibility and reach a larger audience so do your research and see if they are right for you.
To help you, start by reading our list of top marketplaces in Australia and New Zealand, as well as our best marketplaces to sell on in the UK.
Search Engines including Google Shopping
One of the more spectacular rises in ecommerce strategy in recent years has been the rise of search engines. Where previously they were useful for finding pages that you could choose to explore further, they have now become a dominant force in ecommerce.
If you are searching for a specific product, Google Shopping (and others including Bing Shopping) will actually show you a selection of products that they think you are most interested in. To help in convincing customers to click, they show an image, a product title, price and a few more pieces of information as well.
If you are working with Google Local Inventory Ads as part of your Product Listings Ads setup, they also by help telling a user if a product is in stock nearby and how far they would have to travel to pick it up.
Google Shopping and other search engines are extremely important in modern ecommerce and should form a large part of your digital marketing strategy. It's free to use and can offer all sorts of data analytics to help as your business grows. They will also help in showing where you can improve your ads.
Because of their reach, using search engines can be a great way to boost your sales and enhance your ecommerce channel strategy.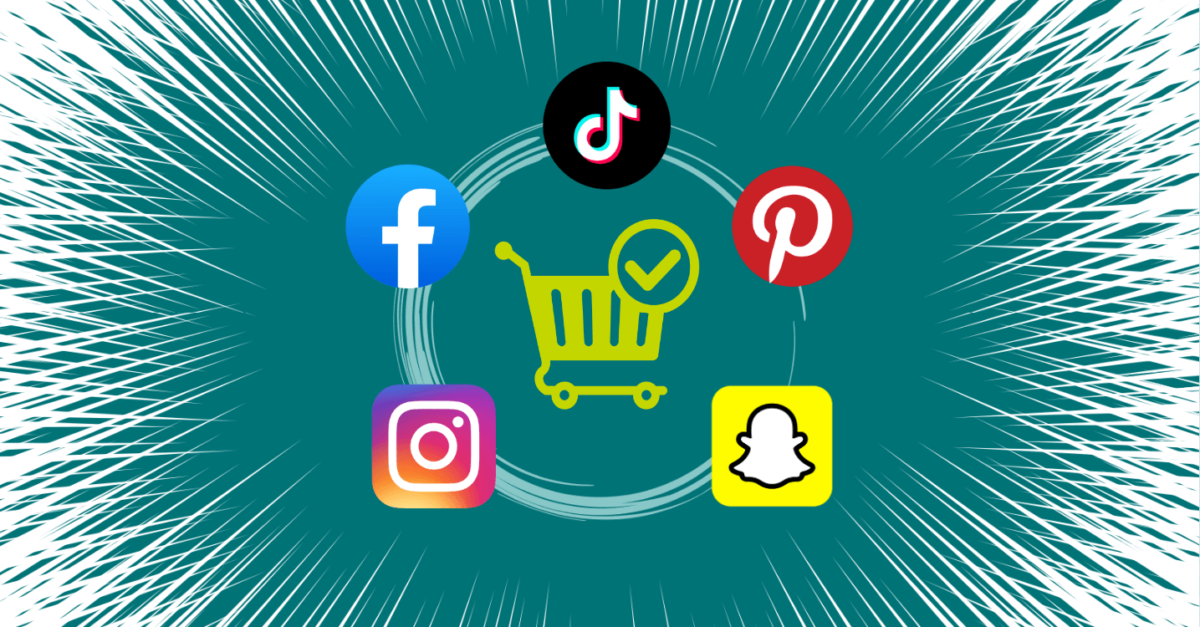 Social Media and Social Commerce
Hands up if you have ever bought anything from an Instagram ad! Social media has never been more popular with Facebook, Instagram, Snapchat, TikTok, Twitter and Pinterest all growing in recent years.
Because of the amount of data they have on users, social media channels can be an extremely effective way of enhancing your ecommerce strategy. You might have noticed this in recent months as the number of adverts in your feed have been increasing steadily. Using these channels is often called Social Commerce.
The visual nature of the medium means many people are inclined to click the ads when they see them. That isn't the only reason though – it's also because these ads tend to be extremely well targeted making them highly effective.
Instagram and Facebook Dynamic Ads allow marketers to only target certain products to very specific individuals. These might include basketball fans of a certain age from a specific area or somebody who is listed as engaged on their relationship status and loves books!
Getting creative is one way to be successful with social media and these platforms are also excellent for brand awareness.
Affiliate Marketing Networks
Retailers looking to engage with new audiences might like to take advantage of affiliate marketing. Diversifying outreach is crucial to continue growth and contributes to finding new customers in places that might not have been previously considered.
Affiliate marketing networks don't publish your products on their own sites but simply provide a link to your site for others to follow. An example might be a content creator advertising your products on YouTube and providing a link in the description. When a viewer clicks the link and purchases something, the affiliate company and the influencer are rewarded.
There are a vast number of affiliate marketing companies and approaches to choose from with one of the most well-known being Awin. Product links might be shared on price comparison platforms (see below), blogs or email newsletters. Wherever a link could be shared, it's possible for affiliate marketers to offer your products.
Affiliate networks are great for agencies and publishers, while also allow you to increase consumer reach in an effortless manner.
Price Comparison Sites
Price comparison sites have been a part of ecommerce almost since it began. These so-called 'shopping search engines' show your products alongside many others from rival online stores. Product feed management is therefore crucial to showing your products at their most eye-catching and engaging.
Examples include Kelkoo, PriceGrabber, Shopzilla and more. They are an easy way for potential customers to see all product information at a glance, most often to compare prices (as the name suggests). Although Google Shopping offers these possibilities, price comparison sites continue to be very popular for their ease of use.
Because of the way price comparison sites work, allowing consumers to easily filter information, ensuring your product data is up to date is a must. Why not book a free product feed audit to check? Our experts will assess titles, product categories, images and more to make sure that your product feed is optimised and the best it can be.
Email Marketing
As ecommerce channel strategy ideas go, email marketing barely seems worth of inclusion because its so obvious. Even so, it is always surprising just how many retailers and brands fail to keep up with their newsletters. Especially since email is the biggest marketing channel on Black Friday.
So why is email marketing so good? Well, it works across all stages of the customer lifecycle, ranking as the single-most-effective tactic for:
Brand awareness
Acquiring new customers and subscribers
Converting leads into paying customers
Retaining customers and turning them into loyal shoppers of your products.
Impressive, right? And with 96% of consumers checking their email every day, it pays to have a great email strategy, especially as emails are the preferred method of brand communication for 83% of shoppers.
The most important part of email as an ecommerce strategy is that it is a channel you own. As such, you don't need to worry about irrelevant ads or products showing in irrelevant locations.
A powerful email marketing strategy may be the most important ecommerce channel out there for engaging with your customers and understanding their likes and dislikes. It can also help drive your social following, push new products or convert an abandoned cart. The possibilities are (almost) endless, especially if you are using email workflows.
Which ecommerce channel strategy idea is right for me?
Choosing which ecommerce channels to use comes down to what the current business goals may be.
Are you retargeting previous customers? Emails be the best way forward. Are you looking to increase your brand awareness? Perhaps affiliate marketing and social media will help. It all comes down to what is right for you.
A great way to approach this question is to see what competitors are doing:
Is their TikTok channel growing?
Are they advertising the channel elsewhere?
Are they doing product launches and how are they letting potential customers know?
How are they managing and optimising their product feed?
Have they recently changed their product titles to attract an older demographic?
Are they keeping up with current trends?
These are just some of the questions you need to be asking when assessing your strategy. Alongside this, it's a good idea to consider your buyer personas and making sure they are always up to date. Would they be the type to use TikTok?
It's not easy to launch a new channel either; it's best to consider your budget and team constraints before making a decision and putting together a detailed plan.
Implementing a new marketplace or sales channel
A multi-channel ecommerce strategy also involves putting together a slightly different product feed for each channel. Managing and optimising a product feed for each can be difficult and time consuming as they all have different requirements - but it doesn't have to be.
With Intelligent Reach, we offer Marketplace Management. This means that you can launch onto each new marketplace in minutes rather than months. As well as this, you benefit from an optimised product feed ensuring that your products will be best placed for impressions, clicks and conversions.
You can take a look at some of our channel partners here. Currently we offer 1500+ channel and digital marketplace integrations. We deal with the fiddly bit so that you can concentrate on selling your products as seamlessly as possible.
Operating a multi-channel ecommerce strategy should ensure that you increase brand awareness, discover more customers and sell more products. Wonderful!
Case Study – River Island joins Google Shopping to enhance their ecommerce channel strategy

River Island wanted to launch onto Google Shopping as they were looking for new ways to drive their revenue. By having Intelligent Reach help launch their products onto Google Shopping with an enriched Shopping feed, they were empowered to take control of their digital selling and boost their peak trading season performance.
They launched across Black Friday and Cyber Monday (otherwise known as Cyber Weekend). They saw instant results, achieving +35% clicks, +42% orders, and +49% revenue.
Prior to working with us, River Island had never utilised the benefits of Google Shopping. They did not have the capabilities to build a high-quality Shopping feed, making it difficult to meet Google's feed requirements.
Thanks to a pre-built template, River Island were able to launch on Google Shopping and see the benefits almost immediately.
Conclusion
Every brand or retailer should consider the various ecommerce channel strategy ideas listed above. They probably won't all be right for your business just yet, but by focusing on your goals and personas, some will undoubtedly be useful.
By working with Intelligent Reach, which provides hundreds of templates for different channels and marketplaces, dynamic labelling, content experimentation and more, we make it easy for your business to reach its next level of growth.
WANT TO LAUNCH INTO NEW CHANNELS?
Sell your products on multiple marketplaces, manage orders and inventory from 1 dashboard.
Download free ebook
Tags