Google's Local Inventory Ads combine two powerful technologies - product search and location-based targeting - to entice shoppers back to local shops.
Local adverts, or Google Local Inventory Ads (or LIAs), are a bit like the classified adverts that used to appear in the back of your local newspapers. Remember them? There'd be a picture of a local shop, a promoted item and some enticing marketing copy ("Shop at Marty's Meats. 10% off sausages!). And, of course, the address of the shop.
The Google equivalent of those old-fashioned adverts have the same objectives as the originals, which is to drive customers to a nearby shop. And pretty much the same components:
There is the address of a local shop, some marketing copy and a few products designed to appeal to the viewer of the ad.
What is the difference between newspaper classified ads and Google Local Inventory Ads (LIAs)?
After years of telling us to move our budgets away from physical stores, Google and Facebook (and others) are now selling online to offline (O2O) solutions that seem to be pushing us back the other way.
Why the move back to local adverts and old-fashioned bricks-and-mortar stores?
The big difference between the old and new types of local adverts is the massive improvement in targeting that is made possible by modern technology.
Newspaper classified
Google Local Inventory Ad (LIA)
ADVERT
FORMAT
Single product. Single shop.
Thousands of products and potentially thousands of locations.
GEO TARGETED
Yes. Targeted to a single location.
Yes. Targeted to local residents but at multiple locations.
TARGETED
No. All readers see the same advert.
Yes. Targeted by product search as well as user's proximity to a physical store.
DYNAMIC
No. All readers see the same advert.
Yes – all users see a different ad depending on their search and location
WASTAGE
Very high. Many readers will not be interested in the products displayed.
Very low. Users are targeted with the products they searched for AND the store they are nearest to.
ROI
Limited.
High. Combines efficiencies of online targeting and logistics with low distribution costs – the customer comes to you!
How do Google Local Inventory Ads work?
Google LIAs work by combining search technology (the products that appear in local inventory adverts are triggered by each user's search) and geo-targeting (the physical store recommended in the adverts is calculated from the user's current location).
How does product and stock information make its way into Google LIA creative?
Perhaps the best way of understanding local adverts, and the other types of dynamic product adverts, is to look at their components:
The creative layer: This is design of the adverts. It comprises a container, or shell, that holds all the elements and defines fundamental features, such as font styles and picture sizes, and references to additional features like maps and hyperlinks. It gives the adverts their functionality and defines the overall look and feel.
The product data feed: This is the file that contains all the data about the products that the retailer sells. In Google Local Ads it is a requirement for advertisers to supply regularly updated inventory and pricing information for each of the products in each of the shops in their campaign. This is addition to the mandatory attributes that Google specifies for even the most basic Google Shopping campaign. This information all needs to be combined and optimised to give your adverts their best chance of generating sales.
You can learn all about mandatory attributes in Google product data feeds in the help panel below:
What are the key Google shopping attributes?
Your product data feed is a file that contains information about your catalogue of products. It is similar in structure to a spreadsheet, with each row representing an individual product, or variant, and each cell defining an attribute of the product (e.g., name, price, size, colour etc).
Before doing anything else you must ensure that your master product feed is in the best possible shape because it is the source and the centre of all your product marketing. A minimum viable master data feed is one where:
The feed is fully populated with all the key product attributes, especially brand, name, colour, size and product type – see the full list below.
Words and phrases are normalised around everyday words that people use when they search for products.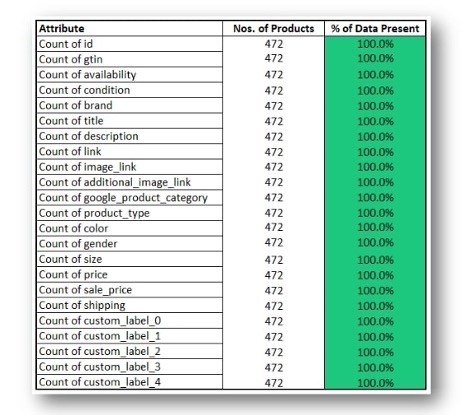 The minimum standard in a Google Shopping feed is to populate all key fields with normalised attributes. E.g., yellow is a more common search term than 'daiquiri'.
On this article we will be focusing on the steps required to add local inventory feeds to product data feeds to enhance your feeds to take advantage of geo-targeting and click and collect.
A local inventory feed: This is a feed that contains the information Google requires about the location of the stores you want to include in your campaign and the stock level of every product available at each of those stores.
Google, Facebook and eBay all have a different specification for inventory feeds, but they have a fairly similar structure, requiring store ids, product ids and the stock level of each product available at each of those stores (the actual address of each store is referenced by an ID which has been uploaded via a separate process – see below)


With potentially hundreds or even thousands of store locations, and stock data required for every product at every one of those locations, the local inventory feed powering Google adverts can run into hundreds of thousands of rows. With a separate inventory feed for each location, Facebook feeds tend to be a more manageable size, but there are many more of them to update, usually several times per day!
How to create a Google Local Inventory ad feed?
Before you attempt to create an LIA feed it is essential to:
Fix any broken and missing attributes in your master product data feed
Add any mandatory Google attributes to your master feed and set them up as per the Google specifications. This is basic feed management.
It is also important to set the values of the attributes to conform to Google's feed requirements and to match the search terms that real customers actually use.
What is the data visualiser and how does it identify broken product data attributes?
The Intelligent Reach data visualiser checks data validity, and monitors the health of every product feed in your account, by automatically testing for things like missing attributes, invalid attributes, missing categories, unmapped categories and out of stock items.
Feed health is represented by a funnel. In a healthy feed there is no narrowing of the funnel, showing that no products are being excluded from the master feed due to missing or broken attributes during the validation process.
In the example shown here, the funnel narrows dramatically. This can sometimes signify that a merchant has deliberately excluded products from a feed, perhaps because they are out of stock. But more often it means that a large number of products in the feed are effectively broken, i.e., they cannot be distributed to any channel.
The easiest and quickest win in any product marketing campaign is to fix broken products so that they be distributed to your channels and contribute to sales.The Data Quality funnel gives clear, quantified information about the issues affecting your feed and how many products are being
What is the difference between a Google Local Inventory ad and a Google Shopping Ad or PLA?
To briefly touch upon how Google Shopping ads/PLAs work: they take the form of dynamic adverts that have access to all of the products in a retailer's catalogue. Every time there is a search on Google Shopping (and other channels) the page responds with adverts from retailers whose feeds contain matching products and which conform to Google's strict requirements. This is the reason why optimizing product data feeds for Google search terms and attributes is so important.
Google Local Inventory Ads are an extension of product marketing ads, in that they ADD location matching to product matching to deliver local product adverts targeted to each individual store. To make them work, Google requires retailers to:
Activate Google My Business (GMB): GMB is a free tool that allows businesses to be found on Google search, maps and Google+. The business information provided in your Google Local Inventory Ads (and about your store locations generally).
Claim your GMB listing and upload the following key information for each store location:

Business name
Opening hours
Contact details
Description of business
Category, e.g. retailer, restaurant etc.
Address
Images/videos
Location
Attributes such as "free wi-fi" and "wheelchair accessible"
Website URL
Inventory information for all your business locations
Google provides retailers with insights into their business listings, so they can see how often people view it and how stores are performing.
Activate local extensions: This is an important step, as it displays the address and location of your stores on a map and the distance of the shopper from their nearest store.
How does Intelligent Reach help you activate click and collect with Google LIAs?
When offering click and collect in Google Local Inventory Ads, the process works best when the retailer opts for the merchant hosted storefront. This means that while Google's adverts display your store locations and availability data, the actual order is placed on your own site.
According to Mark Batson, the director for customer enablement at Intelligent Reach, which manages the inventory feed for Argos LIAs, "The structure is actually pretty simple …
Product ID | Store ID | Quantity | Price
…but there so many permutations (number of products x number of stores) that the data often runs into the high 000,000's or even millions of rows.
"Argos, literally send us each stock change within seconds of it happening, via an API. We batch that into hourly updates to Google."
Batson, confirms that while the Google process is simpler because it has been consolidated around a single file, it can lead to increased complexity in feed management:
"The main stock element is now rolled up with the product data and we can use a flagging system to flag products that are available online/in store. Labelling (and the accuracy of it) becomes increasingly important in that instance."
For each product in a feed that is opted-in to 'pickup today', retailers must offer same day or next day pickup from the time the order is placed. Here's how the process works according to Google:
A customer clicks a Google Local Inventory Ad with distance annotation plus availability text.
Google passes a Google My Business store code where an item is available at the retailer.
The retailer generates the store customized landing page for the clicked product.
On the retailer's website, the customer then has the option to buy or reserve the product online and pick it up at the store nearby.
Retailers must direct users to the store Google passes in the URL generated by the user's click, even if they can detect the user's location for themselves.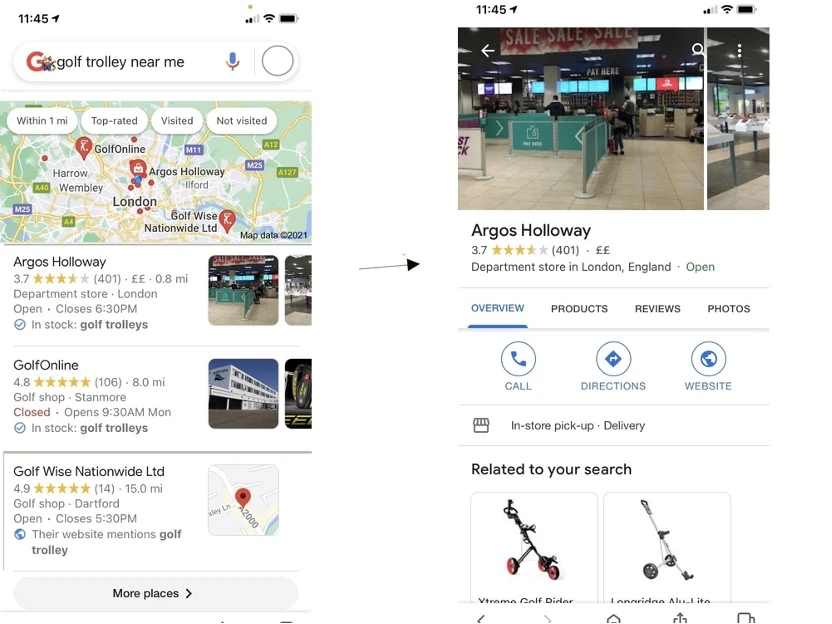 The Google Local Inventory Ads themselves appear as a set of matches that, critically, give the location of each store that has a product that matches the search, and (where the data is available from the retailer) a confirmation that the searched for item is in stock.
Clicking on an entry leads to a storefront for the selected retailer with more detailed product listings and the option to buy.
What are Google's Local Product Inventory feed requirements?
To create a local product inventory feed, go to the Feeds section under 'Products' in Merchant Center. At the top of the supplemental feeds table, click Add local product inventory feed. Follow the prompts and provide the following pieces of information about your data:
Scheduled fetch: You'll host a file on your website that contains data and schedule a regular time for Google to fetch updates. Updates are only applied to your account when the fetch occurs.
Upload: You'll keep a file on your computer that contains data and regularly upload it to your account through SFTP, FTP, Google Cloud Storage or a manual upload.

10 benefits of Google LIAs and FB Store traffic ads
A click and collect sale is still an online sale, with all the targeting options, sales efficiencies and reduced cost of sale that that usually entails. The only difference is that the customer doesn't have the product delivered to their door.
Local ads add geo-targeting to existing search and behavioural targeting adverts, so they appear when a user is in market AND close to your store.
Local ads are typically shown to users who have requested a nearby pick up. So these users are self-selecting and they are clearly telling us they want shop in a local store.
Some customers can't wait for next-day delivery. They need the product today and can only be served by local pick up or same-day delivery.
Most customers choose to buy-online-pay-in-store (BOPIS) to save on delivery costs. Reducing the number of home deliveries saves retailers money too as the last mile is the most expensive.
Exposing new customers to physical store (or stores) is effectively a free upsell opportunity. Click and collect customers are new customers who spend more in stores than regular visitors.
Customer collections lead to reductions in cost of sale, fraud and even returns (those caused by obvious picking mistakes such as wrong item, size, colour etc).
The customer is always right.
Happier customers = healthier brand.
Increased targeting = better performance = greater ROI.
Products not showing on Google? It's probably your product feed data.
Learn how to improve your data and maximise product visibility with our ultimate guide.
Read Now
Tags