After your e-commerce store, your most important asset is your product data feed (aka your product feed, data feed, product information feed or catalogue file). If you want to show your products on Google shopping ads, your Google Product Feed has to be perfect. Are you making this right?

Most e-commerce platforms will throw off this file which is effectively an exact copy of the taxonomy of your e-commerce site. This remarkable little freebie contains the same products in the same categories with the same photography, pricing and descriptions. Visualise it as a spreadsheet, with each row dedicated to a single product, and each cell on that row showing a different attribute, including product name, price, category, description, photograph 1, photograph 2 etc.

When you update your online store with new products or prices, or any other data, the product data feed is updated automatically as well. It is a miraculously efficient tool for getting your product information and marketing ideas in front of 100s of new audiences and potentially millions of new users.

The product feed has become so effective that a whole ecosystem has grown up to exploit it. Everything from paid product search giants like Google Shopping, to marketplaces like Amazon and eBay to dynamic advertising companies like Criteo, have evolved to use product data feeds as one of the primary inputs for the campaigns you run on their platforms.
For this reason, building accurate and complete product data feeds is paramount for e-commerce success.

Google Shopping is probably the most important channel for your feed but some of the other channels that can utilise a product data will also be very important to your business.
Channels that use product data feeds:
Paid search (Google Shopping, Bing)
Paid social (Facebook, Instagram)
Online marketplaces (Amazon, eBay)
Display Ads (Criteo, Conversant)
Affiliate Networks (ShopStyle, Awin)
Comparison Shopping Sites (Kelkoo, PriceRunner)
Superficially, you could take your product data feed directly from your e-commerce platform and plug it into any or all of these platforms and, being an accurate and dynamic mirror of your store, it would 'dynamically' manage those channels for you.
However, the results are likely to be very disappointing. On average, in a default feed: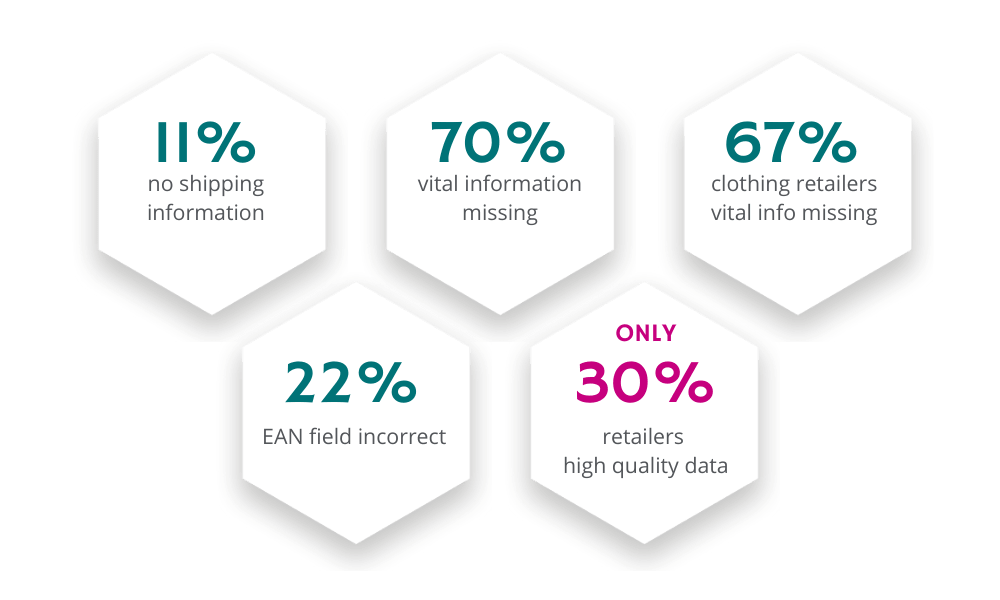 This is because of some important limitations:
Typically you only have one feed output from your e-commerce platform which you're then forced to use across all channels
It usually contains only very basic fields and lacks category mapping, labels and any more advanced attributes
It has no optimisation capability; the data is exactly as it appears on the website
Exported categorisation tends to be poor/vague e.g. "New In" "Products Under £10"
What is the minimum optimisation required for a Google Product Feed?
The challenge with Google Shopping and the other key search and marketplace channels is that each has its own, very distinct, requirements.
Your Google Product feed, for example, must include attributes such as brand, shipping, product description and EAN (where an EAN or other unique identifier exists), otherwise the products will not be approved and therefore won't display on Google Shopping, regardless of other optimisations.
For Clothing & Accessories, pattern and material are actually required fields and for these products it's also mandatory to use a Google product category. Meanwhile, on Facebook, failure to include Availability and Condition can cause a product to be delisted.
Full list of mandatory Google Shopping fields:
| | |
| --- | --- |
| id - retailer identified | MPN (Manufactured Part Number) |
| title | condition |
| description | adult |
| link | age_group |
| image | multipack |
| availability | is_bundle |
| price | gender |
| brand | material |
| colour | pattern |
| size | item_group_id |
| GTIN (Global Trade Item) | shipping/delivery |
| | |
For these reasons, most big e-tailers use a feed management platform to remap their feeds. This allows them to create bespoke data feeds for Google and other markets on a channel-by-channel basis, and to avoid issues when running Google Shopping campaigns.

At an absolute minimum, feed management platform will provide a mapping template for each market that continually maps their client's default feed to the requirements of each channel. They might offer this as a managed service and/or as a self-serve model.

As with your default feed these bespoke product feeds are updated automatically, usually on a scheduled basis. So retailers are now in a much better position to sign off on those pesky product feeds and get on with some proper marketing…except
80% of my products are still invisible on Google Shopping search!
Just because 100% of your products are now approved by Google does not mean that 100% of your products are winning bids and generating impressions (on Google Shopping or any of your other channels).
From a sample of 100s of retailers an average of 80% of products submitted to Google, and approved, generated zero ad impressions over the course of a month. That is, 80% of products approved effectively remained invisible.
What if the products that SHOULD be your best-sellers are among the invisible 80%
In order to surface these products, without exponentially increasing bids, these feeds need to be optimised at the product level.
While naming products on your own e-commerce site it is easy to become parochial. For example, a user journey may indicate that a product is in a particular category, say footwear. So you can use an abstract, on-brand, name for that product because the environment or photography will do the job of describing that product to the user.

For example, on the Havaianas website you might find a pair of 'Havaianas Tributo'. Any idea what those might be? Not a Cuban tribute band, but actually a pair of iconic flip flops (aka thongs in Brazil and Jandals in Australia).
There are two key points here: firstly, if the product name doesn't tell you what the product is it has practically zero chance of turning up in Google search results; secondly, the product type you add to the product name may vary by country. In the UK a more search-friendly name would be:
'Havaianas flip flops, Tributo'.

It's effective to add any other attributes a customer might use in their search - in this case, gender, size and colour. So instead of 'Havaianas Tributo Black', your product name might be:
'Havaianas Unisex flip flops - Tributo, Black, size 6'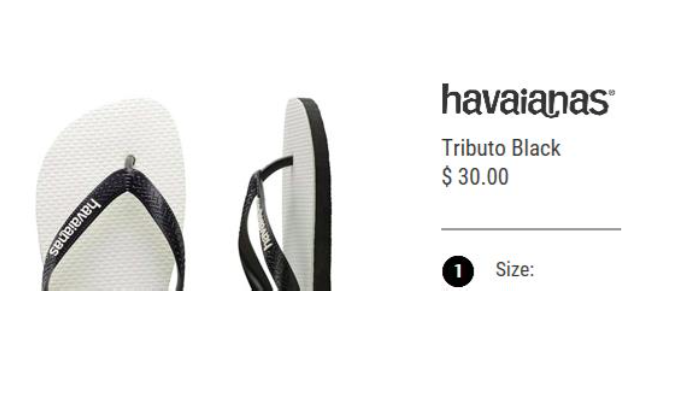 This is easily achieved by inserting data into the product name from some of the other fields in the feed, e.g. gender, size and colour.
Product names that win impressions:
Consider alternative words for products based on Google trends and Google categories
Add useful product information to the title e.g. size and colour
Use Google-friendly attributes i.e. 'grey' rather than 'Airforce/Killer Whale'
How do you know your Google Shopping Feed is working?
There is no doubt that by mapping your product types to channel categories, backfilling mandatory product data, augmenting product names with key attributes and optimising product groups for the most appropriate search terms, you will see bid prices fall and your products appear more frequently in Google Shopping (and other channels). But how do you know when you have the optimum strategy for surfacing key products at the lowest possible bid rates?
The only way to be sure is through experimentation - typically by using A/B or multivariant testing. Although this is the most time-consuming part of the optimisation process, it is so effective it should be seen as an opportunity rather than a chore.
First, define some success metrics. For example:
Invisible Key Products should appear on Google Shopping at current bids
Visible Key Products should generate more impressions and higher CTRs on Google Shopping at current bids
In the first test you need to group together your 'invisibles', so your feed management platform must be able to ingest and merge analytics data from your Google Ads account.
You also need a feed-management platform that allows for experimentation.
In your feed management platform, label them something like 'invisible'.
Sort the good-margin products from the low-margin products (perhaps) and label them as 'targets'. Then, create a campaign for the products that overlap.
The goal is to use your feed management platform to construct variations of the product names in the 'invisible' AND 'targets' overlap group using different combinations and ordering of the data in the product name and other fields - such as type, colour and size.
You will have some idea of which strategies might work best from your Google trends research. Try also using different photographs from those you have available for each product.
For example, in the pets market, a series of experiments from leading retailer Pets at Home with dog jackets made from the popular Ripstop fabric, might look like this:
Red Dog Jacket > becomes one of the following:
Dog Jacket, Red
Ripstop Dog Jacket Large Red
Ripstop Dog Jacket Red Large
Pets at Home Ripstop Dog Jacket Red Large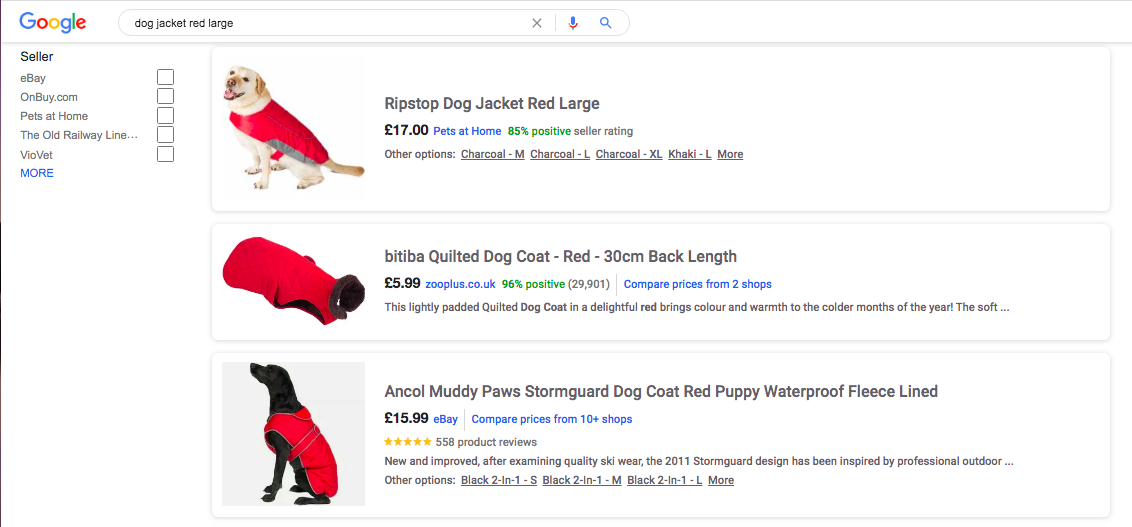 Pets at Home decided on a naming convention that included its own brand and the fabric, because it was discovered that users of this group of products were often searching on these terms. They also decided to include a pet in many of their product photographs.
So in Pets at Home Google Shopping adverts we see:
Ripstop Dog Jacket Red Large –
Pets at Home - £17.99 (85% positive reseller rating)
And a picture of a dog wearing the jacket.
According to Sian Wells of Pets at Home, the data experimentation process "… allows us to quickly find 1000s of invisible products and build them into dedicated campaigns, to drive visibility. In less than a week we've seen an incremental 180k impression uplift and a 2.37% CTR."
As a result of these types of experiments, you will find the optimum strategy for your own Google Product Feed. This will increase the number of products that are visible on Google Shopping, the number of ad impressions that are delivered and the overall CTR.
Conclusion
Many things can go wrong when advertising on Google - but, hey! Now you have the knowledge to capitalise on!
Remember: enrich, optimise and test your feed constantly - this is the winning formula. And keep your eye on Google feed requirements, as they may often change.
If you are not sure whether your Google Product Feed is complete and accurate - get in touch with us! We can help you with that, and run a free data feed audit for you.
Tags