Online marketplaces are growing and it can feel overwhelming when it comes to knowing where you should sell your products. We've previously listed the top marketplaces to sell on in Australia and New Zealand and the top marketplaces to sell on in the US but if you're a seller in the UK, we have compiled a list specially for you as well.
If you are looking to sell almost any product online, here are the top UK marketplaces to consider in 2023:
Why sell on Marketplaces?
If you are a brand or retailer, you probably already have your own online marketplace for selling to your customers. You may even sell or advertise on a few other channels as well. You might even be learning how to increase sales in D2C ecommerce. It may therefore be tempting to ignore the benefits of selling on UK marketplaces but you couldn't be more wrong.
Recent research that we conducted with IMRG suggests that many people over 45 begin their search for products on marketplaces, while many high street retailers have launched or are looking to launch their own offering.
Looking for the top UK marketplaces to sell on - that accept third-party sellers - may feel like a chore but it's definitely worth it. (This is not an exhaustive list either. Later this year, it will even be possible to sell on Boots marketplace!)
Despite the challenges, the many benefits of selling on marketplaces include:
Greater visibility of your products
Going where your customers are already shopping
Strengthening your brand across a number of trusted sites
Turning buyers into loyal customers
Gaining more reviews and feedback
Enjoying more sales (hopefully!)
1. Amazon (Worldwide | All Product Categories)
Amazon is the 12th most visited website in the world, and the 4th most visited in the UK, according to data from Similarweb. The leading e-commerce platform in the country, Amazon receives 474 million visits per month in the UK, which means every citizen visits more than once a week.
Selling on the most-well known marketplace brings obvious advantages such as more access to buyers. As well as this, consumers tend to trust Amazon sellers thanks to their strong brand.
Thanks to its global reach, selling on Amazon is a must as it covers all major product categories from fashion and homeware through to electronics and toys. Almost anything can be sold on Amazon and thankfully, it isn't difficult to get set up. You can even choose for Fulfilment by Amazon if it appeals.
Selling on Amazon might seem daunting but it doesn't have to be. We've written a frequently asked questions page to get you started.
2. eBay (Worldwide | All Product Categories)
eBay is the 9th most visited website in the UK, and the only one that comes somewhat close to Amazon's visitor numbers. eBay has 279 million visits each month, making it another excellent online UK marketplace platform for sellers to use.
With the same benefits of selling on Amazon such as integrating with a trusted brand and access to millions of potential customers, selling on eBay also offers other advantages. Fees for sellers are lower for the most part, while products can be sold via auction or with customers choosing to 'buy it now'.
As well as this, eBay regularly runs promotions to incentivise buyers, including promotions via the popular Nectar card loyalty programme.
Of all the UK marketplaces, eBay may be the easiest. New sellers can work with price setting recommendations, pre-set templates and promotional tools, while there are comprehensive guides if needed.
3. Etsy (Worldwide | Handmade, Vintage & Craft)
The second most popular marketplace in the world in 2021, selling on Etsy is a no brainer if you want access to a global customer base. With over 96 million active Etsy buyers worldwide, and over 7.5 million sellers, it is a competitive but effective marketplace for finding niche and often homemade goods.
Selling on etsy offers an opportunity for smaller businesses to grow. They provide easy-to-use tools to help you manage and promote your personal marketplace, and they are fully transparent with their fees.
It is easy to open your shop and begin to sell on Etsy. Simply click 'Open your Etsy shop' at the link below and follow the prompts. You'll be selling on one of the top UK marketplaces in no time!
4. Wayfair (US & Europe | Furniture & Homeware)
Of all the online marketplaces to sell on, Wayfair is probably the most important if you sell furniture. It was founded in the US in 2002 and is one of the top marketplaces in the UK with roughly 24 million visits a month.
Selling on Wayfair means selling on one of the world's largest marketplaces dedicate to furniture and homeware. With over $13.2 billion in revenue up until the end of March 2022, the company has over 25 million active customers worldwide and roughly 33 million products.
It is easy to sell on Wayfair and easy to grow, with access to industry-leading tools to keep you on top of your data. The company also offers learning programmes for sellers, while they promote a hassle-free setup. To partner with Wayfair, simply fill in the application form at the link below.
5. Argos (UK & Ireland | All Product Categories)
A list of online UK marketplaces wouldn't feel complete without Argos. The 3rd most popular e-commerce website in the UK by number of visitors, Argos sells products across almost all categories and can fulfil orders within the same day. They estimate that 96% of customers live within 10 miles of a store.
By focusing on non-branded keywords, Argos often gains traffic via search engines. With most buyers under 45 beginning their search for a product in this way, selling on Argos is an excellent option for businesses focusing on marketplace integration.
As it is owned by Sainsbury's, Argos also works within the Nectar card loyalty programme, which offers more opportunity for buyers to find your products.
Selling on Argos isn't quite as easy as selling on Amazon or eBay but the good news is that the first step isn't difficult. Simply fill in a form on the website below.
6. ASOS (Worldwide | Fashion)
ASOS is one of the biggest fashion retailers in the world and sells its products to all 196 countries around the globe. With annual revenues of over $3.2 billion, and selling over 850 brands, gaining access to its marketplace is an excellent opportunity for merchants and retailers.
Founded in the UK in 2000, ASOS markets to fashion-loving twenty-somethings, and opening a boutique on ASOS Marketplace should focus on this clientele.
Whether you are an up-and-coming fashion designer, a vintage warehouse or an up-and-coming brand, the method to begin selling on ASOS is the same. Sellers must setup a fully verified Business Paypal account prior to application, with responses generally taking no longer than three days.
7. Next (UK & Ireland | Fashion, Furniture & Homeware)
Next, the UK fashion and homeware giant, is generating substantial growth from its marketplace, which houses third-party brands.
It grew 85% in the final two months of 2021 with over 1,000 companies including Nike, Levi's and Ralph Lauren choosing to offer their goods on the platform. Next launched their marketplace in 2014 as Next Label, but as e-commerce has taken over, it has become its fastest driver of growth.
Next doubled the number of third-party brands integrated with its marketplace from 500 to 1,000 in just three years, and it shows no sign of slowing down. Unfortunately, there is no application form to start selling directly on Next, so unless you are a known brand, you may have to wait. That being said, it is possible to become a supplier.
8. Decathlon (Europe | Sporting Goods)
Decathlon is the biggest sporting goods retailer in the world with over 2200 stores in 57 countries. Founded in France in 1976, the company has gone from strength to strength and most recently had an annual turnover of €12.4 billion.
In the UK, Decathlon had over 30 million unique visitors in 2020, made over £100 million online, and shipped over 1 million parcels. Looking to future proof, the company has invested into an omnichannel strategy, which includes marketplace integration for smaller businesses that can take advantage of Decathlon's unique reach. This is provided by Mirakl, an Intelligent Reach partner.
Selling on the Decathlon marketplace is a seamless experience as they take control of all marketing, and each merchant can take advantage of their trusted brand and its stellar reputation. Alongside this, integrated businesses benefit from selling on Decathlon thanks to their account management, seller and product reviews, in-store product showrooming and customer service.
If you are a UK retailer or brand looking to sell to up to 620 million customers across Belgium, the Netherlands, Italy, Spain, Poland, the UK and Germany, download the brochure and fill in the form on the Decathlon website.
9. The Range (Europe | Home, Garden & Leisure)
Based in the UK and Ireland, The Range delivers to 27 countries across Europe and is actively encouraging brands and retailers to get involved with their marketplace, The Range Plus.
The Range marketplace advertises that 30% of the products sold on their website are from third parties, while they have an audience of 43 million people. Using a straightforward commission-based process, if your product doesn't sell, there is no fee to pay.
Trusted partners benefit from the 30+ years of brand awareness that The Range has created. Signing up is as easy as filling out a form on their dedicated website. Once accepted, add your items via a web form or API, enjoy easy product management, fulfil your orders and enjoy being paid promptly.
[Start selling on The Range Plus]
10. OnBuy.com (Worldwide | All Product Categories)
OnBuy calls itself the world's fastest growing marketplace, quickly scaling in the UK since its launch in 2016. It also claims to be the UK's most trusted marketplace. Unlike Amazon, the company doesn't sell any of its own stock, instead putting small businesses and sellers at the centre of its success.
OnBuy.com offers over 35 million products and guarantees safe payment via a partnership with Paypal. Marketplace integration is relatively straightforward too, with sellers enrolled via monthly subscriptions and competitive fees.
The company can also help if you are planning to sell globally. They have recent scaled into 42 additional countries, with over 100 more to come by the end of 2023.
11. Not on the High Street (UK & Ireland | Unique, Personalised & Customised Gifts)
One of the main competitors to Etsy in the UK, Not on the High Street was founded in 2006. It is a curated marketplace and boasts over 5,000 sellers ('partners'). Each offers unique gifts that you won't be able to find in your local town centre.
According to the Not on the High Street annual report, 63% of products are customised and they have 2.8 million customers. With brand awareness over 80%, they are the perfect marketplace if you are offering gifts with a personal touch.
Since launch, the company has seen over £1 billion of sales. They use a range of marketing methods to shine a light on the small, creative businesses using their platform.
To become a partner and begin selling on Not on the High Street, complete a form on their website.
[Start selling on Not on the High Street]
12. Zalando (Europe | Shoes, Fashion & Beauty)
Zalando is a German marketplace that specialises in selling fashion and beauty products. Generating almost €8 billion in 2020, the company operates in 23 countries in Europe and has just under 50 million customers. It sees over 6 million visits a month from UK customers.
The success of Zalando has been attributed to its focus on improving customer loyalty. When customers make a purchase, their tastes and preferences are noted and the products update accordingly.
In order to sell on Zalando, sellers must first join the Partner Program. Brands including Nike already sell via the platform but the Partner Program is also open to smaller, local businesses, which can take advantage of Zalando Fulfillment Solutions if necessary.
In order to learn 'how to Zalando', sellers must watch a video before completing an online application.
13. ManoMano (Europe | Home Improvement and Garden)
ManoMano specialises in home improvement and products for the garden. Founded in France, the company has operated in the UK since 2016 and sees 4 million UK visits per month. Alongside giving access to its French and UK operations, selling on ManoMano also opens a window to markets in Europe. These include Germany, Italy, Belgium and Spain.
Hugely popular within its niche, ManoMano's shoppers hold the brand in high regard. They are also known to have higher intent to purchase than on other marketplaces such as Amazon.
Becoming a seller on ManoMano brings greater visibility to your products, high quality traffic from both DIY hobbyists and professionals, and dedicated supported. Simply fill out the application form on their website to get started.
14. B&Q (Europe | Home Improvement and Garden)
B&Q is the leading retailer for home improvement in the UK. It was one of the first companies to realise the importance of the internet and the rise of ecommerce. As such, it still runs and operates from diy.com today.
B&Q launched it's Mirakl-powered marketplace in March and has already seen an explosion in growth. They have added tens of thousands of SKUs to their website, giving customers a broader range of products. It actually has more traffic than Amazon in DIY categories.
To become a B&Q verified seller and start selling on B&Q, simply head to their website below and fill out a form.
Begin Selling on Top UK Marketplaces
Understanding the UK marketplaces is only the first step in growing your business.
That's why we have put together a FREE Selling on Marketplaces guide. Feel free to refer to it as you begin selling on numerous channels.
You will learn:
The marketplace machine
Benefits  of selling on marketplaces
Common  mistakes  sellers make
7  strategies  for marketplace success
We wish you the very best of luck!
FREE GUIDE TO MARKETPLACES
Download our FREE guide to the 72 biggest fashion marketplaces in the world. Find the best marketplaces for your business and sign up instantly
Download the free guide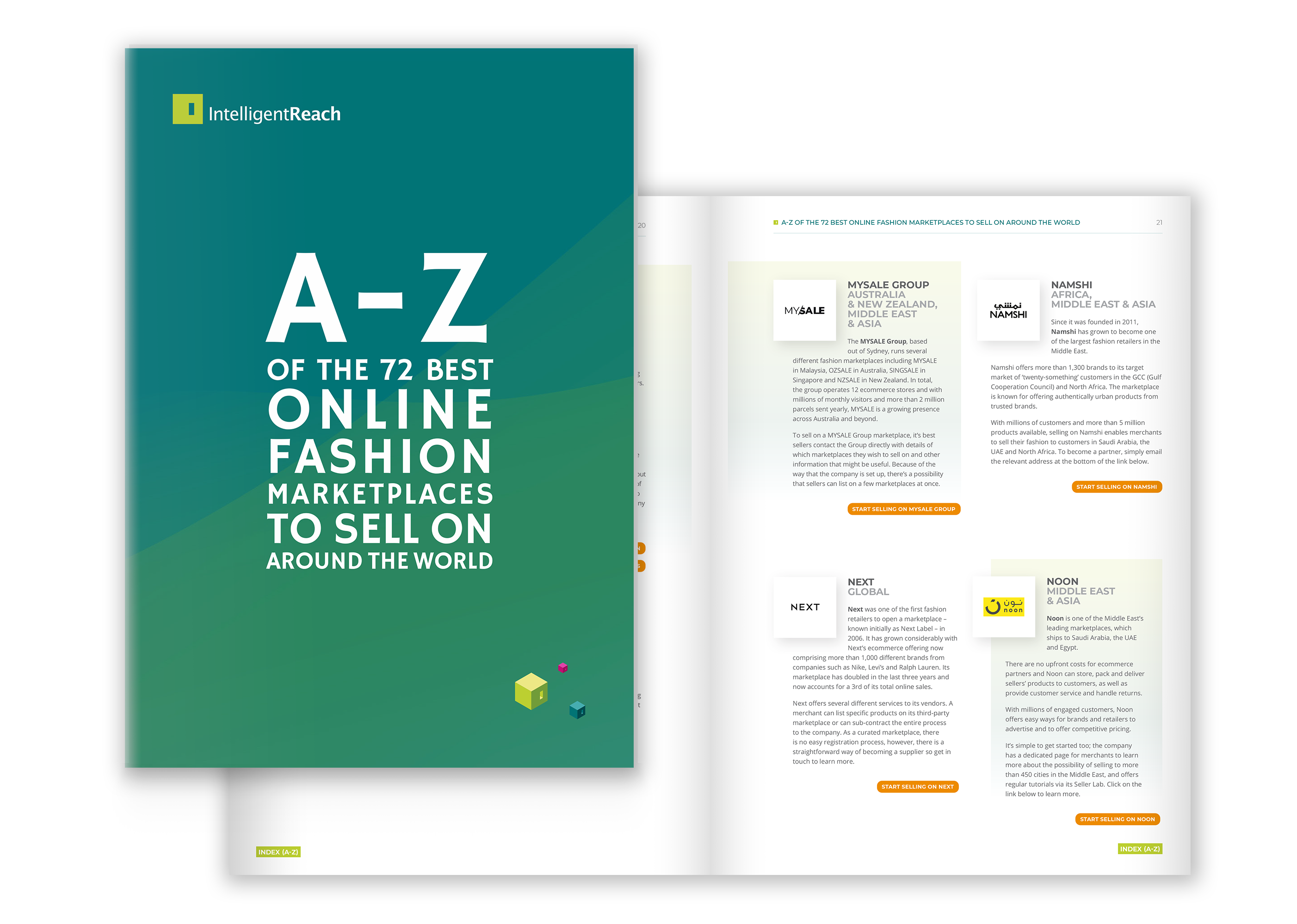 Want to Learn More?
Discover the true power of the IR platform - book your demo today
Book a Demo
Tags