Learn everything you need to know about how to sell successfully on Pinterest, from setting up an account to advertising products
Pinterest is rapidly growing in size. In just 3 years, from the end of 2019 to the end of 2022, the company grew by more than 1/3, from 335 million users to 450 million. So it is no surprise that more and more brands are beginning to sell on Pinterest.
One of the major reasons for its spectacular growth is that what began as a site for planning weddings and home improvement projects has become a fantastic way to begin an online product search.
Indeed, 89% of users in the US use Pinterest when researching products to buy. If you are looking for a new digital commerce channel, here's why it might be a good idea for brands to look at selling on Pinterest.
What is Pinterest?
Pinterest is a social media platform where users can 'pin' images they like to their own virtual pin boards. These boards can be named by the creator, who might create a board on gardening, DIY or anything they like!
The images can be simply visual with bit of description when a user clicks on it. More often that not though, they will link to the site where the image came from.
An image on Pinterest is often called a pin and vice versa. The terms are interchangeable but refer to the same thing. Some pins are uploaded by users while others are provided by brands and retailers, who can promote them and entice you to click onto their site.
The boards that users create can be private or publicly accessible. Why do the hard work when someone else has done it for you? It's a highly engaging community and is most popular with women. 60% of Pinterest users are female and they are most likely to be aged 25-34.
Perhaps most important for brands, 31% of users in the UK have an income of over £100,000. An excellent example of social commerce in action, these potential customers are ready to buy.
Why you should sell on Pinterest
We've already given you 450 million reasons why brands should be selling on Pinterest but let's add a few more.
Of the 9 in 10 people who use the site for product research, 8 in 10 go on to buy something. That's a huge conversion rate!
Although the site is most popular in the US and Canada (just over 20% of Pinterest users live in one of the two countries), pinning is popular everywhere. Pinterest has 124 million users in Europe and 231 million in the rest of the world. Talk about a compelling opportunity.
With social media use and social commerce growing, the site is perfectly placed to grow. A highly visual platform, it is probably the only website that could be 100% advertising and nobody would complain. The adverts sync perfectly with the user-generated content and it has a high ROAS.
Adding to this, many social media advertising platforms are struggling due to privacy tightening from the likes of Apple. Pinterest suffers no such problems serving adverts to the correct demographic because, although businesses can target by age and other categories, seeing ads is primarily based on what a user searches.
All this makes it an exciting opportunity for brands looking to enhance their connected commerce offering and start selling on Pinterest.
Getting your brand ready to sell on Pinterest
You've visited the website and had a quick search. Now it's time to run through the step-by-step approach to making sure that your brand is ready to sell.
Think about your brand's target audience
With most forms of social media, it's best to start thinking of the target audience. Who are you looking to sell to? Although Pinterest ads predominantly appear based on a related search, thinking about this can still help your brand.
You'll likely already have a target demographic in mind, but if you don't, now is the time to think it through! Search for similar brands to yours on the platform and see how they advertise. Also consider the organic content that the adverts rank alongside.
Do you see any similarities or differences? Which pins do you want to click and why? Answering these questions during basic research will definitely help when you begin selling on Pinterest.
Set up a business account
In order to advertise and sell on Pinterest, you'll need to sign up for a business account. This is different from a personal account because it adds everything you require to start selling – adverts, analytics and much more.
It's easy to create a business account on Pinterest, or you can convert a personal account instead. Easy. You're well on your way!
Brand your account
It goes without saying that your brand is important. As such, make sure that the Pinterest arm of your brand is similar to any other social media profiles you may have.
This means changing the profile photo to a high-res company logo and updating the bio with an apt, optimised description of your business. Alongside this, make sure that your website link and contact details are up to date and that your cover boards match your branding.
This is all easy stuff but if you get the basics right, you're in prime position for impressing when it comes to the selling.
Claim and verify your website for analytics
Adding a website to your business account profile is only the first part of admin to complete. Companies also need to claim their website; a verification that they are who they say they are. As well as this, it means brands can receive analytics on the Pins they create as well as the ones users create for them.
To do this, you need to add a meta tag or upload an HTML file directly to your website. It might sound complicated but it's actually straightforward and Pinterest will guide you!
It's important to note that you can only claim one website for verification. As such, make sure that it's your main ecommerce site your linking to or you won't be able to link products or create a shop for customers to enjoy.
How to sell on Pinterest
If only it were as easy as making an advert and waiting for a sale to come in. No, if you want to sell on Pinterest, you need to put the effort in. Thankfully, our step-by-step guide will tell you not only how to sell on Pinterest but how to flourish!
Make your photos stand out
It sounds obvious but Pinterest is a visual platform so you need to make your visuals eye-catching! It's similar to preparing your images for Google Shopping but remember, the target audience may be slightly different. Put some time in to get the aesthetic just right.
Whereas products on Google tend to work well with a white background, products on Pinterest tend to do well when seen among other items in a living room or being worn by a model. It's all about that magazine-style approach to selling!
Your check list should be:
High quality professional photography
Correct image sizes
Nicely designed graphics (if applicable)
Here are a few examples of what we mean: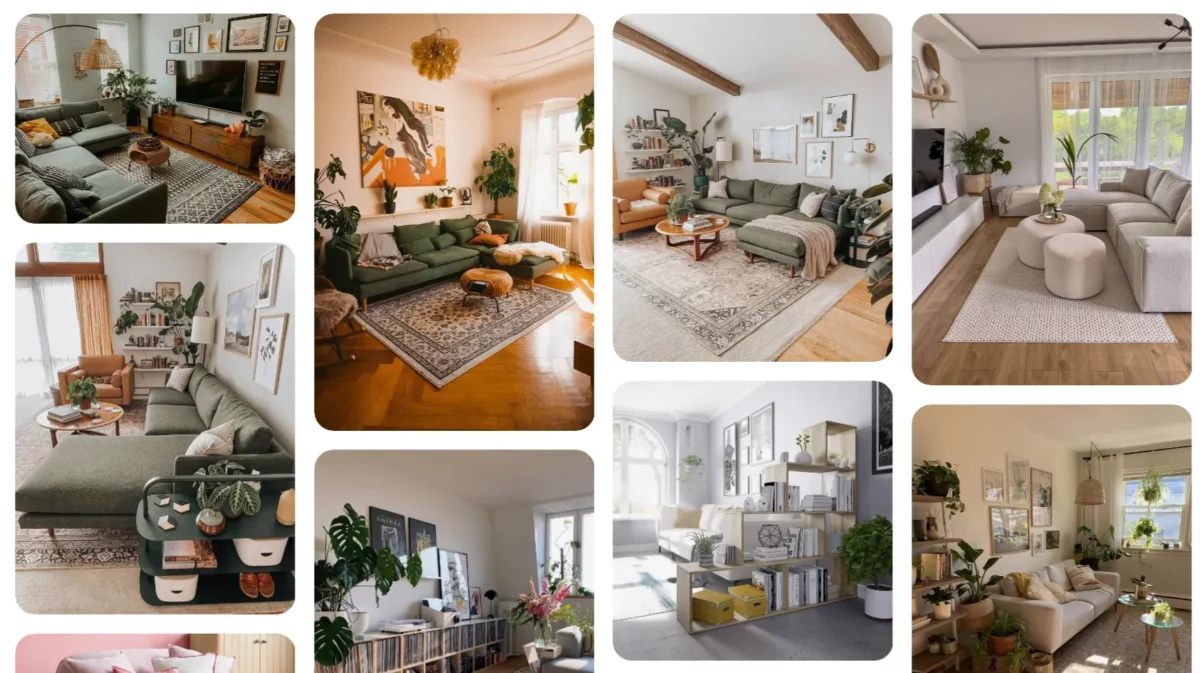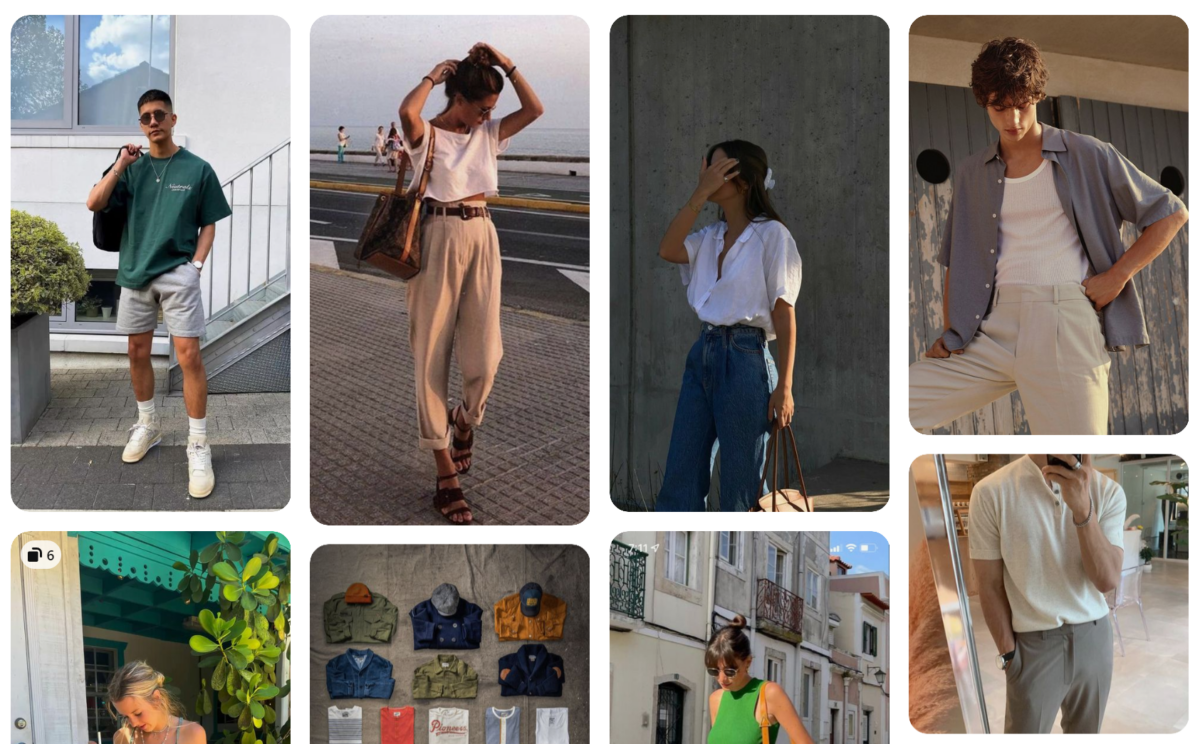 Optimise for Pinterest
Pinterest is all about visual searches but there is text on every pin as well. As with making sure that you have the perfect product title on Google Shopping, the same is true with Pinterest.
Optimising the title of your image by focusing on keywords is vital to making sure your images are seen. Use these keywords strategically on your image description as well.
By perfecting your 'Pinterest SEO', your content is sure to expand its reach and bring a higher CTR to your website.
Learn more about product feed optimisation.
Types of Pinterest Pins
There are five main types of Pinterest Pins to be aware of – Rich Pins, Video Pins, Collection Pins (AKA 'Shop the Look'), Try on Product Pins and Promoted Pins. Let's look at them in more detail.
Rich Pins
Rich Pins are perhaps the easiest pin to use. They extract data from your website to essentially create a pin from scratch for the website!
This data can include product image, title, description and more. Alongside this, it can also show the price of a product and whether it is in stock. A blue 'shop' button also appears, enticing users to visit your website and make a purchase (but only if verified your website using the step mentioned above!)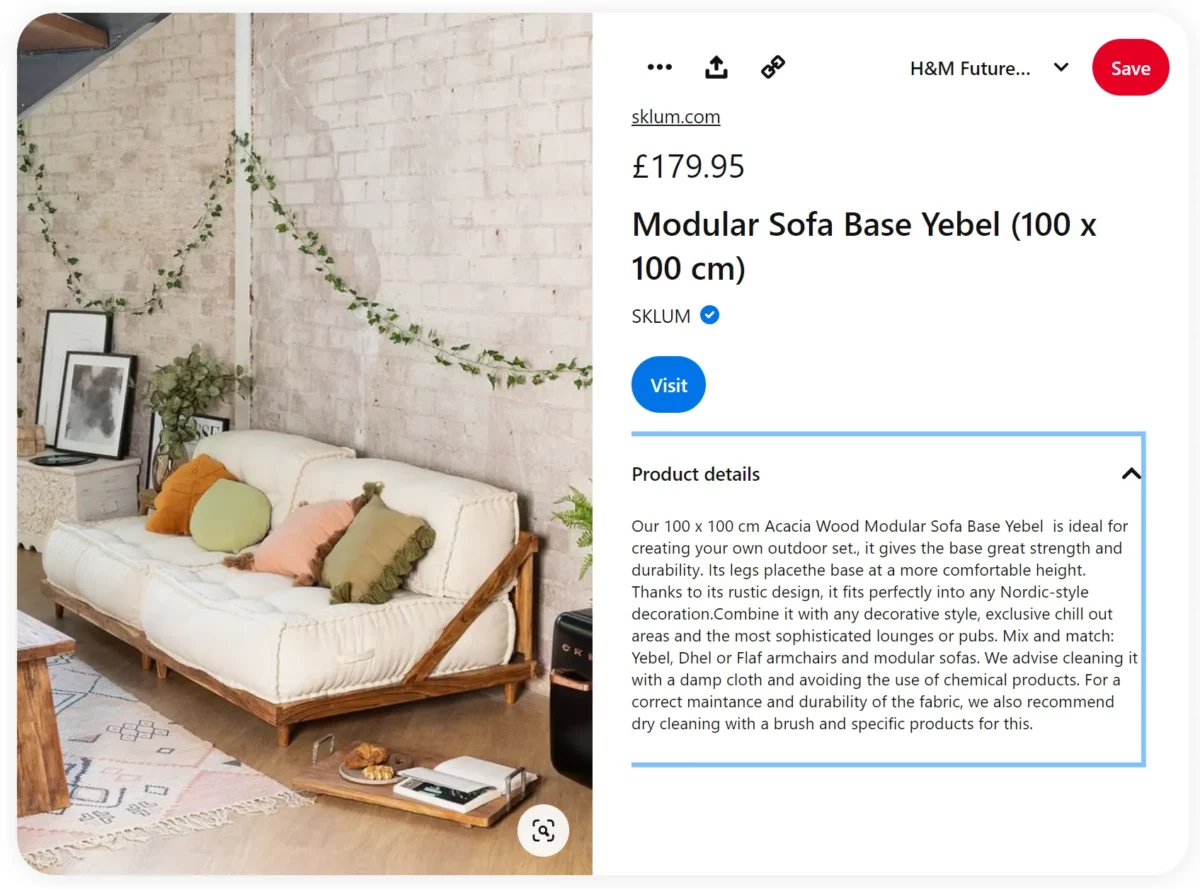 Collections Pins (AKA 'Shop the Look')
Collections Pins are excellent for linking numerous products from just one pin. Also known as Shop the Look pins, just as the name suggests, brands can tag photos to highlight the products being shown.
These are particularly useful in fashion ecommerce if wanting to showcase everything a model is wearing. Likewise, it can be a great way to advertise multiple items in a bathroom photo.
Users will know it's a Collections pin because of the magnifying glass in the bottom corner of the image. Once clicked, each linked product is shown with a white dot, indicating that users can interact to show more information.
Creating Collections pins is a manual process but it is easily done when you have claimed and verified your website with Pinterest.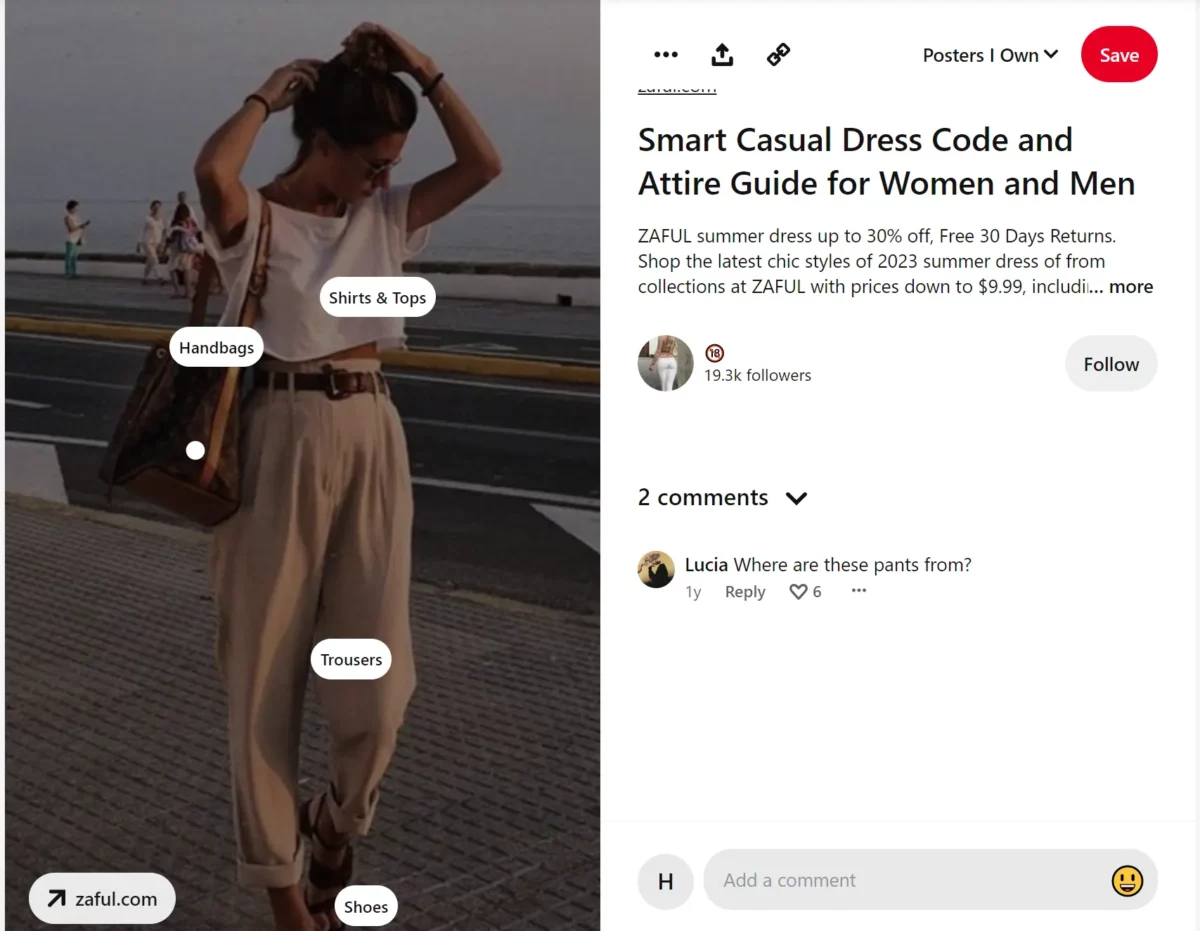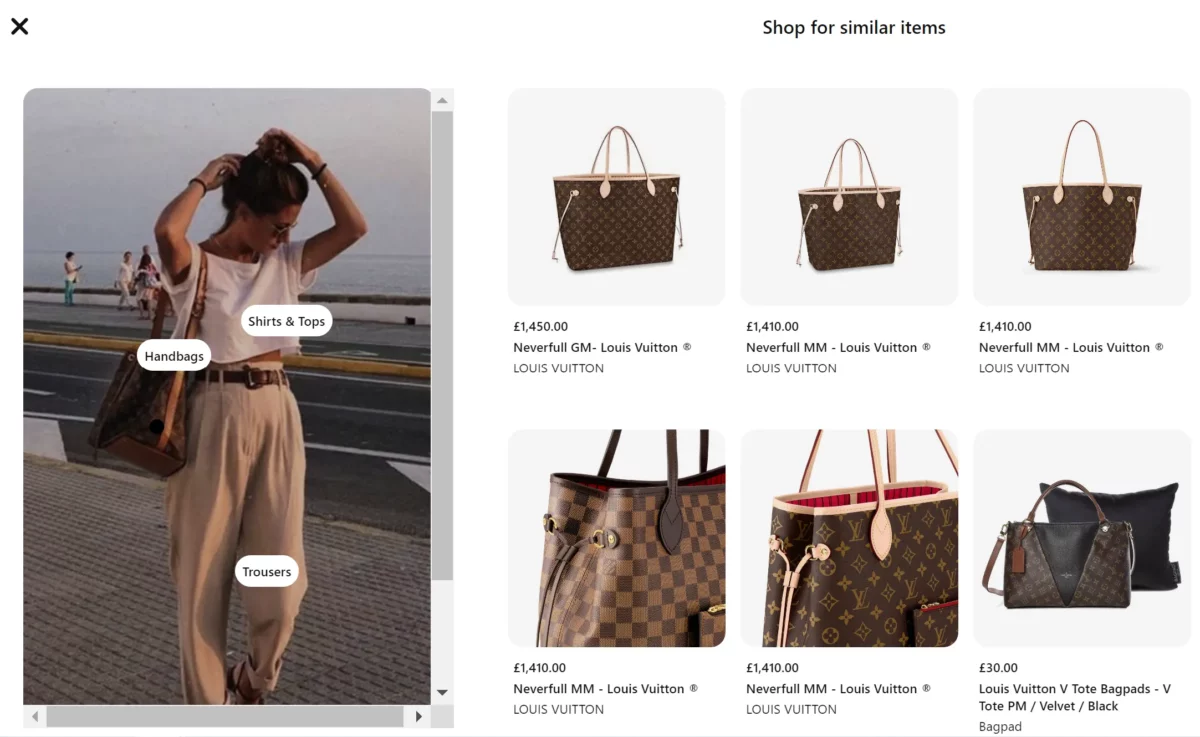 Video Pins
With the rise of TikTok and Instagram Stories, video is everywhere. Pinterest offers video pins to create an immersive experience for its users, with brands able to create compelling watchable content as people browse.
Each video pin has a cover image to ensure that the aesthetic of a Pinterest search is still the same (no grainy resolution paused video, thank you very much!)
It's important to note that these appear alongside images during a search. As such, users may or may not have audio on when looking. As ever with Pinterest, it's best to just focus on the visuals (or use subtitles.)
When video pins are clicked, they lead directly to the brand's website.
Try on Product Pins
Try on Product Pins are a new form of pin that use augmented reality (AR). Using Pinterest Lens, some products are able to be tried virtually.
The most popular use for these pins currently is for selling makeup. Users can see how a new shade of lipstick might look or 'try on' some new eyeshadow. It's definitely an interesting idea but if you aren't sure about creating a 'Try on Product' pin then we suggest leaving it to the experts for now!
Find out more about the future of marketing and product advertising in the metaverse.
Promoted Pins
As the name suggests, Promoted pins are a form of paid advertising.
If there is room in the marketing budget, using promotion to push your pins to the top of the page is the way to go. Advertisers can choose to promote anything at all but it's best to make sure the aesthetic will still appeal to those searching, especially as it's prominently displayed on the results which pins are being promoted.
Similarly to advertising on other sites, it's possible to target users based on interest, age, and gender.
When clicked, Promoted pins will lead directly to your website rather than showing a larger photo on Pinterest, increasing the likelihood of a sale.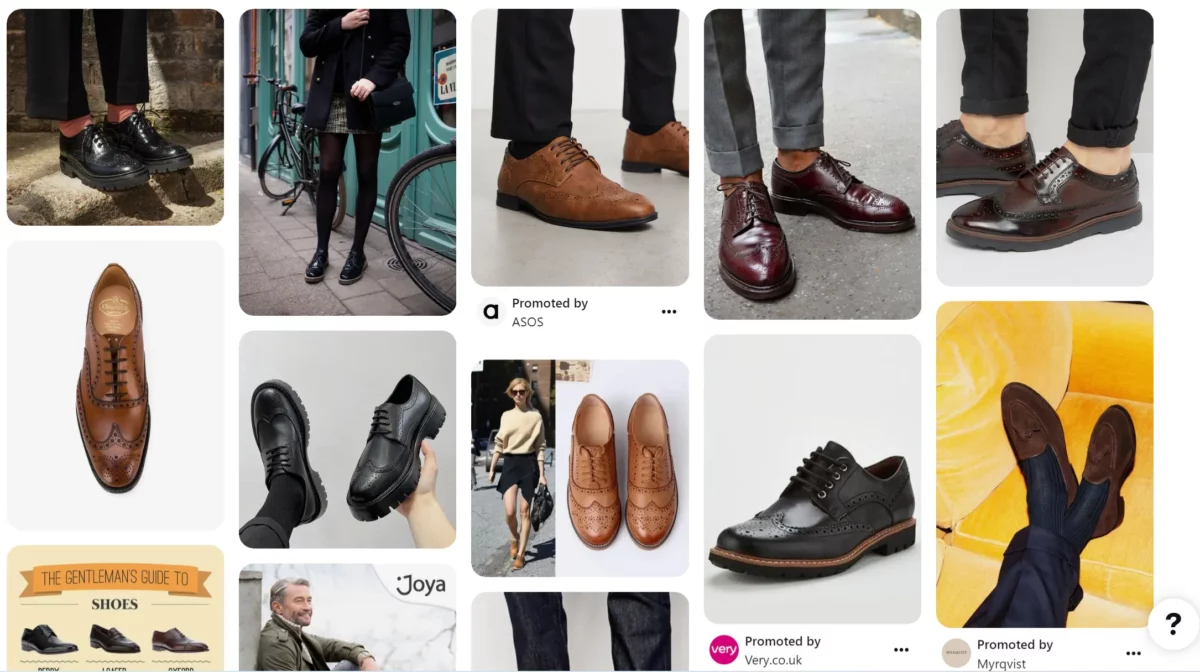 Set up Pinterest Catalogues
Catalogues are a fantastic way for brands to easily share their products on Pinterest (and means you can avoid using Rich Pins to import product data).
Companies can upload their product data feed to Pinterest and once approved, any product added to your website will automatically turn into a product pin. These can then be used for creating your promoted pins if you wish.
Intelligent Reach is a Pinterest partner. We make it easy for your Pinterest feed to be fully optimised, enhancing the possibility of impressions, clicks and sales. Contact us to learn more.
User-Generated Content, Influencer Marketing and Paid Partnerships
User-generated content is a great way to increase the visibility of your brand on Pinterest. If you have seen a celeb or influencer using your product, share it to the masses.
Furthermore, if you like a pin from a user, it's possible to turn it into a Collections pin. Add some 'shop the look' dots and see if it translates to more clicks. Consider promoting them to enhance your reach.
Moreover, it's possible to pay influencers to promote your products. This is known as Paid Partnerships, whereby the content creator shares your product and tags it as a partnership. Brands get to approve these pins before they go live.
As with everything in marketing, it's difficult to know if advertising your products in this way will work. So try it and find out!
Promote your brand in other ways
Although your brand should primarily be pushing products when selling on Pinterest, that isn't the only way to make a sale.
There is also the prospect of improving your brand awareness in other ways, via articles, guides and tutorials.
Added to that, tying in your marketing efforts around key holidays and seasons can make your brand stand out as well. Perhaps consider something for Valentine's Day, Mother's Day or Halloween. You know your brand better than we do, but sharing relatable content always goes down well!
More Social Commerce Opportunities
Social commerce is growing and means that users don't have to visit your website to buy. This idea breaks down the potential barriers between your customers making a purchase. It is why Google is working on Project Magi, ensuring nobody ever leaves the search engine.
Pinterest is definitely a part of this ecommerce revolution, but what other platforms should you consider selling on?
Depending on the demographic of your target audience, we highly recommend selling on Instagram and TikTok. We recently put together similar guides to this one for how to sell on Instagram Shopping and how to sell on TikTok, which tells you everything you need to know. Moreover, you might wish to sell on Snapchat, which also offers AR possibilities.
Learn more about the rise of social commerce in online retail.
Start selling on Pinterest
We hope that's cleared up everything you wanted to know about how to sell on Pinterest. It's now time to sign up, get pinning and creating boards, and promoting your content.
If you wish to optimise your product feed to ensure it's ready for selling on Pinterest, why not book a free product feed audit? (Find out more about what this provides here.)
Did you know that you can also sell on TikTok?
Learn more about how to sell on the most popular social media app around with our definitive guide.
Sell on TikTok
Tags