Mirakl Ads are coming in 2023 - here's all we know so far
If you are a brand, retailer or agency working in ecommerce, you'll be familiar with marketplaces. Mirakl is the leading marketplace provider in the ecommerce sector. Their software powers the online stores and marketplaces of Decathlon, Macy's, Bed Bath and Beyond, B&Q and many more. Mirakl Ads are their latest offering, with a soft launch occurring in early 2023.
What are Mirakl Ads?
Ads are everywhere online. That's why it's important to continuously optimise your product feed and A/B test your product data. Facebook place them in your Instagram feed, Google shows their Product Listing Ads almost every time you search, and Amazon loves placing them at the top of your results.
Mirakl Ads are the latest version of ecommerce ads, allowing business to monetise their web traffic. The company promises that the suite of tools will be more impressive than rivals, generating more sales and greater profits. A purpose built retail media solution, it will allow businesses to get more from their digital advertising spend.
As might be expected from an advertising platform, Mirakl Ads also come in a variety of formats. These include banner ads and sponsored search. A native platform, it will work perfectly with all Mirakl marketplaces and leverages the company's proprietary Target2Sell technology.

What are the benefits?
First and foremost, Mirakl provides marketplace software to large retail clients. As such, they are able to track customers across all of their websites. Similar to Google Analytics, they can see data including click-through-rate, time spent on page and many other metrics. This enables the company to deliver leading ecommerce software, tailoring pages to how customers search and buy. This assembly of tools including product data management and conversion optimisation enables Mirakl's ads platform to be the perfect offering for their clients.
The benefits are as follows:
Monetising web traffic across first party and marketplace websites;
Being able to see whether those clicking on ads become buying customers;
Compatibility with drop ship ecommerce;
Pre-built integrations and automation;
Access for advertisers to some of the most popular ecommerce websites around the world, including marketplaces in the USA, UK and Australia;
Real-time visibility on ad performance;
Contextual targeting of customers.
As well as this, no other advertising solution will work as well with Mirakl marketplaces as Mirakl Ads. This means that third-party sellers may well be advertising from day one after listing on sites that the company powers such as Decathlon, Macy's, and Bed Bath and Beyond.
How much do they cost?
No pricing has been announced but Mirakl Ads are likely to have a similar cost to Google Shopping and Facebook Dynamic Ads. The focus is on maximising the return on ad spend (ROAS) and helping advertisers and marketplace sellers in managing their ad spend, tracking performance and improving return on investment (ROI). Learn how they can be managed below.
Most interestingly, the Ads platform is embedded into the main product. This means that ad spend can automatically be deducted from any seller's balance. Alongside this, Mirakl Ads work with a real-time bidding engine. Suppliers, brands and third-party sellers will compete for advertising space on a level playing field.
How will Mirakl Ads be managed?
Mirakl Ads is set up to be ran independently or via agencies (much like advertising on other websites). As well as this, Mirakl itself will offer an advertising service. Their professionals will help design the best strategy for your campaigns and can execute it on your behalf. This will help maximise your return on ad spend.
Alongside these offerings, the AdOps team will be creating reports for customers and optimising campaigns. It all adds up to an excellent user experience.
If you do decide to use Mirakl Ads independently, campaigns can be set up manually - according to your own criteria - or automatically, based on data-driven algorithms.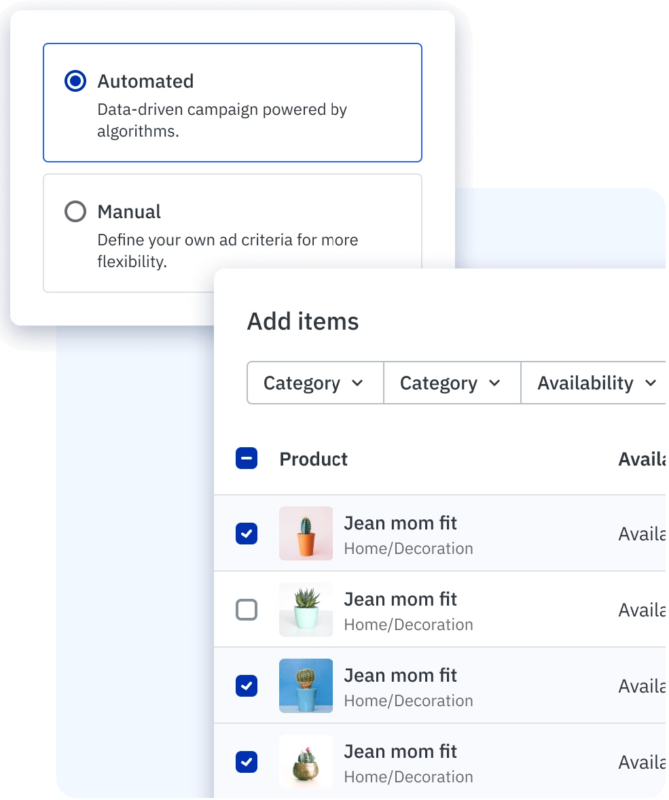 What data will Mirakl Ads provide?
Current ad platforms focus on metrics that aren't entirely meaningful. Seeing how far someone watched a video is interesting but doesn't tell advertisers whether they bought anything. Likewise, impressions only go so far. Improving them is great as it should lead to a higher clickthrough rate but again, purchases aren't guaranteed.
Offering real-time visibility on ad performance will enable advertisers to make changes when needed. The platform will provide actionable insights from the ads and marketplace data to help brands, retailers and agencies. The result is one that drives sales rather than visibility.
Improved advertising marketplace management
The advertising marketplace is difficult. Placing sponsored ads has famously led to questionable display ad placements. Also, how many times have you been looking for furniture but then looked for something completely different instead? Budgets and priorities change. You won't want to see wardrobes if you are now shopping for children's clothes. Context is key.
Mirakl Ads will be using proprietary AI that ensures shoppers always see the most relevant adverts at the right time. It's a cookieless solution, relying entirely on first-party data. Advertisers won't necessarily receive more impressions but they should be seeing higher CTR and sales as a result. Another benefit? An improved shopping experience for customers.
When will Mirakl Ads be launching?
Mirakl Ads will be launching in April 2023 on an early access basis and you can find out more about it here.
As a valued Mirakl partner, we look forward to integrating with this exciting new launch.
Want to ensure that your product data is ready for Mirakl Ads? Intelligent Reach provides award-winning market-leading marketplace management software. Book a free product feed audit to see how you can immediately begin improving your listings!
Products not showing? It's time to A/B test your product data.
Our Content Experimentation module allows you to A/B test product titles, images and product types.
Read Now
Tags