Smaller online retailers spend an average of $2,000 per month SEOing their websites. Larger stores, spend proportionally more, some exceeding $1m of per year on search engine optimisation. But 80% of retailers don't optimise their  product data feeds. Just think about that for a moment. 
According to the 2021 state of marketing report from Hubspot 40% of marketing professionals list SEO as their primary approach to marketing, second only to social media in the study. 75% feel their SEO tactics are 'extremely' or 'very effective' at helping them achieve their marketing goals.
Many global retailers continuously SEO their content, its structure, their site architecture and even aspects of the hosting of their websites, such as the latency of its servers relative to new and emerging markets. And yet, when it comes to optimising their product feed, few apply the same rigour.  
Most retailers and brands, and even most feed providers, talk about data feed optimisation in terms of making feeds that are attribute-rich, complete and channel-specific. These are laudable goals. But achieving them is analagous to robust housekeeping – basic feed hygiene- rather than full optimisation. 
A fully optimised feed is a feed with products whose attributes are relevant to buyers and accurately match how they search when looking for products to buy. 
Most marketers understand that the product feed that comes out of their e-commerce platform is generic. The requirements of Google and Amazon (and Facebook and Criteo and 1,000 other channels) are highly specific. Each channel mandates a number of attributes that are not present in the original platform feed so a great deal of customisation work is required before it can be plumbed into a Google shopping ad or a dynamic advertising campaign. Most online retailers employ a feed management platform, or service provider, to assist with these customisations.  
A thousand flowers will bloom
Product data feed management companies provide templates and tools that allow a custom product data feed to be created for multiple channels, including search, social media and marketplaces, potentially turning a single generic feed into a thousand daily outputs.  The process involves some manual work, mapping the generic feed to the specific requirements of each channel, and backfilling any missing attributes such as unique identifier, brand, gender, colour and size into every specific feed. Once all the mandatory attributes are in place, though, the customised feeds should pass audit on Google Shopping, Facebook, Amazon etc.  
At this point marketers can quickly be up and running with campaigns. So it's easy to see why some press the launch button at this early stage. 
But this is not, in fact, the end of the process.  
What is the benefit of full product feed optimisation?
As with any SEO, the proper process of optimisation a feed is about improving the correlation between the things users are searching for and the product data that is being presented to them. This principally involves rewriting the titles and categories in your product data feed  to increase relevance. This in turn generates more impressions on your chosen marketing channels, at lower bid rates which should increase conversions and therefore ROAS.  
Conversely, by not optimising you will pay more for fewer clicks that don't convert as well as your competitors' products. 
If we are optimising primarily for Google channels, we are primarily trying to give Google what it wants. So optimising a product feed involves many of the same disciplines as SEOing of your primary site.   
In Google's own words: 
The key takeaways on Google's product feed optimisation tips page, are: 
Prioritise your most valuable products
Map out your customer journey from search query to checkout
In other words, work out what your key products are, then manage your product data feed the way you would treat the most important landing pages on your website.  
Before doing anything else, make sure that all the information about your key products is present in the attributes of every feed, this goes beyond just backfilling the mandatory attributes, like gender, colour and size. 
There are 45 different fields available in the Google PLA spec, for example, and you should use as many as possible to say everything about your key products that the specification allows. So, for example, brand is going to be important in most markets, but so is the material that products are made of, especially in fashion. Size and weight are gong to be important in other sectors. Try to populate all of the attributes that are applicable to each product because Google uses all of the attribute fields to decide if your products match a particular search.  
Next, edit your product titles to be as close as possible to the terms users are searching for. Use tools like Google Ads, Keyword Planner to identify commonly-used phrases. This also applies to product descriptions, which need to be as detailed as possible, and should be comprised of the individual attributes you populated for key products in your feed. 
What difference a word makes?
In particular take account of colloquialisms. In the UK, people are more likely to search 'Wellies' than Wellington Boots. It may go against your house style to use informal names for key products, but if that's what your customers are using…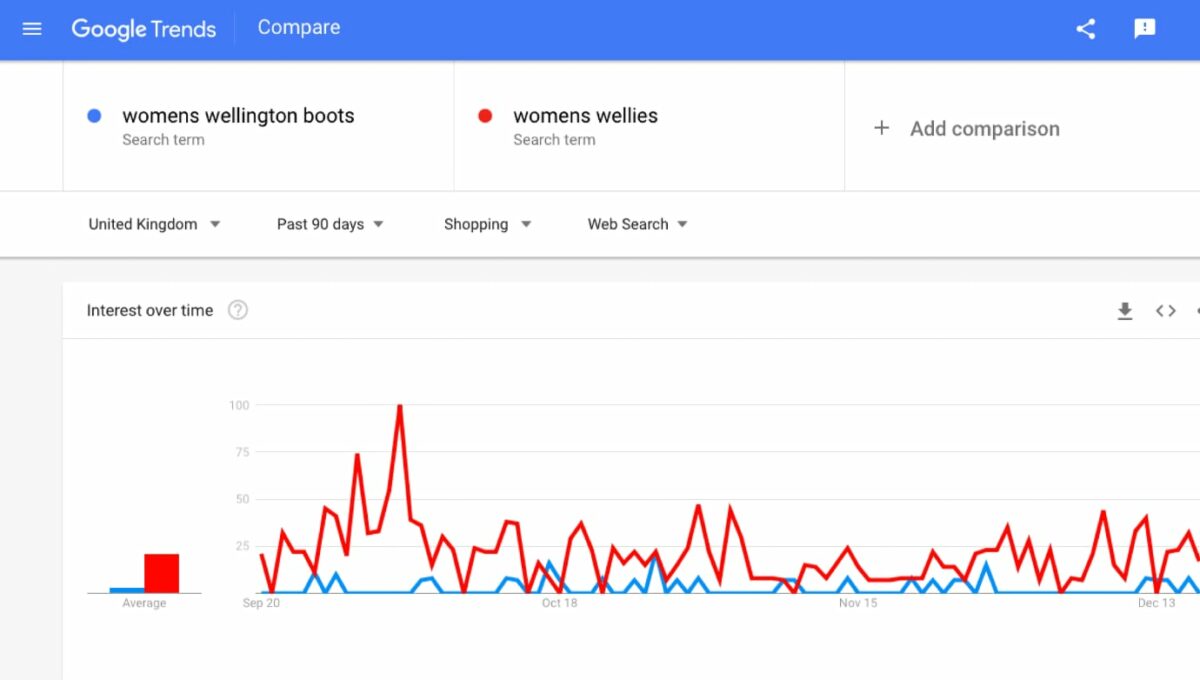 In some markets more people search on wellies than wellington boots 
Importantly, you should consider making the same changes to the landing pages of your main e-commerce site.  
Google doesn't like advertisers gaming its search algorithms and explicitly states in the Google Merchant Centre: "Use the same product title and description that you do on your landing page".  Don't use synonyms or search query terms that aren't included in your product's landing page. … Differences can create a poor shopping experience or cause customers to leave your page without buying anything.  
So while putting attributes like colour into everyday language in your product feed is usually a good idea - green will appear more frequently than emerald in a user search - there is anecdotal evidence that Google may penalise ads when landing page attributes don't match up with the feed data.  
Google's shopping feed optimisation tips page also urges us to represent every variant of every product as a separate item in our product feeds - e.g. size, colour, gender - so links from a Shopping ad or listing can go to the exact same variant on the landing page. It states, fairly unequivocally, "Your account may be disapproved or you may confuse customers if you show a different name for the colour in your Shopping ad or listing than the colour's name on your product landing page." 
You have been warned! 
The positive takeaways from Google's feed optimisation tips page
And that's about it for the finger wagging. For the most part, the advice on the tips page is positive and upbeat, with the key takeaways being: 
Make sure that you provide complete product data and fix any critical issues for those products.
Run experiments to identify optimisation techniques that are most effective for your products and target audience

Products with  

high-quality images

 are more likely to show for relevant search queries (avoid placeholder images or images that include promotional messages or logos).

Take advantage of opportunities to differentiate your ads  with 

promotions

, 

product ratings

, 

customer reviews

 …
Why are experiments so important in product feed optimisation?
For the most part, the above will take you where you want to go. Be comprehensive and accurate with attributes, repeat the most relevant attributes in your titles and descriptions and products will become more relevant to users. Match landing pages to the feed data if you are nervous about be penalised by Google. 
Follow this process to its natural conclusion and the Title field in your ads is going to come out looking something like this: 
For Fashion Ads

: Brand + Gender + Product Type + color, material, size

In  Electronics

: Brand + Attributes + Product Type + Model

 

And for  Hard Goods

: Brand + Product Type +  size, quantity, weight

 
On the face of it, there may be a formula that we can apply to every product in our feeds using the rule based copy & replace tools built into most feed management systems. But unfortunately we can't rely on formulas, absolutely, as there is one key factor we have yet to take into account: 
'Events, dear boy, events'
As Harold Macmillan once remarked when asked what was  the  greatest challenge in his life, "events, events, events" trump everything else. 
Whether it's Christmas or Halloween, winter or spring, or occasions like weddings or funerals; events alter the search behaviour of a significant proportion of users. And they can have a significant positive impact on campaign performance so, where relevant, they need to be incorporated into the titles and descriptions of your feeds.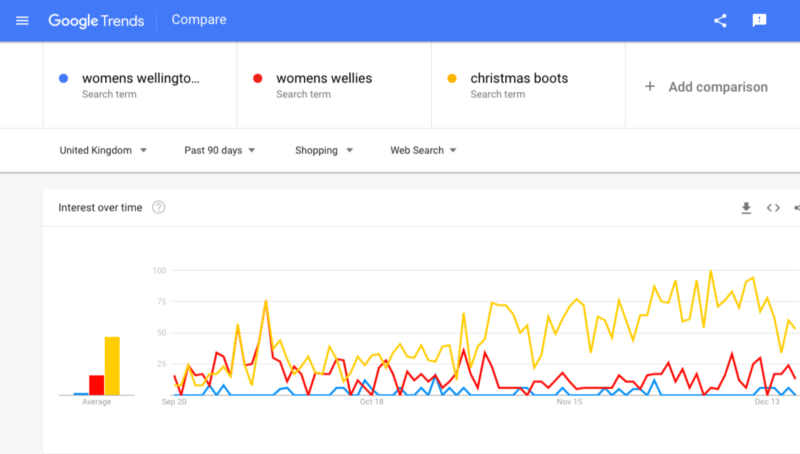 Christmas boots generate more searches than women's wellies. Is this meaningful?
What should the Title of a seasonal advert look like? 
There is no way of answering this question without running experiments. For example, can we just add the event to the front of an already long title?  
Seasonal

: Occasion + Brand + Gender + Product Type + color, material, size?

 
Will this result in a seasonal bump to an already optimised campaign? Is Christmas better left out of footwear campaigns? Or will some other structure perform better? Notice this product title is getting very long. And as product titles are truncated in some ad formats we might end up with something like this: 
Winter Le Chameau Women's Iris Jersey-lined Well… 
…where we can't even see what the product is (in some views).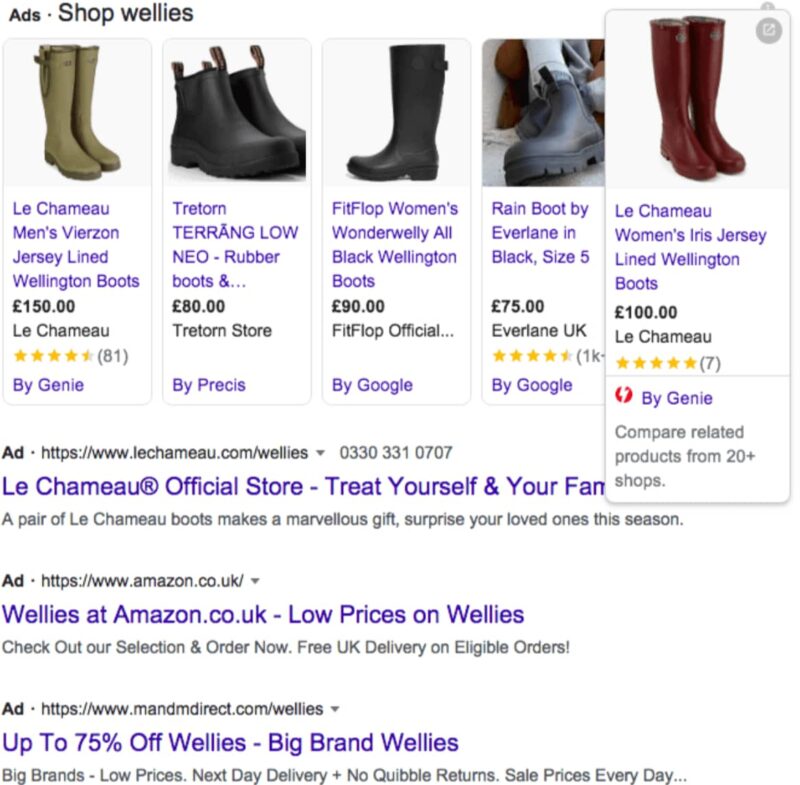 Each hypothesis needs to be tested with an experiment to find out exactly what works where, and when.  And when they've finally cracked it a typical brand or retailer can expect an average uplift of nearly 80% in impressions (visibility) and over 100% in clicks. Coupled to a conversion rate increase of 16% this corresponds to an overall improvement in ROAS of 132%.  
And then one season rolls over into another and you have to start all over again.  
Continuous Experimentation leads to continuous performance
It turns out that the only way to guarantee continuous optimisation is continuous experimentation. As with onsite SEO, there will always be work to be done on new products, new channels and new consumer behaviours.  What can assist us in that endeavour? 
Look for a product data feed management system or partner that understands and supports the key markets of shopping ads, social media, marketplaces, dynamic advertising and onsite engagement.
At a minimum your feed partner should provide you with a template for each of those markets and the tools to allow you to create high-performing variants of your feed for every channel. 
Your feed management partner should support experiments at the product level and be positively enthusiastic about integrating their platform with your inventory management system and analytics stack. 
Experiments are about to become part of your daily life, but with a professional supplier, and the right processes in place, continuous feed optimisation can deliver significant results for only a modest amount of extra effort.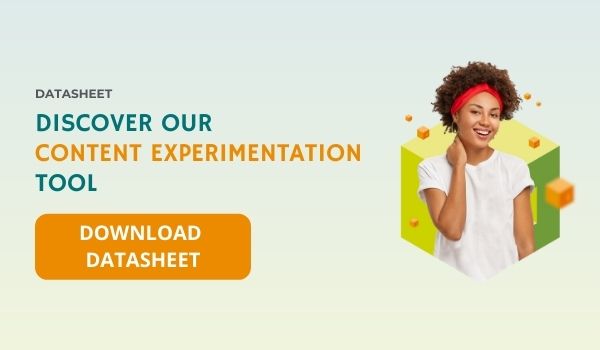 Tags