Wondering how to sell using Facebook Store Traffic ads? Designed to send customers to a local shop, they are a bit like old-fashioned classifieds. But the technology has come a long way...
Facebook store traffic ads sound like the digital equivalent of those old-fashioned classified adverts you would see in newspapers, promoting a local store. In fairness, they are quite similar in what they are trying to achieve. However once you have learned how to sell using Facebook store traffic ads, you'll see just how big the differences really are!
What are Facebook Store Traffic Ads?
A Facebook store traffic ad aims to convince customers to visit a store in person. Similar to newspaper classifieds from decades ago, they contain the address of a shop, a product (or selection of products), and some marketing copy.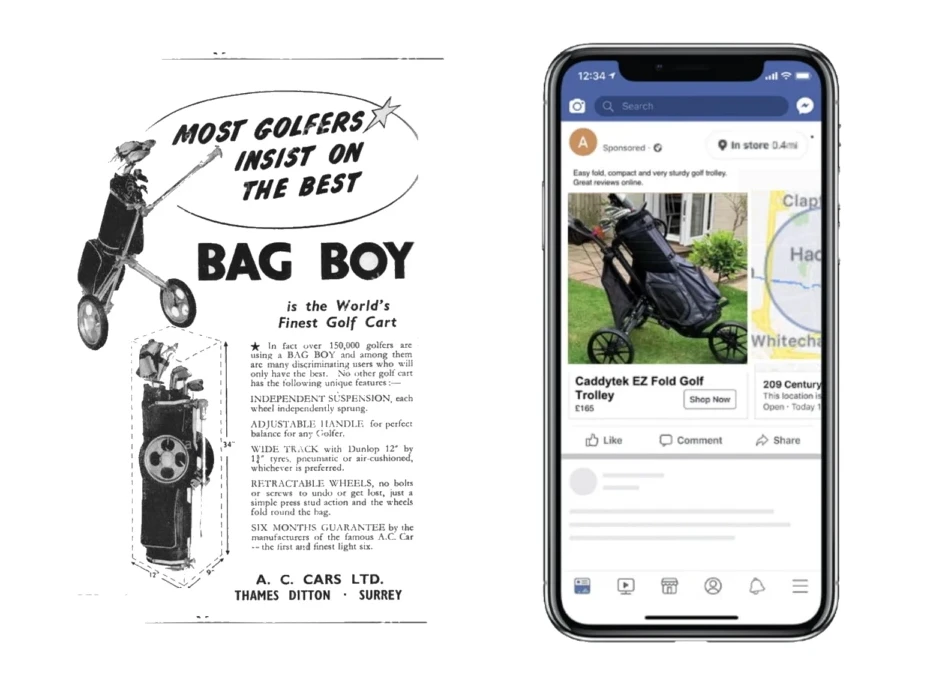 The hope is that the viewer of the ad will be enticed by the product and perhaps the convenience of shopping locally. Other inducements might include a discount, a special offer, or a reference to the convenience of picking up the same day.
Superficially, local newspaper ads and Facebook Store Traffic Ads are very similar. They both aim to get you into a nearby store. But in terms of targeting, efficiency, performance and ROI, they are literally a hundred years apart.
Click and collect - so good they named it four times
Click and collect, also known as clicks-and-mortar, o2o (online-to-offline) and sometimes BOPIS (buy online, pick up in store), has been a growing trend in recent years. It is based on very sophisticated technology and has many benefits:
According to a US report, The state of BOPIS 2021, by leading experience management platform Raydiant:
75.4% of respondents have used BOPIS at least once.
56% of respondents have used BOPIS 6 or more times in the past year
8.2% have used BOPIS 20 times or more.
And according to Business Insider Intelligence:
50% of shoppers said that they decide where to buy online based on whether they could pick their orders up in a physical store.
48% of shoppers said that saving on shipping costs was their key reason for using BOPIS. Speed (39%) and convenience (28%) were the two next most cited reasons.
85% of shoppers said that they'd made an additional in-store purchase while picking up an online order. 15% said that they do so "somewhat frequently."
As you can see, selling using a Facebook Store Traffic Ad could be very important for your business.
Before setting up a Facebook Store Traffic Ad
A Facebook store traffic advert uses a product data feed with local inventory information added. Unlike Google Local Inventory ads, Facebook store traffic adverts require a separate feed for each store location. As with Google LIAs, your Facebook store traffic ads will only work well if your product data is highly optimised for the platform.
But before adding inventory information, the master product data feed should be audited. This ensures that all mandatory Facebook attributes are present and correct. Any missing or broken attributes will be fixed and it gives your product feed data a clean bill of health.
What are the key Facebook product data attributes?
Without the required attributes, your Dynamic Product Ads won't show up on Facebook at all. For Facebook's Product Catalog make sure the following are present for every product in your feed:
ID
Title
Description
Image_link
URL link
Price
GTIN, MPN or Brand
Availability
Condition
When optimising your product data feeds for Facebook it is important to remember that when adverts appear on Facebook they are NOT triggered by a user search. Some characteristics of the user are unknown. As such, your product titles should focus more on known attributes. These are the products the user is interested in and the products the merchant wants to sell! This is preferable to being overly specific about frequently unknown details, e.g. size.
Another Facebook consideration is that ads which target lookalike audiences tend to group products around the audiences you (and Facebook) create. Therefore you may want to split your feed into different versions - one for each group of products. Using dynamic custom labels, it's possible to optimise further for best-selling products or those on sale, for example.
How to use labels in a product data feed management platform?
We can apply a label to a segment, to dynamically manage its contents, to use it for targeting and to reuse it in future. We can also add labels to other labels to create ever larger segments.
Because labels are dynamic, the products in each segment are constantly updated according to logical rules.
Labels are usually given a descriptive name, so the label for this example segment could be: "Jeans Invisible on Google for 90 days."
If in the future, another pair of high margin jeans becomes invisible on Google, it will automatically be added to this segment, because it now conforms to the rules.
Any segment in the master feed can be copied to a Google shopping feed, or any other feed on the platform, and at that point we are ready to run an experiment.
In order to devise an experiment that will give meaningful results, we first need to analyse the invisible products themselves, to try to understand why they are not showing.
In other words: we look at data to create a hypothesis that we can test in an experiment on a targeted group of products.
Depending on your store and what it sells, tactics may vary. The important point is that Facebook ads demand different considerations and, therefore, a different way of managing product data feeds.
How Store Traffic Ads work: By combining Facebook Dynamic Ads with geo-targeting
We've previously written about Facebook dynamic product adverts. Even so, here is a brief reminder about how that part of a store traffic advert works:
Facebook dynamic product adverts work using behavioural retargeting. This sees retailers place FB retargeting pixels on their e-commerce site. The pixels then track the products that each user browses.
When the same user turns up on Facebook, they can be shown adverts for the same products! Note that this only happens when they get close to one of the merchant's stores!
There are variations on this theme, of course:
Retailers can upload their own customer data to create custom audiences;
They can ask Facebook to create lookalike audiences that are similar to the retargeted customers;
They can display lookalike products to lookalike audiences.
The key takeaway is that merchants need to be optimising product feed data and combining that with store locations and local inventory data. When this occurs, a relevant product advert can show to a targeted user when they are close to a physical store that has those items in stock. Because the user has previously shown interest in the product shown, they are more likely to pop in. This is a very powerful combination of ideas.
Carousel Ad Format
Probably the best creative template for Facebook store traffic adverts is the carousel. This scrolls automatically across ten screen widths, allowing multiple retargeting products to be shown. Because they are local ads, they also include a map showing the nearest store location.
Remember to add store locations to Facebook before creating store traffic ads. Also add business hours for each store so you won't be disappointing customers upon arrival!
How to Create a Facebook Store Traffic Ad
Now that the prep is all done, it's time to create a Facebook store traffic ad. Thankfully, it's pretty easy.
Open Store Locations in Business Manager.
Select Create+ in Ads Manager
Highlight Store traffic as your marketing objective
Select your budget optimization preferences
Select your store set
There are a few more relatively minor stages to review and fine tune your adverts, but this is mostly all that's required to create a Facebook store traffic ad campaign.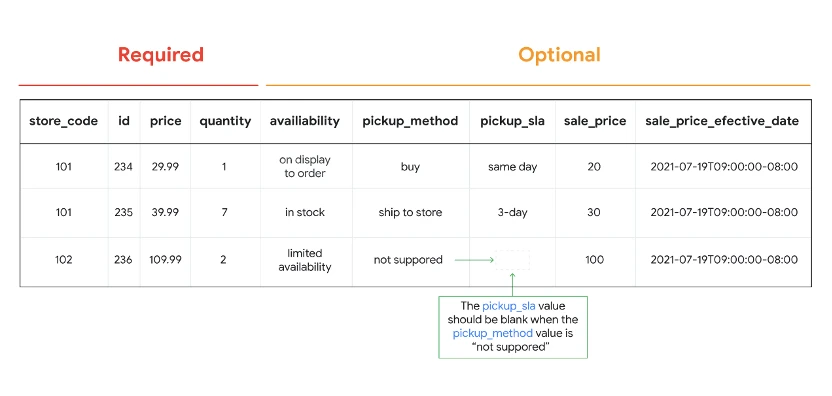 Facebook store traffic adverts and feed specs look a lot like a dynamic product advert and feed spec. The only changes are the inclusion of location and availability. It's a simpler structure than Google's LIA spec, but then a separate store-specific version of this file, showing the availability of each item for each store, has to be uploaded for every location.
Facebook fields and what they mean
Field
Description
id
A unique content ID for the item. Use the item's SKU if possible. Each content ID must appear only once in your catalog. Character limit: 100. Note: To use this item in dynamic ads, this ID must exactly match the content ID for the same item in your Facebook pixel code. This tells us it's the same item in your catalog and on your website. Example: 12345
title
A specific, relevant title for the item. See product title specifications. Character limit: 150. Example: Blue Cotton T-Shirt
description
A short, relevant description of the item. Include specific and unique product features like material or color. Use plain text (not HTML) and don't enter text in all capital letters or include any links. See product description specifications. Character limit: 5,000. Example: Royal blue women's T-shirt in organic cotton. Relaxed fit.
availability
The current availability of the item. Supported values: in stock, available for order, out of stock. Note that if an item is out of stock, it appears as out of stock in sales channels and doesn't appear at all in ads. Example: in stock
condition
The condition of the item. Supported values: new, refurbished, used. Example: new
price
The price of the item. Format the price as a number, followed by a space and then the 3-letter ISO 4217 currency code. Always use a period (.) as the decimal point, not a comma (,). Don't include currency symbols such as $, € or £. Examples: 9.99 USD or 7.99 EUR
link
The URL of the specific website page where people can learn more about or buy the item. Links must be valid and begin with http:// or https://. Example: https://www.paulsmith.com/uk/mens/shirts
image_link
The URL for the main image of your item. Images must be in JPEG or PNG format, at least 500 x 500 pixels and up to 8 MB. See product image specifications. Example: http://www.jaspersmarket.com/products/shirt.jpg
Note: If you change the image later, the new image must use a different URL or the change won't be recognised.
Conclusion
Facebook store traffic ads can be an exceptionally powerful way of improving store footfall. By optimising a product feed and combining that data with store locations and stock inventory, the hard work is done. It's possible to incentivise consumers with these ads to visit your shop and hopefully purchase many more products. Intelligent Reach even offers an online-to-offline add-on to help you.
Of course these ads aren't the only game in town. Google LIAs work in much the same way for local sellers, but there are many more e-commerce advertising platforms available. From Google PLAs and Mirakl Ads through to selling on Pinterest or selling on TikTok effectively, it's all about finding the right combo that works for you.
But as we said at the beginning, it's best to book a product feed audit to ensure that everything is in place before you start spending money. Good luck!
Want to Learn More?
Discover the true power of the IR platform - book your demo today
Book a Demo
Tags