Product feed management doesn't need to be confusing and can massively improve your ecommerce efforts.
Running an e-commerce business and struggling to get sales on offsite channels like Google Shopping and 3P marketplaces like Amazon? Then it's worth understanding a) what product feed management is and b) how great product feed management software can help.
Due to the pandemic, huge competition has crashed into an even more crowded market. We saw 85,000 businesses launch online shops in 2020's lockdown(s). To really succeed in offsite channels, you need to prioritise two things - getting your products on the right key channels where your target market exists, and having complete and accurate product data that gets your product level ads showing in relevant search results, while keeping it constantly optimised towards customer searches and market trends
Getting your products found by online shoppers
Digital Marketers are investing more into ads on e-commerce channels. Google Shopping is expected to have a 17.3% change in search ad revenue growth, whereas Amazon Advertising is predicted to grow as much as 29.4%. It's a competitive form of advertising, so simply listing products and hoping for the best just isn't good enough.
51% of shoppers use Google to discover news brands and products, but in today's accelerated market one channel probably won't be enough. Users typically scroll through social media feeds for inspiration, navigate through hundreds of websites for business and leisure, compare products and business reviews. These are all opportunities to show your products off. To grow your sales, you need to catch their attention on more than one channel, following and navigating them throughout their discovery journey.
But it's about being at the right place, at the right time. If your products aren't listed correctly where your target market areis active, you're missing out on potential sales.
For a successful e-commerce multichannel strategy to work, you need a high quality and replenished product data feed in the correct format for each channel. Why? Up to 80% of a brands and retailers' products may not appear on key digital sales channels because of poor product data, so it's important to get it right.
What is a Product Data Feed?
A product data feed is a digital file that contains information about your products. The typical attributes that build your product data feed are:
product id
product title
image
product description
price
stock quantity
...and more
It typically comes as a CSV, XML, TXT or JSON file.
Spoiler alert: Achieving a high-quality product data feed manually is a lot of work. Product feed management takes effort and is time consuming.
What is Product Feed Management?
Product feed management (or data feed management) is the distribution and optimisation of product data feeds. In simple terms, product feed management is getting your feeds into good shape and uploading them into different channels and marketplaces (such as Google Shopping, Bing, Facebook, Amazon etc), in the format they require, with all the vital information that they need.
And it's more than just data formatting. If you don't have fully optimised product attributes matching the way your buyers search, your products won't appear against their queries. Data feeds are no exception: the right content is king as can be seen in our product optimisation examples.
Organising your data for all the channels where your customers might be looking and optimised to maximise effectiveness is an impossible task without the right tools to help you.
Why You Need a Product Feed Management Tool
When running an e-commerce business, you want to successfully show your products off on a variety of channels: search engines, affiliate & re-targeting networks, comparison shopping websites, and more.
You want to follow your buyers throughout their navigation journey and show your products at the right time. From a marketer perspective, building such a diversified multi-touch journey, comes with some pain points:
1. Poor control over each digital channel, marketplace and social channel
To successfully promote your catalogue on digital channels, your product data must be relevant and accurate to your buyers, whilst compliant to the requirements of each channel.
Manually building your feeds is a clunky process; organising, navigating through and digesting product data that's managed manually is unsurprisingly difficult. You'll miss common errors, overlook inaccuracies, and your products may miss a chance to show up altogether. That's where you're leaving money on the table.
And it's not just how slowly you're manually making changes to your feeds. The ever-changing feed requirements for each channel can be a nightmare to keep up with. You might miss the latest channel update that will make your products not show at all (Google has 24 mandatory attributes, that keeps changing), or miss taking advantage of new optional attributes (Google curbside pickup – as an example). That's revenue missed, and budget wasted.
2. Hard to get granular and accurate
A key success factor when selling online is being able to collect and manipulate data, while taking action accordingly. When it comes to a product data feed, analysis can be cumbersome. Slicing and dicing data (and feeds) can be difficult. Segmenting and labelling products in your catalogue can be challenging for many marketers, but it's crucial for your campaigns.
What products are performing well on what channels? Are products that sell well instore performing poorly online? What are they and why are they underperforming? What's the impact of putting the brand name before and after the product name?
These are just some of the questions that marketers struggle to answer right away
3. Limited impressions & clicks, resulting into higher CPC and poor ROAS
When you list your product catalogue on e-commerce channels, the quality of your data feeds affects your campaign performance. A poor-quality feed results in a low impressions and clicks. How? It's either because you're missing some attributes/product types, not describing your products accurately or effectively, or your images and titles aren't fully backing up your bidding strategy.
When running ads, marketers tend to focus on optimising their bidding strategy, rather than investigating whether the quality of their feeds and use of their product attributes is supporting them. A virtuous approach sits in the middle: when your data feeds are in good shape a great paid strategy will grant you satisfaction and revenues.
When your ads aren't performing well because of your feeds, bidding more will just make that hole even bigger.
4. Testing your feeds is a slow, manual process
A/B testing your product data is vital in improving your key metrics: clicks, impressions, CTR and in turn ROAS. But why don't e-commerce businesses have a quarterly testing plan in place? Because testing product types, images and titles is time-consuming. It requires multiple manual steps and the benefits vs. pain points are frequently underestimated.
The magnitude of the testing can be quite overwhelming too. For example, should you put Brand Name, Name Product, Size and Colour in your title? Include all or some of them, and in what order? For all products or just a selection? Should you change titles based on seasonality? None of these questions can be answered without testing.
5. Faulty selling journey resulting in overselling and wrong orders
With multiple countries, channels and warehouses coming into play, one of the biggest pain points for e-commerce businesses is keeping orders synced and inventory managed correctly.
It's not rare that businesses sell a product which is unavailable in their inventory. Overselling affects the overall customer experience and is challenging to control, especially with connected commerce on the rise.
A customer is four times more likely to turn to a competitor if the problem is service related rather than price or product related (source Bain & Company). According to 1st Financial Training services, 96% of unhappy customers don't complain, however 91% of those will simply leave and never come back. That's how important it is to provide a flawless customer experience
6. Time
Time is a scarce resource when it comes to e-commerce, and it's why we all prioritise our business goals against the time we have.
Think about it. Time in launching a new channel, time to launching a new campaign for a new collection or a big product launch, time in becoming aware of what is and isn't working. Learning from mistakes is the way to work but learning fast is what we need to aim for.
How a Product Feed Management tool can help
A good Product Feed Management tool helps you to overcome the most common pain points. It also gives a boost to your marketplace management and e-commerce operations. Beyond a better workload balance, here's how product feed management opens up your horizons for maximum product exposure and better KPIs.
1. Product Data Quality
A product feed management tool drastically helps in enhancing your product data quality. It makes spotting and fixing common issues easy, and enables you to roll out changes, at scale. So, you'll keep your product data on track and generally support your e-commerce campaigns.
It does more than help you meet all requirements. It also helps you to keep your feeds constantly healthy and optimised for each channel, empowering you to enhance your data at scale, even for big catalogues with 100,000s SKUs.
2. Marketing and Data Agility
Agility comes in many forms and it helps you to quickly adapt to competitive landscape changes brought by unexpected circumstances: a competitor pushing the accelerator of their paid ads efforts, a new player entering your target market reshaping the competitive scenario, or even other unprecedented events, such as a pandemic ripping through the globe, fundamentally changing consumer behaviour and technology adoption.
Agility to execute your multi-channel strategy, no matter what channel you choose: product feed management makes it possible to quickly integrate into new channels and manage these, all in one place, without your IT team involved. You can cast a wider net to scale up your product reach, without sacrificing product data quality.
Agility to get granular and be accurate. Segment your feeds, run analysis, understand how your catalogue is performing when running ads, at product level, and launch new campaigns, at the pace you need.
Agility to run tests. A product feed management tool helps you set up tests quickly, to check what does and doesn't work, in a scientific way. It gives you a powerful engine to fuel your intuition and constantly test what variants of product titles, types and images perform better with your buyers, on each different channel.
3. Overall Control Over your Feeds
A good product feed management software not only pieces it all together but gives you a clear view of where errors occur on different channels in a simple way. It should prevent you from switching between tabs and manually trying to piece your insight together in a huge data jigsaw puzzle.
Monitoring sales channels performance won't be so hard, as it'll help you easily visualise product performance. This way, you can easily report on what's working, what needs fixing and what needs optimising.
4. Make your campaign strategy dynamic
Let's say you want to launch a campaign on underperforming products (with fewer than 1,000 impression at month) but with a good margin, so you can bid more on those. Rather than grouping your products based on certain criteria and have them set in stone, define your ideal criteria and have the products in your groups dynamically change without any manual action. So, if a product that month was performing well but suddenly experiences a drop in its performance, it's dynamically added to your campaign. That's the power of a good product feed management tool.
5. Improved Campaign Performances
A good product feed management tool will always strive to build new features to help your performance improve more and more.
This is the expected outcome of all previous points, it's the reason you're organising and optimising your data and it's important to you and your business.
And as there's always room for improvement in an ever-evolving market, your provider should constantly evolve to keep you ahead of your competitors.
To give you an idea of how important this is, during COVID-19's 2020, our clients, who are successful e-commerce businesses, achieved on average +79% impressions, +109% clicks and +16.7% conversion rates on their shopping campaigns on Google Ads. This was achieved by managing, optimising and testing their feeds on a continuous basis.
A key success factor is testing. Using experimenting methods like A/B testing on your product content helps you determine what works and what doesn't work on each channel. With factual results, you can make well-informed changes that boosts impressions and clicks.
Have a look at our Experiments Takeaways based on hundreds of A/B tests that we ran last year.
6. Enhanced Customer Experience
A good product feed management software helps you to build customers satisfaction and a frictionless customer purchasing experience. In e-commerce words, it's keeping your inventory and orders on track.
By keeping stock updated in real time across multiple channels, it allows you to process orders directly from one place. Ultimately, this helps build a flawless customer experience.
Ready to change the way you sell?
If you're thinking of manually managing your feeds in-house, you're putting a burden of a difficult and never-ending task on your team. If you're settling for a low-cost software, you could be doing even more damage to your feeds than good, or you could just hope to get your format right, but your performance could be so much better than that.
Switch up your digital selling game with a valuable, effective and powerful software. Start reaping the benefits of offsite selling for your business. Get the full control, flexibility and power you need to conquer e-commerce channels and marketplaces.
Want to learn more about data feed challenges for digital marketers? Get your free report.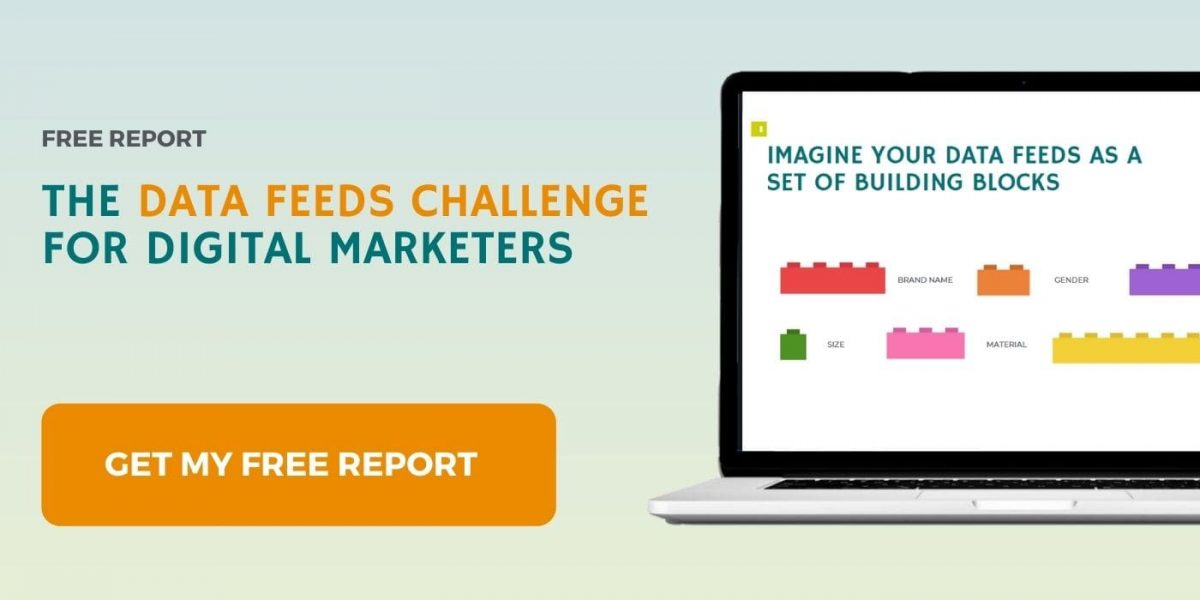 Are Your Products Showing on Google Ads?
Have a read of our report on the data feeds challenge for digital marketers
GET MY FREE REPORT
Tags