The top 10 online fashion marketplaces to sell on worldwide - compiled from visits per month
Download our free guide - A-Z of the 72 Best Online Fashion Marketplaces Worldwide (Complete with links to make it easy to start selling!)
Brands and retailers are constantly looking for more online marketplaces to sell on. The growth of marketplaces shows no signs of slowing with 56% of product searches now beginning on a third-party marketplace. We've previously listed the top marketplaces to sell on in the US, Australia and New Zealand, and UK, but what about fashion marketplaces? Let's jump into it.
What is an online marketplace?
An online marketplace (sometimes called a third-party marketplace or 3P marketplace) is a digital version of a physical market. There are many different sellers all offering their products to customers. As such, there is lots of competition to make sure that your products are seen by those looking to buy. Because marketplaces are so popular, with consumers often starting a search on them, brands and retailers are beginning to list their products far and wide. It makes sense – the more places your customer might be looking, the greater possibility of making a sale.
Some marketplaces are 'closed marketplaces' - curated by the retailer that runs them. These include marketplaces ran on sites such as Next or Macy's. Open marketplaces however, are open to everyone, with many advertising that an account can be easily opened within minutes. The top fashion marketplaces to sell on are a blend of both open and closed marketplaces. Many also happen to be the most popular marketplaces in the world.
As such, we have also written a second list in this article, below the first ten, on marketplaces that only sell fashion and/or shoes.
The top 10 online fashion marketplaces to sell on worldwide
In putting this list together, we've focused on the popularity of sites based on their number of visits per month. The list is ranked starting with the most popular marketplace and decreasing in popularity. Although there are many familiar names to Western audiences, some might be new to you. Where possible, we have highlighted a link for you to sign up and start selling.
1. Amazon – 5.69 billion visits/month
Amazon is the biggest marketplace of them all, accounting for almost 40% of all online purchases in the US. With over 300 million active customers worldwide, that's a lot of eyeballs on your products!
Considering it sells pretty much everything– it is known as The Everything Store – Amazon dominates sales in many categories. Many might not associate it with fashion ecommerce, but they probably should. Believe it or not, Amazon is actually the leading apparel retailer in the US. They had $30 billion in sales in 2020, with 87% of listings being from third-party retailers. Throw in the fact that it's a global website and the opportunities are obvious.
2. eBay – 3 billion visits/month
eBay is the 2nd most popular marketplace on the planet. With just under 3 billion visits per month (2.98 billion visits, to be precise), it is an excellent website to consider if you are selling pretty much anything and it remains popular all year round. Looking to know the top 3 fashion categories on eBay? Men's T-shirts, men's socks, and men's hats.
Selling on eBay brings a lot of advantages to sellers. Lower fees, gain access to a trusted brand, and enjoy all those potential customers. Because the website prides itself on auctions as well as 'buy it now' offerings, experimenting with pricing is also available. What's more, it's easy to get set up! Simply click the link below to begin selling fashion on eBay.
3. Shopee – 631 million visits/month
Shopee, one of the leading shopping destinations in Southeast Asia, is perhaps the first surprise to westerners in a list of top fashion marketplaces. An online marketplace that specialises in many categories, the retailer sells to almost all countries in Southeast Asia, four in South America and one in Europe. Since launching in 2015, it has quickly established itself as a go-to online marketplace with 343 million unique monthly visitors and annual revenues of roughly $9 billion. It dominates ecommerce in the likes of Malaysia, Singapore, and the Philippines, and is 2nd only to Tokopedia in Indonesia.
Simply put, if selling clothes in Southeast Asia, Shopee is a superb place to begin. Even better, selling on Shopee isn't difficult; simply sign up, set up your shop and go from there. It's possible to chat directly with buyers, while sellers can also benefit from Shopee's trusted brand. Merchants can also make use of the Seller Education Hub to enhance their sales experience.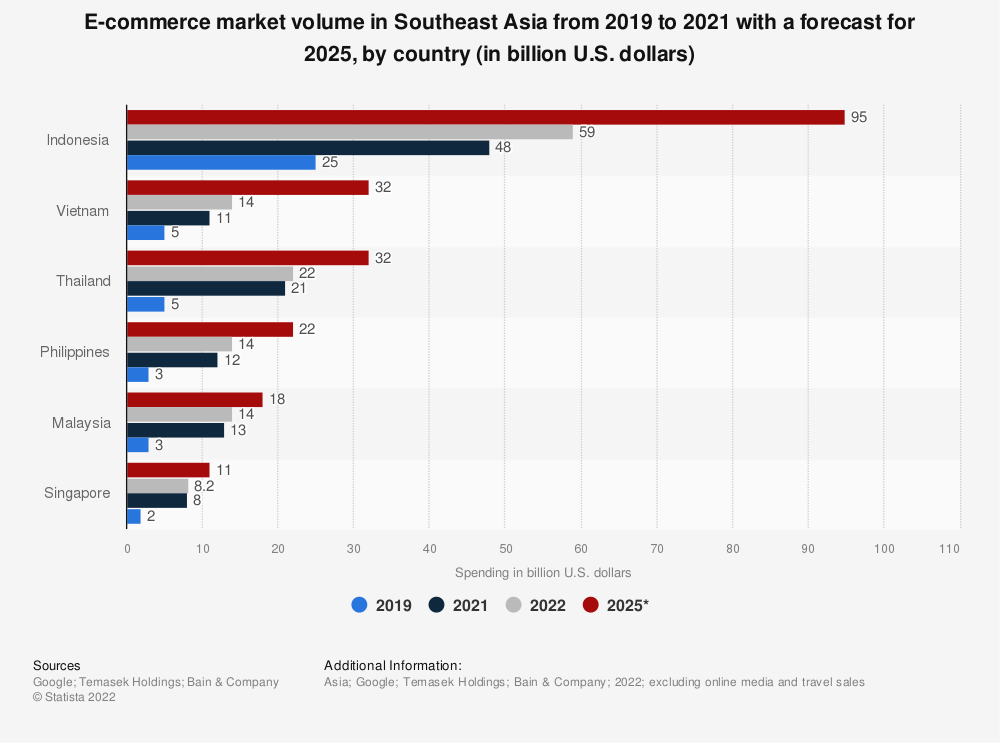 4. Rakuten – 590 million visits/month
Rakuten is the largest and most-trusted online marketplace in Japan with just under 50,000 third-party shops. Incredibly, they are selling their products to a massive 111 million customers. With the Japanese being the 4th largest e-commerce market in the world (behind China, the US and UK), it should definitely be a target market if looking to sell fashion in Asia. Hugely popular with consumers, Rakuten accounts for 36% of the market in fashion ecommerce alone.
Thankfully, it's easy to get set up to sell on Rakuten from most countries in the world via their Direct Shop Plan. The company offers an easy-to-follow onboarding schedule to ensure that sellers know exactly what they must do to succeed on the marketplace. The resources are expansive and informative so be sure to check them out.
5. AliExpress – 526.4 million visits/month
AliExpress is the e-commerce retail platform of Alibaba, one of the largest tech companies in China. The marketplace sells to customers all over the world and unlike most Chinese websites, it's easy to get set up to sell fashion on the platform. Why would you want to? Because AliExpress is often listed as one of the world's top five marketplaces. The vast majority of its customers are based in China but it is also popular elsewhere; for instance, it is the 10th most popular website in Brazil.
Selling fashion on AliExpress is easy and the marketplace goes above and beyond in catering to your needs. They translate into 18 different languages and sell to 220 different countries and regions. Truly a global platform! With over 150 million customers and accepting a whopping 54 different currencies, selling fashion all over the world has never been more straightforward. Register to at the link below, set up your shop, and start selling!
6. Walmart – 514 million visits/month
Walmart is one of the largest retailers in the US selling products across all categories. It is the second largest seller of fashion in the US. Although the retailer isn't known for its fashion ecommerce, it has quietly been building up a raft of brands including Bonobos, Moosejaw and fashionable New York boutique Scoop. Alongside, this, it's easy to sell on Walmart marketplace, its ecommerce platform for third-party sellers.
With over 120 million unique visitors to their website every month and customers searching between 50 and 60 million products, it's a huge opportunity. Even better, it's easy to register. Their website explains everything they require for you to begin so you'll be selling fashion to Walmart customers in no time!
[Start selling on Walmart marketplace]
7. Mercado Libre – 447 million visits/month
Mercado Libre is the largest ecommerce marketplace in Latin America with roughly 300 million active products listings that can be sold to 18 countries. It offers extremely useful online commerce and payments tools, contributing to its success. With 63 million active users it has a total addressable market of a massive 650 million people. Focused on an area where ecommerce is growing ahead of most of the rest of the world, Mercado Libre offers a compelling opportunity to all brands and retailers selling fashion online.
Alongside the marketplace, the company also offers Mercado Envios, a fully integrated shipping service across Brazil, Argentina, Mexico, Colombia, Chile and Uruguay. Selling apparel on Mercado Libre is open to those around the world via its Global Selling programme, which represents an exciting way to enter a new market. Apply to join by filling out the form at the link below.
[Start selling on Mercado Libre]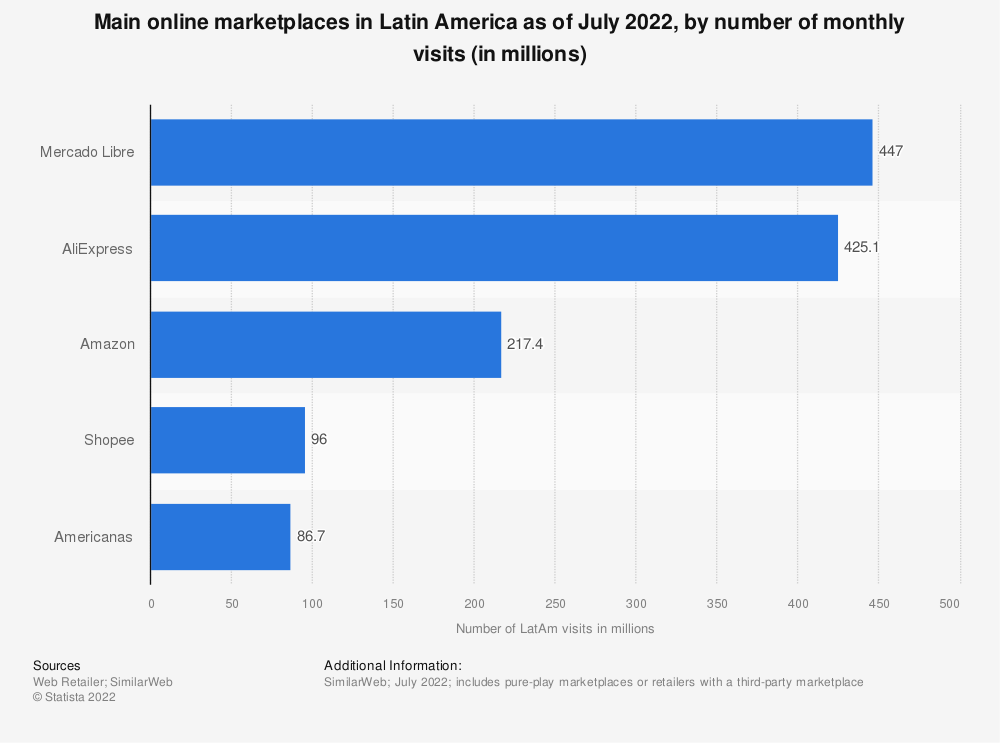 8. Etsy - 397.5 million visits/month
Etsy is one of the largest marketplaces in the world, offering handmade, vintage and unique items to customers across the globe. Although not often associated with fashion ecommerce, it is a great platform to build your business with more than 95 million buyers purchasing from 7.7 million sellers. With $2.33 billion in revenue in 2021, it offers a fantastic opportunity to expand your online fashion marketplace.
Thankfully, getting started on Etsy is easy with the company offering a portal for sellers to learn about the platform. Once products are listed, they are available to be bought worldwide. As well as offering a basic package for merchants, the company also offers Etsy Plus. This provides even more tools for you to expand and grow your shop. One of the easier online fashion marketplaces to sell on, Etsy recently bought Depop, expanding their fashion ecommerce strategy.
9. Tmall (Taobao) – 333.1 million visits/month
Tmall is the largest exclusively B2C platform in China. In the first half of 2022, new brands introduced by Tmall Global grew by 64%. On June 18th, one of the most popular shopping days, overseas brands saw 43% year-on-year growth. More than 4,000 overseas brands doubled their trading volume compared to the same period in 2021. If selling fashion in China, selling on Tmall makes a lot of sense!
The marketplace has nearly 40,000 overseas brands from more than 90 countries and regions worldwide. Almost 8,500 overseas brands were added in 2021. During Singles Day 2022, another hugely popular shopping day in China, the sales volume of 750 overseas brands on Tmall Global grew by more than 100% with 20 overseas brands exceeding $1.5 million in revenue. It can be difficult to sell on Tmall if not based in the country. This is because of language barriers and the vast array of different sales models. As such, most western brands end up partnering with an agency like Digiant to help with their ecommerce sales.
[Learn more about selling on Tmall (Taobao)]
10. Wildberries – 279.8 million visits/month
Wildberries is the largest online retailer in Russia with more than 20 million visitors, 44 million different products and 4.5 million orders a day. With 800,000 brands offered to customers in 15 countries across Europe – and more than 25,000 pickup points across the continent – it provides an ecommerce platform that is a must if your brand is looking to focus on Eastern Europe.
Operating a familiar marketplace platform, Wildberries makes it easy to register on their website and start selling fashion immediately. Offering in-depth product management tools, analytical reports and product fulfilment, the company keeps it simple for merchants wishing to promote their brand on their platform. As an added bonus, the company has recently expanded to the US, making it a truly global operation.
[Start selling on Wildberries]
What about exclusively online fashion marketplaces to sell on?
For those looking for online fashion marketplaces that only sell fashion, this is the list for you. Again, these marketplaces are ordered by number of visits a month and use the same data as the list above.
1. Zalando – 170 million visits/month
Zalando is an online fashion marketplace based in Germany. Generating almost €8 billion in 2020, the company operates in 23 European countries and has just under 50 million customers. An attractive prospect if selling clothes online! Added to this, when customers buy, their tastes and preferences are noted and the products update accordingly, creating a virtuous circle for selling.
To sell on Zalando, sellers must join the Partner Program. Although huge brands such as Nike sell on the marketplace, smaller, local businesses can also get involved. They are also able to take advantage of Zalando Fulfillment Solutions if required, which gives partners access to the logistics network and capabilities of the company. Before selling on Zalando, vendors must watch a video before completing an online application.
2. Vinted – 77.3 million visits/month
Vinted is an app-based online fashion marketplace for pre-owned items. Sellers take photos of their items, describe them and then list them for free. Once the item sells, they are required to send the product to the buyer. Once everything is confirmed as being fine by the buyer, Vinted hands over the money to the seller. Interestingly, it is the buyer who pays fees to the company. As a seller, you keep all of the money that is generated from selling your products.
Vinted's app is downloaded between 3.8 and 4.5 million times every single month, showing exceptional growth for the platform. Because it's so easy to begin selling, it's an excellent example of the rise of P2P fashion marketplaces. As consumers focus more on sustainability, the likes of Vinted and its rival, Depop (9.6 million visits/month), are sure to gain more users.
3. ASOS – 63.2 million visits/month
ASOS is one of the only fashion entries on our list of the best online UK marketplaces to sell on and for good reason. It's one of the biggest marketplaces in the world, selling to 196 countries and amassing over £3.94 billion in annual revenues. With over 850 brands available, it's easy to understand the appeal for vendors with customers flocking to their site every second month to update their wardrobe.
An excellent fashion marketplace to sell on, ASOS is consistently growing in the UK, US and Europe. Thankfully, it's easy to begin selling on the ASOS Marketplace too. Setup a fully verified Business Paypal account and then apply on the website. Responses generally take no longer than three days so you should be selling sooner rather than later.
4. Myntra – 56.4 million visits/month
Myntra is the largest fashion and lifestyle retailer in India and is currently owned by Flipkart, a subsidiary of Walmart. The ecommerce marketplace only ships to India but if you are looking for online fashion marketplaces to sell on within the country, it is a must – Myntra is the 34th most visited marketplace in the world!
To start selling on Myntra, it's simply a case of visiting their website and registering. Sellers must complete the onboarding requirements before working through a number of other steps including selecting from the different fulfilment models available. Myntra offers a useful dashboard for sellers, as well as a University to learn more about the platform. It's definitely worth listing on Myntra if wishing to sell in India – there are 40 million active users a month!
5. Poshmark – 49.9 million visits/month
Poshmark is one of the leading social online fashion marketplaces for new and second-hand style. With 80 million registered users across the US, Canada, and Australia, the company has more than 200 million clothing products for sale at any one time and boasts of one sale every second within the US and its territories. Its Brand Closet Programme allows fashion brands and retailers to open their own digital storefront on Poshmark, gaining access to millions of engaged Gen Z and Millennial shoppers.
Featuring the ability to scale quickly with advanced seller tools and seamless fulfilment with minimal overheads, selling clothing on Poshmark makes sense if you are based in one of the three countries in which they operate. It's easy to get started too with interested parties invited to fill out a form to learn more.
6. ZOZOTOWN – 48.2 million visits/month
ZOZOTOWN is the largest fashion marketplace in Japan, handling more than 2,000 brands across more than 1,500 shops. The company has more than 10 million customers and also runs WEAR, a fashion lookbook application where fashion conscious influencers can share their outfits alongside links to buy. Though it's difficult for customers outside Japan to buy directly from ZOZOTOWN, they can purchase apparel via proxy shopping service, Buyee.
Listing fashion items for sale on ZOZOTOWN is a simple process but the seller must be located in Japan (or at least have their products within the country). Merchants must first be users of the platform before being able to register to sell. Achieve this by clicking on the link below. Note: The site is difficult to navigate if you don't read Japanese.
7. Netshoes – 34.4 million visits/month
Netshoes, as the name suggests, had an initial focus of selling sports shoes in the Brazilian market. Since its launch in 2000, it has since branched out to offering clothing and equipment as well. In fact, it's so successful that it's the biggest sporting ecommerce retailer in Latin America with an audience of 9.4 million people on Facebook. That presents a lot of marketing possibilities!
It's one of the easiest online fashion marketplace to sell on with an easy registration process. Upon approval, show your documentation, list your products and start selling. It really is that simple. With customers located in Brazil, Argentina and Mexico, it's an excellent fashion marketplace if you are looking to sell in Central and South America.
8. StockX – 30.2 million visits/month
StockX is an online marketplace for selling new limited edition and high demand sneakers (or trainers, for those in the UK). Although the company has more recently branched out to anything collectable in modern culture – trading cards, electronics, handbags, etc. – StockX is still primarily focused on selling fashion online.
With more than 200 million unique visitors from hundreds of countries and territories in the first three quarters of 2022, StockX is the place to sell shoes online. Products from more than 200 different brands are currently available for customers to buy. But how to sell? It's extremely easy with sellers not needing to be approved or take photos of the items they're selling. Simply sign up, sell and then send the item to one of 13 StockX authenticity warehouses.
9. Dafiti – 29 million visits/month
Since launching in 2011, Dafiti has grown to become the largest lifestyle and fashion ecommerce retailer in Latin America. A subsidiary of the Global Fashion Group (which also owns The Iconic, Lamoda and Zalora), the marketplace offers over 6,000 brands and over 400,000 products to 7.7 million customers in four countries – Brazil, Argentina, Chile, and Colombia.
To become a fashion supplier to Dafiti, the company requires merchants to comply with their values and code of conduct alongside other basic rules such as being able to provide up-to-date tax returns. Click through to the website on the page below to find the correct email address for your requirements.
10. FarFetch – 28.8 million visits/month
Looking to sell on a luxury online fashion marketplace? FarFetch has gone from strength to strength since its founding in 2007. Offering access to over 750 of the world's best brands and boutiques, it is a leading destination for those looking to wear the latest look. With revenues of just under $600 million, it prides itself on its growth strategy. This ensures the finest online fashion is always available on their website (without their customers having to travel to exclusive stores in person!)
To become a listed boutique or retail partner, all it takes is an email to a specific address. Listing on a luxury fashion website though means there are a number of requirements that FarFetch requests. None of these are hard to overcome but the process can be lengthy. Find out more about selling on FarFetch at the link below.
Improve Your Sales on Fashion Marketplaces with Intelligent Reach
Intelligent Reach is an award-winning product marketing platform used by hundreds of leading brands, retailers and digital agencies to dramatically increase revenue through optimised product data.
Getting products in front of online shoppers across digital ad channels and marketplaces should be easy. Unfortunately, without a simple way to keep on top of the health of your product data feeds or the optimisation of your listings, it can be difficult to centralise different systems and sync data in (almost) real-time. These problems often translate into a loss of sales. After all, if you can't keep track of your own data, how can you expect products to remain visible, enticing customers to buy?
Our intuitive platform empowers digital ecommerce and marketing teams to quickly launch their product listings with beautifully curated product data. Our ability to integrate into different systems keeps data synchronised and inventory accurate. And by optimising feeds with actionable insights, dynamic custom labels for grouping and content experimentation (A/B testing product titles for example), our clients get a competitive edge to increase their exposure and digital revenue. We push data to more than 1,500 marketplaces and digital channels!
With a global client base including hundreds of well-known brands and clients, why not see how your clicks, ROAS, and revenues improve by working with Intelligent Reach?
Download our FREE fashion marketplaces guide
An A-Z of the 72 best online fashion marketplaces to sell on worldwide (complete with links to make it easy to start selling!)
Download now
Tags