Selling products via an online marketplace like Trade Me, can be hugely beneficial for brands and retailers alike. Partnering with them is usually a simple process and you get instant access to a vast number of potential customers. Customers who usually spend a long time on their marketplace of choice providing you with the best opportunity to convert, especially if you're entering a market for the first time.
The challenge, of course, is standing out from the crowd. Building a firm band of followers who love shopping with you can make all the difference to how successful your marketplace expansion is. The most common mistake sellers make when expanding on to a marketplace is just setting and forgetting. Then rapidly moving on to the next channel.
Look for a marketplace that provides the necessary support to understand the local market, assists you to optimise your searchability and remember the old adage. It costs up to five times more to acquire a new customer than it does to keep an existing one. In today's ever-competitive e-commerce landscape, it has never been more important to provide consumers with a positive, enjoyable user experience. The smallest gestures can have the biggest impact and see consumers return directly to your marketplace store for their next purchase. Forgoing a new product search altogether.
Trade Me is New Zealand's most popular online marketplace. The company has come a long way since Sam Morgan opened its virtual doors in March 1999. The story goes that Sam had a frustrating experience trying to find a second-hand heater for his chilly flat in Wellington - That sparked an idea and Trade Me was born.
In the space of two decades, Trade Me has moved from being a site for finding a secondhand bargain to being where Kiwis look first for everything from camping equipment to curtains, baby gear to business furniture and everything in between for the lives they want.
Today, Trade Me has over 4.9 million live member accounts with over 650,000 Kiwis visiting the site each day from a range of devices. Given the scale and speed at which companies can grow overseas by selling on an established marketplace, Trade Me looks to integrate Australian retailers onto the site to provide our members with a one-stop shop for a wide and ever-growing range of brands and goods. We offer a demand heavy, support rich marketplace which gives retailers from across the Tasman simple and agile access to the entire New Zealand market.
With a number of domestic supply gaps and a highly competitive sales commission rate of just 7.9%, Trade Me wants to work with sellers who can add value to their consumer base by bringing a unique range and desirable brands. Australian products and categories that work particularly well on Trade Me are:
Home & Living
Motor Parts & Accessories (Car, Motorcycle, RV and Boat)
Building & Renovation
Sports
Commercial Goods
Consumer Electronics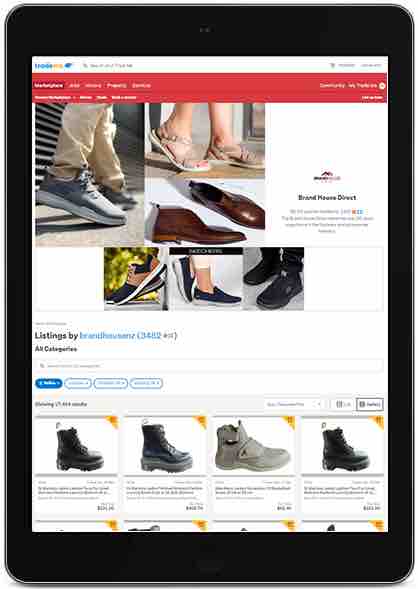 One retailer who has already made the trans-Tasman leap is Brand House Direct. One of Australia's leading online destinations for shoes, clothing and accessories. They've been helping Aussies get access to their favourite brands for more than a decade. In 2014 they decided to expand into New Zealand via Trade Me. The cross border move was driven by their ability to fill supply gaps for a range of much sought after brands that Kiwi consumers didn't have easy access to. Combined with a similar demographic, trading regulations and frequent air freight they were confident that they'd be able to exceed consumer expectations and gain market share.
Trade Me, with its unrivalled Kiwi audience, was the obvious partner to choose in New Zealand. Having already made their first domestic marketplace expansion onto eBay. Moving cross-border was the next logical step and the support rich process from both Trade Me and Intelligent Reach helped ensure things went smoothly. Avoiding some of the inevitable bumps that come with third party expansions. Having dedicated support meant they were live, selling and generating a return in a matter of weeks.
That's not to say there haven't been challenges. In 2019 the NZ government changed the rules for GST on imported goods. This required a lengthy and detailed price review of their 19,000 listings as the consumer would now need to pay an additional 15% on goods bought from overseas, but no longer need to worry about incurring import duty. With consumer experience at the heart of Brand House Direct's success, offering quality brands and the best possible prices was super important to them and their Kiwi followers. Having Trade Me collect and pay their NZ GST on their behalf meant they could continue doing just that with minimal disruption.
As for advice for other Aussie retailers weighing up the same move. Don't dip a toe in the water but make a commitment. If you have the ability to provide range you'll get traction and see success with Kiwis far quicker then testing the market with small pockets of products here and there.  Work with the Trade Me team to understand what Kiwi's are looking for and use this to drive your conversion strategy on site.
Key Trade Me Facts:
New Zealand's most popular online marketplace with over 650,000 Kiwis visiting daily
Average user session time 9 minutes
Competitive flat rate commission of 7.9%
Dedicated onboarding and optimisation support
Existing supply gaps with limited domestic competition
With strong year-on-year online growth of over 17%, accounting for close to 10% of all retail spending in New Zealand. There really hasn't been a better time to think trans-Tasman to grow your business.
Trade Me & Intelligent Reach
Our platform makes it easy for brands to expand into new e-commerce channels and marketplaces, broaden their reach and sell online with ease. Our direct integration into Trade Me will have you listing your products flawlessly and start selling. Our experts can talk you through this, just simply get in contact.
Tags