Headlines such as "the high street is dying", "RIP Britain's high streets" and "crumbling Britain" are circulating the opinion that the high street will soon be a thing of the past. Images of derelict streets and abandoned stores come to mind. Is this, however, an accurate prediction of our high street's future or the after-shock of the recent casualties of consumers' well-loved brands and retailers? Offline businesses can thrive, but there's a method to the online footfall madness.
Powering your offline stores
You might be surprised to hear that the high street still accounts for 83% of retail sales. That's because a good proportion of people continue to shop in physical stores – 46% according to Marketing Week.
Consumers like being able to see products in person before purchasing. This way they can get a feel for the quality, appearance and for clothing, whether it fits.
Some retailers are already using Google's local inventory ads, click and collect and Facebook Location Targeting to attract customers in store from online.
There are businesses, however, who are going far above these strategies and breaking into a new area of retail success – and most connect online and offline.
Their strategy and success could lead to these things being commonplace sometime in the future.
Businesses Leading the Way with Integrated Online/Offline Retail Strategy
85% of Halfords online orders picked up in store
The automotive-to-cycling equipment and repairs business, Halfords, is effectively connecting offline to online retail with their click and collect service, using the Intelligent Reach Platform.
It was recently reported that 85% of their online orders were picked up in stores during the opening 20 weeks of its financial year, proving that even simple multi-channel strategies can drive great results.
During this time, online sales grew by 11.3%, however, instead of seeing their offline sales drop, they grew.
Click and collect is a great opportunity to upsell, and when a consumer visits a store to pick up an order there's a 40% chance that they will buy something extra, according to Shopify.
Nike brings an online experience in-store with NIKEiD
Sports brands like Adidas and Nike are pioneering the way with their immersive, online-friendly stores.
Nike, for example, use personalisation technology called NIKEiD with which consumers can create their own custom shoes, trainers and bags, then choose to have them delivered either to their home or the store.
Every section of the shoe can be customised including lace, tongue and sidewall.
The tech is available online as well as instore, but Nike stress the benefits of coming to the store to complete the order as a NIKEiD expert can guide them through the process, which of course, increases the likelihood of a customer making another purchase.
Other, more far-out technologies are still in their infancy, but indicate a promising future for a high street on which online and offline could be indistinguishable.
Zara's moving mannequins and augmented reality
Using augmented reality, Zara have found a way to bring their mannequins to life, modelling their garments through the shopper's smartphone.
They introduced this in April to 120 of their stores, containing empty shop windows and mannequin stands.
Shoppers had to first download the Zara AR app, then point it at a stand or the shop window.
Shoppers see a 12 second sequence of models presenting the current Studio Collection and according to the Zara:
"...the app features a tool for sharing the experience on social media, encouraging users to take and submit photos of the holograms, establishing a virtual connection that appears remarkably real."
The real benefit? Consumers are encouraged back to the store by these technologies led immersive experiences.
Amazon quickens the buying experience with Amazon Go stores
In a world where consumers usually in a rush to get somewhere; Amazon Go, debuted in Seattle early this year, seemed to be the perfect answer.
A store in which people swipe in at the gates with their smartphone, run around grabbing what they can, then rushing out without physically paying, seems strange.
Amazon isn't worried. The in-store technology, including sensors and cameras are advanced enough to detect every movement.
It's unlikely that a shopper will confuse the system since reports indicate high accuracy.
All the work is done on the shoppers' phones, from check-in at the beginning to an automatic payment on exit which provides the shopper with a digital receipt.
The store's cameras and sensors in the ceiling track the customer through the store, adding what they pick up to a virtual shopping cart.
Amazon are a business that spur the competition, and it seems that other businesses such as Microsoft are already working on new technology to challenge the Amazon Go store.
In addition, the store is expanding to Chicago and San Francisco before the end of this year.
Pureplay retailer, Farfetch, brings product data to the high street with "Store of The Future"
Fashion retail platform, Farfetch, allows designer, luxury boutiques from all over the world to sell on their site.
The retail site does not have offline stores but have recently unveiled their BETA version of Store of The Future at its conference at London's Design Museum.
The store isn't really a store at all. It's a retail platform which links the offline and online worlds using data to improve in-store experience. Jose Neves, Farfetch Founder, Co-Chairman and CEO said:
"Store of the Futureaims at providing the in-store experience of the future by giving visibility to retailers on what is happening in the store. It's the offline cookie that closes the loop, between a great online presence and a complete omni-channel offering and, finally in-store technology which augments the experience of customers in store and overall."
When customers arrive at the store, they will check in to the store by 'logging in', as you would on an online platform.
This gives staff their purchase history, brand preferences and browsing behaviour. As the customer shops, they can create a wish list with RFID-enabled clothing racks which can identify what they are browsing.
In the changing rooms, mirrors are digital, allowing customers to view their wish list and request items in any size or colour.
It is an interesting concept; an offline ecommerce platform that collects the customers data as they shop, just like a website and if successful it could spur other retailers to follow suit.
Visit the article below to find out how to begin or expand your omnichannel strategy:
Product data continues to grow in importance and will one day have a role to play in offline stores too as we can see with Farfetch's "Store of the Future" and Halford's click and collect orders.
Some of these solutions are expensive and far from mainstream, but until they are viable, there are steps retailers and brands can take in the meantime, including ensuring that product data is optimal and complete.
Have a look at our e-book and see how you can connect your online and offline stores and get in touch if you have any questions.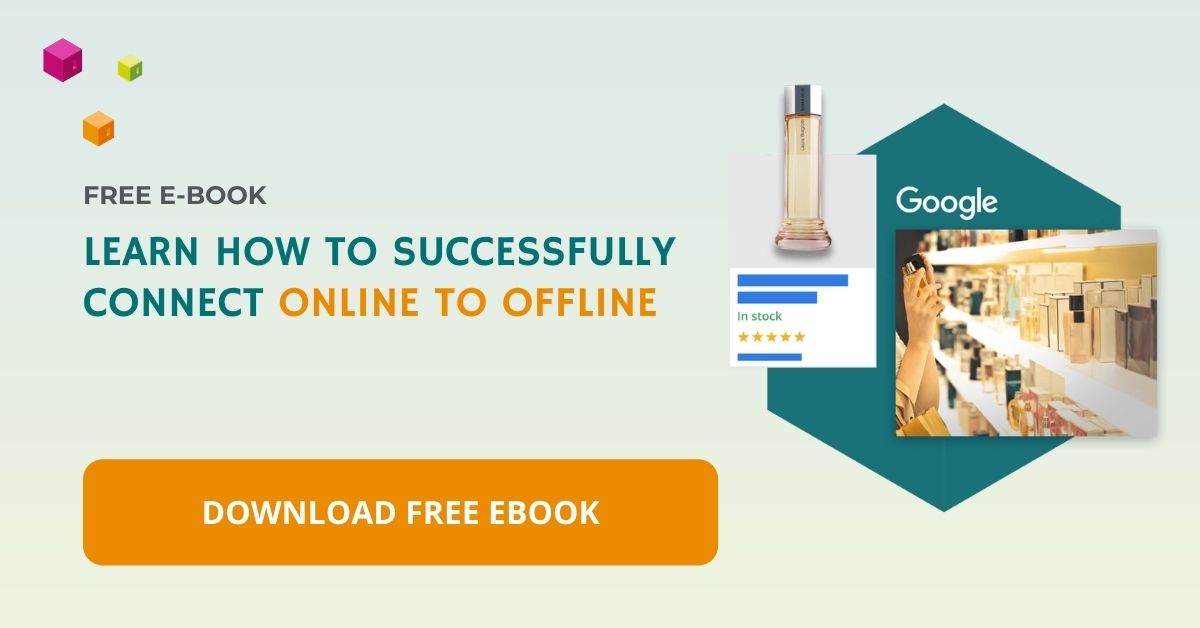 Looking to connect Online To Offline?
Have a read of our e-book and start the right way
DOWNLOAD NOW
Tags