eBay Promoted Listings are a low-risk way to get your items seen. In this guide, we look at the benefits of Promoted Listings and help you get started.
As an online brand, you may scoff at the idea of using third-party marketplaces like eBay or Amazon.
After all, why waste precious time and resources to set up additional sales channels? You'd rather drive traffic to your own site and promote your brand, right?
Not quite.
We've already covered why selling on marketplaces is your key to e-commerce success. In fact, marketplaces in the UK, marketplaces in the US and marketplaces in Australia and New Zealand all offer exceptional opportunities for brands and retailers. Fashion marketplaces are also growing.
eBay in particular, with its 135 million active buyers, is a fantastic place to drive additional exposure and sales.
In short, if you're not already selling on eBay, we strongly recommend giving it a try.
If you're an existing eBay seller, you'll have access to a powerful advertising tool: eBay's so-called "Promoted Listings." These are a cost-effective and risk-free way to drive additional sales on the platform.
In this article, we'll walk you through:
Without further ado, let's dig in!
What are eBay Promoted Listings?
Promoted Listings are a way to make your eBay items stand out and get more prominently featured across the site. By agreeing to pay an extra percentage of your sales price to eBay, you can secure a more favourable placement for the items you're selling.
What sets Promoted Listings on eBay apart is that you don't pay anything upfront. Unlike Google and Facebook, which charge you for exposure or ad clicks, eBay only takes a cut if you actually make a sale. This makes Promoted Listings a low-risk marketing tactic to have in your arsenal.
How do Promoted Listings work?
So what does it take to set up a Promoted Listing on eBay and what happens afterwards?
Eligibility
First off, it's important to note that Promoted Listings aren't available to everybody and for every type of item. To use Promoted Listings, you'll have to comply with following eligibility criteria:
Maintain a good track record: You must be an "Above Standard" or "Top Rated" seller (see more here). So no, you can't simply buy your way to eBay success if you're not delivering a good customer experience.
Be active on the platform: Only sellers with recent eBay activity get access to Promoted Listings.
Sell fixed-price items: Promoted Listings can't be used for eBay auctions where unpredictable bids are involved. They're only available for items that have a preset price.
Promote items in eligible categories: You can't use Promoted Listings with items from the following product categories.

Vehicles
Real Estate
Everything Else
Certain Travel categories
Don't worry: You won't have to figure out whether you're compliant on your own. If the "Promoted Listing" option is available to you, eBay will show it clearly next to eligible items in your inventory.
Setup
We'll have a look at the setup options in more detail later in the article.
For now, we can boil things down to the following top-level steps:
Select the item(s) you'd like to promote.
Set your "Ad rate": This is the percentage eBay will take if your promoted item sells.
Review and launch your campaign.
That's it.
Does that sound simple? That's because it is. Although you do have access to more powerful and slightly more complex options as well.
Appearance
Once your Promoted Listing is approved and live, it should start showing up at the top of eBay's lists of results with a "SPONSORED" tag, like so:

But that's just the top of the iceberg. In addition to getting to the top of relevant result pages, eBay also runs a wide variety of widgets to display sponsored items. These include:
Similar sponsored items
Related sponsored items
Sponsored items based on your recent views
Sponsored items from this seller
Explore more sponsored options (by product type)
These are a bit like Amazon's "Customers who bought this item also bought" sections, but reserved exclusively for sponsored content.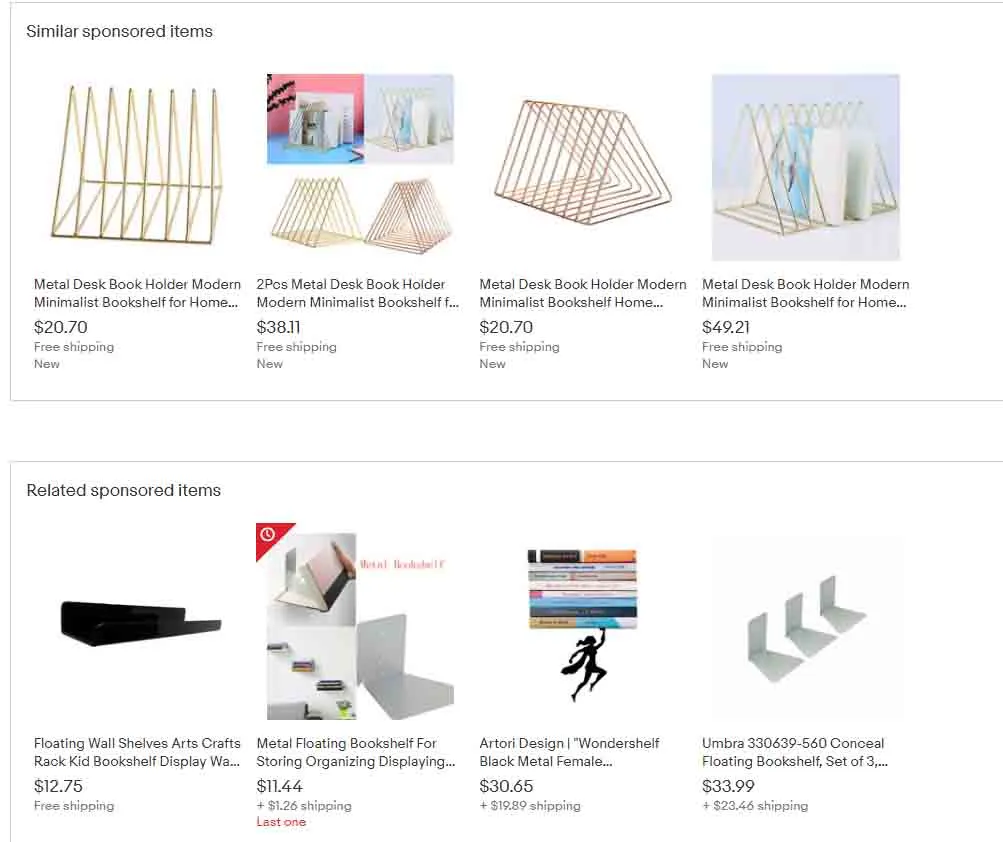 As you can see, using a Promoted Listing opens up a lot of opportunities to get your items noticed.
The benefits of a Promoted Listing on eBay
While the advantages of paid ads may be self-explanatory to some, let's briefly discuss the main ones.
1. Extra (relevant) exposure
The most obvious benefit is the ability to get more eyes on your products. Because Promoted Listings appear at the top of the page, your products will show up in a prime spot for the most relevant searches. By boosting your visibility, you improve the likelihood of getting those incremental sales, which is probably your ultimate goal for using eBay.
And remember those additional "Sponsored" widgets? Promoted Listings give you the chance to show up in any of those, depending on how relevant they are to the individual customer.
Not only do you get more exposure, you get the right kind of exposure. That's because eBay won't, say, promote your jewellery listing to people searching for diapers. (There's a surprising lack of overlap between the two customer groups.) So by their very nature, Promoted Listings are only seen by people who are more likely to actually buy your products.
2. No out-of-pocket costs
As we already touched upon, there's no upfront cost involved with eBay's Promoted Listings. You won't risk blowing your budget on casual browsers who click on your ads and immediately move on to another product.
You'll only ever pay if your Promoted Listing results in a sale. As such, there's no downside to sponsoring a few listings to test the waters.
3. Simple setup
More complex products like Google Ads often require dedicated job titles that specialise in setting up ad campaigns, allocating budgets, tweaking bid strategies, and optimising the return on investment.
With eBay's Promoted Listings, the entire setup could literally be a matter of ticking a few boxes.
4. Helpful guidance from eBay
Deciding which items to promote and at what price can often seem daunting. But with Promoted Listings, you can basically outsource those decisions to eBay, if you so choose.
Using its algorithms, eBay will flag some of your items as the perfect candidates for a Promoted Listing by tagging them with a "Recommended" tag. This means eBay believes this item will benefit the most from a Promoted Listing visibility.
On top of that, eBay also provides a "Suggested Ad rate" per item, which it thinks will result in the most competitive and cost-effective position.
So you could essentially only pick the "Recommended" items, set each of them to its "Suggested Ad rate," and set the entire process on autopilot.
5. Boosting specific items
At the same time, you retain full control over which items you'd like to promote. This lets you target specific items depending on your marketing and sales goals.
You can e.g. promote your most profitable items, help move less popular products that are taking up inventory, or give seasonal items an extra nudge during limited time periods.
Or, you look at running campaigns with products that are getting no sales traction, so that they hopefully start getting sales, and then get more visibility in natural search because of it.
6. Detailed analytics
To top it all off, eBay provides you with a built-in analytics dashboard that lets you monitor the performance of your ads and fine tune your campaigns. There's no additional setup involved and you gain access to a broad range of metrics like impressions, clicks, conversion rates, and much more.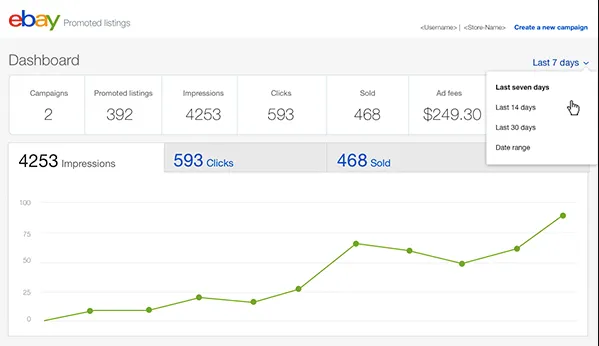 As far as we're concerned, testing out a few Promoted Listings on eBay is a no-brainer.
How to promote your listings on eBay?
Now it's time to have a look at the nitty gritty of setting up your Promoted Listings.
You can always find even more info on eBay's exhaustive "Promoted Listings" page, which includes detailed FAQs and tips.
But for our purposes, let's zero in on the process of setting up your Promoted Listing.
All in all, there are four different ways to launch your Promoted Listing.
1. Seller Hub
The first option is directly via the Seller Hub, which is where most of your eBay sales activity takes place in the first place.
Here, you can simply check the "Promoted Listings" box in the "Sell it faster" section:

Then you set your ad rate, add the listings you want to include in the campaign, and you're set it go. This option also lets you restart a previous campaign, so you don't have to redo it from scratch.
2. Simple listing selection
This option is a sort of Promoted Listings setup wizard: it takes you by the hand and walks you through the process of setting up a single or several listings.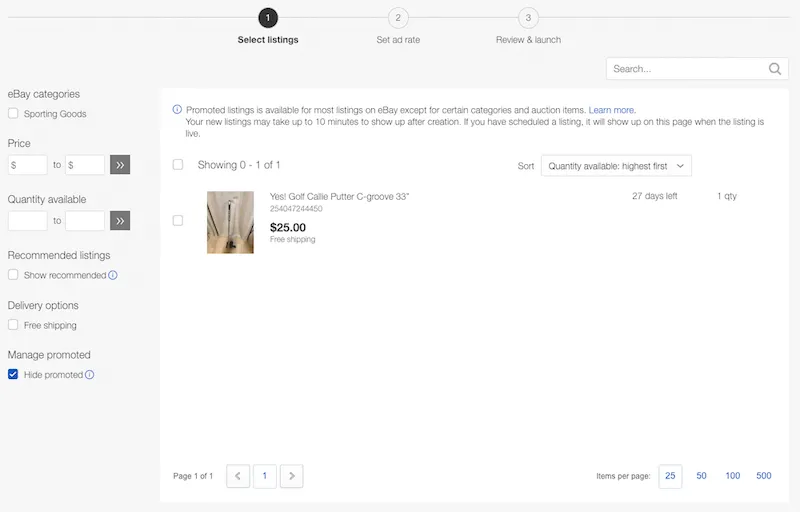 You start by looking over your eligible listings, then selecting the ones you want to promote. You can choose to ask eBay for help by ticking the "Show recommended" box to only see the listings eBay thinks will do well.
Then you click through to the next step, which is where you set the ad rate for your listings. Once again, you can defer to eBay's judgement here and go with the "Suggested" ad rates instead of fiddling around with the settings.
At the third and last step, you simply review your settings and launch the campaign. That's it!
3. Bulk listing selection
This is a more involved version of the above. It lets you launch a large number of Promoted Listings by selecting entire categories or even uploading items as a CSV file.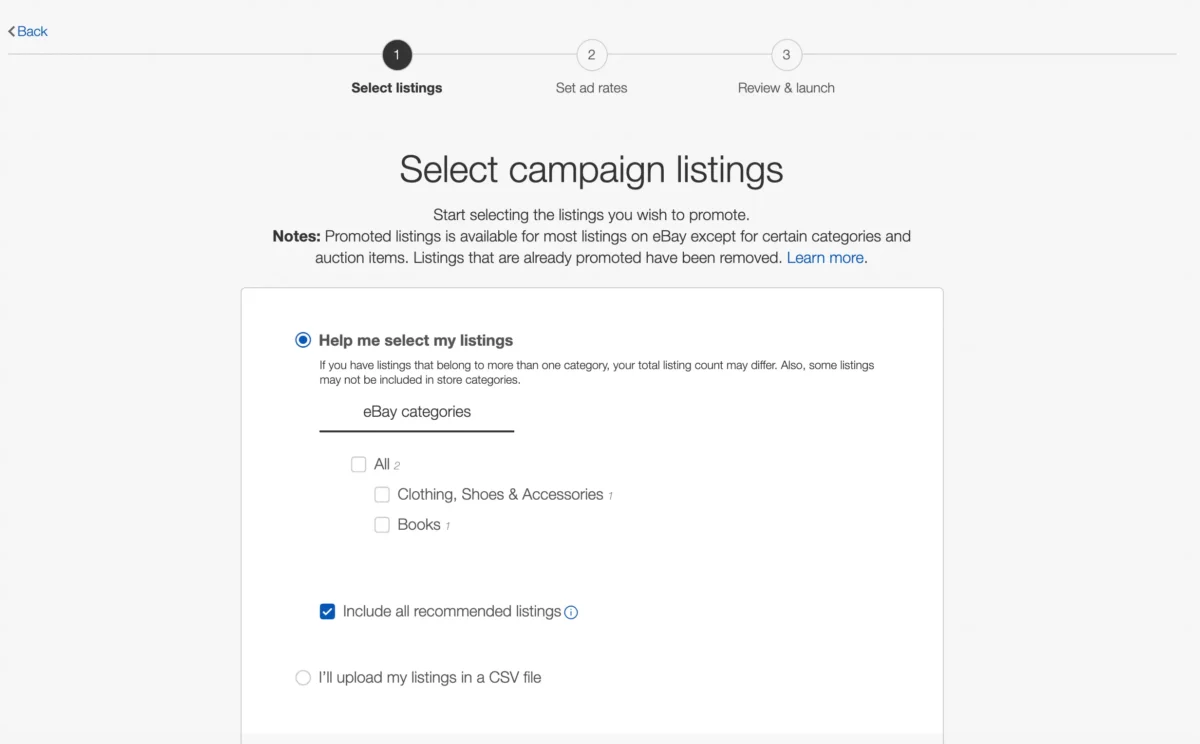 The remaining steps are essentially the same. You set your ad rates, review the campaign, and launch.
When working in bulk, especially if you're uploading listings as a CSV file, the quality of your product data takes centre stage. The last thing you want is launching a bulk campaign with incomplete or outright wrong product details.
So make sure your data feed is up to scratch by reviewing it against eBay's requirements. You can do this manually for every item or turn to a solution like Intelligent Reach that automates this process for you.
4. Automated campaigns
Speaking of automation, the fourth way of using Promoted Listings on eBay relies on automated campaigns. Here, instead of selecting the items themselves, you define a set of rules that lets eBay manage your Promoted Listings automatically based on available items in your inventory.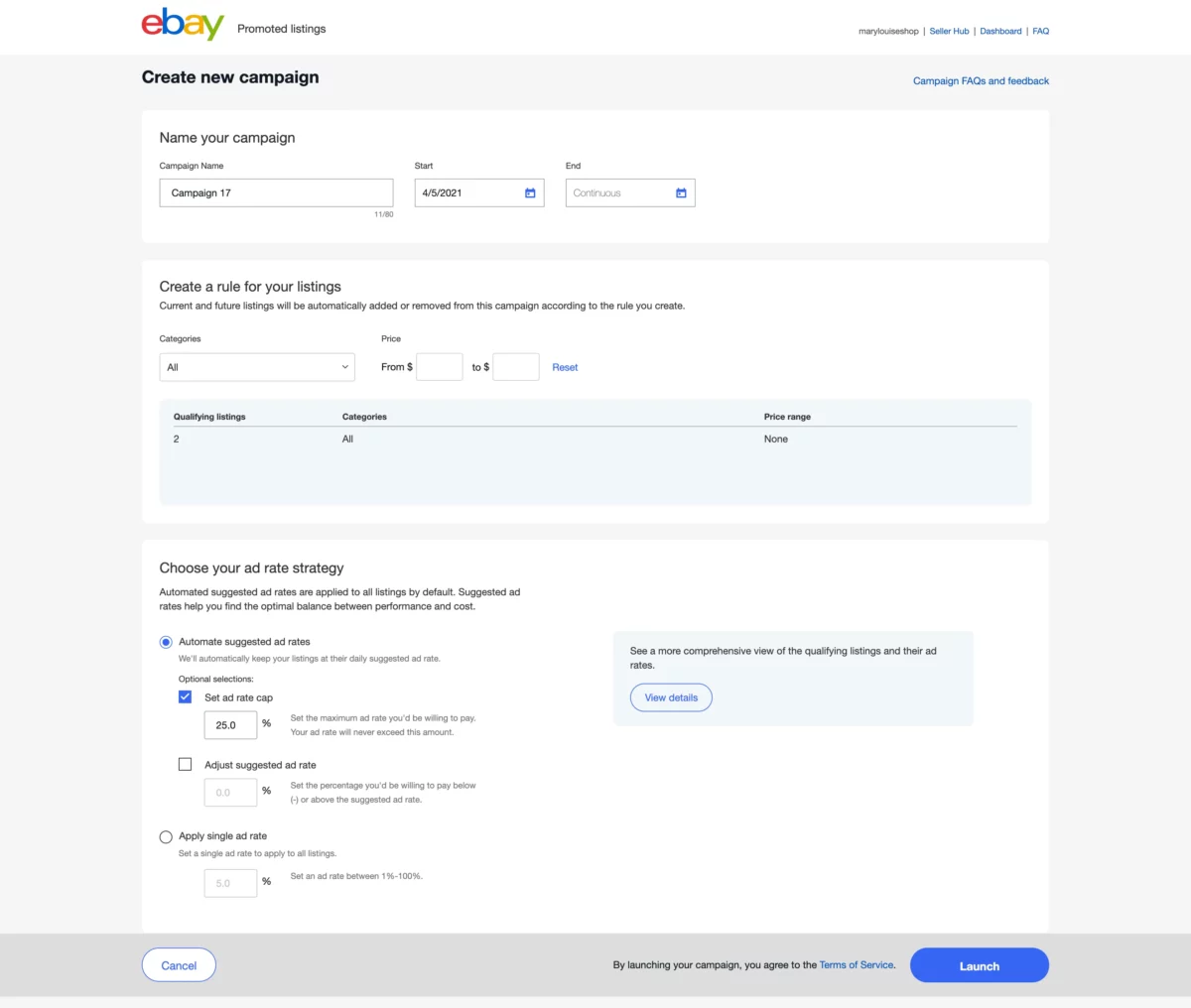 You'll be able to set the following parameters:
Start and end date for your campaign
Categories to include
Minimum and maximum item price
Whether to set a fixed ad rate or use the suggested one for each item (you can still set a max cap on the ad rate if you're worried about runaway costs)
This is the best way to go if you're an advanced user and sell lots of different items with high inventory turnover. It lets you set a few fire-and-forget triggers instead of manually managing every new listing.
Tips for getting the most out of Promoted Listings on eBay
Let's wrap up with a few tips for making sure you get the most value out of your Promoted Listings.
1. Ensure your underlying product data is in good shape
Your data feed is the cornerstone of ecommerce success. Product titles, descriptions, category segmentation, etc. have to be as accurate and optimised as possible.
It certainly doesn't help that different marketplaces have their own criteria, product categories, and minimum requirements.
So make sure you study eBay's item specifics and tag your products accordingly.
Alternatively, use a service like Intelligent Reach to automatically manage your data feeds for eBay and other third-party marketplaces. This will make sure your data feed is always kept accurate, clean, and up-to-date.
2. Test things out on high-margin items
To get familiar with Promoted Listings, we recommend testing the concept out with your high-margin items. This way, eBay's ad rate won't eat too much into your profits.
Once you've experimented with Promoted Listings and feel more comfortable with the settings, you can move on to promoting other items in your inventory.
3. Monitor sales to optimise your eBay settings
Keep an eye on how your Promoted Listings are doing using the many insights provided by eBay's analytics tools. At least in the beginning, take a hands-on approach to tweaking the ad rate and the mix of promoted products to try and find the most profitable settings.
4. A/B test your product data to improve conversions
Your products don't sell themselves. The way you write your titles and descriptions, the product images you use, and the categories you list your items under all play a vital role in whether you'll convert eBay visitors to customers.
After launching your campaigns, experiment with your product data in order to improve your conversion rates.
Boost the performance of your Promoted Listings with Intelligent Reach
At Intelligent Reach, we believe that product data can make or break your digital sales strategy. Your Promoted Listings on eBay are no exception.
Our platform lets you:
Set up a one-off integration to generate product feeds for eBay and 1,500+ other marketplaces and sales channels.
Automatically keep your feeds in line with any new requirements from each channel
Run A/B tests on your product data to increase conversions
...and much more
If you're serious about eBay success, feel free to book a demo and learn how Intelligent Reach can help take your eBay presence to the next level.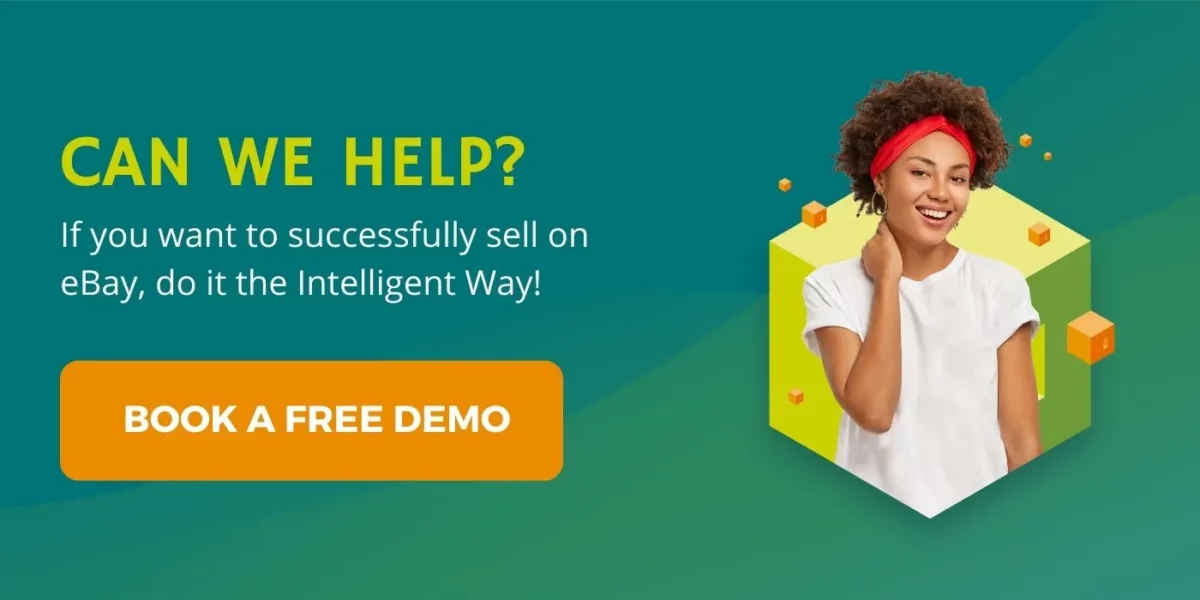 Want to improve your sales on eBay?
Do it with Intelligent Reach for optimal performance
Book a Free Demo
Tags