Updated on 27/11/20
Local Inventory Ads (LIAs) are Google's answer to the increased demand among consumers for an integrated multi-channel shopping experience. Not only can this help ease the pressures of high onsite traffic, but it also helps shoppers feel comfortable in making direct visits to store that have the products they want.
Google Ads is the biggest pay-per-click (PPC) platform, with their standard product listing ad (PLA) format generating 60 percent of retailers' Google search ad clicks. Therefore, it comes as no surprise that LIAs are generating 7 per cent of clicks on desktop and 15 per cent on mobile (Merkle).
So, does this mean that PPC impacts store footfall? Furthermore, could this save the high street in this pandemic?
E-commerce vs The High Street
Global e-commerce sales are at an all-time high and it's set to keep rising in this pandemic.  It seems pretty bleak for the High Street, but brands and retailers shouldn't give up hope.
Far from sitting by while High Street sales decline, there are some effective tactics that retailers can take to link digital to physical stores – enter local inventory ads.
In this article, we'll fill you in on:
What Local Inventory Ads are and who is eligible
What you'll need to get started with Local Inventory Ads
How product data can drive great ad performance and other ways to optimise Local Inventory Ads effectively
How to target specific customers and locations with Local Inventory Ads
Top tips from our experts here at Intelligent Reach
Local Inventory Ads
Since their launch in 2014, Google's Local Inventory Ads have gained a lot of traction in driving in-store sales and footfall. They are a great way of connecting online and offline stores by taking advantage of your consumers' location and the need for convenience.
Retailers such as River Island and Staples were some of the first to adopt LIAs and saw massive increases in not only click-through-rates but also store visits (17%) and sales (33%).
Fast-forward to 2020's golden quarter, Google revealed 65% of shoppers said they plan to use online channels to confirm if an item is in stock, before actually going in to buy it. LIAs now play a big role in the customer journey, helping shoppers adhere to social distancing measures through direct visits.
What are Local Inventory Ads?
The purpose of Local Inventory Ads is to draw nearby customers searching on mobile devices into physical store locations. These are localised ads that are surfaced when a consumer types a phrase into Google such as "black dresses near me".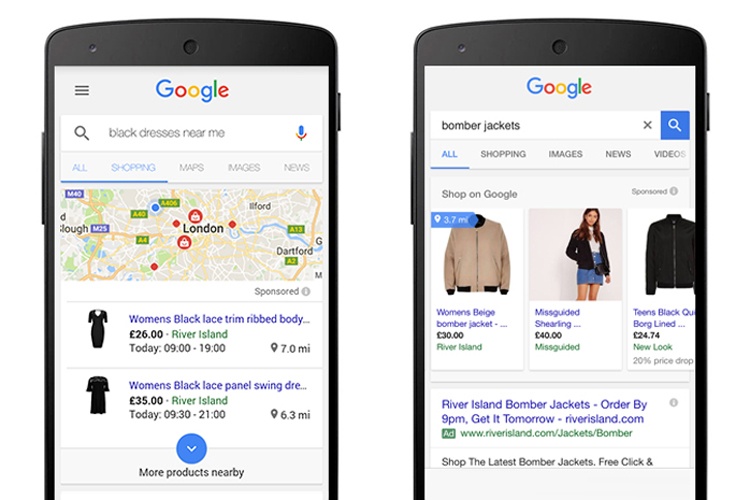 Source
The information offered, such as opening hours, store proximity, price and inventory (when clicked), allows for a shorter purchasing journey, therefore saving the consumer time. Instead of the sale being made online, Google's goal here is for it to be made in-store.
Am I eligible for local inventory ads?
Local inventory ads are available for retailers that have physical stores in Australia, Austria, Brazil, Canada, Denmark, France, Germany, Japan, Netherlands, Norway, Sweden, Switzerland UK, and the US.
Google also stipulates that to be eligible, you must meet these requirements:
Own brick-and-mortar stores open to the public

Sell physical goods at your stores that customers can buy without additional purchases

Be physically located in the country you're targeting ads to

Protect your customers' personally identifiable information (PII)

Pricing must be listed on your products in-store
What do I need to get started?
Most articles on PLA campaigns jump straight into the 'how-tos' but it's no use unless you have the core components in place. Platforms such as AdWords, Google My Business (GMB) and the Google Merchant Centre are the crux of your PLAs. If you are already running product listing ads (PLAs) you'll have AdWords and Google Merchant Centre set up. In this article, we'll be focusing on GMB.
Google My Business
GMB is a free tool which allows your business to be found on Google Search, Maps and Google+. It is also needed to run LIAs, which is why your information must always be up-to-date, accurate and optimised to prevent poor performance.
If you've ever typed in the name of a business on Google and seen this on the right-hand side, then you've come across a listing powered by GMB. The business information provided on your LIAs comes directly from the information you input here.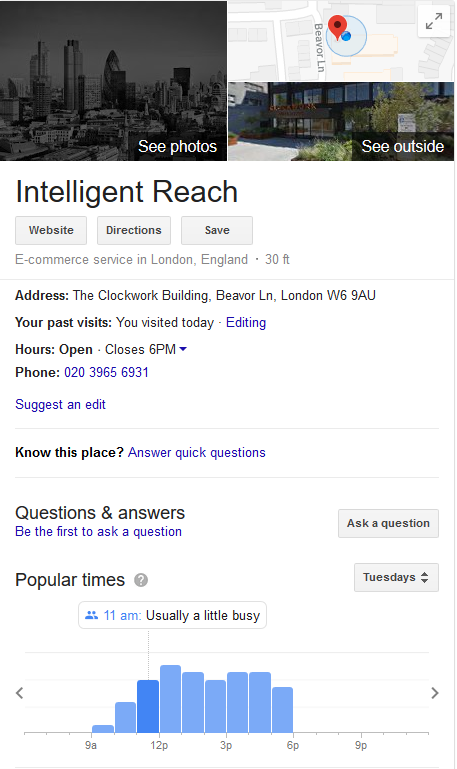 GMB also allows you to surface local products on your listing pages. The traffic generated from clicks is free.
A populated GMB Listing
First, if you haven't done so already, you need to claim your GMB listing. This isn't enough, though, to make an impact to your LIAs and overall business visibility across Google.
The next step is populating your listing. Many businesses don't realise that anyone can suggest an edit. If you don't add that information then someone else could, and it may not be correct. This can be done at any time, which is why it's important you check back regularly.
Here are some of the key information you'll want to include straight away:
Business name
Opening hours
Contact details
Description of business
Category, e.g. retailer, restaurant etc.
Address
Images/videos
Location
Attributes such as "free Wi-Fi" and "Wheelchair accessible": the more details the better.
Day and year you opened
Website URL
Inventory information for all your business locations
Google also provides insights into your business listing, so you can see how it's doing and how often people view it.
The Intelligent Reach Platform can now be used to help with GMB listing management for retailers with large store footprints. We can help ensure your store feeds are always up-to-date and accurate so that your Local Inventory Ads perform well.
Product data
This is key. Product data is the core element driving the relevance and visibility of product listings and offsite locations (Google Shopping, Amazon). It's important to get right before you even consider running Local Inventory Ads.
If your product data is incomplete, inaccurate or lacking in rich attributes, your products will struggle, and you'll be spending all that marketing budget for few clicks and very little ROI.
Intelligent Reach helps retailers and brands with order management which will always ensure your LIAs receive up-to-date stock information at a store level. Have a look at our Data Quality eBook if you'd like to know more.
The Goal: Get Google My Business and your Local Inventory Ads to work together
The information you provide GMB will not only increase the chance of your Local Inventory Ad showing up when a shopper searches, but also that they will visit your store. Inventory information, such as item availability and stock-count for each individual store, is especially important. This will ensure your ads are appearing to the right consumers and will bolster your chance of success.
3 Key Considerations for GMBs and LIAs
Google My Business and Local Inventory Ads drive discoverability by putting your products in front of any consumer using relevant search terms and providing your business information.
It is possible to set up LIAs so that they are only displayed during your business's opening hours.
Sales and ROAS have been proven to increase.
LIAs are relevant and useful to consumers searching for a particular product. In addition, they improve the customer purchasing journey, given that 73% of consumers choose to purchase in-store to avoid delivery fees, and put the power back into the retailer's hands.
Activating Location Extensions
This is an important step, as not only does it show your address but also location on a map and the distance a shopper is from it.
This enables you as a retailer to target specific geographic areas, for example, within a certain radius of your business or in a specific area.
Local Inventory Ad Features
Google Store Visits
If you are already running Product Listing Ads, then you'll know how easy it is to measure their effectiveness. LIAs, however, are not so simple and Return on Ad Spend (ROAS) and budget efficiency are a bit harder to track.
Google's Store Visits feature, however, is a great way of increasing your ROAS. This will give you a concrete view of how and when sales are being made so that you know when best to adjust your bids.
The feature allows retailers with over 100k clicks monthly to view which campaigns, keywords and devices drive the most store visits to their business. This is done using the locations extension which tracks a shopper from their viewing an LIA to their entry into that store.
To be eligible, you'll need to have multiple brick-and-mortar stores, have a high store visit and click-through rate. Read more about that here.
For retailers who measure store visits in their Google Ads accounts, Google's allows you to segment store visitors using 'new vs. returning' types within a specific period.
Click and collect
Click and collect is now part of the consumer multi-channel purchasing journey and is a service not to be overlooked. It allows customers to buy a product online, from a retailer such as Argos and pick it up from one of their offline stores at their convenience.
Depending on the availability of the item, a customer can pick it up either the next day or even same-day, putting power into the shopper's hands and giving them reassurance of availability and confidence that they (1) won't miss the delivery and (2) are able to return it immediately if not suitable. This all contributes to a positive CX.
Obviously, you can provide the option of click and collect on your own website and bricks-and-mortar store, but Google allows retailers to provide a click and collect annotation on their Local Inventory Ads which as a result, makes your Local Inventory Ads even more effective, directly connecting online with online.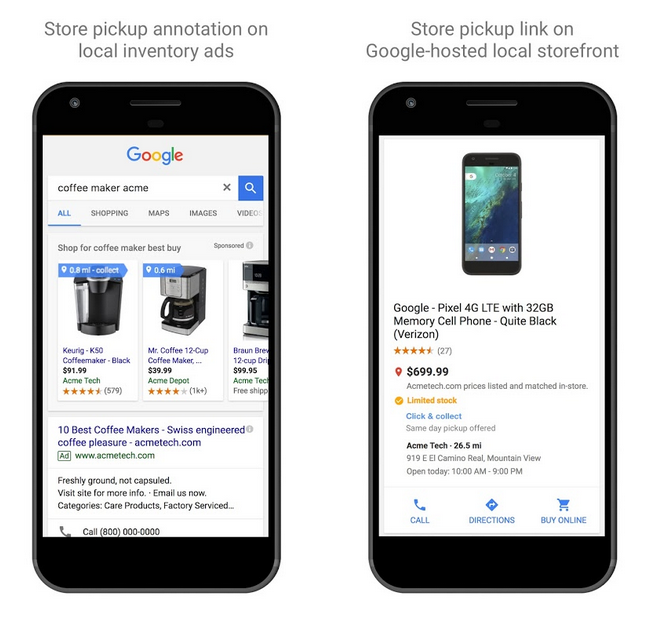 Source
The ability for shoppers to come into the store, check and pick up an item lowers the possibility of a refund and allows for up-selling. It also removes the risk of damage in transit, meaning there's less of a chance fraud or that the customer will request a refund.
Read here if you'd like to know more about providing click and collect with your Local Inventory Ads.
On display to order (ODO)
The on display to order (ODO) feature allows you to advertise items that are displayed in-store, such as large furniture items which aren't available for immediate purchase. When a consumer clicks the local inventory ad, they see that it is available to order from your local store. The consumer can then visit the store, order the item and have it delivered at a later date.
Merchant-hosted local storefront
This feature allows shoppers to be directed straight to your website instead of a Google-hosted storefront.
Pickup Today/Curbside Pickup
The new feature helps you to adhere to your customer's needs by providing them with more options to collect their orders in a more convenient way, whether it's a store (Pickup Today) or in the car park, entrance or drive through (Curbside Pickup).
You can use Google's "Pick up today/later" within your LIAs to get whitelisted for "Curbside Pickup" badge.
Read more here about what you need to do to get set up here.
Conclusion
For the High Street to survive, businesses need to be innovative and digitally savvy.
We've seen several high-profile casualties in the past, such as House of Fraser and Toys 'r' Us, who failed to move with the times.
Consumers want tech and immersive experiences, but retailers and brands don't need to turn their whole business upside down to cater for this.
Strategies as simple as local inventory ads can begin the process, deliver good ROI, drive footfall and build in-store sales, helping breathe life back into the High Street even in these uncertain times.
Top Tips for LIAs
Target within radius: if someone is close to your store, increase your bid amount so that your ad ranks above your competitors'. You can set this up within Google My Business by editing the locations your campaign is targeting.
Product data before bidding: It's important that you realise (and this applies to product listing ads too) that bidding-up on an under-performing listing will not improve its visibility. If your product data is poor, then no matter how much you pay, it will not be relevant to the right searches. Therefore your ROI will be low, and you'll have overspent.
Separate your LIAs from your PLAs: We recommend running your LIAs separately to your PLAs. This means you can create a separate budget and bidding strategies, giving you more freedom.
To learn more about optimising your campaigns for the benefit of your online and offline channels and how we can help with your GMB listing and stock management, have chat with us.
Tags