Pay per click (PPC) marketing on channels such as Google Shopping has long been an integral method of reaching consumers at each stage of their purchasing journey.
But does it have any impact on store footfall?
In this article, we will explore how likely it is that your Pay-per-click (PPC) marketing on Google Shopping and other channels is a great way to reach consumers at each stage of their purchasing journey.
How does the digital drive the physical?
The average consumer spends 13 days researching a product before finally making a purchase, according to Google. (This key statistic alone makes a solid case for a multi-channel strategy.)
During those 13 days, consumers are likely to use a variety of channels to decide what to buy, including Google Shopping, third-party marketplaces, and physical stores.
Consumers will typically search for retailers that are:
Price-competitive
Deliver high-quality products
Have a short delivery time
In fact, 30% of shoppers want to have the item the same day once they've made up their mind. Yeah, we're not the most patient bunch. They'll head straight to search to find out how to get their product as quickly as possible.
In many cases, that option will involve going to a nearby physical store.
Have a look at our previous article for a detailed look at using an omnichannel strategy and tracking online-to-offline visits.
Does Google Shopping PPC impact store footfall?
Google Ads is by far the most popular PPC marketing tool worldwide.
You're probably not too surprised to hear that.
Here are a few stats that reflect just how successful Google Ads are:
96% of brands spend money on Google Ads
Google Ads account for 97% of Google's total revenue
People are four times more likely to click an ad on Google than on any other search engine
Google accounts for 73% of the paid search market
Google Shopping Ads account for almost 86% of combined clicks for Adwords and Google Shopping campaigns.
All in all, Google Ads and Google Shopping Ads are a major driver of online exposure for brands and retailers.
But what about offline? Can we link store visits with ad clicks and measure their impact?
Yes! Well, at least partially.
That's exactly where the Google Store Visits metric comes in.
What is Google Store Visits?
Put simply, "Google Store Visits" is Google's best attempt at linking your store's offline footfall to your customers' prior exposure to Google Ads.
The entire consumer journey is not the easiest thing to track. But Google Store Visits tries to make it more transparent in order to help you understand the average consumer.
How does the Google Store Visits metric work?
From the moment the consumer taps an ad, Google Store Visits uses GPS, Wi-Fi signals, and several other indicators to track and analyse the customer's journey from ad to store. (Assuming the user is signed in to relevant Google services and allows location tracking, of course.)
If you're a retailer with a physical store, this gives you valuable and actionable insights to help you better attribute in-store sales to your investment in paid search. This also helps you more accurately measure your "true" return-on-ad-spend (ROAS) by incorporating the offline dimension.
Whether the customer visits the store or not, the feature is a brilliant way to see how Google Ads are affecting store footfall.
Notably, Google Store Visits doesn't help you analyse in-store sales quite as easily. (It is possible to track store sales but that's a whole other kettle of fish.)
Before delving into how to enable Google Store Visits, it's important to note that your Google Shopping Ads and Local Inventory Ads are powered by your product data feed.
A high-quality data feed is key to surfacing your ads in front of relevant online shoppers. If you're not sure whether your data feed is affecting your ad performance, contact us for a free product feed audit.
How to enable Google Store Visits tracking?
Here's the good news: You don't need to take any steps in order to start seeing the "Store visits" statistic in your account.
As long as your account is eligible, your "Store visits" data will automatically start showing up.
So what does it take to be eligible?
Google Store Visits: Eligibility
In order to see "Store visits" in your account, you'll have to fulfil the following minimum eligibility criteria:
Have a physical brick-and-mortar store in an eligible country
Store location should not be "sensitive" (e.g. related to healthcare, religion, sexual content, or children)
You must enable and activate location extensions or affiliate location extensions on your ads. Your campaigns must be set to show extensions.
Your ads must pass a certain threshold of ad clicks or impressions - this varies by advertiser but 100,000 monthly clicks is a good ballpark figure.
Retailers measuring "Store visits" in their Google Ads accounts can sub-segment these by "new vs. returning" store visitors within a specific period.
Google's Local Inventory Ads
"Mobile queries for 'Where to buy' + 'near me' have grown by over 200% in the past two years"

Google Data, US (2018-2019)
So, are reports of the fall of the high street exaggerated? It would seem so.
People aren't always willing to wait around at home for deliveries. Instead, it is often more convenient to pop into town or visit a store on their way to work. In fact, 70% of shoppers say that the ability to shop in person is important when deciding on a brand or retailer.
Consumers want to shop in-store, but on one condition: It must be convenient. Shoppers within 5 miles of a store are 1.7x more likely to visit after seeing the ad than those who are further away. Retailers must digitalise and make local inventory and other vital information readily available to avoid wasted time and poor customer experience.
The high street is certainly changing and—strange as it may seem—Google could be its saviour by driving footfall through its local inventory ads.
Google "Store Visits" works exceptionally well when running local inventory ads (LIA). Local inventory ads are similar to regular Google PPC ads in that they appear in the carousel when a consumer makes a search. However, while the objective of a product listing ad (PLA) is to get an online sale, LIAs attempt to drive sales in-store. This is where the Google Store Visits feature can more accurately track the user's purchasing journey—from click to footfall.
Start tracking your offline footfall
The consumer purchasing journey is often complicated. As we've seen, consumers are likely to use multiple channels, both online and offline.
Selling via Google makes it easier for retailers to bring shoppers into physical store locations using pay-per-click advertising combined with local targeting practices.
Retailers need to start taking advantage of these channels and consumer behaviour to provide convenient, customer-first experiences.
In this context, Google Store Visits provides a great way of tracking offline footfall in order to improve your shopping experience.
Want to learn more about how to connect online to offline? Download our Google footfall e-book!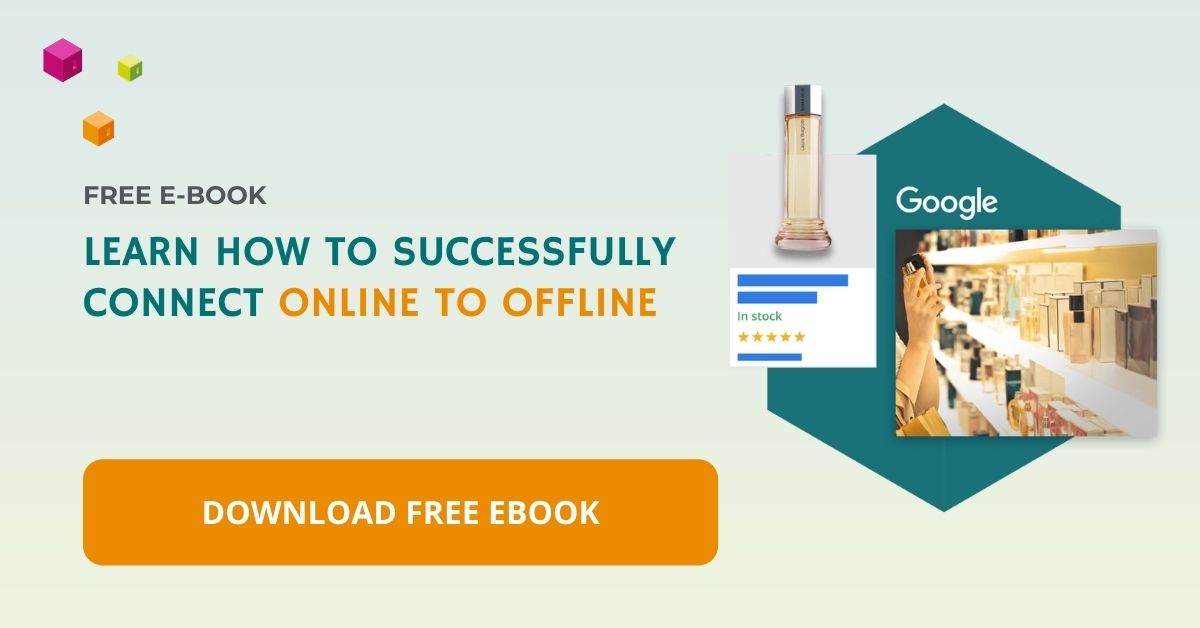 Tags