Local Inventory Ads (LIAs) are Google's answer to the increased demand among consumers for a multichannel shopping experience. 
Not only can LIAs help ease the pressures of onsite traffic, but they put shoppers at ease with visiting a physical store, knowing it has the products they want.
So how exactly do Local Inventory Ads impact store footfall, and how can you benefit from it?
E-commerce vs the high street
Global e-commerce sales are at an all-time high, accelerated by the Covid-19 pandemic and projected to continue growing in the years to come.
It seems pretty bleak for the high street, but brands and retailers shouldn't give up hope.
There are some effective tactics retailers can apply to link digital efforts to physical store visits. That's exactly where Local Inventory Ads come in.
In this article, we'll fill you in on:
What Local Inventory Ads are

Who is eligible to run LIAs

What you'll need to get started

How product data affects ad performance

Ways to effectively optimise Local Inventory Ads

How to target specific customers and locations with LIAs

Additional tips from Intelligent Reach experts
What are Local Inventory Ads
Google Local Inventory ads are localised ads that are surfaced when a consumer types a location-based phrase into Google, such as "black dresses near me":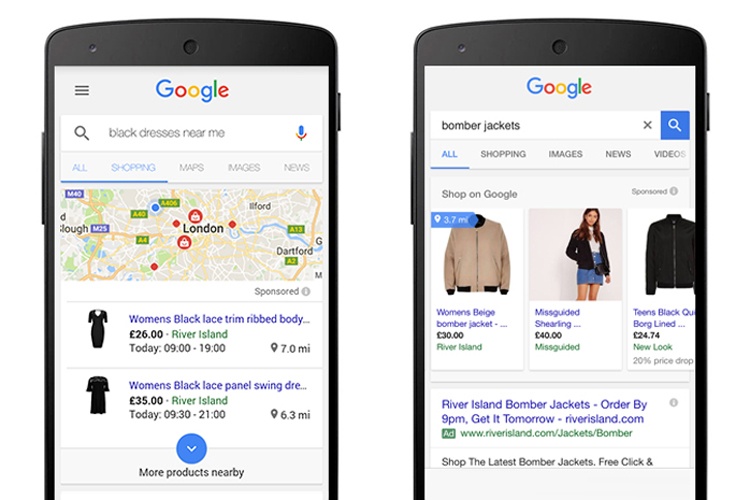 The main purpose of LIAs is to draw nearby customers searching via mobile devices into nearby physical stores (rather than making an online sale). 
By offering useful information upfront—such as opening hours, store proximity, price, and inventory—these ads shorten the buying journey and save customers valuable time.
Local Inventory Ads vs. newspaper adverts
In a sense, LIAs are the digital equivalent of those old-fashioned newspaper adverts. They even have the same objectives as the originals: driving new customers to a nearby shop.
They even have the same components. There is a shop, with a physical address, some promoted items and marketing copy that pushes the benefits of those products to the viewer of the ad.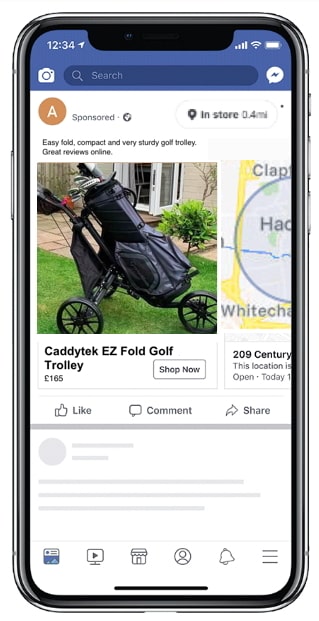 An old-fashioned newspaper classified versus a new-fangled digital local advert
Differences between newspaper classifieds and LIAs
In spite of their similarities, the two types of advertising have a number of key differences: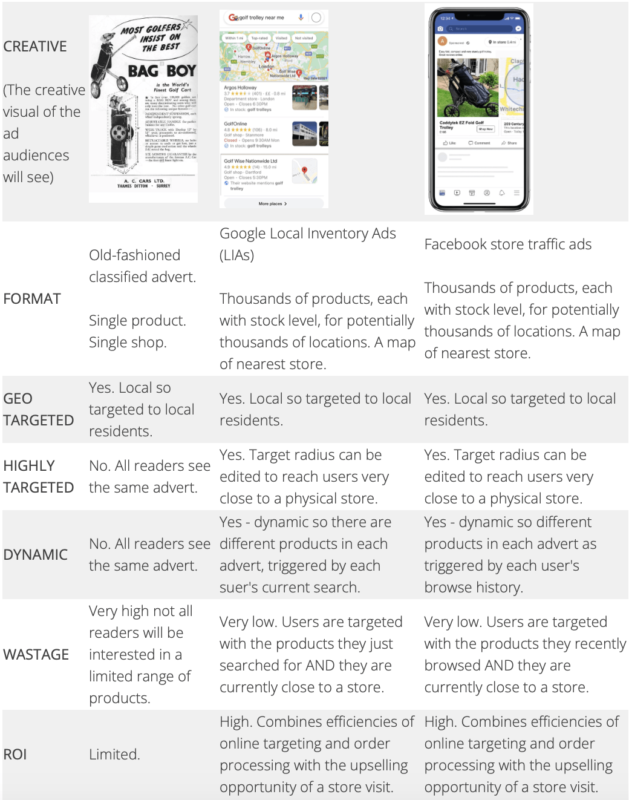 The history of LIAs
Since their launch in 2014, Google's Local Inventory Ads have gained a lot of traction in driving in-store footfall and sales. They are a great way of connecting online and offline stores by taking advantage of your consumers' location and their need for convenience.
Retailers such as River Island and Staples were some of the first to adopt LIAs and saw massive increases in not only click-through-rates but also store visits (17%) and sales (33%).
By the 2020s, Google estimated that 65% of shoppers aimed to confirm item availability online prior to buying it in a physical store. It's clear that LIAs aren't going away and will continue being an important source of sales for retailers with brick-and-mortar stores.
3 components of Local Inventory Ads
So how does it all work? How does all of your product and stock information make its way into your Google Local Inventory Ads?
Perhaps the best way of understanding local adverts—and all the other types of dynamic product adverts—is by looking at their common components:
1. The creative layer
This is an HTML container, or shell, that defines the font styles and picture sizes. It also contains references to dynamic features—like maps and hyperlinks—that the advert requires for its functionality and its look and feel.
2. The product data feed
Your product data feed is a spreadsheet or similar file that contains all the data about the products you sell. It maintains regularly updated pricing information and important additional attributes such as colour, size, brand, and so on. 
The product data in this feed is what drives the relevance and, therefore, the visibility of your product listings on Google. That's why you should thoroughly optimise your feed before you even consider running any product ads (and especially Local Inventory Ads).
3. Local inventory feeds
These are the additional feeds required for local adverts. They reference the locations of all the stores you want to include in your local ads, the products available in each, and their stock levels.
Google Local Inventory Ads Feed requires just a single location feed for all locations and the current quantity of each product per store: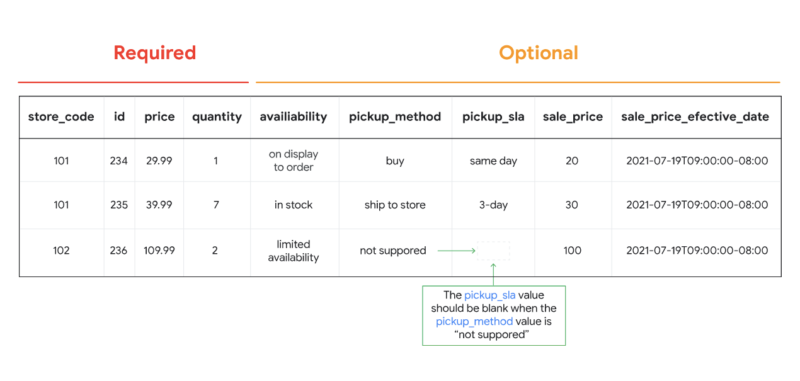 With potentially hundreds or even thousands of store locations—each of which requires stock data for every product it sells—the local inventory feed powering Google adverts can potentially run into millions of rows.
Who is eligible to run Local Inventory Ads?
Local inventory ads are available for retailers that have physical stores in the following countries:
Australia
Austria
Brazil
Canada
Denmark
France
Germany
India
Ireland
Italy
Japan
Netherlands
New Zealand
Norway
Poland
Spain
Sweden
Switzerland
UK
US
Furthermore, you'd have to meet these Google requirements:
Have a brick-and-mortar store that people can visit to view and buy products

Not make purchases contingent upon customers becoming members of your club

Protect your customers' personally identifiable information (PII)

Physically sell goods in the country you're targeting with your ads

Agree to participate in potential

inventory verifications
How to get started with Google LIAs?
To run Local Inventory Ads, you'll need the following core components in place:
If you already run product listings ads (PLAs), you're already set up with Google Ads and Google Merchant Centre.
So for the Local Inventory Ads walkthrough, we'll focus exclusively on the Google My Business aspect.
Introduction to Google My Business
GMB is a free tool that lets your business be found via Google Search, Maps, etc.
You'll also need it to run LIAs. It's critical to keep your GMB information updated, accurate, and optimised to get the best performance out of your ads.
Ever typed in the name of a business on Google and saw its details show up in the right-hand side? That's a business listing powered by GMB. The information in your LIAs comes directly from the details you enter here.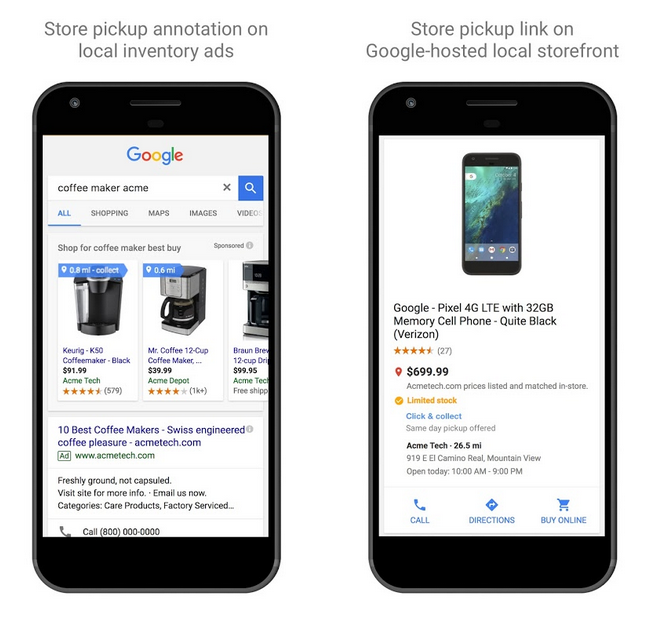 Google My Business also allows you to surface local products on your listing pages. The traffic generated from these clicks is free.
How to properly populate your GMB listing
First, if you haven't done so already, you need to claim your GMB listing. 
But this isn't enough to make an impact on your LIAs and overall business visibility across Google.
The next step is populating your listing with accurate and detailed information. Note that anyone can suggest an edit to a GMB listing. So if you don't add the right business information yourself, someone else could enter inaccurate or incomplete details on your behalf. This can happen at any time, which is why it's important to regularly check up on your Google My Business listing.
Here are some of the key elements you'll want to include straight away:
Business name

Opening hours

Contact details

Company description

Category (e.g. retailer, restaurant, etc.)

Address / location

Images and videos

Helpful attributes like "free Wi-Fi," "Wheelchair accessible," etc. The more you add, the more complete your profile will be.

Opening date

Website URL

Inventory information for all your business locations
Google provides helpful insights about your business listing, so review these often to see how your listing is doing and how often people view it.
The Intelligent Reach Platform can now be used to help with GMB listing management for retailers with large store footprints. We can help keep your store feeds accurate and up-to-date so that your Local Inventory Ads perform at their best at all times.
Don't neglect your product data
Your product data is a crucial element when it comes to driving the relevance and visibility of product listings and offsite channels (e.g. Google Shopping or Amazon). It's important to get your product data in great shape before you even consider running Local Inventory Ads.
If your product data is incomplete, inaccurate, or lacks rich attributes, you'll struggle to get your products noticed…and you'll be spending all that marketing budget for too few clicks and low ROI.
Intelligent Reach helps retailers and brands with order management, ensuring that your LIAs always receive the right, updated stock information at the individual store level. To find out more, download our free "Product Data Quality" ebook.
Google My Business and Local Inventory Ads work together
The information you provide GMB will serve two purposes:
Getting shoppers to visit your store

Increase the likelihood of your LIAs shopping up for customer searches
As such, it's important to maintain accurate GMB information, especially inventory details like item availability and stock count for each individual store. This will ensure your ads show up in front of the right customers and increase your chance of success.
Tips for LIAs and GMB
To get more out of your Google My Business and LIAs, we recommend:
Fix product data before bidding: If your product data is poor, then you'll struggle to get your ads in front of relevant customers searching for products. Bidding on underperforming listings will not improve their visibility - it's basically throwing money away on low ROI activities. So get your product feed in order first before focusing on the ads.
Target within radius

: If someone is close to your store, increase your bid amount so that your ad ranks above your competitors'. You can set this up within Google My Business by editing the locations your campaign is targeting.

Separate LIAs from PLAs:

We recommend running your LIAs separately from your PLAs. This allows you to create separate budgets and bidding strategies, giving you more freedom and control of each.

Limit LIAs to business hours

: You can set up Local Inventory Ads to only be displayed during your opening hours. This lets you control the budget and ensures that customers are able to immediately act upon seeing your ads.

Activate location extensions:

Location extensions not only show your address but display your store's exact location on a map along with the distance from the shopper. This enables you to target specific geographic areas within a certain radius.
Local Inventory Ads: Extra features
Working with LIAs gives you access to a number of additional features and settings.
Google Store Visits
If you run Product Listing Ads, you'll know that it's quite easy to measure their effectiveness. 
But with LIAs, ROAS and budget efficiency are harder to track.
That's where  the "Google Store Visits" metric comes in. This feature lets retailers with over 100K monthly clicks see which campaigns and keywords drive store visits. This is achieved via the location extensions and lets Google track a shopper from their viewing a LIA to entering the relevant store.
To be eligible, you'll need to have multiple brick-and-mortar stores and have a high store visit rate. Learn more in our post about Google Store Visits and tracking offline footfall.
Pickup today
"Pickup today" allows customers to buy a product from an online retailer, then pick it up from one of the retailer's stores at their convenience.
The new feature lets you provide customers with alternative options to collect their orders, whether it's at the store or in a car park, entrance, or drive through (i.e. "curbside pickup). You can even earn the "Curbside Pickup" badge by using this option within your LIAs.
Depending on the availability of the item, a customer can pick it up either the next day or even same-day. This puts power into the shoppers' hands and reassures them that they:
Won't miss out on the item

Will be able to return it immediately if it doesn't suit them.
All of this contributes to a positive customer experience.
Sure, you can always set up click-and-collect features on your own website. But Google makes it easy for retailers to add this option directly to their Local Inventory Ads, making them even more effective and saving people a click.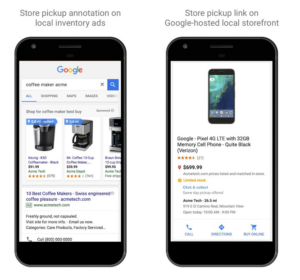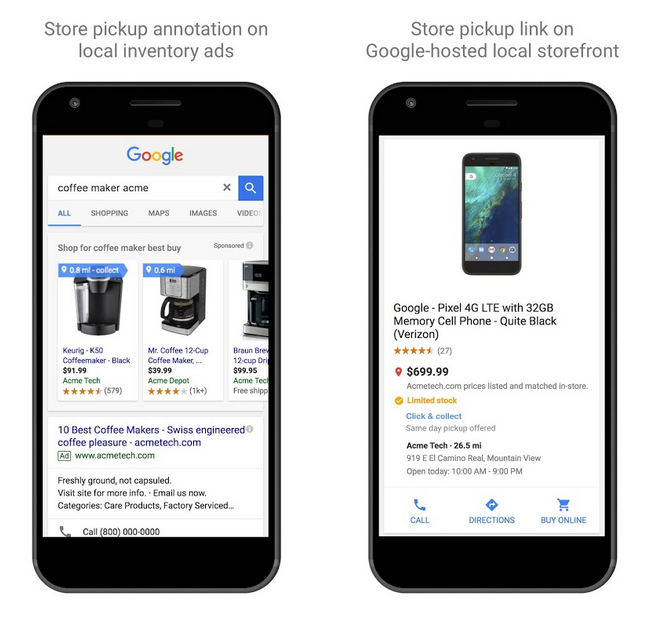 Giving shoppers the ability to visit the store, check out, and collect an item reduces the possibility of a refund and allows for direct upselling. It also removes the risk of items getting damaged in transit and thereby lowers the chance of returns.
On display to order
The on display to order (ODO) feature allows you to promote items that can be physically viewed in your store but can't be purchased immediately (e.g. large furniture items). 
You can use this option in your Local Inventory Ad to highlight items that are available to order at your local store. This lets customers visit the store, check out an item, then ask for delivery at a later date.
Merchant-hosted local storefront
This feature lets you direct shoppers straight to your own website for your local store (instead of a Google-hosted storefront). This gives you more control over which items and stores to promote as well as a better ability to track your customers' entire user journey.
Keep your physical stores open
For the high street to survive, businesses need to be innovative and digitally savvy.
We've seen several high-profile casualties in the past who failed to move with the times, such as House of Fraser and Toys"R"Us.
Consumers want tech solutions and immersive experiences, but retailers and brands don't have to turn their whole business upside down to cater for this.
Strategies as simple as running Local Inventory Ads can deliver great ROI, drive footfall, and increase in-store sales.

Tags