You've been preparing your Black Friday marketing and Golden Quarter strategies all year round, and it shows! 28% of marketers have expanded onto new marketing channels for a successful peak this year, while others are stretching their delivery options and upping their website & checkout experience. You mean business this peak, but there are still some gaps you'll want to cover!
As more brands and retailers make themselves at home on offsite digital channels like Google Shopping, Facebook, Amazon and more, e-commerce becomes increasingly competitive and more complex. Your products need the spotlight in front of your target shoppers, but you have to be on top of your feed to drive impressions. This means not only on in your Black Friday marketing, but continuously throughout the Golden Quarter and after, to build sales growth incrementally.
Our APAC & UK Customer Success Heads, Sathish Poonath and Samiksha Bhasin, are experts in selling on paid socials, paid search, marketplaces, and affiliate networks to help you grow incremental revenues. They've come together to give you 7 golden strategies that'll carry over and develop a goldmine for the long term.
Before we begin, here are 6 key learnings you need to factor in your golden quarter campaigns.
2021 KEY LEARNINGS TO CONSIDER FOR THE GOLDEN QUARTER
The upside is online shopping is here to stay as the digital convenience is too good for shoppers to let go. In fact, global e-commerce sales are predicted to grow 27.6% this year but depending on each vertical, some businesses will continue to soar and others will focus on revenue recovery.
The downside is businesses are facing new challenges and rapid changes in consumer behaviour, which means adapting more to suit their needs. These key learnings have a huge impact on your golden quarter marketing campaign performance, so it's important to factor them in.
SHOPPERS RESEARCH MORE INTO PURCHASES
"Expect to see non-essential sales go up as shoppers have room to buy items that they left behind last year and invest in gifting this Christmas. But naturally, conversions don't come so easy as shoppers have become accustomed to researching more into their purchases," Sami Bhasin.
WFH gives shoppers the time, privacy and space to channel-hop, research products, and jump on and off the purchase journey. This chop and change means brands need an omnichannel strategy to appear across all relevant digital touchpoints.
It's no longer a linear shopper journey. Now it starts with a product search, alternates between e-commerce stores, socials & marketplaces, incorporates video platforms such as YouTube and bounces between all channels until the buyer decision has been made. This long decision making is partly because 80% of shoppers will wait for a major sale to make a purchase.
Here's Google's example of a consumer journey of buying a PC.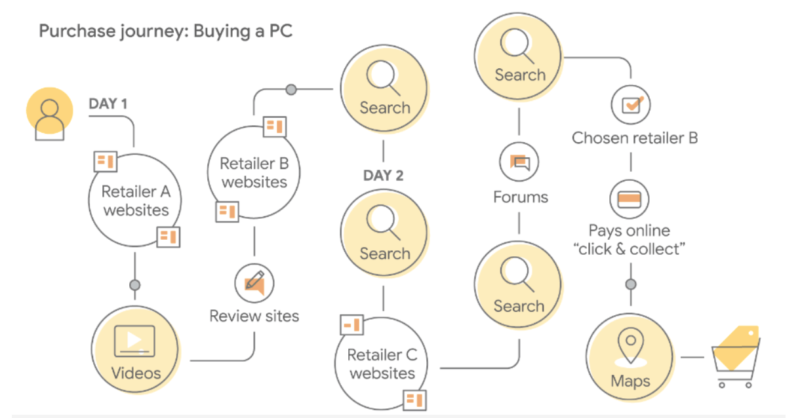 Source: Think with Google
BRANDS BATTLE FOR PRODUCT DISCOVERABILITY
"The zig zag journey means competing for your shopper's attention. Brands and retailers need to always be visible, and show on the right paid social, paid search, marketplaces and affiliate networks at relevant parts of the purchase journey to help navigate shoppers in their purchase decision," Sathish Poonath.
81% of consumers across the globe have discovered new brands online during the pandemic. Product discovery through organic listings and paid ads are pivotal in driving impressions and growing your brand presence across channels like Google Shopping, Facebook, Instagram and even marketplaces like eBay and Amazon. To do this successfully, good product feed management software helps each product data feed that powers your ads to be complete, accurate and relevant for your products to surface in the most relevant searches.
EVEN HIGHER SHOPPER EXPECTATIONS
Shoppers want the entire purchase journey to be convenient, full of choice and as fast as possible. It's important to remember it often starts with discoverability, good prices and delivery options to capture sales, and moves onto delivering a delightful customer experience throughout and after the buyer journey.
Your competitors are often trying to outshine you here by offering something extra which shoppers tend to like, and it's why customer loyalty can be tough one. But the golden quarter is a chance to acquire new customers and invest in building a relationship that helps retain them into the future.
HIGH STREET STILL MEANS AND BRINGS BUSINESS
"Shoppers are highly motivated when shopping closer to Christmas, especially because of last-minute shopping. Whether it's fast deliveries that may be unreliable due to high demand or items only being available in-store, consumers may take it into their own hands to instantly purchase products they're looking for from brick-and-mortar stores. Brands needs to be on top of their inventory and allocate where their stock is available online or offline, and communicate this to shoppers through their ads," Sami Bhasin.
The high street still means and brings business, but a solely offline strategy isn't enough to survive. According to a SimilarWeb report, shoppers often associate Black Friday with online brands and Boxing Day with brick-and-mortar stores.
BUMPS IN SUPPLY, FULFILLMENT AND DELIVERY
"It's a big one this year which puts pressure on all delivery options. Take Australia for example, they'll see early cut off times so don't be surprised by the early launch of Black Friday deals to try to ease the pressure and meet consumer expectations. Next Day Deliveries haven't exactly been arriving on time but click & collect and curbside pickup have become popular to ease pressure on certain channels," Sathish Poonath.
One bump in the supply chain, fulfilment, and delivery process causes friction in the shopping journey. When it comes to holiday shopping, every purchase is seen as essential and must arrive promptly during the peak season. However, there's concern over whether the UK delivery can meet the demand this year, as the UK's Brexit ordeal and global lockdowns disrupt the supply, fulfilment, and delivery chains on which we rely during peak period.
Australia's mini-lockdowns and border restrictions caused e-commerce selling to rise and put even more pressure on delivery & collection. To ease the levels of deliveries and make the demand more manageable, Australia Post implemented pick-up delays and are expected to have more of these in the build up to Christmas.
Have a look at our latest webinar with Catch, Starshipit and Auto8 to help you better manage your behind-the-scenes process.

FAST DEVELOPING TECH SOLUTIONS
Having powerful tech solutions are pivotal for brands and retailers, yet only 27% of marketers have been investing in new technologies for Black Friday this year. Whether it's due to limited budgets, lack of knowledge around what is available or comfort in an existing tech solution, not reviewing your tech stack can impact your success.
As for tech vendors, they're innovating their platforms to provide brands and retailers even more insight into consumer behaviour, product performance and better optimisations. For instance, our Content Experimentation module recently led us in becoming the "E-commerce Tech Vendor of the Year" in the Retail Systems Award 2021. With easy A/B and Multivariate testing, it helps leading brands and retailers unlock impressive testing agility and scientifically prove what works and what doesn't in their product level ads, to maximise product visibility and grow incremental sales.
7 GOLDEN QUARTER STRATEGIES YOU'LL NEED
This quarter will be golden, as the world welcomes its first "normal" Christmas in this pandemic. Just like webinar fatigue, there have been concerns that shoppers may be desensitized to the word "sale". But anticipate the wave of online orders coming in, as shoppers are looking to invest the same or more this year. Here are 7 strategies you'll need to drive performance this golden quarter.
1. OMNICHANNEL: MEET YOUR SHOPPERS
"Combining your shopper insight and mapping out their journey helps you identify where new users come in, where they drop off and where you can appear to get them back onto your products. Consider also targeting long-tail searches through your product data, as these shoppers are high intent and these areas are often less competitive," Sathish Poonath.
Appearing on the right channels can be powerful, but the structure of your product titles and the images you use can impact your discoverability and engagement per channel. Comparing your product performance metrics per channel helps you identify where your products are thriving and where they need optimising.
Let's say you're selling a festive red jumper on Google Shopping and Amazon for example, and your Google Shopping product title is "brand + colour + product type + season + size". On a marketplace like Amazon where shoppers are looking for red festive jumper options, you're up against plenty of smaller sellers capturing sales. By building your marketplace presence and restructuring the most keywords relevant to your target shopper's product searches at the front, you can boost your discoverability. It's also important to remember that you want the important keywords showing first, so getting rid of attributes that take up the space can make a huge difference!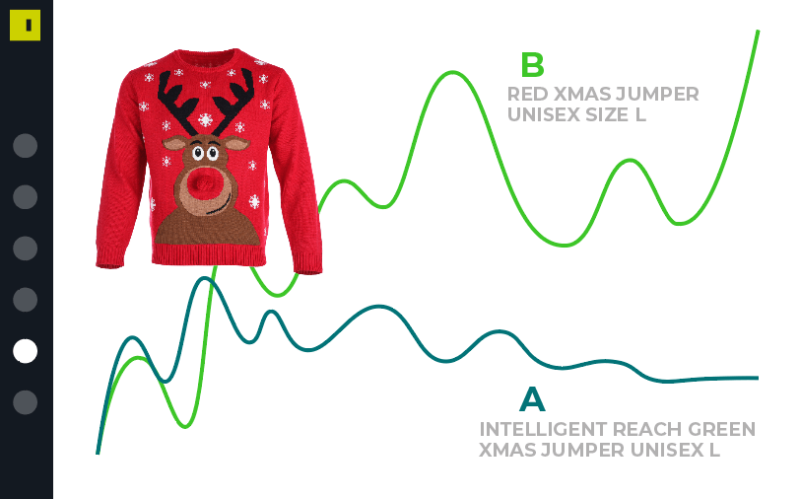 Product Title Experiment
To drive engagement, would a white background product image or lifestyle image encourage more clicks on both channels? Or a white background image on Google Shopping and a lifestyle image on Amazon?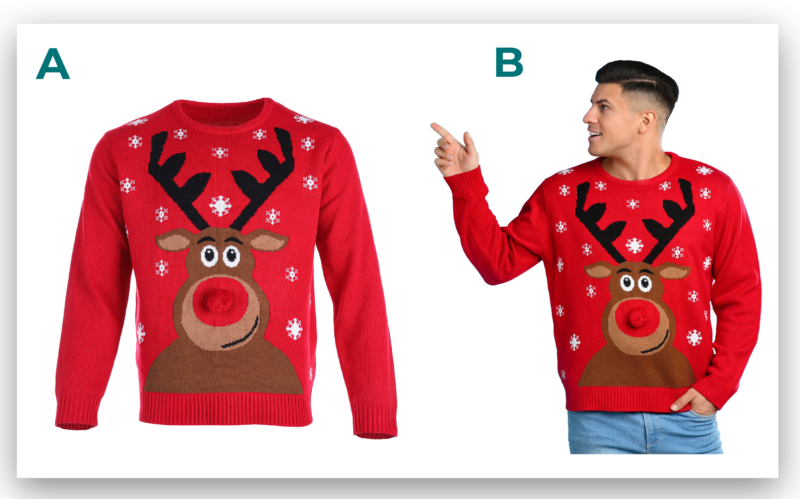 Product Image Experiment
These types of optimisations are best to made off scientific facts, not solely from instincts. A/B testing your product titles and images is essential here, as you'll be able to run both optimisation groups simultaneously to give accurate results, to find out what does and doesn't work.
2.
VISIBILITY: SURFACING MORE IN PRODUCT SEARCHES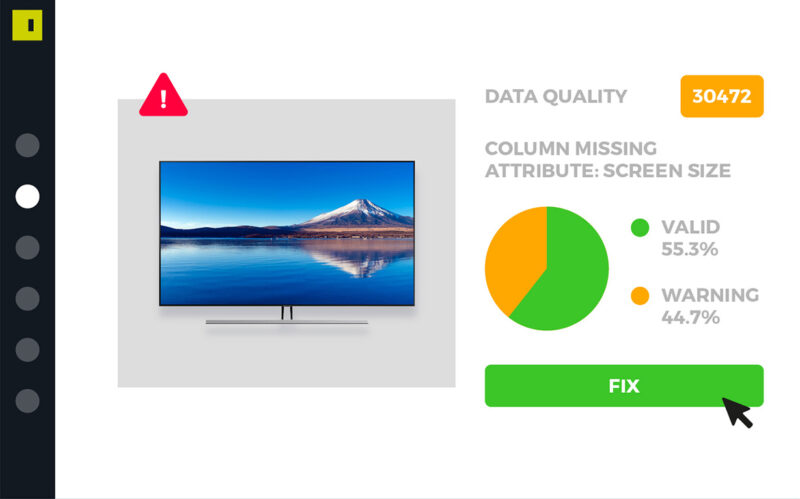 "The biggest mistake we've seen with brands and retailers, is not looking after their feeds to fix their visibility on a continuous basis. Instead, they invest more in their bidding and achieve a lower ROAS. It's why our clients use our platform to enrich their product data feeds so products show up more in relevant product searches. Relevancy is key here as it helps you appear in better get more impressions rather than bidding more," Sami Bhasin.
From feed audits we've conducted on brands and retailers looking to become customers, up to 80% of their products are invisible on key sales channels because of a poor-quality feed.
Good product feed management software is essential here, as it keeps your feed healthy consistently and your product ads showing so you appear at the right place, at the right time in the consumer shopping journey at a lower cost. Having your feed in shape also helps you make it easy to opt into Surfaces Across Google and appear in organic product listings.
3. OPTIMISE: REAL EXPERIMENTING ON YOUR PRODUCT ADS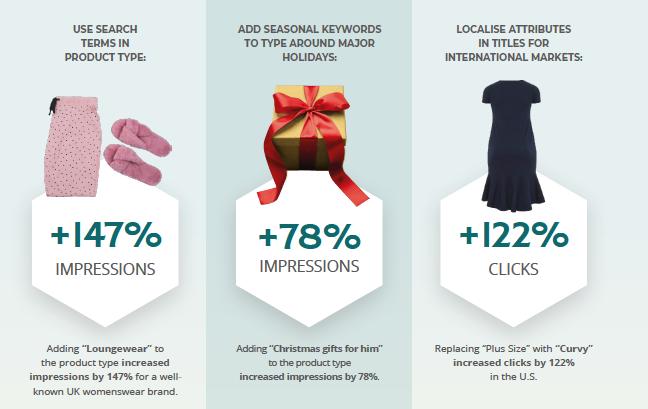 "Imagine your product listings and product ads are like mini billboards for your thousands of products. You want them showing as they should, where they should and catch the eye of your target shoppers. A/B and multivariant testing needs to be a constant practice as trending keywords change often, and your product content needs to reflect this to stay relevant in product searches." Sami Bhasin.
Your product titles, types and images give you the extra advantage to capitalise on your ad performance, especially when optimising it to holiday-specific trends. Our Experiment Playbook gives you all you need to know to test effectively and strategically for the long-term, but here's a quick summary of your core optimisations.
PRODUCT TITLES
Picture each attribute as building blocks that form your product title. First, your product attributes in your product titles need to be normalised and relevant to what consumers are looking for, e.g. replacing colour attribute "killer whale" with "grey". Secondly, your product titles have limited space, so you need to ensure the most relevant attributes are structured in an order that helps you meet audience demand.
PRODUCT TYPES
In Google Shopping, the optional "product_type" field allows you to better match consumer searches as it is keyword-orientated and helps you drive your impressions and clicks. Optimise your keywords in a tactical way to make these meaningful to Google's algorithms and get your products where you need them. E.g. adding a seasonal keyword or phrase to a product type (around Black Friday, Christmas, Halloween, Summer and Winter) can increase the number of ad impressions served on Google Shopping.
PRODUCT IMAGES
White background images may work on certain channels and lifestyle images may work on marketplaces or social. Depending on your product and your target audience, it may need a bit of work figuring out what consumers engage more with. Conducting A/B testing on your product images can give you full the picture to understand what does and doesn't work.
4. STOCK BUFFERS: PREPARE FOR THE WORST

"Deals, discounts and promotions will encourage higher conversions, but have you thought about risk if you can't fulfil these orders? Setting up buffers in your system ensures you're prepared for any bumps in your supply chain. Having control over where your stock is, setting buyer limits and being transparent with customers about order and delivery information also helps to manage expectations," Sathish Poonath.
5. HYBRID: CLOSE THE GAP BETWEEN ONLINE AND OFFLINE
"This is super-important, especially with last minute shopping on the cards and earlier cut off times! Brands leveraging their online and offline presence can benefit massively, as shoppers expect you to be readily available digitally and physically. Using LIAs and offering BOPIS, Click & Collect and curbside pickup makes it easy for you to meet customer demands, and by driving traffic instore it gives you opportunity to upsell." Sami Bhasin.
Brands need a hybrid approach, as searches for "available near me" have grown globally by over 100% in the last year as shoppers plan their visits. Google found having a physical and digital presence combined drives +32% sales revenue overall, as buyers prefer having the flexibility of the online and offline mix in their shopping experience and feel positive towards brands that connect with them both online and offline.
The use of Local Inventory Ads are picking up but avoid heavily relying on Google as your only forms of online-to-offline advertising. Bing LIAs and Facebook store traffic ads are also forms of O-2-O advertising you can capitalise on.
6. AUTOMATE: SYNC YOUR DATA & AVOID DISAPPOINTMENT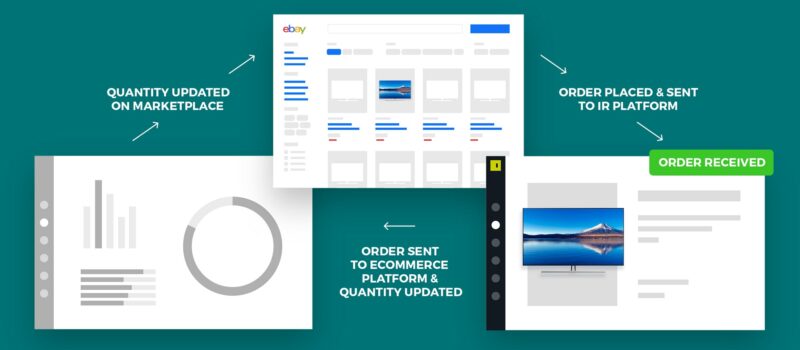 "Work with your channel or marketplace to feed the data it needs and ensure your feeds match with your website price changes for example, so consumers don't find any surprise prices on your other channels. Also automating your inventory and order data helps you to ensure you're not selling out of stock items and keeps your order information accurate to ensure buyer expectations are met." Sathish Poonath.
Our product marketing platform makes it easy to keep your product data updated and accurate across all your channels and marketplaces, to ensure information that impacts your target shopper's purchase decision such as inventory, pricing and order information is accurate. For marketplace sellers, we have a marketplace management module in place, that helps keep order and stock information synced across channels, to ensure your buyers won't purchase products out in stock.
7. INVEST: GET YOUR TECH SOLUTIONS IN ORDER
"While it may be too high risk to switch over during the peak, it's the best time to identify where the faults are in your plans and what support you need to accelerate your growth after post-peak. Keep this in mind throughout the golden quarter as this is where the real test happens and you'll know you'll need to perform better in the next peak ," Sami Bhasin.
Is your feed provider giving you strategic optimisation advice that are winning in your golden quarter campaigns? Get a free audit, and we'll show you how good your feed really was during the peak.

Tags