In this guest post, discover how selling on Everyday Market from Woolworths can deliver big results
When looking to understand how to sell on Everyday Market from Woolworths, it's important to be looking at the customer of today. What we know to be true is that shopping habits have changed. We are in control like never before and this is not just limited to the way we shop.
Last year, Woolworths reached over 96% of Australian households, with over 30 million transactions made per week across the Group(3). This scale provides us with an unparalleled lens into changing customer behaviours and the rise of eCom and woolworths.com.au engagement. Online orders and home delivery services have rapidly become the norm for so many households in Australia. For context, eCommerce at Woolworths pre-covid was ~5% and we are now seeing this as high as 11 percent(5).
This huge growth in digital over the turbulent and unpredictable COVID period brought forward many plans Woolworths Group had in the pipeline for 3 to 4 years down the track.
Customer feedback also continues to illustrate preferences are shifting towards:
The need for a more local, unique and tailored range of products
The importance of a convenient, frictionless shopping experience; customers don't want to navigate different websites
Customers who currently shop at specialty stores voiced they would shop these products at Woolworths if we had the range
This increasing demand for the convenience of a one-stop-shop, coupled with the rise of customers purchasing their groceries online at woolworths.com.au, provided an opportunity for Woolworths to extend its range with complementary products by partnering with third party sellers. As a result, Everyday Market exists.
What is Everyday Market from Woolworths?
Everyday Market is an integrated marketplace. It offers our customers an extended range of products and categories, complimentary to their existing online shop. Our aim is to help our customers enjoy more choice, more value and more convenience through these extended categories. Currently, over 20,000 new products are available online for customers to purchase through Everyday Market. This is across a number of categories, including home essentials, pantry, baby, pet, electronics and health & beauty.
Everyday Market is fully integrated on woolworths.com.au and with Everyday Rewards. This provides customers with more opportunities to earn and use Everyday Rewards Points, whilst providing Sellers with reach and access to loyal customers across the Woolworths ecosystem.
Our Sellers own the retail price, inventory and marketplace management, fulfilment and shipping of products. There is a consistent Everyday Market policy across shipping, returns, and customer service.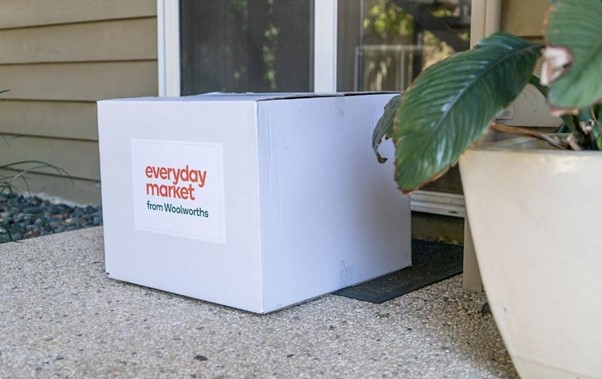 Why is Everyday Market unique?
It's an obvious but important point of difference - Everyday Market is powered by the scale of the Woolworths Group. But what does that actually mean?
Woolworths is Australia's most trusted brand and largest grocery retailer. Trust has been built over decades of serving, listening and adapting to our customers' evolving everyday needs. This loyalty translates to Woolworths serving 24 million customers across its brands each week(2).
Moreover, woolworths.com.au is Australia's #1 Food and Grocery site. It ranks as one of the top digital retailers in Australia(1). All of our digital platforms (Woolworths.com.au, the Woolworths app and Everyday Rewards app) have a combined average of 24.7 million monthly visits(1). This considerable and consistent traffic to Woolworths.com.au provides brands and sellers national exposure to a highly relevant audience. It is an opportunity to appear alongside items that are part of their weekly online shop.
Another notable point of difference is that Everyday Rewards is powering Everyday Market. This is the largest loyalty program in Australia with over 14 million rewards members(6). With the cost of living rising, customers are increasingly conscious of their spend. They want more value from their grocery shop. Everyday Market customers can collect rewards points on their purchases, just as they would in their regular grocery shop to get full value from Everyday Rewards every time they shop with Woolworths and our partners.
How is the marketplace evolving?
We've seen expansion into new categories such as books, bedding, electronics, toys and gift hampers. The household, baby, health & beauty and pet categories continue to be strong performers.
As we continue to accelerate the marketplace, we are also making it easier to learn how to sell on Everyday Market from Woolworths. Our team is actively exploring ways to collaborate closely with sellers, identifying opportunities to boost their products, range and brands. This is in conjunction with key seasonal events and online shopping moments, such as Christmas and Black Friday for example. We also offer sellers unique marketing opportunities to integrate with key Woolworths campaigns. These include the Woolworths Digital Catalogue (600,000+ views weekly), online sale pages, campaign landing pages and email, all of which drive significant reach.
Sellers also have the opportunity to be part of Everyday Rewards offers, communicated through web and app to millions of engaged customers. We see a huge opportunity here to uplift the customer experience through Everyday Rewards by delivering more targeted offers; think boosters, multipliers and bonus points on Everyday Market purchases, and other deals that add value for our customers. This will be a continued focus for us as the business evolves.
Whilst the initial intention of Everyday Market was to offer more choice to our customers shopping everyday needs by bringing more depth to categories that are truly important for them, we now have a real opportunity to further understand specific needs for different customer segments and to tailor- make our proposition to truly serve them.
How to sell on Everyday Market
As an approved seller, you have the opportunity to range your brands and products next to the Food and Everyday Needs products available at Woolworths. See below the steps to becoming an approved seller:
Meet with our dedicated Seller Growth team, you can reach out to them here sellerhelp@woolworths.com.au
After we determine suitability, our Seller Growth team will send you a Product Submission Sheet, Seller Induction Form & Everyday Market Trade Agreement (contract) to be completed & signed.
Once all documents are completed & signed you will be introduced to our Seller Experience team to start the integration process and complete training on how to use the Everyday Market platform.
Once you are live, our Seller Success team will be available to support your growth and help you make the most of the platform and promotional opportunities that are available to you, including working with Intelligent Reach for your product feed management.
Sources:
Source: SimilarWeb June 2022
Source: ^Nielsen Panel monthly data last 52 Weeks 2021 | **QCheckout 2021
Source: Data.ai June 2022
Source: Internal estimates / Woolworths F22 Full Year Results Announcement, August 2022
Source: Latest reported company membership numbers
Tags