You spent ages setting up your Facebook Dynamic Ads, did everything by the book, followed all the best practices and got creative. You were sure that the ads would find the right people and those people would convert.
Once you pushed them live, you waited, and waited… and waited. Nothing.
Instead of seeing a steady rise in impressions, clicks and conversions, you saw the opposite. Your Dynamic ads weren't fetching the results you had hoped for.
Pretty disappointing right? All that hard work for very little gain. We've all been there.
No matter how good a digital marketer you are, there will always be days like this. Mistakes will worm their way into your campaigns and due to the subjective nature of PPC (pay-per-click) advertising, you're never going to get it exact.
Step #1) Product data feed or "catalog"
Your product data feed is the first thing you'll want to consider when creating or optimising your Dynamic Ads. This is where your ads will draw their information from so it should be your first port-of-call. These will need to be in an XML or CSV format.
This means that for your Facebook Dynamic Ads to work well and be totally relevant, your product data feed will need to be highly optimised and correct.
Without this stage, everything else is redundant because your ads won't appear to the correct consumers and are likely to be disapproved if your product data is incorrect.
Here are a few things that you'll need to keep an eye on:
Price and availability

It's important that the prices and stock levels on your ads reflect those on the product page of your website. If a user clicks your ad and sees that the price is more expensive than was advertised, they are unlikely to complete the purchase.
The same applies to inventory (online and local) – ensure it is correct so that when a consumer clicks through to purchase or visits your store, they aren't met with disappointment.

Images

Images are responsible for 75 – 90% of an ad's performance. They will be the reason the ad catches the attention of a user and perhaps the reason they click through.
We always recommend high-resolution, attractive images that comply with Facebook's requirements (images need to be 600 x 600 pixels).
It's also important that you test various image styles to find out which drives the highest engagement.
Categories

Not only will having the correct categories assigned for each product help them appear more frequently, to the right users – it also means that you can create ads based on groups of your products. These are what Facebook call Categories for Dynamic Ads.

Regular exports

Although Facebook doesn't specify how often you should export your data feeds, it's advisable that you do it so that the information is consistently correct.
We recommend that you submit your feeds at least daily to ensure changing stock levels and prices, for example, remain accurate.
Here are a few, additional product data pointers:
A GTIN, MPN or Brand is required

Max size of titles is 100 characters

Ensure links are working and unbroken

Descriptions should be below 5000 characters
Step #2) Facebook Advertising and the purchasing journey
Facebook Advertising is based on the PPC marketing model, which means you'll be charged every time somebody clicks your ad.
PPC advertising can be subjective, and this is where many begin to struggle. How do you reach the most relevant audience? How do you know what will make that audience click or convert?
Facebook isn't where consumers begin their product search (typically). Consumers go to Google Shopping or Amazon to do that. Your ads are more likely to reach them in the middle of the purchasing funnel. Just as a reminder, here's the purchasing funnel:
The consumer identifies a need for something.

Richard's headphones just broke and now his commute will be dull. He needs to replace them ASAP.

They begin their research.

Richard's research involves a variety of channels such as Google, eBay and bricks-and-mortar stores.

They compare products.

He finds a few headphones and compares them based on price, appearance and reviews.

They decide on a product and buy it.

Between step 3 and 4, consumers might take a break to think. This is where retargeting with Facebook Ads can be used to persuade a consumer to return to a product page and complete a purchase.

They become loyal customers.

Richard received his headphones and soon knew that he'd made the right choice.
What your ads need to do is convince users that they need your products. Unlike ecommerce channels, Facebook PPC allows you to get creative, using attractive, engaging ad formats to reel in users.
My Purchasing Journey
I recently experienced the power of Facebook ads, when after coming across various ads for Missguided, I purchased a pair of boots.
I had been researching which boots to buy but couldn't decide on the right pair, so I stopped searching. An ad appeared a short while after while I was scrolling through my Facebook feed. I knew I liked the look of their boots and after seeing it a few times, I decided to click and purchase.
The great thing about Dynamic Ads is that they typically look like standard posts. This is called Native advertising. Instead of hitting users with spammy ads that they'll likely not care about, Facebook allows you to drive engagement with highly relevant and attractive ads, targeted at the people who will really appreciate them.
Because the ad was right for me at that time, it piqued my interest and helped me along the purchasing journey.
In this case, Missguided got the sale because their digital marketing strategy won me over.
Step #3) Audiences and Targeting
The great thing about Facebook Advertising is the granularity at which you can target users. Facebook still dominates social media with 2.2 billion monthly active users.
That's 30% of the world's population and according to the chart below, the biggest concentration of users is between the ages of 18 and 44. Facebook has a broad user demographic that all types of retailers can benefit from.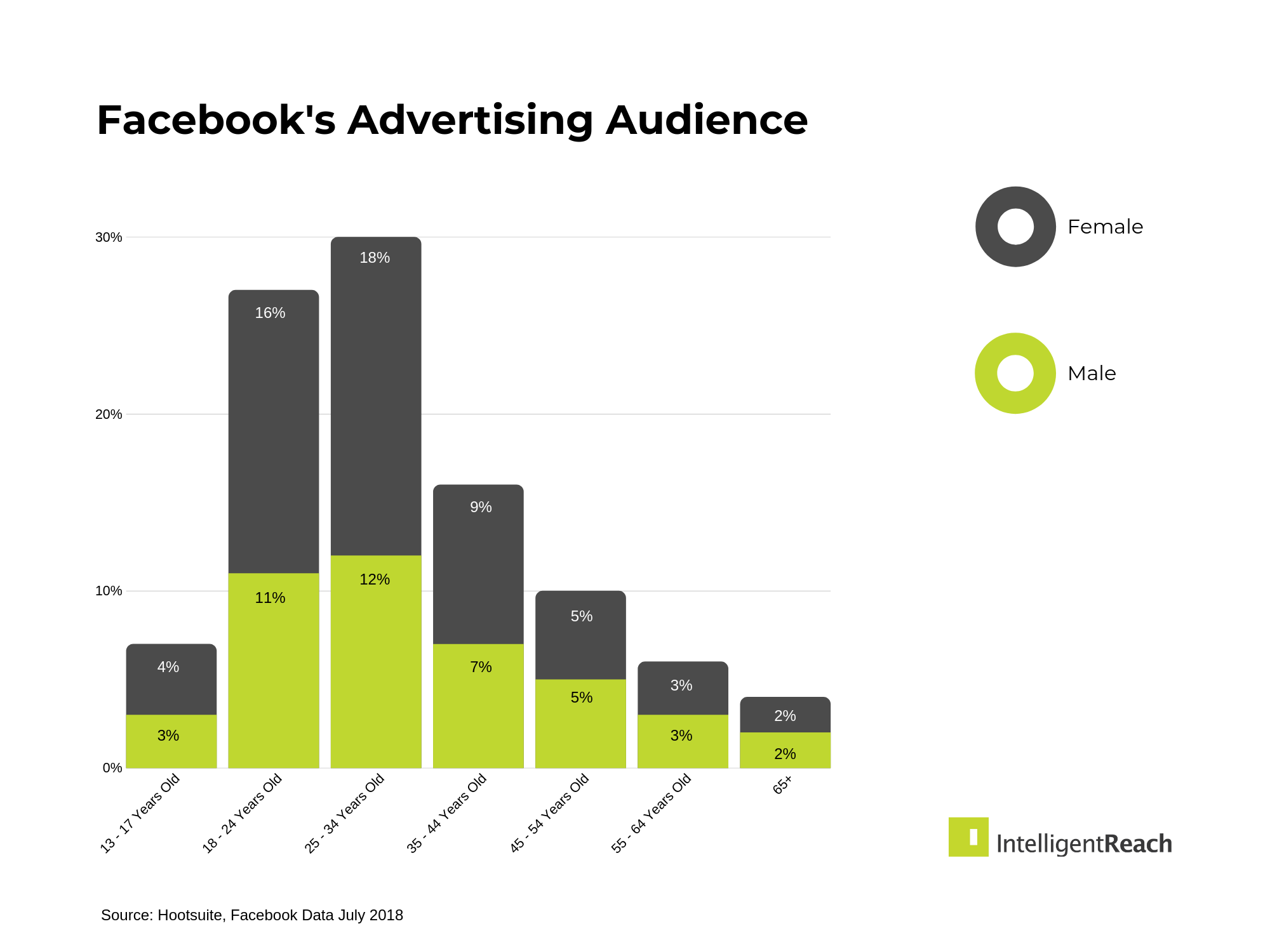 It's important when setting up your ads on Facebook that you choose the correct way to target your audience. It can be the difference between a high or a low CTR and conversion rate.
By being specific and narrowing down on users that are most likely to engage with your brand, your CTR will be higher and you'll avoid wasted ad spend.
Facebook allows advertisers to target users based on life events, interests and past behaviours – so there's a big opportunity here.
a. Build loyalty with Facebook Custom Audiences
If you like the thought of being able to target based on highly personal and granular data, then you need to hear about Custom Audiences.
This is hyper-targeting at its finest, allowing you, the advertiser, to target users with a list of email addresses, phone numbers, website visitors, fan page members, Facebook user IDs and engagement.
We'll imagine that you've got an email list of users that have purchased from you in the past. You can upload this list into Facebook to create a Custom Audience and target them with specialised ads aimed at encouraging loyalty (that is if the user has that email address connected to their Facebook account).
b. Lookalike Audiences
After creating your custom audience, you can ask Facebook to create a Lookalike Audience. This is a way to target a broader group of users based on the interests of your Custom Audience.
Learn more about Lookalike Audiences here.
c. Geo-targeting strategies to drive offline footfall
Another great strategy when targeting Facebook users is to do so by location. This gives you a chance to not only promote your products but also your brick-and-mortar store locations too. This will in turn help increase your footfall and sales.
Facebook's Store Visits objective allows advertisers to attract shoppers to their physical stores with two main optimisation options:
"The store visits algorithm targets users who are most likely to visit a physical shop location, ideal for loyalty and retargeting campaigns".
"The reach algorithm reaches the highest possible number of unique daily prospects, and its default metric is impressions".
Read more about geo-targeting here.
d. Exclude
You'll need to exclude recently converted users or you could end up irritating them. No one wants to see the same ad over and over, let alone after they purchased it. You'll also want to think about overlapping audiences with multiple campaigns so to avoid your ads competing.
Step #4) Choose the right Dynamic Ad format
As well as being able to target at a granular level, the different types of ads available means that you can adapt your offering to that particular audience and for your product. Here are some ad formats for you to experiment with:
While the least popular ad format for advertisers, the single image ad format is great for showing off one of your best-selling products. For this format, the resolution should be greater than 1,080 x 1,080. Facebook also recommends including little to no text on the image.
Facebook requires an aspect ratio between 4:5 and 1:91:1.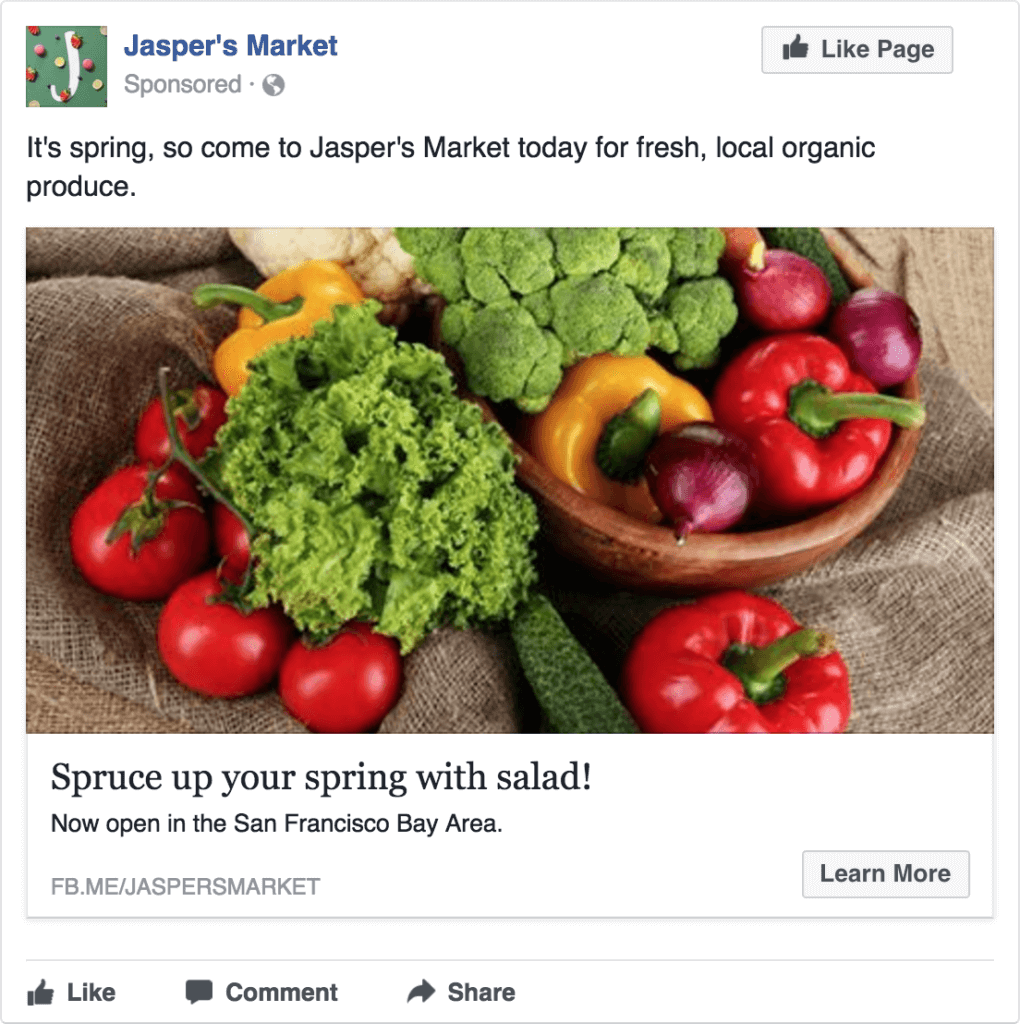 The carousel is one of the most popular types of ads available for Facebook, Instagram, Messenger and Audience Network. It allows you to display up to ten images in one ad, each with its own link.
Image resolution must be a minimum of 500px by 500px and Facebook crops them at an aspect ratio of 1:1.
This is where you can get creative by displaying one image split across multiple ads, like in the example below.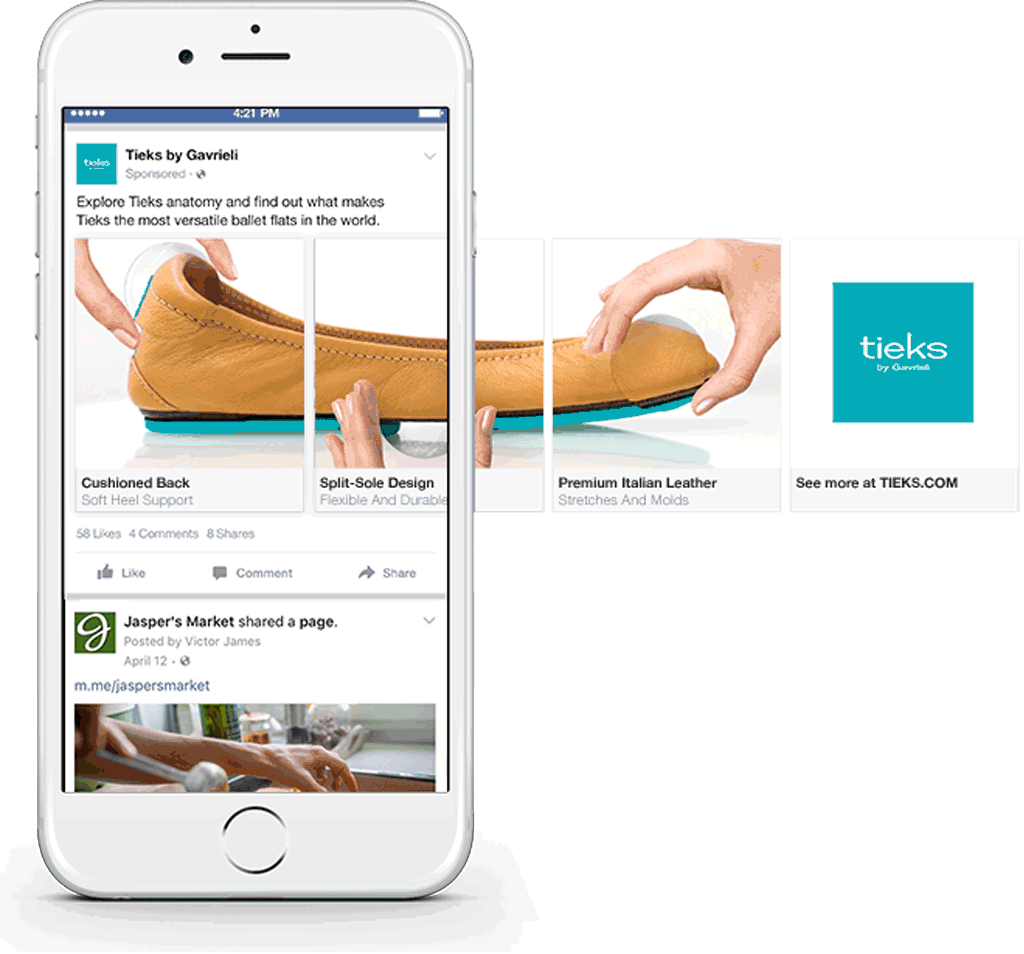 If you would like to have a go at displaying one image across multiple ads, remember to opt out of the automatic optimisation feature, which decides for you which sequence your ads are in based on performance.
Here's an example of the difference between the two formats when used for the same product: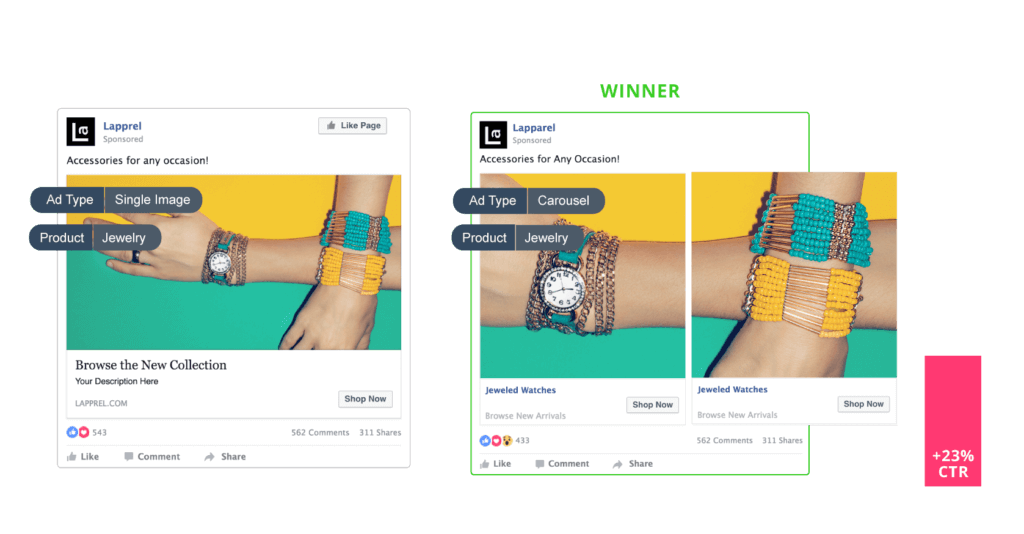 The collection ad format is like the carousel format but is designed to be more visually eye-catching and curated. The format includes four products beneath a hero image or video. The video becomes full-screen when tapped.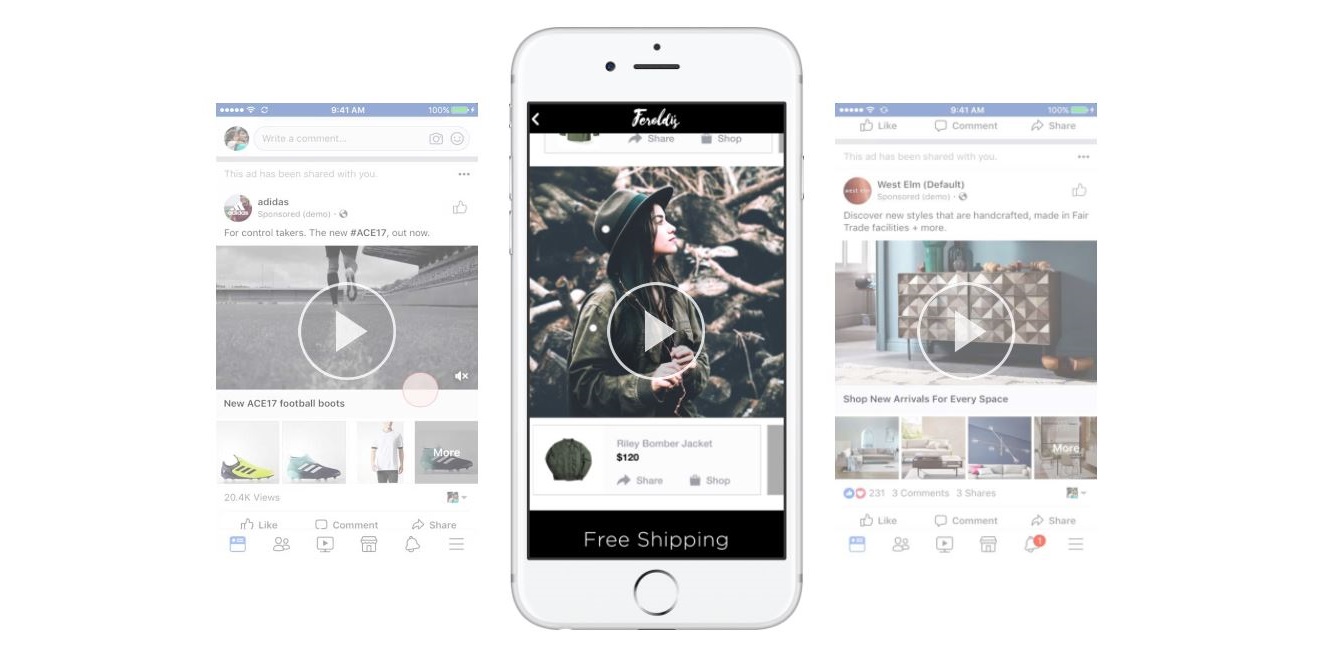 Step #5) Relevance Score
Facebook took a page out of Google's book by introducing a Relevance Score, a metric by which the social channel measures the effectiveness of ads. This, much like Google's Quality Score, determines how likely it is that your ad will be served to users.
As a point of reference, a score of 1 is bad and a score between 7, 8, 9 and 10 means that your ads are more likely to appear.
This score isn't assigned straight away, however. Only after your ad has been served more than 500 times will Facebook let you know how good (or bad) your ad is. This means that the smaller your budget is, the longer this process will take.
The metrics that affect your score are as follows:
Negative signals - When a user hides your ad from their newsfeed
Campaign objective – conversions, clicks & likes etc.
CTR
The second thing you'll need to be aware of is that a Relevance Score isn't static. As your user reception shifts, so will the score. This is to combat staleness. So, if a previously well-performing ad's score starts to drop, this might be a sign that it's old and that users are no longer connecting with it.
The best way to increase your Relevance Score is by improving, optimising and testing your product data.
Step #6) Testing
Something that we would always recommend, no matter the ad format, is experimentation. Going back to an earlier point – best practice can only take you so far with PPC advertising.
Title character limits and image specs are all well and good, but what do these technicalities get you? An ad that will be approved by the channel.
How do you determine what will catch a user's attention or what will make them click? There are many questions regarding Facebook Dynamic Ads that experimentation can answer. Such as:
What ad design catches the most attention?
Should you include text on the image?
Should you include a CTA on the image?
How should you word the copy? What headline works best?
What's the best bidding strategy?
Where should you place the ad?
Which ad format works best?
What campaign objective delivers the best results?
This can be done effectively on the Intelligent Reach Platform with the Experimentation module. Read more about how experimentation can improve your ad performance here.
Conclusion
A great Facebook Dynamic Ad campaign can have a profound impact on your digital marketing strategy, exposing you to a high level of new customers and ROI. In order for it to be successful, you need to have these six strategies in place.
We would always recommend that you take care of the product data first, then the rest. Then, of course, it's advisable to test. There's no better way to understand your audience than rigorous testing.
We'd recommend using a product data visibility platform such as Intelligent Reach to manage your feeds as well as experimentation.
Tags