US retail giant Walmart is launching a series of artificial intelligence (AI) initiatives to enhance product discovery and help customers make more informed buying decisions.
Research by Walmart has shown that families in the US spend six hours per week on household planning and shopping, which they often find time-consuming and boring. To make shopping more efficent, and enjoyable, Walmart is using generative artificial intelligence (GenAI) to improve the search experience, making results faster and more contextually relevant. Customers can search by use cases, to generate more relevant results and save time. For example, they can search "halloween-themed children's birthday
party" instead of conducting multiple separate searches for plates, masks, costumes, streamers etc.
The company is also using GenAI to create tools that highlight priority product features and condense reviews into concise summaries to help customers make informed buying decisions more quickly.
Walmart's Augmented Reality strategy is already delivering results with research showing that customers, who use the company's AR tools for home and apparel, buy more and are more satisfied with their purchases. Going one step further, the company plans to combine AR with GenAI to create a new homeware service. The tool, which is in early development, allows customers to specify their budget, ideas, themes and other preferences to receive personalised AI assistance when designing their room.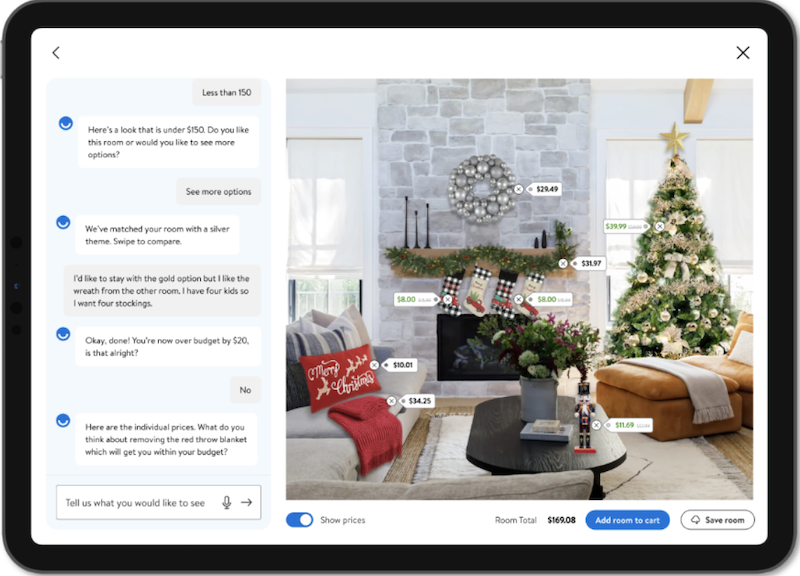 Walmart is planning to offer a personalised design service by combining Augmented Reality (AR )and Artificial Intelligence (AI)
Walmart is also experimenting with voice to improve the user experience. The voice feature in its mobile app will enable customers to shop using voice commands as well as booking collection and delivery slots.
Want to Learn More?
Discover the true power of the IR platform - book your demo today
Book a Demo
Tags