Social media is everywhere and ecommerce is often moving off-site. Learn more about the increase and rise of social commerce in online retail.
Social commerce is a phrase that has become increasingly prominent within online retail in recent years. From the early days of selling via Facebook, it has come a long way. But how does social commerce differ to e-commerce? What are the benefits of selling on social media and which platforms should you be on? Let's get into it.
What does social commerce mean?
Social commerce is the act of buying via a social media platform. When looking to buy online after seeing a product on social media, customers previously had to navigate to the brand or retailer's website, or be directed there from a link within the social media post.
The difference between social commerce and e-commerce
Social commerce and e-commerce are broadly similar commerce experiences but they operate in different ways.
E-commerce is the traditional web-based shopping experience of buying via an online store. It can take place on a website or via a company's branded app. The backend might be provided by the company itself or an e-commerce platform such as Shopify or Amazon.
When targeting for e-commerce, channels including social media and digital advertising (as well as many other marketing strategies!) are top of the funnel tactics. They attempt to engage customers and push them towards the store. Once inside, a customer then has to complete a multitude of steps including adding to basket, logging in, and inputting their address and payment information in order to finally check out.
Social commerce aims to make things easier for the customer by taking away many of these steps.
Put simply, social commerce brings the store to the customer by never taking them away from their social media platform. Everything happens within the app. By meeting them where they are, the buying process is streamlined, delivering more sales for the brand or retailer.
What are the benefits of social commerce?
The sheer number of potential customers. According to recent research, there were 4.26 billion social media users globally in 2021. That number is expected to increase to almost 6 billion by 2027 - a huge market!
Impulse purchases. Some of the most active users of social media also happen to be the most susceptible to impulse purchases. Gen Z, Millennials and Gen X are known to be particularly susceptible to buying on impulse, especially on fashions items and during their downtime.
A seamless shopping experience. Directly feeding into impulse purchase behaviour is how seamless the buying experience is for the customer. Brands and retailers want there to be as few obstacles as possible in place of a possible sale. Social commerce helps achieve this aim with convenient, frictionless buying. It's why Google is hoping to get in on the act with Project Magi.
The branding opportunity is huge. Why keep your social media presence and e-commerce site siloed from one another? With social commerce, you don't have to! This enhances brand awareness and creates an opportunity for anybody to engage with, and purchase from, your brand.
The influencer effect. Brands and retailers used to court celebrities to advertise their products. Recent research suggests that it's actually trusted micro-influencers – people who lead similar lives to our own and have similar interests – that customers listen to when it comes to reviews. A whopping 53% of US social media users who answered a survey said as much in 2021, while 84% of millennials said content that they saw posted by strangers has at least some influence on their purchases.
Easily reach your target audience. This is perhaps the most obvious one on the list! Retail and e-commerce is all about connecting with your customers where they are. The easiest way to do that is to meet them on the sites that they are using. If that means TikTok then meet them on TikTok! Make use of social media analytics to track behaviours, and target accordingly.
Add to your brand authenticity. Because you are on social media with your target audience, there is a unique opportunity to enhance your brand's presence. There is nothing better than coming across as authentic towards your target market. Update customers with regular news, interact as needed and keep them informed at every opportunity.
Generate social proof. Uncertain if a new product is going to be popular with your target market? The beauty of social media is that it creates almost instant social proof! Likes, shares and comments can all allow you to discover if a product is a hit or a miss far quicker than interacting with a focus group might achieve. Competitions, discounts and giveaways are also ways to enhance your company's social proof. Reviews are also useful - 97% of consumers check online reviews before buying.
Is my product data feed ready for social commerce?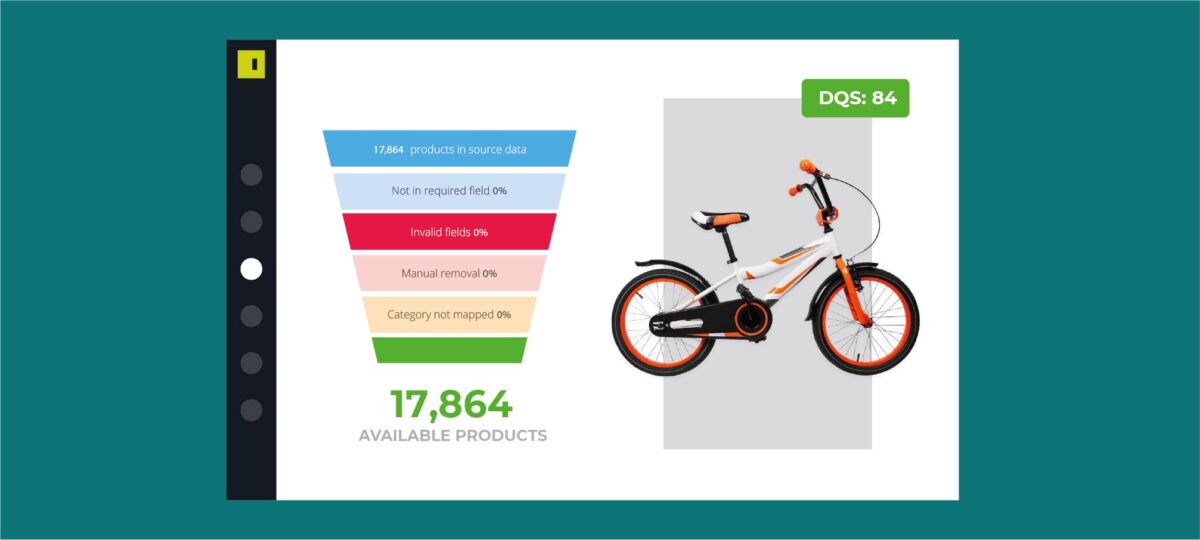 What are the best social media platforms for social commerce?
Facebook
Imagine having access to over 2.9 billion internet users around the globe. Thanks to Facebook's size, you don't need to imagine! With 2.93 billion users as of April 2022, Facebook is the world's largest social media platform, which represents an amazing opportunity for increases the sales of your products.
In 2020, Facebook launched Facebook Shops, a completely free digital store front for selling to your customers. Fully customisable, businesses only need a Facebook business account to get selling, with the ability to import an existing product catalogue or create one within the platform.
Facebook advertising has long been a market leader because of Facebook's ability to know exactly what a user likes based on how they use the social media platform as well as the web as a whole. As such, if a customer has discovered your products or your page, Facebook does the hard work for you by targeting them with the products that it knows will most likely appeal to them.
A personalised shopping platform within Facebook sounds too good to be true but it gets better. Customers and businesses can interact via Facebook Messenger, and you can engage more customers via your business page. As well as all that, even though this is an article on social commerce, if businesses so wish they can instead link to their e-commerce platform for users to complete a purchase.
Selling locally? Learn how to sell using Facebook Store Traffic ads
Instagram
In 2021, Instagram has 1.2 billion users worldwide, which represents an incredible selling opportunity for retailers and brands. With access to 28% of the world's internet users at your fingertips, who knows how many sales you could make?
With so many users, the chances are high that your customers are already on Instagram. The perfect space for sharing new and interesting photos and videos, Instagram is an advertiser's dream, meaning that if people are already engaging with your products on the social platform, improving sales is the next logical step by making it possible to buy via the platform as well.
Setting up to sell via Instagram is easy. Because it is a Meta company, businesses can easily link to Instagram from their Facebook business account, connecting their Facebook shop in the process. By using product tags within their product catalogue, companies can create shoppable posts that streamlines the buying experience.
Thanks to Instagram Stories, short posts that last for just 24 hours, Instagram is also the perfect place to offer flash sales with customisable stickers that entice the user to buy.
[Learn more about selling on Instagram]
TikTok
The social media app of the moment, TikTok has taken the world by storm. Initially a short-form video app, TikTok launched TikTok for Business in 2020, adding social commerce to their offering. With the platform known for creating influencers, memes and best-sellers overnight (literally!), it pays for brands and retailers to be on TikTok and able to sell to their customers directly.
TikTok is expected to reach 1.8 billion monthly users by the end of 2022, creating 1.8 billion opportunities for brands to make a sale. In order to qualify, sellers must sign up to the TikTok Shopping Seller Center. Via TikTok Shopping tab, brands and retailers can manage inventory, orders, promotions, customer service, creator partnerships and more.
Although a relatively new venture, TikTok Shop has already proved successful for numerous businesses, capitalising on impulse purchases from customers as they watch live videos from the brands directly, the creators from their favourite channels or by participating in TikTok Shop's monthly campaigns.
[Learn more about selling on TikTok]
YouTube
YouTube might not be your first choice when thinking about a social media website. Even so, it has influencers, subscribers and social commerce opportunities. Throw in the fact that it has has more than 2.3 billion subscribers visiting each month and made more than $29 billion of advertising revenue in 2022 and you have yourself one of the most popular websites on the planet.
Although the social commerce aspect of the site is smaller than other social platforms, it's still a big deal in ecommerce. Over 40% of global shoppers say they have purchased products they discovered on YouTube. Alongside this, 68% of YouTube users watch YouTube to help make a purchase decision.
YouTube isn't afraid of innovation either. Although many advertisers are looking to TikTok and Instagram, YouTube Shorts offers a very similar user experience. With 50 billion Shorts videos watched daily, it might be a crucial step in the increase in social commerce.
[Learn more about using YouTube Shorts Ads in ecommerce]
Snapchat
Snapchat has 557 million active users globally as of April 2022, which means it is the fourth most popular form of social media worldwide. One of the most popular tools on Snapchat is lenses, a feature that uses augmented reality to alter what a phone screen shows. An example of this would be adding cat ears or whiskers to a person looking at the camera.
In 2022, Snapchat created Catalog-Powered Shopping Lenses, whereby a company can connect its product catalogue to Snapchat. After using their proprietary tools - Lens Builder or Lens Web Studio – to create the augmented reality version of a product, brands and retailers can then push this Shoppable Lens to consumers. It means users of Snapchat are able to try a new lipstick shade or see how their new footwear might look without even leaving the house.
If businesses are interested in using Shoppable Lenses, they'll need to create a business account and Public Profile. Companies currently enjoying the new creation are MAC Cosmetics and Puma. Since Snapchatters who experience a shoppable AR Lens are 2.4 times more likely to purchase a particular product over those who don't, brands and retailers who are targeting younger crowds, especially those from Generation Z, may do well to provide a social commerce experience on Snapchat.
[Learn more about selling on Snapchat]
Pinterest
Pinterest had 433 million active monthly users after the first quarter of 2022, which offers a huge target market for brands and retailers, especially as it favours appealing visuals when targeting customers. The site, which sees users 'pin' photos and videos that they like to their own curated boards, shows promoted posts in the style of organic content on the platform. As such, advertising is a lot less intrusive or annoying than on any other form of social media.
Brands and retailers can create their own pins and boards, carefully curated to target customers using the platform. A fashion board might be called 'Summer Looks' for example, while a homeware retailer might focus on 'Farmhouse Kitchen'. By creating 'Buyable Pins', photos which have a blue 'Buy It' button and price attached, users can click to purchase without ever leaving Pinterest at all.
Retailer accounts can be verified with a blue tick or receive a red tick to highlight they are a notable brand, while SMEs can link their Shopify account directly to their Pinterest Business account, enhancing the various possibilities on the site which include retargeting ads, re-engaging with shoppers and tracking performance.
Alongside these offerings for brands and retailers, influencers can also add shopping links via their Idea Pins, which is a format similar to Instagram Stories.
Who shops using social commerce?
According to research, the global social commerce market was worth $584.91 billion in 2021 and its compound annual growth rate (CAGR) stands at over 30% between 2022 and 2030. Although billions of dollars may sound like a lot, social commerce is still in its infancy. If the 30.8% CAGR turns out to be true, the market will be worth $6.2 trillion by 2030.
Facebook, Instagram and Pinterest all revamped their social commerce offerings during the pandemic in 2020 while Snapchat only enhanced their offering in 2022. Even so, it's clear that social commerce, by its very nature, must appeal to those using the social media platform.
As such, the target audience for most forms of social commerce is in the 18-34 age range. 48% in that age range made a purchase via social media in 2019. 27% hadn't shopped via social commerce yet but expressed a desire to do so.
What is the future of social commerce?
The future of social commerce is hard to predict – nobody has a crystal ball – but there are some predictions that can be expected to occur.
Social media platforms will continue to innovate when it comes to social commerce. Snapchat are experimenting with AR and other social media platforms like Instagram may follow. As well as this, Meta's bet on virtual reality (VR) could become big too. H&M are already experimenting with VR and other fashion brands and retailers will probably follow. Product advertising in the metaverse is just getting started!
Although Facebook, Instagram and TikTok are the main social media platforms currently, there is sure to be another one that also benefits from social commerce in future. We may just need to wait for it to be invented – that's how fast things move in tech! Perhaps Twitter might be a social media platform to look out for in this respect. They have only just started thinking about e-commerce but with 396.5 million users, they definitely want to join the social commerce revolution.
Alongside this, social media platforms will look to reduce the obstacles between a sale and purchase. If they already have your contact details, it might just be a case of clicking 'buy' and waiting for the item to show up at your door. With open banking account-to-account payments growing, you won't even need your card details on hand!
Ultimately then, the future is all about connected commerce - meeting shoppers wherever they are most likely to be and always delivering an excellent customer experience.
Want to super charge your sales with social commerce?
Over 50% of products are invisible to customers. Let's change that ASAP.
Book a Free Feed Audit
Tags