Ready to make the most out of your enriched data feed? Not until you've explored the right e-commerce channels for you with our expert, Darcy Flood.
With an enriched product data feed at hand, you're unstoppable. But before making the most out of your product data and setting your e-commerce multichannel strategy across multiple key sales channels, take a moment out to plan what online selling platforms are best for your business.
We're living in an era of online shoppers bouncing between e-commerce channels, looking for the best deal. Harvard Business Review found that 73% of shoppers use multiple channels in their shopping journey - and as the coronavirus has come and wobbled humankind, those stats will have likely risen.
Temporary store closures pushed customers to find alternative routes and sources to buy essential products. Those that wouldn't usually shop online had to adapt; a Mintel study revealed 43% of 65+ year olds shopped more online since the start of the crisis, compared to May 2019 with 16% of 65+ year olds shopping online once a week. Thanks to lockdown and safety measures, it sped up the global evolution of consumer behaviour and e-commerce.
Even with physical stores reopening, retailers are adopting a e-commerce multichannel strategy. After all, the biggest retail trend of 2021 will be all about becoming robust to survive any future anomalies.
But what is an e-commerce multichannel strategy?
Being where your customers are.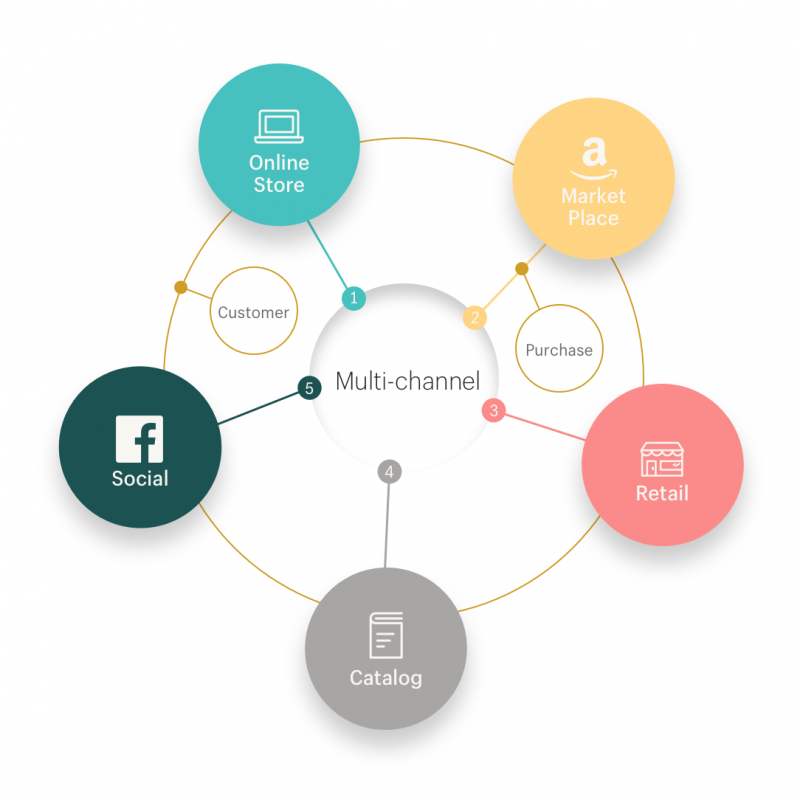 It's about selling on more than one sales channel because, well - channel loyalty is a thing of the past. Customers now have many shopping paths to choose from such as marketplaces, paid search and social media. With plenty of customer acquisition opportunities across multiple touchpoints, it's imperative to launch across multiple e-commerce channels.
Note: Once you get going with your e-commerce multichannel strategy, your product data feed needs to be tailored to meet each channel feed specifications. It's worthwhile looking at a feed specialist solution that can do this to launch across key sales channels, quickly and easily.
I'm a brand/retailer, what key e-commerce channels should I sell on?
It's entirely up to you and your business, but typical e-commerce multichannel networks include Comparison Shopping Engines, Marketplaces (we'll cover this later) and Social Media Platforms may be a good start. Think about your target demographic, their shopping behaviours and the channels they'll use for product searches.
To help, we've nailed down some e-commerce channels that prove to be popular for brands, retailers and shoppers.
Google Shopping
Dominating 80% of the market, Google has been a long-reigning e-commerce champ – just Google it! The scale and reach of Google Shopping draw in a huge volume of impressions and a wide audience.
It's why countless brands and retailers invest a large portion of their budget into Google Shopping Campaigns. With your website, Google Merchant Centre, Google Ads account and an enriched product data feed, Google Shopping is easy to set up and sell on for any sized business. And after announcing its plans of rolling out of free product listings earlier this year, it's set to draw in even more retailers, products and ultimately, eyeballs.
Whether you're working with a standard Google campaign or Smart Shopping Campaign, its Shopping ads come in the most common forms:
Product Listing Ads (PLAs): The forefront of customer searches and the gateway to your website product pages. PLAs are key in getting your products discovered, so it's important to constantly enrich your product data to ensure your products are approved, your PLAs show up in the most relevant product searches and you're ahead of the competition.
Local Inventory Ads (LIAs): Used to bring in footfall, LIAs get shoppers looking for your product into their nearest branch and can even feature click and collect. Localising is extremely convenient in the shopping journey, particularly in times like now as shoppers are selective of their excursions. Google has also rolled out curbside pickup as part of LIAs, for even more convenient customer experiences.

Note: Your product data feed plays a crucial part in LIAs, so it's important to ensure your data is complete, correct, consistent and regularly updated. Our "From Clicks to Footfall" e-book covers this in more detail.
With the ability to keep an eye on your performance metrics and conducting manual A/B testing, Google's got the right tools for you to succeed – but it's just the start. If you want to go further with visualising product performance, fixing product data at scale and quickly launching experiments to boost increase conversions, why not get yourself a free data feed audit.
Facebook Dynamic Ads
A popular social media platform in the UK & Australia and powerful selling space. Retarget users who have interacted with your website, app or elsewhere online, and target a broad audience who haven't interacted before with custom, tailored automated ads.
Simply import your enriched product data feed to create your Facebook catalog. If you've got a wide product range, segment your products into carefully curated Product Sets for your broad audience, cross-sell and up-sell campaigns. Then, create a custom targeted experience as Dynamic Ads come in either a single image, carousel or collection format.
To augment your Dynamic Ads, select a specific goal such as clicks or conversions; Facebook then picks products from your catalog that will generate the best outcome. Here is some example of recommendations that can influence performance:
Products the person has previously interacted with
Popular products in your catalog
Products people similar to your audience have interacted with on Facebook, or elsewhere online
Heavily personalised compared to other channels, it proves to reach a wider range of customers, encourage customers to complete sales and scale your ad creativity.
Bing Shopping
The Coke vs Pepsi rivalry of search engines. Microsoft is the second largest search engine with 522 million monthly PC searches collectively between the UK and Australia.
Although second to Google, Bing Shopping's position has its advantages. Its similar Microsoft Merchant Centre and Shopping process allows you to import data from your existing Google Merchant centre account, making it an easy and quick process to get set up on Bing Shopping. So, if you were willing to jump ship, they'd make it pretty easy!
While Google Shopping has a higher number of eyeballs, Bing Shopping does have some key advantages:
Less competitive
Wealthier shopping audience who are more likely to spend
Increased targeting through choosing demographic details
Allows unique attributes for the merchant can use a redirect link for user tracking
Lower CPC cost, higher CTR and Conversion Rates (but remember, there's less traffic than Google)
LIAs
Bing Shopping does give promising results and integrating into this channel can help you advertise products to another large portion of the e-commerce market. Could Bing shopping be right for your business? We've put all you need to know here.
I'm a seller, what marketplaces should I be using?
Again, when it comes to your e-commerce multichannel strategy it's important to think about your target demographic, their shopping behaviours and where they'll conduct product searches to find your product.
For any sized business, marketplaces have become big platforms in the e-commerce space over the years. Big brands and retailers find marketplaces a great way to broaden their selling. For sellers in general it's a great alternative to having a website, allowing you to easily handle delivery logistics and create brand awareness. Here are a few marketplaces we think will interest you:
Amazon
With 63% of online shoppers starting their product searches here – we know Amazon is coming for Google.
Almost anyone can sell on this channel. Its easy set-up, lower fees and buyer trust make it a reputable marketplace in the UK and Australia. It's Fulfilled by Amazon (FBA) feature proves a hit, as sellers can ship Amazon warehouses their goods without worrying about packaging and distributing products.
Amazon product listings are simple to create and its internal data catalog allows your new product listings to use pre-generated product information - if it already exists in Amazon's catalog. To help with the competition, it offers sellers PPCs to widen visibility using Headline Ads, Product Display Ads and Sponsored Product Ads.
But to improve product listing ranking, it all comes down to optimising your product data feed. Take a step back from investing in PPCs and focus on experimenting with your product content SEO to see what works for you. Our platform makes data feed management, content experimentation and marketplace management easy, all from one platform.
eBay
eBay vs Amazon is a renowned marketplace rivalry, as eBay is home to 175 million active sellers. It gives retailers a chance to develop a brand and market it to customers.
Sellers have access to an informative seller hub tailored for different countries including the UK and Australia, which has promotional tools used across the platform. Listing pages can be a customisable HTML section which helps make your product listings readable and accessible.
Shipping is a different story as merchants are in charge of their product deliveries unless you're shipping internationally from the UK or US with the eBay Global Shipping Programme. In Australia, sellers can use postage policies to set-up rate tables to define handling time and shipping cost on a city/region-wide basis.
If you're looking to launch onto eBay, our experts have a strong relationship with the eBay integration team. Working together to ensure a smooth and successful integration process, it takes a weight off merchants and allows better order and inventory management with our intuitive solution.
Catch (AU)
A household name in Australia, it's the perfect channel for running regular discounts and sales on your products. Backed by Australia's biggest retail group, Wesfarmers, Catch sellers have access to millions of loyal customers.
Selling is as simple as any other marketplace. The catch here is its internal team makes customer/product queries and refunds easier, by handling it before reaching out to the seller. Approved sellers also can reap the benefits of hands-on account management, technical support and tailor-made promotional opportunities.
TradeMe (NZ)
A perfect, low-risk, way to branch out into the New Zealand market. The largest online marketplace in the country and it's a popular destination for Kiwis to sell and buy online.
The setup is easy: a free registration, authenticating your account and becoming address verified. Our Marketplace Management module makes it easy to manage your product listings, customer orders and inventory data right from our platform.
Other e-commerce channels
These are just a handful of channels and marketplaces that exist, so it's good to look into others that give you a high chance of targeting the right demographic i.e. if you're a Home & Garden business based in Australia, MyDeal.com.au marketplace would be your best bet.
But even with a high-quality data feed that we covered in Step 1: Product Data Quality, your data feed needs to meet each channel's requirements to ensure products are approved and visible, to bring in a healthy ROAS. Without a feed provider, integrating into channels/marketplaces and managing even just one channel can be overwhelming for your internal teams.
We make your e-commerce multichannel strategy a reality thanks to our ability to seamlessly integrate into 1400+ partners including paid search, marketplaces, affiliates, paid social and more. Our intuitive solution makes it easy for you to get your products shining as you easily test new markets at minimal risk to find new sources of revenue while visualising, managing, fixing, and optimising your feeds at scale to boost impressions, clicks, conversions and grow incremental revenues. And for seamless marketplace order and inventory management, you can create a pleasant customer experience.
If you're looking to drive your e-commerce multichannel success, our experts can give you a free data feed audit to help you understand your product data feed health. Click below to find out how you can easily grow your multichannel selling and e-commerce revenue with our powerful solution. 

READY TO LAUNCH INTO NEW CHANNELS?
This can be easily done with the right product data in your feeds. But how good are they?
GET MY FREE DATA REVIEW NOW
Tags