Product data feed quality is the first step when it comes to driving your e-commerce campaigns. Our Head of Data Quality, Fungai Matinde, takes you through what a rich quality data feed should look like. Here's what we'll cover:

Your product data feed is key to your online selling success on popular sales channels such as Google Shopping and Amazon. The COVID-19 pandemic has made online shopping the lifeline of modern retail, making competition ramp up. SearchEngineLand revealed e-commerce ad spending doubled from $4.8 million to $9.6 million between mid-February to the first week of March. Brands, retailers and sellers are now investing more time and resources into their digital marketing strategies to secure their online presence for the long term.

And yet, the biggest mistake retailers make is overlooking how product data quality and its relevancy impacts online success with product feed management software. Rather than focusing your budget on outbidding competitors to gain higher product visibility across channels, it's more about understanding how search relevance determines product listing success.

Just because your product data feed exists, doesn't mean your PLAs are effective. Neglecting basic product data 'hygiene' is why many e-commerce retailers underperform across channels, unintentionally steering shoppers into a poor experience.

Poor product data doesn't go unnoticed. Poor product data quality feeds score lower with Google, increasing the Cost-Per-Click (CPC) and bid amounts. Content that doesn't match consumer searches, results in products being disapproved or unfound. In any case, poor quality data feeds leave retailer's products with limited product visibility, fewer sales and a low ROAS. And with Google Shopping announcing free listings for sellers in the U.S, it's crucial to get your product data feed prepared for what's yet to come across the globe.

Why is the quality of your product data feed so important?
Product data feeds are the foundations of your PLAs. Ensuring your ads are populated with accurate data, helps establish your products as most relevant to online search terms, drawing consumers directly to your product page. An efficient streamline kicks off a smooth and efficient experience for the shopper, ultimately increasing the retailer's conversions and revenue.
Across Shopping (Google), Social (Facebook) and Marketplaces (Amazon), consumer experience is a top priority. These channels penalise merchants listing products with incorrect information such as an incorrect category, brand, type, etc, due to the risk of creating a negative consumer experience.

What's the difference between websites and product data feeds?
It's all about the customer journey and experience. To keep it simple:
Wendy's Website Journey: Wendy has landed on a website. She knows what she's looking for and drills through different categories and site navigations. She can view a wide product variety and lands on the product page most relevant to her.

Paul's PLA Journey: Paul is searching for a product through Google Shopping because he's unsure where to get it. His only tools are keywords in his search terms. Whether he uses broad or exact search terms, the results displayed are triggered by the relevancy of his keywords to the product data provided in the retailer's listings. He looks at the titles, image, pricing of the ad and clicks on the most relevant PLA, directly landing on the product page.
50% of online purchases start with a Google search. To make Paul's journey possible, the product data feed needs to be more than a reflection of the listing that appears on your site. It needs data most relevant to Paul's search terms, to create a positive and smooth consumer experience. With poor quality data, irrelevant products may appear which damages Paul's user experience and results in the retailer being penalised by Google.

What does a rich quality product data feed look like?
It needs to have extensive detail, accurate product information and digestible descriptions. By establishing enough relevant information and content consumers want, it helps them make an informed choice when comparing and purchasing your product.
Each channel has a set of requirements your product data feed needs to meet. Originally seen as complementary, attributes such as title construction, keyword-rich category paths/breadcrumbs, alternative images and internal/external colour keys and values, are now fused into the core of basic product data feed requirements.
Titles: A crucial element of your product data feed. To get accurate search hits and more conversions, titles must be accurate and unique from your other products. Descriptive keywords are now mandatory in titles. For instance, take a look at Nike trainers: Website Title: Nike Air VaporMax FlyKnit 3
Product Feed Title: Mens Nike Air Trainers VaporMax FlyKnit 3 – Black


The Product Feed title format is now more descriptive of the product, as it references the gender, colour and product type "trainers".

Pro Tip: If you're a retailer trying to target an international market, you'll need to modify this product type. For example, by switching the product type from "Trainers" to "Sneakers", it extends the potential exposure to the US and International market.
Colours: Always add descriptive and standard colours to the source feed. Whether in titles or a colour field, your products stay relevant against consumer common search terms. Using values more understood internally, rather than a basic consumer searching for the product can hinder its visibility.At Intelligent Reach, we've seen retailers using particularly descriptive colours in their product feeds. Below are a few examples of internal colours and their standard colour equivalents:
| | |
| --- | --- |
| Internal Colour | Standard Colour |
| Acid Camouflage | Yellow |
| Acid Green Multi Gingham | Green |
| Acid Orange | Orange |
| Acorn | Camel |
| Agate/Pop Pink | Pink |
| Airedale | Blue |
| Airforce/Killer Whale | Grey |
| Aloha Green | Turquoise |
| Amaranth Red Pop | Red |
| Marble Colourblock | Peach |
Images: Poor quality and unrealistic images can result in the user scrolling past your product. Use multiple high quality and realistic images to increase consumer confidence. It doesn't really affect product visibility, but it can affect your clicks and conversions.

Descriptions: Poor descriptions contribute to poor performance. Although not as powerful as a good title, optimised descriptions can impact clicks and conversions.

Product Types: Put simply, using important keywords for your attributes and adding them to your titles/descriptions enhances visibility. For example, if you're selling a duster coat in the autumn, add "duster coat" and "autumn" to help the channel understand your products.

Categories: Ideally, retailers should avoid having promotional text in their basic category structure e.g. Sale, Discount, Less than £40 and so on. While useful for peak periods such as Black Friday, it's better to avoid adding these into the raw category. Add these to external feeds through Intelligent Reach as additional product breadcrumbs and strings, to help push product performance across listings.Intelligent Reach interface categories can be manipulated to include additional strings, without altering the original category structure that's been mapped in by different partners. For example:

Poor Category: Sale > dresses under £20
Good Category: Womens > Dresses > Maxi Dress
Intelligent Reach manipulated Category Path for Sale period: Womens > Dresses > Maxi Dress, Christmas

Note: Category Taxonomy is important in whichever channel you're listing to. Structure your products in a categorised way, for customers to come across your product with the least number of clicks of possible - which is the goal.

Local Stock Data: If you're directing consumers to offline stores through LIAs, your local stock data needs to be replenished as close to real-time as possible. It helps customers determine which store to visit and the retailer ensures they're not selling out of stock items.
GTIN: Unless your product is completely unique, it requires a GTIN: these are product identifiers, best known as "barcodes".
The more information included at the source, the more data experiments and manipulation is possible for a higher chance of retailers to achieve their best performance. The push for more product details helps create more enriched/relevant listings. Category Taxonomy is important in whichever channel you're listing to. Structure your products in a categorised way, for customers to come across your product with the least number of clicks of possible - which is the goal.
Multichannel Strategy
Once you're armed with an enriched and optimised product data feed, it's time to make the best use of it. Multichannel strategies are effective for retailers to maximise product discovery while being able to access new markets.

Using an optimised format for each channel strengthens and scales your data. Unfortunately, for each channel you'll need to modify your product data feeds as they all have different requirements. It can be a daunting and time-consuming task for your internal IT teams.

By using Intelligent Reach's advanced solution, it quickly and efficiently formats your product data feeds to being integrated across 1400 channels.

To Sum Up
The quality of your product data feed is the bloodline of your PLAs and gives you an advantage in this competitive climate. Having a low-quality product data feed stunts your product visibility growth. It's crucial to visualise, validate, correct and maintain your product data feeds. Using correct and descriptive attributes in your product data feeds helps maximise product discovery across the channels you choose to sell on.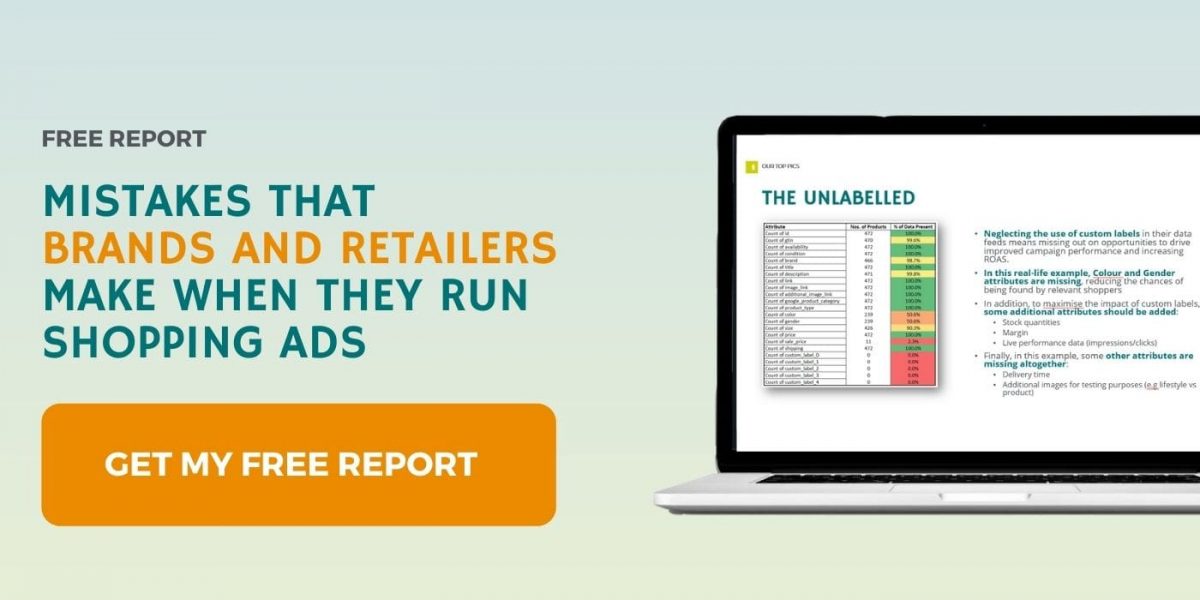 Are you worried whether you are making feeds mistakes?
Even big brands and retailers make mistakes. We've summed them up for you.
GET MY FREE REPORT
Tags