Product advertising in the metaverse is in its infancy. As augmented and virtual reality use grows, how can your company take advantage?
The metaverse is everywhere currently. Virtual reality and augmented reality has been consumed by this new word, but what does it really mean, and what does the future hold? More specifically, how will ecommerce and the metaverse work together? How will product advertising in the metaverse take place? Let's take a look.
What is the Metaverse?
In order to write about product advertising in the metaverse, it's best to agree on what the metaverse is. There are many definitions but the most straightforward definition of the metaverse states, '[it] is a single, universal and immersive virtual world that is facilitated by the use of virtual reality (VR) and augmented reality (AR) headsets.'
Product advertising needs no introduction. Advertising products occurs daily in newspapers, on TV, in apps, on billboards, posters, websites… The list is endless. So why not add product advertising in the metaverse into the mix?
How do I access the metaverse?
Because the metaverse is still in its infancy, headsets aren't too prevalent currently.
Current Virtual Reality Headsets
Meta Quest 2 (formerly Oculus Quest 2)
Meta Quest Pro
Meta Quest 3 (coming soon)
Apple Vision Pro (coming soon)
Valve Index
HP Reverb G2
HTC Vive
Sony PSVR2
Pico 4
Pimax Crystal
Samsung Gear VR
The most well-known way of accessing the metaverse is through the Meta Quest 2 (previously known as the Oculus Quest 2). It was rebranded after Facebook changed their company name to Meta, announcing a commitment to focus on developing a metaverse in 2021. Facebook bought Oculus in 2014 and under its guidance had released the Oculus Rift, Oculus Rift S, and Oculus Quest.
Reality Labs is the name of Meta's virtual reality and augmented reality division. This subsidiary is largely focusing on designing headsets as well as coding Horizon Worlds, Meta's free multi-player virtual reality world. Users can create games, watch concerts from the likes of Foo Fighters and enjoy social experiences such as watching live UFC matches.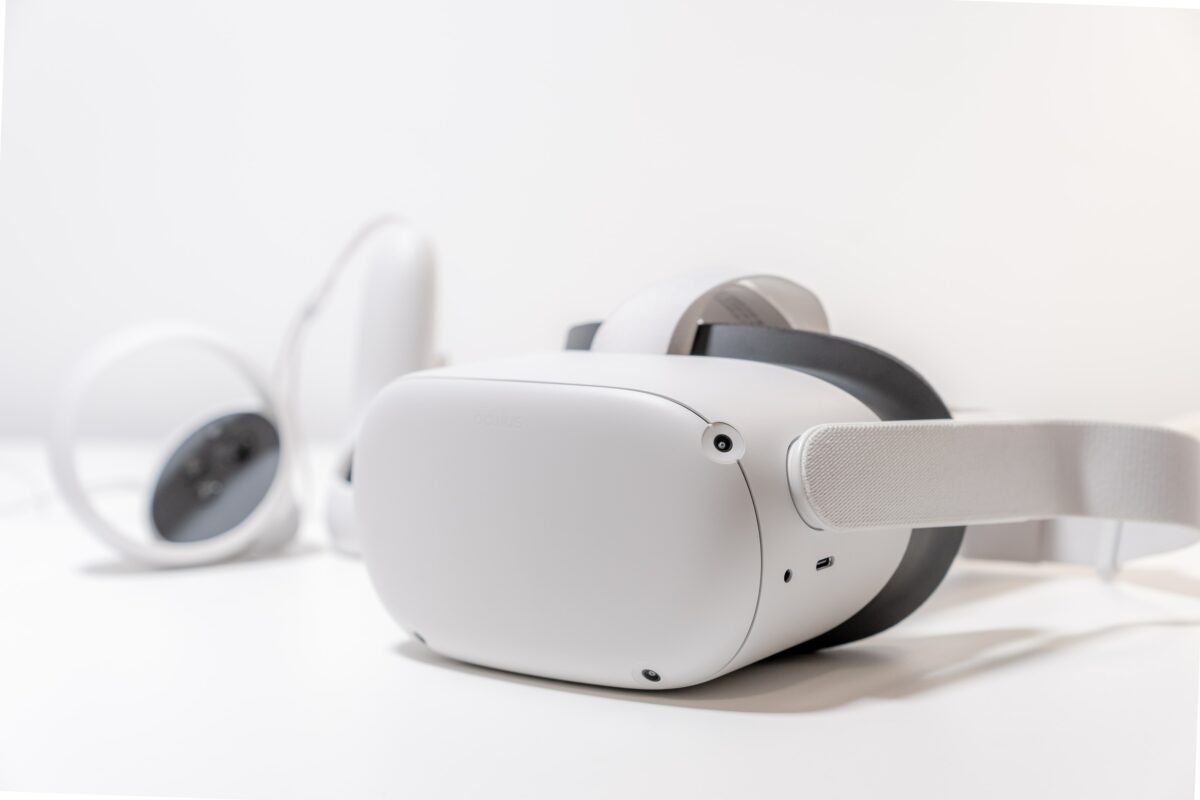 Although the Meta Quest 2 is the best-selling metaverse headset, there are others available. At one end of the scale is the Samsung Gear VR. Although discontinued in 2020, it can still be used and retails for less than £100. At the other end of the scale is the Pimax Crystal, releasing at the end of 2022 with an estimated price of $1,900. The Valve Index, HP Reverb G2, and HTC Vive are also popular, while Sony is releasing the PSVR2 in March 2023. Unlike other headsets, which can either work independently or via link to a PC (known as PC VR), the PSVR2 requires the user to already own a PlayStation 5.
New and Future Virtual Reality Headsets
Sony aren't the only ones releasing new metaverse headsets. Meta has just released its Meta Quest Pro, intended for business use, and retailing at $1,499. The owners of TikTok, ByteDance, have also just released the Pico 4 headset, while Apple is deep at work on their own virtual and augmented reality headset. The Meta Quest 3, for more casual users, is supposedly releasing in late 2023 at a substantial discount to the Quest Pro.
Who is the Metaverse for?
Video Gamers and Casual Users
The widest user-base currently are video gamers. Because the likes of the Meta Quest 2 work standalone and feature a hard driver, players can download games directly from the Meta Store. Many users though, prefer upgraded graphics by linking their VR headset to their PC. In this way, they can access their games library from the likes of Steam to play games such as Half Life: Alyx. Although gaming is the most likely use of a headset, because of the nature of wearing one, long games like Half Life are few and far between. Casual games are currently the sweet spot for VR gaming with the likes of Walkabout Mini Golf, Gorilla Tag and Beat Saber proving most popular.
Away from gaming, it is also possible to enjoy films and TV. Netflix, Amazon and YouTube are already offering immersive watching experiences. Currently these take the form of your very own cinema with no ads anywhere, but who's to say there isn't the possibility of digital film posters being replaced by product advertising? In the metaverse, anything is possible!
Corporate Users
Away from casual users watching films and playing games, business is the next focus for the metaverse. Meta's Quest Pro is meant for corporate use with the likes of Accenture already signing up to the platform. Users will be able to conduct meetings and use whiteboards in a virtual environment. Perhaps solo use will be more appealing; using a metaverse headset, employees will be able to scale up from one screen to three, in theory enhancing productivity. These features are part of the augmented reality offering – users can see their real life space alongside these virtual offerings.
Education
As well as improving productivity, virtual reality is also popular in education. People are learning piano, video editing and other skills with virtual assistance (e.g. buttons or keys lighting up). Google has been experimenting with augmented reality for years, first with its Google Glass product and more recently with its augmented reality animals and Google Maps AR or Live View offerings.
With all these ideas forming the current virtual landscape, where will ecommerce and the metaverse come in? The most obvious area is in product advertising.
The History of Virtual Product Advertising
The idea of advertising in virtual reality worlds isn't a new one. The likes of Google and Meta have made much of their money from advertising via Product Listing Ads, Store Traffic Ads and Dynamic Product Ads, and it's only natural that advertising moves into other forms of media. The video game industry is a massive market, worth around $200 billion, and has already seen some early attempts at advertising to gamers. Historically though, there has been pushback from users as they dislike the idea of real life interrupting immersion.
Even so, there are some instances of real-life advertising in video games. Crazy Taxi featured Tower Records and Pizza Hut in the 1990s, while Pepsi made its own game in the form of Pepsiman in 1999. Worms 3D saw characters drinking Red Bull in 2003 while President Barack Obama's 2008 election campaign was seen on billboards in Burnout Paradise.
Collaborations are more common these days with the likes of Rocket League, a car-based football game, partnering with Hot Wheels, McLaren and Jurassic Park to offer branded versions of real-life cars to their players. Back to the Future fans can also take control of the famous Delorean!
Interactive advertising doesn't seem to be as popular yet however, especially since the Obama billboards were seen as intrusive to gamers. Even so, brands are still experimenting with advertising in traditional video games through companies such as Bidstack. With so many games now exclusively played online there is an opportunity for dynamic in-game advertising billboards. Bidstack's niche is in providing these billboards for brands such as Subway, who may appear on the side lines of a FIFA game or the advertising hoardings of a rally track.
Product Advertising in the Metaverse
Although product advertising in video games is well-known, product advertising in the metaverse is a different story. For starters, consumers need to be comfortable with the idea of seeing the metaverse as separate from video games. Someone who owns a VR headset like the Meta Quest Pro should primarily be using it for business. At least, that's how Meta is publicising it.
How to Advertise in the Metaverse
If you're wondering how to advertise in the metaverse or looking for general information on advertising in VR, there is good news and bad news. There are a number of ways of advertising in the virtual world but none are particularly revolutionary. Yet. These forms of advertising include product placements, ads in games, and curated events and experiences.
There is currently no third-party company allowing product advertising and your product feed to be uploaded into the metaverse. Even if there was, there is no place - game, app or other software - that is currently supporting it. This might all change soon as the metaverse - and marketing in the metaverse - grows in popularity and more companies appear.
One of the quickest off the blocks is KadVR, a UK start-up which promises brands and retailers that they can 'reach audiences in the metaverse today with the content you already have.' They are currently focusing on video advertising because that is seen as more immersive. Google Shopping or Facebook Dynamic Ads might need to wait a while to really capture a consumer's interest.
KadVR is interesting from an advertising perspective because of the metrics they can measure through their platform. Not only will impressions be measured but also which parts of your content are seen, when, for how long, and how intensely. Are users glancing at your advertising in the metaverse or are they a dedicated observer?
The advertising opportunities don't stop at ecommerce either. Through this technology, museums and other institutions can enjoy revenue streams that wouldn't be possible in the real world. What if limited-run exhibitions were available to consumers virtually? Product advertising in the metaverse could be funding the tickets. People from all over the world could enjoy an exhibition that was previously only open to those locally. Alternatively, the virtual billboards might be offering extra information on the exhibits being shown.
Eventually the plan will be to work with product data feeds and product feed management software to offer products directly to users. They will be able to engage with products they see and purchase them without leaving their game or app. It will be a seamless process.

Sean Tracey, Co-Founder and CTO, KadVR
The ultimate idea for product advertising in the metaverse then, isn't so far removed from the rise of social commerce in online retail. Users of apps including Instagram, Pinterest and Snapchat have been able to purchase directly through their apps for a while, without ever having to leave the site. This helps overcome payment obstacles. Within a year, this might also be true for multi vendor ecommerce in the metaverse.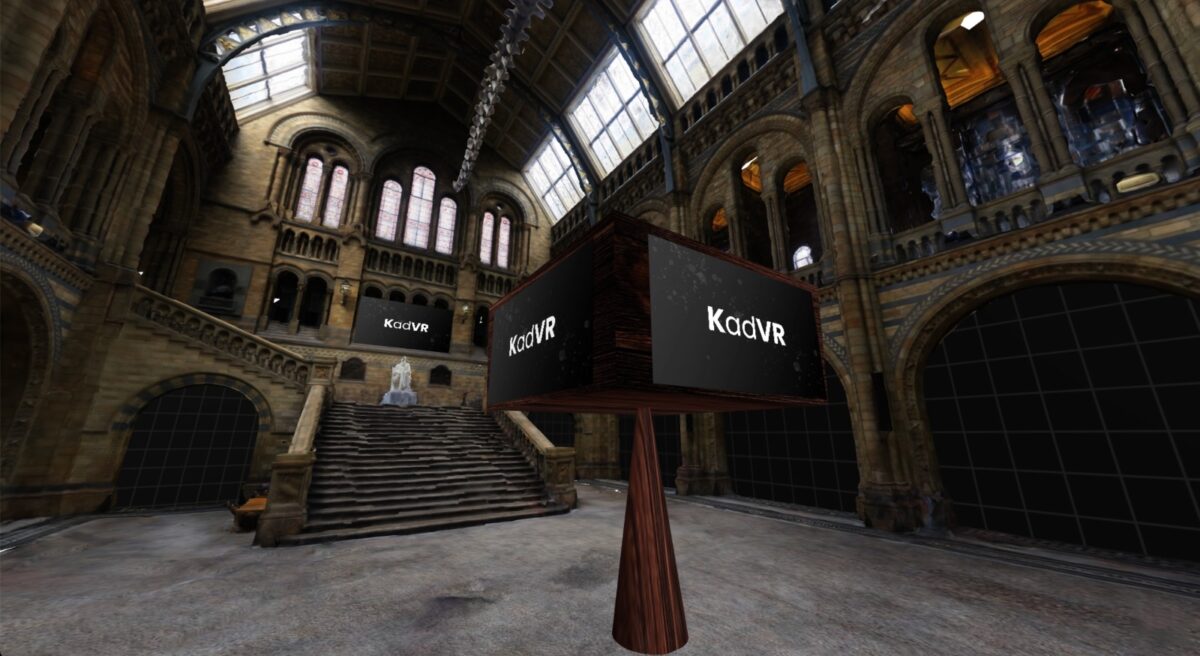 The Importance of 3D Scanning
One of the current difficulties for product advertising in the metaverse is 3D scanning. Users of virtual reality expect to be able to interact with products as though they are really there. Scanning is currently an expensive process. Brands and retailers must be selective in what they are choosing to scan, filling in the gaps with animation design software.
Snapchat has created tools to allow augmented reality filters to show users 'wearing' different lipstick and shoes. The same is possible for brands wanting to experiment with how to sell on Pinterest. This helps in facilitating the rise of these ecommerce marketplaces but there is more to come. With 3D scanning, product advertising in the metaverse will surely go to the next level. Users will be able to walk through a shop as if they are there, trying clothes and accessories, and using appliances.
Fashion in the Metaverse
Retailer H&M has been experimenting with fashion in the metaverse already. Opening a virtual showroom in early 2022, the company sees the metaverse as a great leveller in the fashion world.
Virtual apparel makes fashion wearable for all bodies. Garments in the virtual world are not limited by size because virtual fashion has no size. Every garment is custom fit.

Ann-Sofie Johansson, Creative Advisor, H&M
It is not only that fashion no longer needs to be constrained by size, shape or gender. Virtual fashion doesn't need to think about sustainability or material quality at all. Almost anything is possible. From colour-changing dresses to instant-access clothing – time constraints don't exist in the same way as in reality. All customers can access inspiring fashion, whenever they like, no matter where they live. Of course, these virtual looks can't be worn in the real world, but they could be bought by customers, creating another revenue stream for brands and retailers. If identity is linked to clothing in real life, there is every expectation that this might continue with fashion in the metaverse.
One argument against this point would be apps like VRChat, which already provides a meeting point for people in the metaverse. In this world, users can engage in numerous social experiences from simply talking to one another through to solving escape rooms or playing tag. Part of the appeal of such an environment is its 'anything goes' approach with people often appearing as cats, elves or other imaginary creatures. Although some might want to appear similarly to their real self, there are many more people who won't.
A Unique Opportunity for Content Experimentation and Brand Identity
The metaverse presents a unique use case for brands and retailers. If Mark Zuckerberg's dream of working in the metaverse comes true, brands will be able to offer the same products to consumers as they already do. If the aim is for everything to be seamless, wearing your usual watch to a meeting in the metaverse makes sense.
Even so, with so many other people wanting to appear differently, there is a unique opportunity for brands and retailers to enjoy content experimentation. If the metaverse is all about breaking free from reality for users, why can't brands do the same? Creating products that would be too much of a risk in the real world should be cheap by comparison in the virtual one. There is no reason why a company like H&M couldn't experiment with a fitness tracker for instance, or why Nike couldn't come out with branded… Well, anything! The sky's the limit as far as the metaverse is concerned. Why not enjoy riding a Tesla-branded bicycle? Why not fly around using Ferrari-powered rocket boosters?
Pushing further on this idea, companies could experiment with new offices in the metaverse before approving physical redesigns. Allowing businesses to 'try before they buy' might work for companies such as IKEA or B&Q. Wren Kitchens already offer the opportunity for customers to design their new kitchen in VR. Perhaps this is an area that product advertising in the metaverse may move into?
Other Opportunities for Product Advertising in the Metaverse
Not all brands and retailers are producing fashion or homeware accessories. Even so, there is still an opportunity for them to benefit from marketing in the metaverse. Aside from the idea of wearing branded clothing (e.g., Greggs x Primark), fast food retailers may still be able to capitalise as the virtual reality audience grows. After all, many brands see the metaverse as the next big thing for both marketing and in creating customer experiences.
McDonald's is one brand that is already focusing on the metaverse. Alongside the opportunity to purchase virtual clothing and accessories, they are envisaging a virtual McDonald's restaurant. Friends will be interacting with one another, while ordering Big Macs and drinks to their homes. The virtual space meets physical reality. Might other brands follow suit?
With the rise in marketplaces in the UK, US, Australia and New Zealand, the metaverse could provide a similar offering. The opportunity to shop for any item from your own virtual home might eventually appear. Why shop for products when they might come to you, appearing on your virtual shelves to try before you buy? There would be no ordering and waiting for the product. It will appear instantly. If the prospective customer doesn't like it, they won't order it. These data points can be useful for brands ('how many people tried it on and discarded it?' It also helps from a sustainability angle too – there is no difficult last mile delivery if products are never posted.
Conclusion
Being the first mover on anything costs a lot of money and comes with huge risks. Meta is investing billions into the metaverse and Horizon Worlds at the expense of its declining share price. During a cost-of-living crisis, does this make sense? Meanwhile, McDonald's might feel grateful that they didn't pursue their NFTs idea either considering how quickly the market has fallen in that particular space.
That being said, with so many companies backing the metaverse – Microsoft recently agreed a deal for Teams to be available on the Meta platform – it seems certain that virtual reality and augmented reality are here to stay. Apple will probably be the most interesting addition to the metaverse and might change everything. How will they include their App Store and other accessories? With no release date for their headset though, there might be a long wait to find out. Added to this, VR and AR funding has fallen recently as mass adoption of the metaverse is still not a reality.
Although being first mover carries risks, it also offers the tantalising prospect of huge rewards. Can your business benefit from product advertising in the metaverse? Make sure that your product feed is of a high quality for when things really get going by reaching out to Intelligent Reach today. We offer a free product feed audit as well as the possibility of booking a demo. Learn how we can increase impressions, clicks and Return on Ad Spend for your company.
Want to advertise your products in the metaverse?
Make sure your product feed is ready for success with our award-winning product feed management software.
Learn More
Tags