In 2009, Facebook earned $764 million in advertising revenues. Less than a decade later, in 2019, the social media giant reached $69.7 billion. That's a 9023% increase in ten years.
No doubt, Facebook advertising is effective and popular – why else would so many businesses be pushing their marketing budget into it? But how do you ensure your ads drive results?
Your first consideration needs to be your product data feed, or, in Facebook speak: your product catalog. Like with a Google Shopping feed, all components in your catalog need to be included and optimised.
It's important not to just copy it across, however, as this will result in disapprovals because it won't meet Facebook's requirements.
Facebook splits these into two groups: required and optional fields but in our opinion, the optional attributes are no less essential than the required ones. That is, if you want your ads to perform well, reach a large, relevant audience and convert often.
Ready to start?
Before delving into how to optimise your Facebook catalogue, if you are not sure whether or not your Facebook feed is optimised, contact us for a free product data audit.
Required feed formats
Product feeds must be provided in one of the following formats:
CSV (comma-separated value)
TSV (tab-separated value)
RSS XML
ATOM XML
Remember, if your prices fluctuate frequently, you'll need to upload your feed multiple times a day.
Required data
The basis of your product catalog is the required data. This is the stuff that builds up the foundation of your ads, so they need to be solid. By solid, we mean complete, correct and standardised. The data included also needs to be high quality, optimised with your consumers in-mind.
product_id, condition
These are pretty basic categories. The product_id is your product SKU and the condition should be obvious e.g. new, refurbished or used.
Availability
It's important that you label out-of-stock products as "available for order". Facebook recognises "out of stock" products as products that are discontinued.
Description
Your description is your chance to persuade the user to click your ad, so make it useful and interesting. Try to avoid sounding too impersonal or robotic and avoid copying your descriptions from the manufacturers' sites if you're a retailer. Make sure your brand voice shows.
image_link
Images need to be high quality, optimised in terms of what appeals to your ideal audience. This is best found out with experimentation, which can maximise clicks and conversions.
Link
Ensure links to your product pages are correct and unbroken.
Title
Your titles need to be made up of the most important information, and the relevant keywords need to be towards the front. We recommend that brands put their brand name at the start, but retailers use more descriptive keywords in lieu of a brand.
Price
Ensure prices are in the correct format. For example, Facebook state that the currency code should follow the price e.g. 20.99 GBP.
GTIN, MPN or brand
A GTIN is a unique product identifier (the numerical version of a barcode). If you are a re-seller of a product, you'll need to include a GTIN as this groups the item with every other same item being sold on the internet.
These nine attributes make the foundation, and won't fetch results alone. They need to be formed with your ideal customers in-mind.
What sort of title and description would make them click? What images appeal to your audience? These all need to be seriously considered, what with Facebook's vast and varied audience as well as the specific audience you target.
Find out more about audiences and targeting here.

Optional attributes
These optional attributes are a great opportunity to provide Facebook with more information about your ads, which means your targeting will be much more accurate. The more users know about your products, the more likely it is that they'll click or convert.
In our opinion, they're not so optional. So don't skimp on them or you'll be missing out on some real performance!

Here are the optional feed requirements:
Colour, pattern & material
The trick here is to only include attributes that people actually search for. This means instead of "night sky" use "dark blue". This will help Facebook understand your ad better, resulting in more relevant ad matching.
google_product_category & product_type
We advise that you categorise granularly and accurately. Google recommends 3 or more levels of categorisation. Remember, the google_product_category is Google's taxonomy and the product_type is your own.
Ensure you don't mix them up, because this will result in a disapproval. The better your categorisation is, the better targeting, ad matching and reporting will be.
gender & age_group
Providing these attributes will ensure better ad matching. Be wary, however, as many Facebook users do not input their gender. Be careful not to target only males or only females.
item_group_id
To advertise multiple variants of a product together, use the same item_group_id for each of the variant products. For example, black pencil skirt is a variant of pencil skirt. By giving users variations, it increases the chance that they'll click or decide to buy.
shipping & shipping_weight
Including shipping information may help users when deciding to purchase. By including it early on, you establish trust with the user.
Custom labels
Custom labels are five additional columns that can be added to your product data feed and are usually used when marketers want to add product information that doesn't fall under any other category.
They are a great way to improve ad matching and allows Facebook to group your products by additional variants such as price band or seasonal items.
When you have many products, it's difficult to apply labels, which is why you need a feed management platform such as Intelligent Reach to make these changes quickly and at scale.

How's going so far?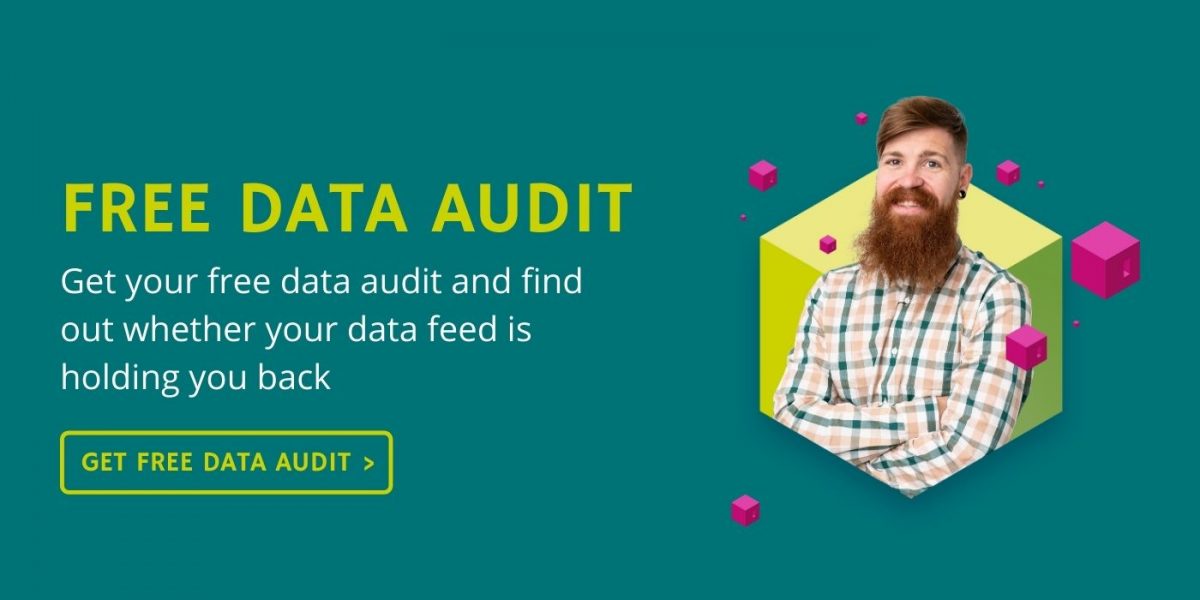 Optimise for mobile
With mobile taking precedence over desktop nowadays, it's important to think about optimising so that consumers can open product pages on your shopping app instead of your website.
Use these app URLS to send users to the correct product page in your app:
ios_url
iphone_url
ipad_url
android_url
windows_phone_url
Use: app_id and app_name to help Facebook find your app.
Use: applink_treatment for cases in which users don't have the app installed.
Our Tips
Accept that some products simply won't work on Facebook. Instead of wasting resources on them, we recommend that you take them out of your product feed all together.
Make the most of custom labels! Its an easy way to increase targeting and visibility. Applying these labels is made easy on the IR Platform with the label manager.
Keep on top of your data feed health. This means managing regularly, exporting daily and optimising wherever possible.
Now what?
Now that your product catalog is complete and optimised, you'll want to upload it in one of the aforementioned formats.
Then it's a case of managing your campaign. A couple of things you'll need to consider are:
Your ideal audiences' purchasing journeys
Audiences and targeting
Choosing the right ad formats
Your relevance score – how effective are your ads?
This next article will explore ways in which to set up your ads and ensure they're targeting the right people as well as fetching a high ROI.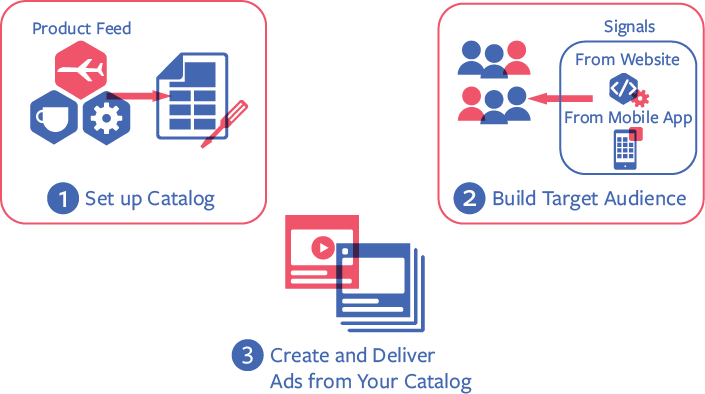 (Source: Facebook)
Tags