Google Shopping is a critical channel within ecommerce and a key driver in ROI, accounting for 82% of retail ad spend in the UK and 88% of clicks (Adthena Search Advertising Report 2019).
Therefore, it's especially important when using Google Shopping to squeeze every benefit out of the channel. We recommend beginning with your product data as it is the crux of your Google Shopping performance, accounting for product ad visibility and conversions.

In this article, we will cover four Google Shopping tips and tricks to get you going.
1. Fix errors and missing product data
Product data feeds are often poor because many attributes are incorrect or missing. This can lessen the effectiveness of your PLAs and cause your product or entire campaign to be disapproved which results in a huge loss in ROI and missed sales opportunities.
Filling those gaps with correct attributes is a sure-fire way to improve your feeds and drive visibility and relevancy across your offsite channels.
Product data needs to be continually managed to avoid disapprovals and poor customer experience, however this can be difficult to keep up with, especially when you have a lot of SKUs, so a platform that can manage your product data for you is advisable.
If you are unsure whether or not your product data is limiting your Google Shopping performance, get in contact with us for a free product data audit.
2. Product title and description SEO

Once you've fixed your product data, you'll want to focus on optimising it. This is what will increase your relevancy on Google Shopping. Think of it as product data SEO.
First, you'll want to consider titles. This is arguably the most important part as it is what will cause your products to appear in search results and the first thing your customers will see, next to the image.
What terms are your customers searching? How are they searching? Optimise titles so that your product ads appear when your ideal customers search. Think about the order of your titles too.
Images, as we mentioned, are also incredibly important. You'll want to consider what angle of the product drives the most clicks. For example, if it's a burgundy bodycon dress, is it best to show it up close on a model or to show her whole body? This is also dependent on the channel you're listing into.
Lastly, categories matter. Using the right category for every product will ensure consumers browsing in a specific category will find your product easily and will increase the relevancy.
3. Intelligent Bidding

Don't just assume that because you're bidding highly on your product that it will perform well above the rest. There's an art to intelligent bidding, and yes, it involves product data.
The first thing to point out, is that it is much better to bid on individual products rather than whole campaigns. This is because each product will perform differently and have different bid rates.
Secondly, if an ad is underperforming, and you're bidding at the right amount, then consider it's an issue with your product data. Fix it before upping the bid as doing this on underperforming products will often cost you a lot more and do nothing for performance.
Instead, consider the previous points. If it is poor, then that's most likely the source of the issue. Read more about that here.
4. Continual experimentation

Guesswork is not good enough anymore when deciding which attributes to use in your product data feeds. Consumer trends change continually and keeping up with them can feel like you're fighting a losing battle.
On top of that, the multiple channels (with varying specifications, might I add), attract very different shopping behaviour. Obviously, standardising your product data for each channel is a terrible idea as not only will you encounter problems with specifications, but you'll also deter consumers from clicking.
Experimentation, on top of good product data management will ensure you drive good results on every channel. It drives product visibility with scientific testing, delivering accurate, steadfast results that you can rely on instead of using guesswork in decision making. Read more about how experimentation can help your business here.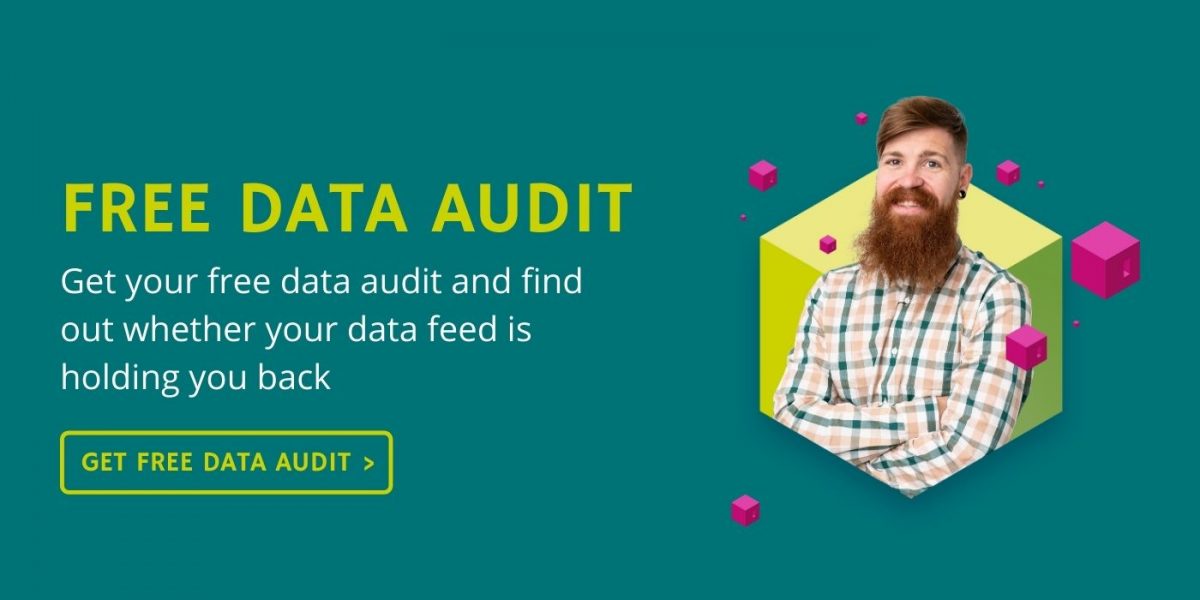 Tags