Augmented Reality in retail is on an exponential growth curve, with the market for virtual fitting rooms and AR try-on technology set to reach $20bn by 2030.
Walmart is aiming for high volume with new try-on technology
H&M AR body scanners create digital twins
Amazon and Google use AR to try out new try-on features
Vyking makes the running in AR sports shoes
DOOH combined with Augmented Reality may deliver the ultimate product discovery experience
The power of DOOH and Augmented Reality combined
Marketplaces giant Walmart joins AR to AI to enhance furniture discovery
AR FINDS A NATURAL HOME IN THE FURNITURE MARKET
The market for virtual fitting room technology, which covers everything from Virtual Mirrors to mobile AR applications and 3D Body Scanners, is expected to reach $4.8bn in 2023 and to continue to grow at more than 20% through to 2030, according to a report by Fortune Business.
The product categories set to benefit most from try-on technology are apparel, eyewear, cosmetics and jewellery.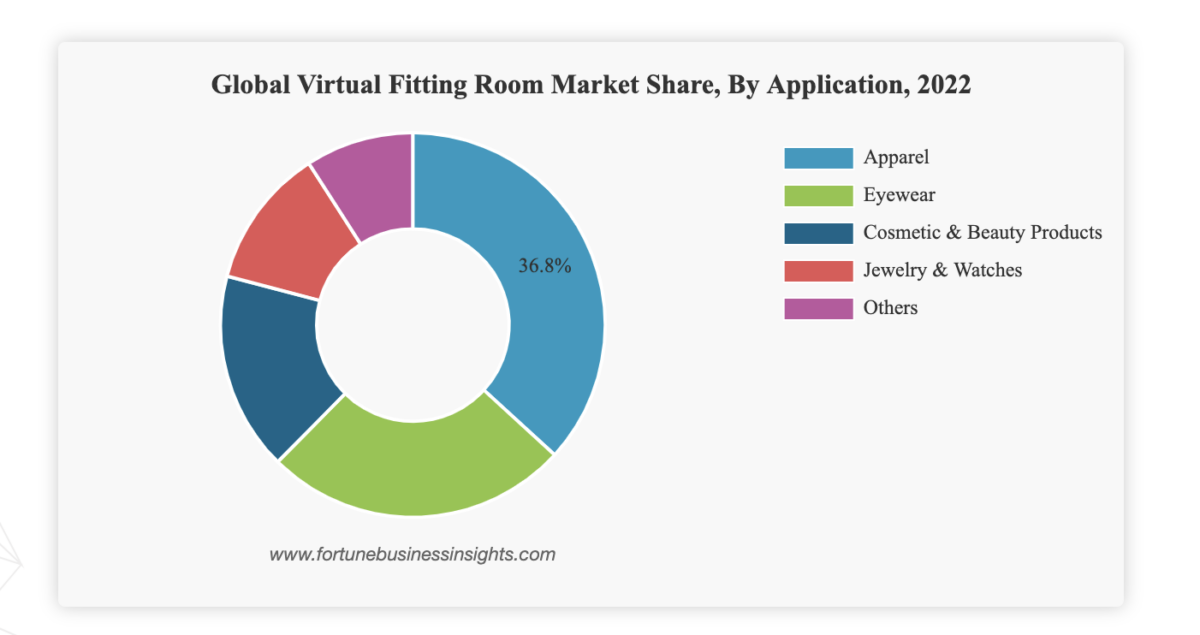 Virtual fitting apps on mobile are based on augmented reality and artificial intelligence. They provide customers with personalised avatars and 3D visualisations of products so that they can virtually try on clothes before they buy. Most of the brands and marketplaces active in this space say that try-on technology increases sales and dramatically reduces returns, especially for online purchases.
The Fortune Business report predicts that as influencers on social media platforms are increasingly modelling the clothes they want followers to buy, shoppers will want to follow suit and try on the clothes virtually before they buy. Then share with their own social media followers. This will push users towards creating their own avatars on social media and other platforms.
The report concludes that the growth of social media and virtual try-on technology is closely tied to mobile devices and therefore is fuelling, and being fuelled by, the migration of shoppers to mobile.
Walmart aims for volume with new try-on tech
Retail giant Walmart has launched a virtual try-on technology that allows customers to use a photograph to create an avatar, creating a simple route for shoppers to virtually try on clothes before they buy them.
Walmart says its technology, called Be Your Own Model, is very easy to use. Customers see a "Try It On" button near a product image and they can choose to view the item on themselves (Be Your Own Model) or on a model of a similar build (Choose My Model).
In order to use the 'Be Your Own Model feature', the customer takes a picture of themselves in the Walmart iOS app. The image is saved, so customers can access their own avatar when they want to use the virtual try-on feature again.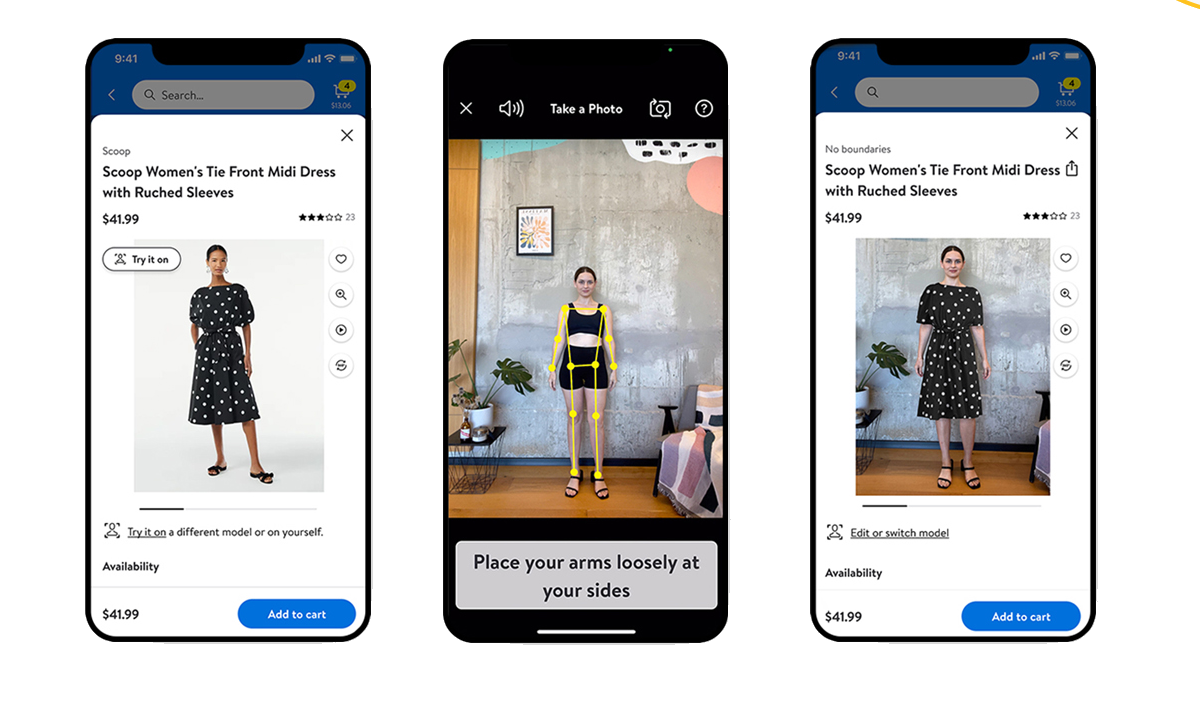 Be Your Own Model is based on Zeekit's virtual clothing try-on platform which Walmart purchased in 2021. The technology uses algorithms and machine learning models to create a realistic simulation with shadows and draping that the company says mimics the way clothes fall on a real person.
Walmart aims to be the first company to offer a 'virtual try-on experience for apparel brands at scale'. Currently, Walmart's try-on experience is available across more than 270,000 retail items.
Be Your Own Model is available to iOS users of Walmart's app. Users will soon be able to use the feature on desktop, web and Android devices.
H&M body scanners to create digital twins
At the other end of the avatar scale, in terms of detail and complexity, H&M is offering users ultra-sophisticated digital avatars that are said to mirror the user's body measurements.
.Customers visiting H&M's new shopping town square in Thailand, Siam Paragon, can take advantage of 3D body scanners, created by technology partner NeXR, to create an exact digital version of themselves.
The initiative builds on a collaboration that began in November 2021 when H&M tested body scanners in two of its stores in Germany.
NeXR body scanners record the user's avatar and body measurements in the Avatar Cloud mobile app. Based on the measurements, the app recommends garments, and sizes to suit each user, as they shop. The service is being offered in store, initially, so shoppers can scan themselves, try on garments virtually, and save themselves repeat trips to crowded fitting rooms. The plan is to make the avatars available for online shopping, together with an extended range of 3D digitised garments from H&M.
According to NeXR, the 3D scanner technology has been continuously developed and improved since its launch in Berlin and Hamburg.
Amazon and Google try out new try-on features
Having extended its virtual try-on technology from furniture and makeup to glasses and shoes, Amazon is thought to be considering rolling out its virtual try-on feature to multiple categories.
In 2020, Amazon teamed up with ModiFace, a pioneer in augmented reality and artificial intelligence for the beauty industry, to launch a try-on feature for L'Oreal that allowed customers to use the camera on their mobile phone to try on different shades of lipstick, in a live video or a selfie. In June 2022, again using augmented reality technology, Amazon launched a try-on feature that shows customers how a pair of trainers will look before making their purchase.
In November 2022, the try-on feature was extended to eyewear from brands including Lacoste, Tommy Hilfiger and Polaroid. After selecting a pair of glasses (or sunglasses), customers simply tap on the 'Virtual Try On' button on the product detail page to see how they look in the glasses in augmented reality. Over 1,500 styles are currently available.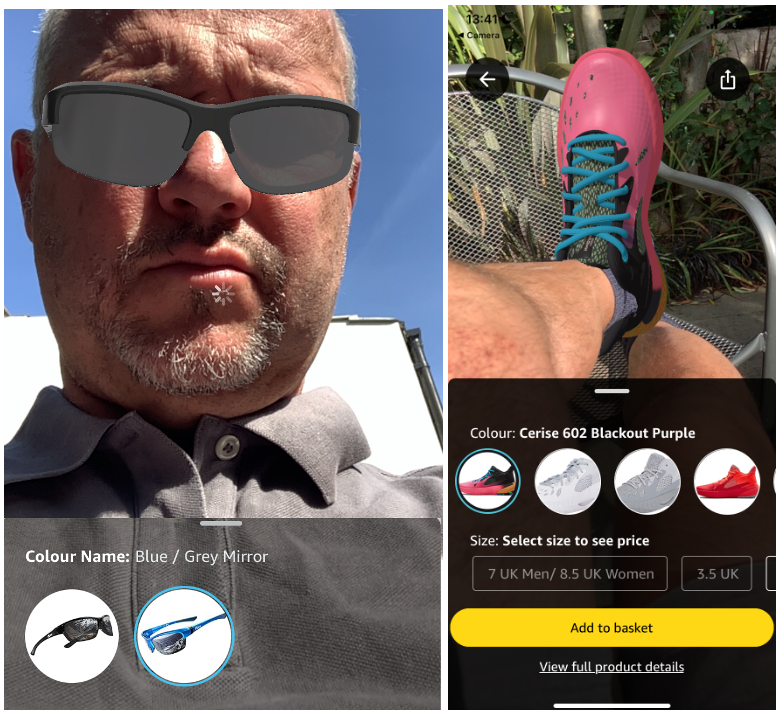 In the U.S. shoppers can virtually try on women's tops from brands across Google, including Anthropologie, Everlane, H&M and LOFT. Users tap the "Try On" badge on products that support the feature and select the model that most resembles them, in size and skin tones.
Vyking makes the running in AR sports shoes
In 2019, Vyking.io collaborated with Adidas to launch an app that allowed customers to 'try on' the Adidas AlphaEdge 4D running shoes on their mobile phones.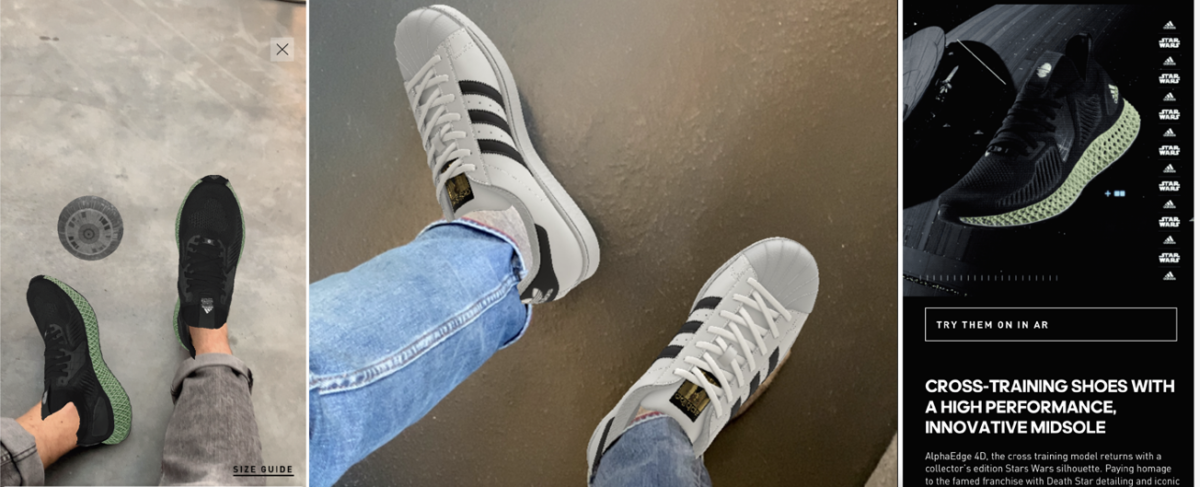 Vyking updates its try-on technology with Magic Mirrors
Earlier this year, Vyking updated the concept with the launch of its Magic Mirror technology, which is a combination of virtual warehouse and changing room technology that allows even the smallest stores to offer customers the opportunity to try on a huge range of training shoes.
The virtual store idea uses a console and a big screen so that customers can view their entire look.
According to Matthew Klimpke, CEO and co-founder of Vyking, over the test period, brands investing in AR have seen try-on solutions contribute to a 50% increase in conversions and a 7% reduction in returns.
DOOH combined with Augmented Reality may be the ultimate product discovery experience
The most startling examples of augmented reality are appearing on giant LED screens in London, Tokyo, New York, Seoul and other major cities around the world.
Using a technique known as forced perspective, an image or video is manipulated onto a curved screen, or two screens set at right angles to each other, to create the effect of a giant 3D object leaping out into a public space.
In Piccadilly Circus, in London, IWC recently ran a promotion where its Pilot's Watch appeared to come out of the screen and hover over passing buses.
In Japan, Nike created an impressive demonstration of the impact a 3D product demo can have at city scale, with its stunning 3D campaign for Air Max.
Nike Air Max dominates the Tokyo skyline
Meanwhile, in London, creative agency Visualisation has delivered 3D work that is as impressive on mobile as it is on a giant LED screen. The first video below shows how the company created a corporate forced perspective ad to demonstrate its capability in physical space. The second is an augmented reality advert created for Harrods that delivers the same real wow factor, except on a mobile phone.
Visualise created a world-scale experience DOOH for Harrods, using AR on mobile
What becomes possible when the power of DOOH and Augmented Reality are combined?
It comes as no surprise that Landsec, the owner of Piccadilly Lights, has been experimenting with promotions that combine its giant forced perspective screen (DOOH) with augmented reality on mobile (AR). The company has created test campaigns that deliver the impact of giant-screen ads with the extra depth and interactivity offered by mobile.
The technology, which was developed by London AR specialist Darabase, and delivered on its platform, uses a virtual model to replicate the shape and scale of the Piccadilly screen for mobile. The campaigns then layer augmented reality effects over the model to add drama to the experience that is simultaneously unfolding on the actual big screen. One of the test campaigns uses AR, and the location-based technology in mobiles, to direct users to the advertiser's nearby store. In another test, mobile AR is used to add 3D dramatic foreground effects to the videos playing on the main screen, including fireworks and a cork-popping bottle of champagne.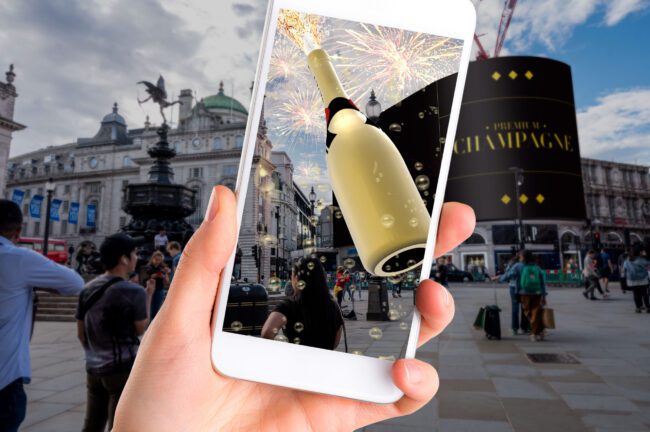 Landsec combines large-screen DOOH with mobile AR technology
One of the first commercial campaigns to take advantage of the combined power of DOOH and AR is Coca-Cola's #TakeATasteNow , which ran in the first two weeks of October, 2023.
By pointing their phones at the Piccadilly Lights screen, or at one of many other DOOH screens across the country, users were able to interact with the screen, scan a QR code, grab a virtual sugar-free coke, and exchange it for a real one at a nearby Tesco's.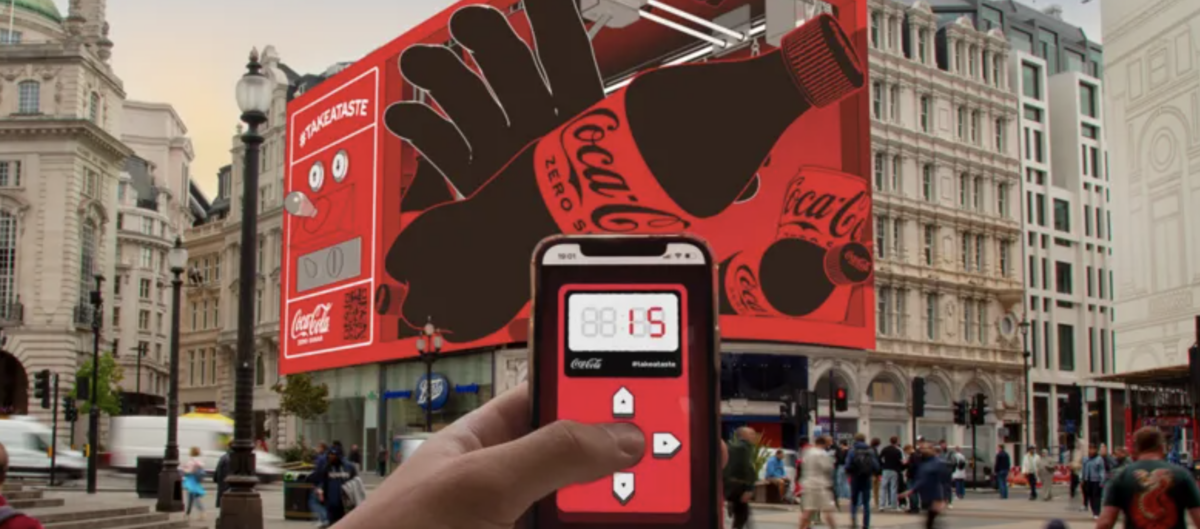 Coke adds life to its DOOH campaign, with mobile interactivity and Coke giveaway
Why innovative AR try-on technologies debut on mobile? Underpinning most virtual products and environments are technologies from Google and Apple that put AR (and VR) at the heart of the mobile phone. Apple was an early pioneer of AR, offering developers its ARKit technology to create AR applications that interact with the real world, using advanced computer vision and machine learning algorithms. ARKit is a software solution that makes use of built-in sensors such as motion and orientation detectors and Light Detection And Ranging (LiDAR). One of the key features of ARKit is its ability to recognise and track real-world objects, such as tables, chairs, and other furniture. Google has also been exploring the use of AR in advertising through its ARCore platform and has created AR experiences for companies such as H&M and Porsche.
Marketplaces giant Walmart joins AR to AI to enhance furniture discovery
US retail giant Walmart is launching a series of initiatives that marry artificial intelligence (AI) to augmented reality (AR) to enhance product search and help customers make more informed buying decisions.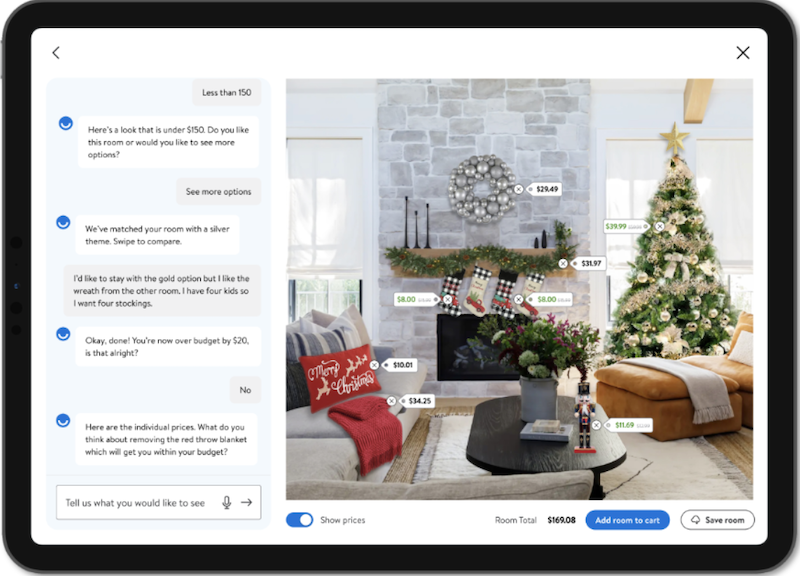 Research by Walmart has shown that families in the US spend six hours per week on household planning and shopping, which they often find time-consuming and boring. To make shopping more efficient, and enjoyable, Walmart is using generative artificial intelligence (GenAI) to improve the search experience, making results faster and more contextually relevant. Customers can search by use cases, to generate more relevant results and save time. For example, they can search "Halloween-themed children's birthday party" instead of conducting multiple separate searches for plates, masks, costumes, streamers, etc.
The company is also using GenAI to create tools that highlight priority product features and condense reviews into concise summaries to help customers make informed buying decisions more quickly.
Walmart's Augmented Reality strategy is already delivering results with research showing that customers, who use the company's AR tools for home and apparel, buy more products and are more satisfied with their purchases. Going one step further, the company plans to combine AR with GenAI to create a new homeware design tool. The service, which is in early development, allows customers to specify their budget, ideas, themes and other preferences and receive personalised AI assistance when designing their room.
Walmart is also experimenting with voice to improve the user experience. The voice feature in its mobile app will enable customers to shop using voice commands as well as booking collection and delivery slots.
AR FINDS A NATURAL HOME IN THE FURNITURE MARKET
The latest version of Ikea's room planning software is designed to make it easier to place virtual furniture in your own home. Ikea Kreativ's scene scanner feature allows iPhone users to scan a room with their own phone, and delete existing furniture to create a blank canvas for experimenting with new, virtual furniture.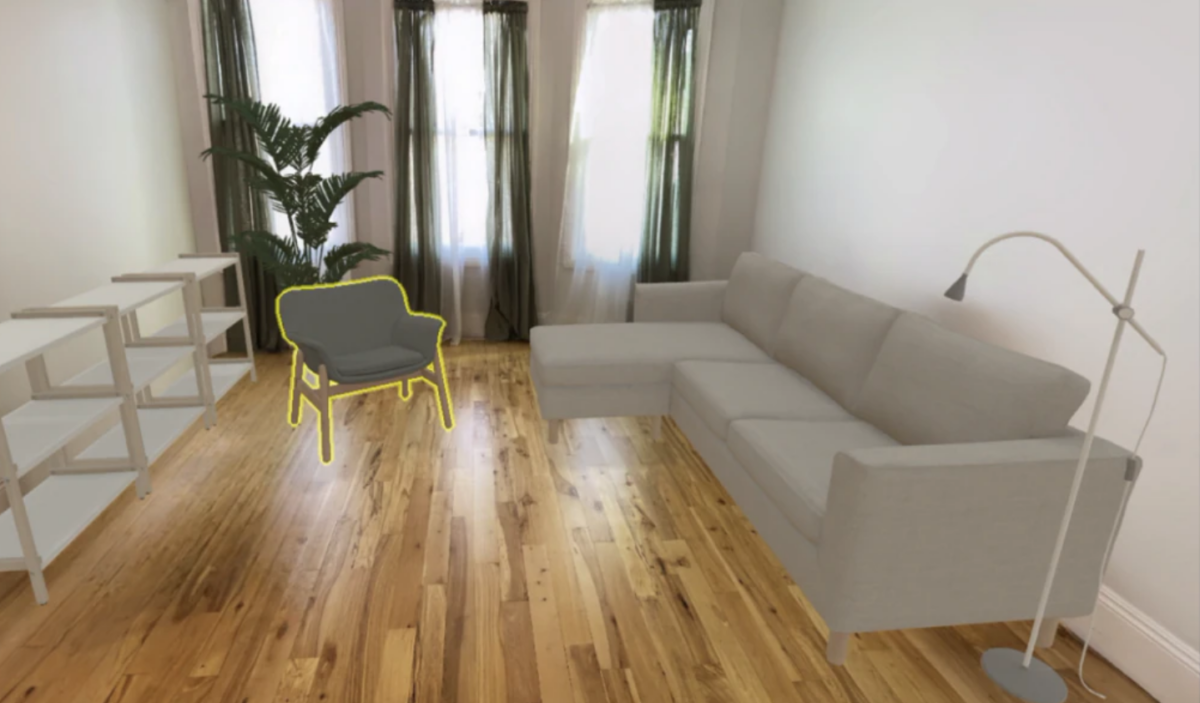 Wayfair pioneers virtual try-out technology
Ikea's biggest competitor, Wayfair, offers an app that allows furniture buyers to visualise furnishing products in their own rooms, even when they are not home.
With View in Room 3D, shoppers can visualise Wayfair products in real time in an actual room. With Interactive Photo they can take a photo of the room and use the View in Room 3D feature on the go.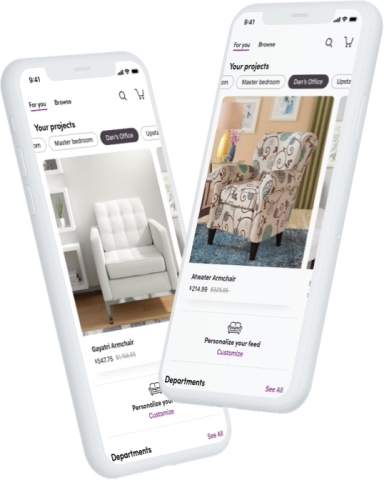 Wayfair has integrated these AR tools with the visual search function in its app so customers can flip between searching for Wayfair products and viewing them in a room. Wayfair's room design tool, Room Planner 3D, is also available in the mobile shopping app. With Room Planner 3D, customers can create a 3D room from scratch, view it from virtually every angle, and then play with a variety of styles, layouts and room dimensions, before placing Wayfair furnishings inside.
La-Z-Boy goes all-in on 3D configurator
La-Z-boy has made it's 3D configurator available on the web as well as mobile and has rolled out the technology to every product in its catalogue. La-Z-Boy's AR on web technology is powered by 3D Cloud by Marxent. Marxent also provides virtual environments and products for Macy's, Lowe's, Miller Knoll and John Lewis.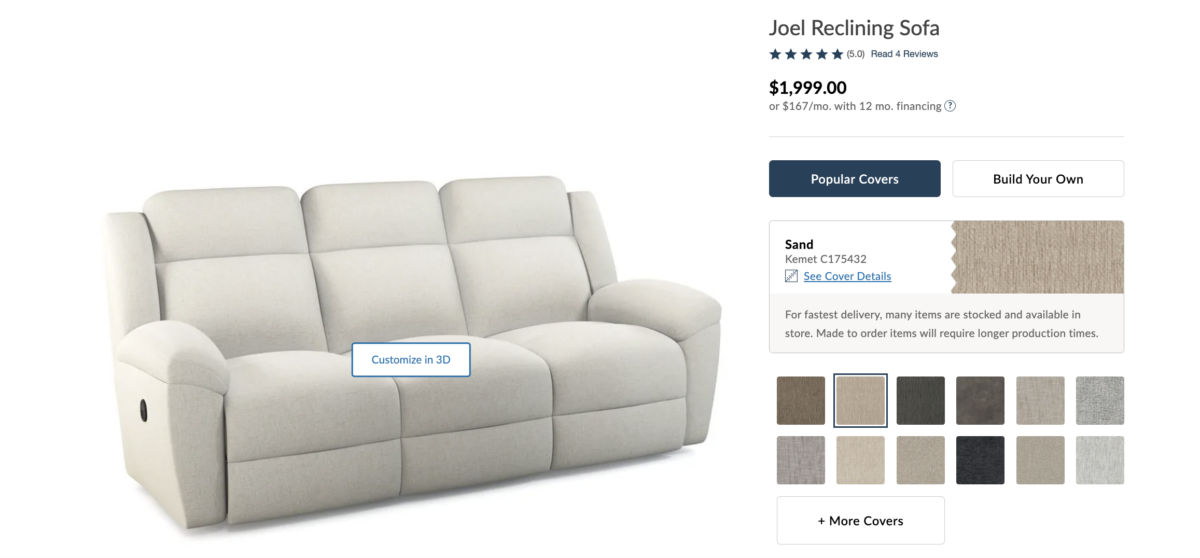 Want to Learn More?
Discover the true power of the IR platform - book your demo today
Book a Demo
Tags