An O2O commerce strategy is a crucial part of retail nowadays, made even more important by the recent failings of the high street.
But what is an O2O commerce strategy?
An O2O commerce strategy is one which connects both online and offline touchpoints within retail. This means using digital strategies in order to bring consumers in-store, providing a seamless, clever experience in-store and out. Understanding your customers and what makes them tick (or click), as well as a few select methods are the crucial parts of an effective, engaging O2O commerce strategy.
Is a lack of omnichannel strategy causing highstreet closures?
If we asked you why you shop online, you'd probably say something along these lines: 
"I can shop whenever I want to"

 

"I can compare prices and save money"

 

"It's convenient"

 
And, as you've probably guessed, you're not alone. According to Statista, 58% of consumers globally (Statista) said they shop online because of the 24/7 availability and 54% because of the ability to compare prices.
Global ecommerce growth reached £1.64 trillion in 2017 and is predicted to reach £3.4 trillion in 2021 (Statista), which signals that online is steaming ahead, but will it be the downfall of our high streets?  
Whether online will swallow up offline retail has been on everyone's minds; the store closures, bankruptcies and tough times experienced by many certainly suggest so.
American company, Toys 'r' Us, was a recent casualty after administrators failed to find a buyer to save the business. 57-year-old chain, Mothercare, have said they will close 60 stores by June 2019.
In some good news, however, Mike Ashley, founder of Sports Direct, recently purchased struggling department store chain, House of Fraser after it went into administration.
Nevertheless, the overall climate in retail is enough to get retailers worrying for the future of bricks-and-mortars. The rise of online marketplaces, as well as the ease of ordering from an online store, has had a profound impact on sales and profits for many traditional high street retailers. 
The share of online as a proportion of total retail sales, at 37.4% in 2018, is predicted to rise to 48% in 2022 (Statista).   
The chart below, from BDO United Kingdom, indicating the growth in UK high street sales, demonstrates the gap between offline and non-store (internet and mail orders):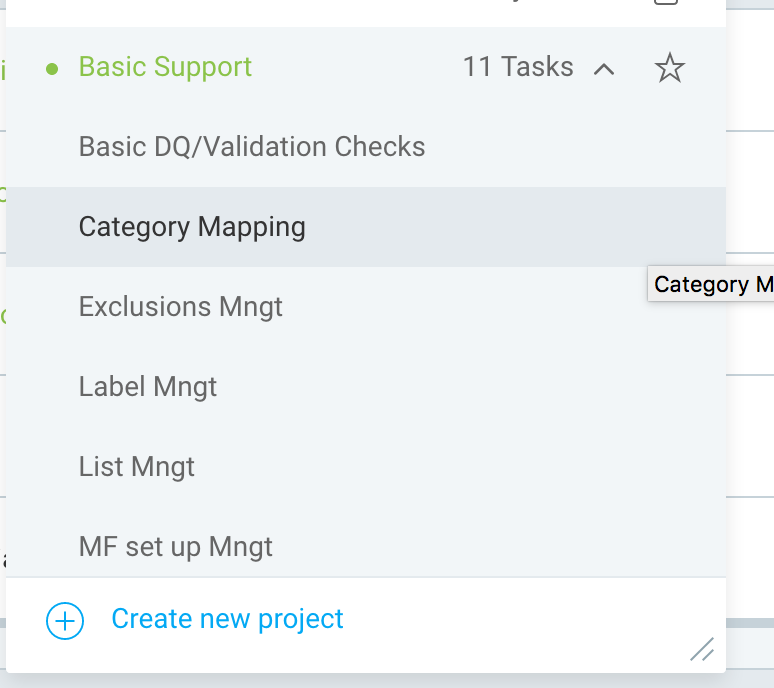 The tracker reports on 70 mid-market retailers with circa 10,000 individual stores. Offline sales growth, as of April, had dropped considerably into the minuses. Sales growth for non-store (online and mail order) was at 11% whereas sales growth for homewares (offline) was at -13.2%. 

Driving in-store footfall and sales with O2O commerce
For even the most ardent of high street shoppers, research such as checking product reviews and store stock levels are now commonplace activities, which is not surprising given these activities improve their efficiency, time and money.
In fact, 8 out of 10 customers (DigitalCommerce360) are less likely to visit a store if they can't view available inventory in advance. 
The woes experienced on the high street can be associated with the lack of a strong, integrated online to offline strategy by bricks-and-mortar brands and retailers and business who are actively adapting their physical store portfolio to support an integrated multi-channel concept are thriving.
Brands such as Nespresso and Sweaty Betty are doing this effectively, using multiple offline and online channels through which to sell and market their products.
Companies such as Sports Direct and JD Group, in addition, are thriving due to stringent cost management and effective multi-channel strategies.
An omnichannel approach can be an excellent way to drive in store footfall while reducing cost and time, increasing business efficiency and customer experience. In fact,78% of local searches on mobile and 61% on desktop lead to offline purchases!

First things first – Getting your product data ready

 
There is another factor impacting the effectiveness of the brand's or retailers' online performance – poor product data.
Product data is the core element driving the relevance and visibility of product listings offsite (Google Shopping, Amazon, eBay) and therefore it is so important to get right before you even consider advancing your online/offline strategy. 
If your product data is incomplete, inaccurate or lacking in rich attributes, your products will struggle to be seen and you'll be spending all that marketing budget for little clicks and very little ROI.  
So, how exactly do you increase store footfall and sales with O2O commerce?
As a response to these challenges facing brands and retailers regarding online and offline presences, we have put together three strategies you can work on right now, guaranteed to strengthen your offering:
1.

Google local inventory ads
Google's local inventory ads (LIAs) are a simple and effective method of driving in-store traffic while also promoting your online store. The ads provide the shopper with opening hours, proximity, price, retailer/brand as well as the stock available.
Retailers, such as our customers, River Island and Staples, reported increases in click-through-rates and store visits when they started using LIAs.
LIAs maximise on the consumers location by providing relevant ads (optimised product data) from relevant stores (optimised Google My Business (GMB)) close to their phone's GPS signal so they are more likely to visit your offline stores.   
Alongside complete and accurate product information, business information such as business name, location and opening hours must be provided as well. Getting GMB and your LIAs to work together is the objective; it will ensure your ads are appearing to the right consumers at the right time.
In addition, it will improve the customer purchasing journey, given that 73% of consumers (DigitalCommerce360) choosing to purchase in store do so to avoid delivery fees.

For more in-depth information into local inventory ads, read the article below.

Increase In-Store Footfall and Sales with Google Local Inventory Ads
2. Location targeting with Facebook Ads

If executed right, your Facebook Ads could have a profound impact on your ROI; but only once your product data is optimal.
Their Ad service allows businesses to target users based on interests, age and behaviour, but being able to target based on location is a driving cause of higher in-store footfall.  
In order to provide localised ads to people near your offline stores, you must connect Facebook Business Locations and Facebook Ads.
That way, Facebook will surface relevant ads when a consumer is in proximity to your store using methods such as ambient Wi-Fi, beacons and historical local information.
Read our article on Facebook Ad location targeting:

Increase Footfall and Sales with The Facebook Store Visit Objective
3. Click and collect

 
Click and collect is now part of the consumer omnichannel purchasing journey and is a service not to be overlooked. It allows customers to buy a product online, from a retailer such as Argos and pick it up from one of their offline stores at their convenience.  
Depending on the availability of the item, a customer can pick it up either the next day or even same-day, putting power into the shopper's hands and giving them reassurance of availability and confidence that they (1) won't miss the delivery and (2) are able to return it immediately if not suitable. This all contributes to a positive customer experience. 
The Google Merchant Centre allows retailers to provide a Click and Collect annotation on their local inventory ads which, as a result, makes your LIAs even more effective, directly connecting online with offline.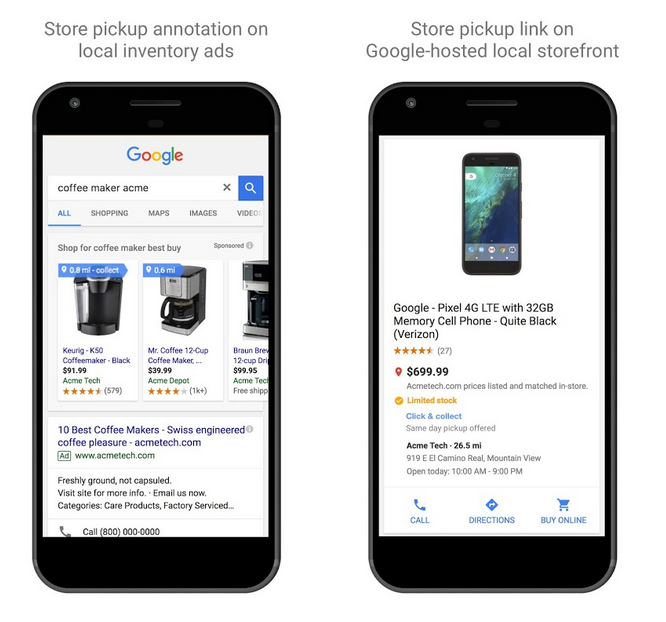 Source: Google

Read more about click and collect in our article:
 4. Pop-up shops
Pure play and concession stores are beginning to play with the idea of an offline presence. Utilising a pop-up to test this during the busiest period of the year is a low-risk, valuable strategy without committing fully to a permanent store. 
However, retailers with physical stores can also use pop-ups to test strategies which combine online and offline.  
In 2011, John Lewis and Waitrose to open a virtual store with a window display showing the retailer's 'top 30 things to buy for Christmas'. Shoppers could scan the QR code and be taken to the product page where they could order for click and collect.  
This year, notonthehighstreet.com, Bleep.com, Curated Crowd and even Amazon trialled pop-up shops and saw a lot of success.
Read our article on pop-up shops to find out more about measuring the success of pop-ups:

How Pop-Up Shops Could Add to an Omnichannel Retail Strategy
Conclusion: The high street isn't dead; nor is it dying
Bricks-and-mortar stores have a crucial role to play in retail, giving consumers an opportunity to see products before purchase and serve as a place where brands or retailers can create consumer centric, immersive environments, that help them connect with the consumer and engender loyalty.
However, the rise of ecommerce, especially Amazon, cannot be ignored and if multi-channel retailers fail to capitalise on how online channels can help offline stores (and vice versa), businesses are going to continue to struggle.
This time, evolution means digitalising, which for many seems like a scary, expensive prospect. Maybe your business can't afford to transform your stores into futuristic Amazon Gos, but there are plenty of options open to you such as Facebook Ads and LIAs, which drive significant results.  
It is important that product data is your first priority when considering an online to offline strategy, as this not only applies to these strategies, but every single ad or listing your business puts out.  
Speak to your CS Manager or one of our Sales team if you are interested in us helping bring your online and offline businesses into sync.
Tags