Online shopping is a booming sector of retail, accounting for 16.3% of all UK retail sales in 2017, which is why a strong, thorough approach to product data feed management and optimisation is necessary as we move into 2019.
Product data quality is the lifeblood of your product ad campaigns, leading to high product visibility, whether you're running Product Listing Ads (PLAs) on Google or Dynamic Product Ads (DPA) on Facebook. Find out more about:
Consumer shopping behaviour in 2019
Shopping, as with everything else has become a multichannel activity that involves a complicated set of steps leading to purchase with 2019 predicted to bring a further uplift in online sales.
A customer may research a leather jacket on Google, look at it and try it on in store, then purchase it through the brand website. It could be the other way around.
Consumers have a variety of channels at their fingertips and many of them are designed to find the cheapest or best value item.
Some shopping comparison services compare products from all over the web and marketplaces such as Amazon or eBay are a favourite amongst consumers because of their quick, cheap deliveries.
The question you need to ask yourself is:
"Are your products everywhere the customer is searching?"
"Are you price competitive on these platforms, and are you seeing results?"

Struggling with bad product data
We are fanatical about the importance of product data, and yes – it's what we do – but its importance is self-evident and proven.
It is central to your product ad performance, no matter which channel you distribute your products into.
Why your product data isn't working well:
Your Google Shopping adsor even whole campaigns are being disapproved.
Your best-seller in-store doesn't sell as well online
Not turning up for keyword searches in Google Shopping
Overspending on ads with little ROI or ROAS.
No uplift in site traffic or conversions
Managed and optimised product data results in:
Your products appearing with relevant consumer searches on all channels.
Shoppers having increased confidence and trust in your products and brand.
Products more discoverable and found in the right category.
Increased clicks and sales due to high-quality images, descriptions and titles.
Higher ROI due to high-performing, more relevant ads.
Despite its central role, however, most businesses struggle with product data.
In fact, according to Ventana Research, over 80% of companies are not confident in their product data. 75% said they have difficulty agreeing on standardisation before they even consider fixing it.
While these statistics are shocking, they're not entirely surprising, and if you work for an ecommerce company, the dilemma might be familiar.
Data management is hard; with hundreds of thousands of SKUs and multiple territories both contributing to messy product data feeds and is further exasperated by swamped IT teams who are too busy to deal with the problems quickly.
The results of a messy feed?
Budget blowing ad spending, irrelevant product ads or ads that don't appear at all, low conversions and poor online sales.
What can be done, then?
Firstly, it's important to know what you need to focus on. There are four main components to your product data:
Title
Image
Category
Description.
Think about your experience with online shopping. What do you like to see? What makes you trust a brand or retailer? What makes you click? … or purchase, even?
These questions will help you create a feed that is SEO centred and relevant to your consumer search and shopping habits.
A small guide to product data management and optimisation
This topic is far too broad to cover in this article, but we've covered it in our ebook: "Six Core Strategies to Get Your Products Found More Often".
Title
The most important component. Thought must go into how exactly consumers are searching, as we mentioned before. What do you search for? What terms do you use?
Would you write "vermillion shirt" or "red shirt"? Consider how easy it is to spell colours; for example: vermillion could be spelled with one 'L' or two.
Image
Again, vitally important, and may make or break a sale. Since the customer cannot feel or try on the product, images must bring the product to life.
Retail site, ASOS, for example provides a video of a model wearing their garment in addition to images. The ability to zoom in is also imperative.
Category
Your products must be assigned to the most relevant category. This will ensure that when consumers make filtered searches, your product will appear. What category would you use to find a product?
Description
Descriptions are your chance to show off your brand image with tone and content and rich, interesting description.
A detailed description providing all the specifics of a product will build trust and help the consumer make up their mind. If you are a retailer, don't just copy from the manufacturers as this may harm your relevancy and, it won't emulate your business style.
We can't tell you the exact way to do things, as each business has a different consumer base who search for different things.
The best way to find out how to optimise is to test variations of these components but we'll talk about experimentation in the third part of this series.
Finding a product data management platform
Product data can be overwhelming and without the right platform on which to manage it, can easily leave you feeling at a loss as to where to start.
Product data management platforms can help you stay on top of your feeds and some provide much more than just product data management.
Intelligent Reach, for example, provides data management and experimentation for your product data feeds.
When searching for the right platform, the following should be considered:
Will using this platform save time and how quickly can they get your products to market?
How easy is the platform to use? Do you need coding knowledge to use it?
How many products does the platform support?
Are products easy to visualise, identify and modify?
How many channels could they distribute to? Are there additional charges for each channel?
Is the product data distributed in optimal format for each channel?
Does the platform validate the accuracy and completeness of your product data?
Can the platform automatically fix many of the commonly occurring issues?
Does the platform have a powerful rules system, enabling you to edit product data at scale, for each partner context?
Does the platform have testing capabilities? Can you measure the performance of different product attributes and how many can you run at once?
What are your data feed export needs? Does the platform enable data feed export to channels such as affiliates and marketing?
In our next blog post, we'll talk about using this optimised product data to benefit your offsite channels such as paid social, marketplaces and affiliate.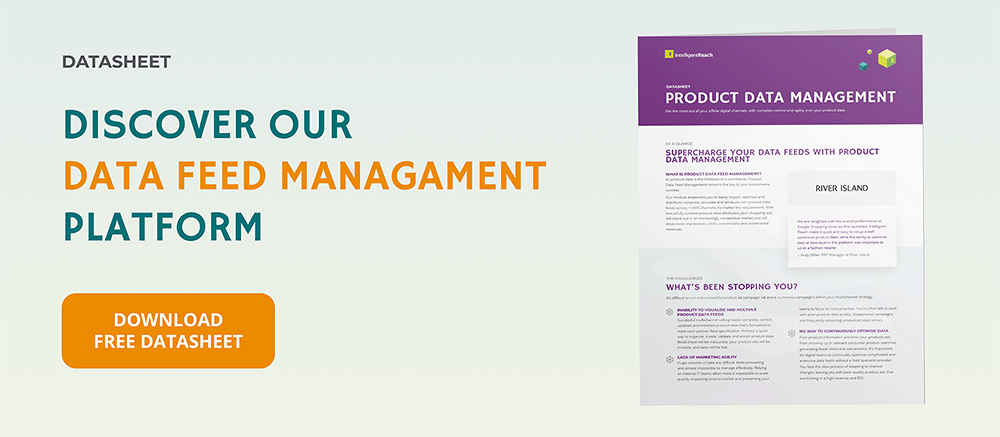 Need some optimisation tips?
Learn more about product data and how it can be used to drive fantastic performance!
Download free datasheet
Tags