You've probably noticed that most Amazon product listings look kind of the same. That's not particularly surprising: They all follow a rather generic template. Amazon's standard product listing sections are very similar, and they're arranged in largely the same order.
If you're a digital marketer or e-commerce manager trying to stand out in the crowded Amazon marketplace, this format can feel quite limiting. Wouldn't it be nice to have the option to decide exactly how you'd like to present your product and brand?
Good news: That option exists!
It's called "Amazon A+ content," and it lets you customise your product listing to a much greater extent.
In this article, we'll look at:
What Amazon A+ content is

How it differs from Premium A+ content

How it works

The benefits of Amazon A+ content

How to get started with Amazon A+ content

A+ content best practices
Let's dig in!
What is Amazon A+ content?

Amazon A+ content is a feature that lets you enrich your Amazon listing with highly visual elements like high-quality videos and images, charts, comparison tables, FAQ sections, and more.
This gives you a lot more say in how your brand and products are presented and lets you provide potential customers with better information to support their purchase decision.
Think of Amazon A+ content as a way to carve out your very own company microsite within the larger Amazon universe. With Amazon A+ content, you get to decide exactly what content to add and how it looks.
How is it different from Amazon Premium A+ (or A++) content?
It's important to make a distinction between the standard Amazon A+ content and the so-called "Premium A+ content," also known as "A++ content."
Premium A+ content takes things a step further, letting companies add even more bells and whistles in the form of interactive images, video loops, gallery sliders, and so on. It's mostly relevant for huge brands and very feature-rich products.
There are two key things you need to know about Premium A+ content:
It's out of reach for most Amazon sellers. First, it's prohibitively expensive, to the tune of

$250K to $500K

per product

. Second, access to Amazon A++ content is currently on an invite-only basis.

You don't really need Premium A+ content. You can get

a lot

of mileage using the free, readily-accessible A+ content elements.
As such, we'll focus on the basic Amazon A+ content for the remainder of this article.
How does Amazon A+ content work?
So how exactly does Amazon A+ content work and who can make use of it? Let's have a look:
1. Eligibility
Not so long ago, Amazon A+ content was available exclusively to Amazon vendors. Other sellers only had access to so-called Enhanced Brand Content (EBC), which allowed them to add a bit of extra text and some basic images to their listing.
As of July 2019, Amazon has rolled EBC and A+ content into one combined feature and made it available to a much wider audience.
Today, any professional seller who's been approved as a brand owner by Amazon will get access to A+ content modules. If you own a registered trademark, you can become a brand owner on Amazon via the Amazon Brand Registry.
Once approved, you'll automatically be able to use Amazon A+ content to enrich your pages.
2. A+ content modules
Amazon divides the A+ content into two broad categories:
Product content (or "Enhanced Product Description")

: This will appear in the "Product Description" section of the Amazon detail page and let you add multiple product images, comparison charts, feature lists, and so on.



The main purpose of these product modules is to provide customers with an in-depth look at a specific product and preemptively address any of their product-related questions and concerns.
Brand content: This will show up in the "From the Brand" section and includes modules like carousels with full-page backgrounds, images, and links to your brand's other products. The purpose here is to further expose customers to your brand as a whole.
Here's the full list of available Amazon A+ content modules: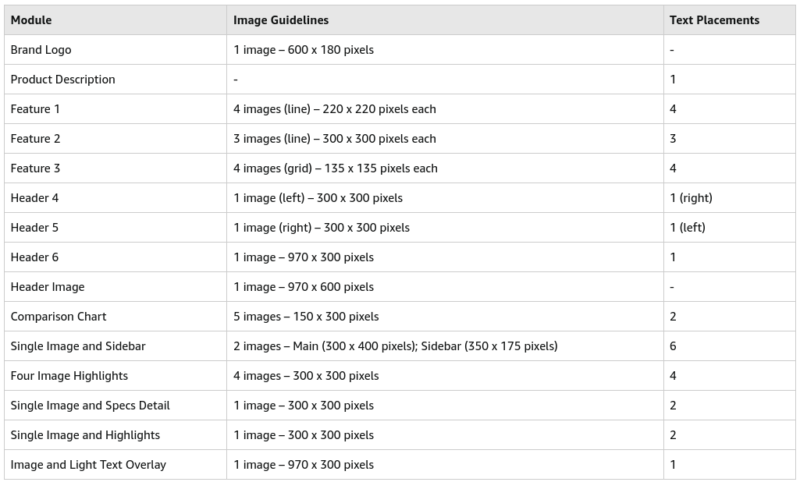 Image credit: Amazon
3. Appearance (and Amazon A+ content examples)
Your Amazon A+ product content will become an extension of your "Product Details" section and will display a selection of images, videos, and any other modules you've decided to use.
Here's how a retailer called Linenspa uses A+ content on Amazon: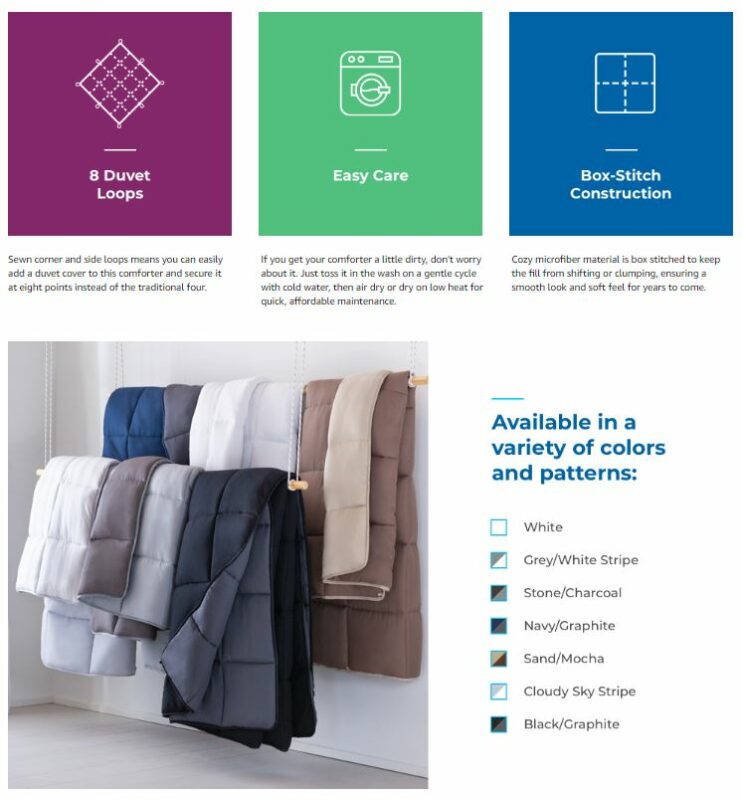 Image credit: Sellics.com
It's easy to see how much more visually pleasing and skimmable A+ content is when compared to the standard Amazon fields.
The benefits of Amazon A+ content
In addition to looking pretty, Amazon A+ content has a number of clear benefits:
1. Improved sales and conversions
To get the most impactful benefit out of the way first: Yes, Amazon A+ content helps your products sell better.
This makes sense intuitively: The better the presentation and the higher the level of product detail, the more confident your buyers will be in their purchase decision.
2. Increased exposure
If nothing else, having a more visually appealing page helps your products get noticed. Bold, high-definition images and videos will grab attention. Well-organised and carefully structured comparison tables and bullet lists make the page more skimmable.
The end result is an Amazon listing that stands out from the pack and attracts additional attention.
3. Better customer reviews
Extra A+ sections like comparison tables and product FAQs let you accurately answer any detailed product questions directly on the Amazon page, before your customers ever click the "Buy now" button.
Because of this, these customers are less likely to be surprised or disappointed by the product's features when it arrives. This can help to reduce the number of negative product reviews and help push your average ratings up.
4. Lower rate of returns
This is related to the above point. If your customers know what they're getting in advance, there'll be a much lower risk of them having to return the product because it didn't live up to their expectations.
This lowers your rate of returns and lets you focus your efforts on improving and marketing the products instead of dealing with the logistics of the returns process.
5. Effective cross-promotion
As mentioned, Amazon A+ brand content allows you to link to your other products and even your brand store.
This does wonders for your cross-promotion, as your every product with A+ content automatically helps to promote your other items as well as your brand as a whole.
Make sure to capitalise on this opportunity by adding your popular, high-margin items to the relevant A+ content modules.
6. Built-in A/B testing
Amazon has recently introduced a "Manage Your Experiments" feature. This works just like any other A/B test (or split test) and lets you serve different versions of your content to see which one performs better.
A+ content is included in this testing framework. This gives you the opportunity to play around with different layouts and levels of detail to determine what drives the most sales for your brand.
So out of the box, you get to tap into Amazon's huge volumes of traffic to quickly evaluate your content and make improvements.
7. Protection from counterfeits
This isn't an explicitly stated benefit of Amazon A+ content, but it can indirectly help you fight counterfeits.
By claiming your brand presence with unique A+ content, you can visually highlight the difference between your own products and any potential fake versions flooding the marketplace.
Third-party copycats are unlikely to qualify as brand owners for your range of products, making it impossible for them to gain access to the same A+ content real estate as you.
How to get started with Amazon A+ content?
Now that you know why you should go for Amazon A+ content, let's take a more careful look at exactly how to go about it.
A+ content setup basics
Amazon already provides a detailed guide to creating A+ content, but let's cover the key highlights here.
To access the A+ modules, you'll have to navigate to the Amazon Seller Central and click on "Advertising" > "A+ Content Manager" in the dropdown menu: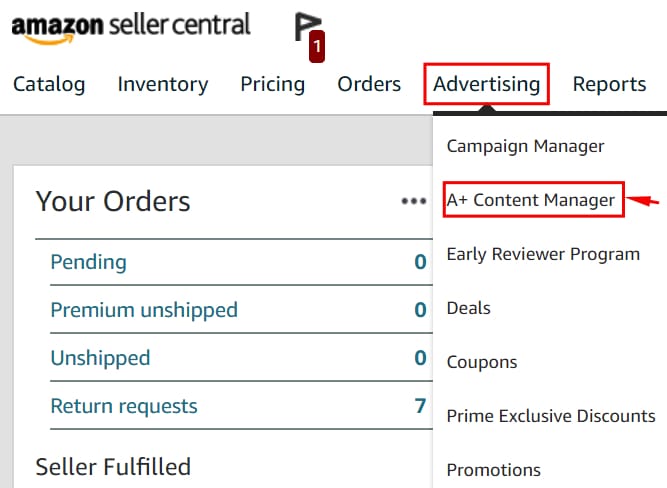 Image credit: SellerApp
From here, click on "Start creating A+ content" to choose between the "Enhanced Product Description" and "Brand Content" options we've discussed above.
Once you've decided on the type of content, you'll have two main paths forward:
Self-service modules

: This is the DIY option that lets you customise your A+ content exactly how you see fit.
Amazon builds for you

: This is the automated, quick-start version for those who don't wish to work on their own content. You simply upload the necessary files and content and let Amazon take the wheel.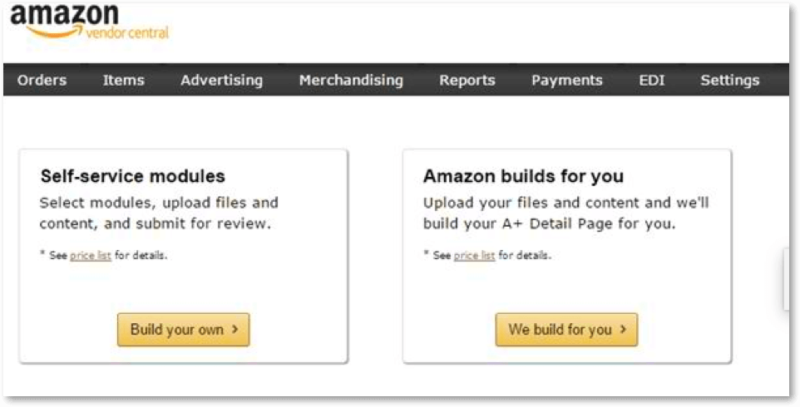 Image credit: SellerApp
While it may be tempting to let Amazon handle everything, we strongly encourage you to build your own A+ content. Nobody knows your brand and products better than you, so only you can truly create A+ modules that accurately represent your portfolio.
Once you select the "Self-service modules," you'll be able to access all available A+ modules and customise these to your liking.
Amazon A+ content templates
While we do advise you to build out your own A+ content, there's no shame in getting a bit of initial help with the structure.
Luckily, there's no shortage of Amazon A+ content templates out there, if you're looking for that initial spark of inspiration.
A+ content guidelines
Amazon has a long and detailed list of A+ content guidelines.
To summarise, here are the main things to be aware of:
Follow the formatting guidelines for images

Make sure to submit alt-text that accurately describes each image

Don't reuse standard Amazon images for A+ content; use unique ones.

Pay attention to the strict restrictions on the use of awards, endorsements, certifications, etc.

Don't make comparisons between yours and competitors' products

Avoid hard-sells and promotional language. Focus on accurately describing the products.

Avoid any links to external sites

Amazon A+ content best practices
When putting together your A+ content, here are a few best practices to keep in mind:
1. Get your underlying product data in order
While it's easy to get carried away with all the rich content options, it's crucial to remember that no fancy A+ page is worth much if your product feed is broken. Then all you'd be doing is putting lipstick on a pig. A clean data feed is the core of your product listing, so don't neglect it.
Before you begin customising your A+ content layout, make sure your Amazon product data is as accurate and enriched as possible. This means having the right product descriptions, tags, category allocation, and so on.
If in doubt, you can always turn to a platform like Intelligent Reach, which automatically manages your Amazon product feed, keeping it optimised and updated.
2. Focus on the right products
At any given time, you can have up to 20 product ASINs (Amazon Standard Identification Number) awaiting A+ content approval.
If you have a broad Amazon catalogue, you may struggle to decide which products to first give the A+ content treatment.
To help you prioritise, start by focusing on making A+ content for the following:
Your best-selling products

Complex products that will benefit from enhanced visuals and info tables

Products that best represent your brand

Products you're driving paid traffic to (e.g. seasonal promotions or paid Google or Facebook campaigns)
3. Keep it short and simple
Don't get carried away chasing every available A+ option. Your main goal is still to tell the product story as effectively and efficiently as possible.
As such, lead with images and other visuals, reduce and simplify your copy, and let clear comparison tables and feature bullets do most of the talking.
4. Lean on existing customer reviews
While it's true that the A+ content guidelines severely restrict you in the use of third-party quotes, you can still draw insights from them.
Go through your existing customer reviews and take note of the following:
Specific product features that seem to be especially popular

The customers' biggest concerns and pain points

Things that cause confusion or raise questions
This gives you a wealth of information to incorporate into your A+ content. You can highlight popular features in a bullet list, address common questions with an FAQ section, and so on.
5. Stick to a shared layout and design identity
In order to be able to easily scale your efforts, try to limit the amount of A+ content templates and designs you use. This is especially true if you're selling dozens of different products.
Sticking to the same design identity lets you reuse a lot of the A+ content elements while also helping you communicate a consistent brand story across your entire portfolio.
Get more out of your Amazon A+ content with Intelligent Reach
At Intelligent Reach, we believe that product data can make or break your digital sales strategy.
Your Amazon portfolio is no exception. Our platform lets you:
Set up a one-off integration to generate product feeds for Amazon (and 1,500+ other marketplaces and sales channels)

Automatically keep your Amazon feeds in line with any new requirements

Sync accurate inventory and order info via a dedicated Marketplace Management module

...and much more
If you're serious about Amazon success, feel free to book a demo.
Let us handle all the Amazon product feed basics, so you can focus your energy on what really matters: increasing sales and conversions via outstanding A+ content.

Need help getting your Amazon product listings in order?
Do it with the Intelligent Reach platform!
Book a free demo
Tags