Want to push your in-store footfall? Google Local Inventory Ads and Facebook Store Traffic Ads are some of the most powerful ways to get online shoppers to convert in your offline stores.
Local adverts, or Google Local Inventory Ads (or LIAs), are a bit like the classified adverts that used to appear in the back of your local newspapers. Remember them? There'd be a picture of a local shop, a promoted item or two and some enticing marketing copy   ("Shop at Marty's Meats. 10% off sausages all weekend!). And, of course, the address of the shop. 
The digital equivalent of those old-fashioned newspaper adverts have the same objectives as the originals - that of driving new customers to a nearby shop - and pretty much the same components.
There is a shop, with a physical address, some promoted items and marketing copy that pushes the benefits of those products to the viewer of the ad.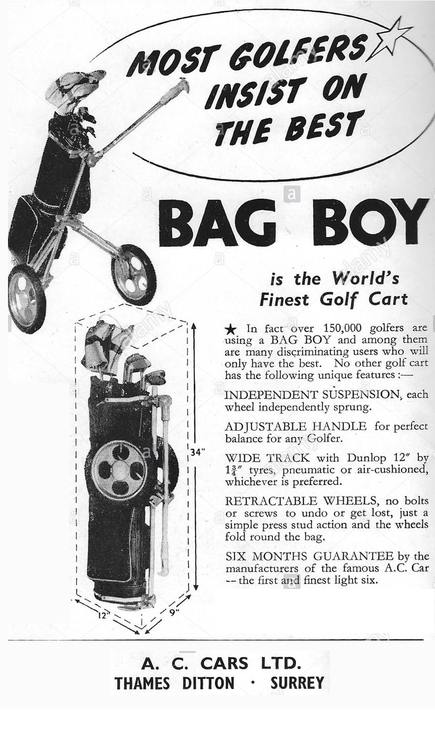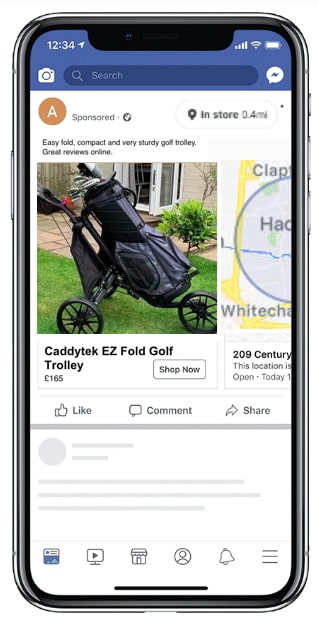 An old-fashioned newspaper classified versus a new-fangled digital local advert
On the face of it, then, nothing much has changed. But after years of enticing retailers' marketing budgets away from their physical stores, Google (with its local inventory ads - LIAs) and Facebook (with its dynamic adverts for retail or local ads) are asking us to turn back the clock and send online customers back to the high street. In doing so are they flying in the face of commercial reality?
Online stores are demonstrably more efficient than bricks and mortar outlets. That is undeniably a contributing factor to the loss of more than 1750 chain store outlets from our high streets and shopping centres in 2020.
Fashion retailers were the hardest hit with more than 1,100 disappearing from the high street - names such as Laura Ashley, Warehouse, Oasis and Jaeger - and additional closures from Debenhams and Arcadia Group brands due to add significantly to this number.
Despite this, some of the UK's biggest retailers continue to buck the trend.
Named as Omnichannel retailer of the year by retail week and highly rated in other influential reports, Argos was an early pioneer of so-called 'clicks and mortar'. Rather than closing its physical stores, it set about updating them as destination sites for online purchasers, adding click and collect, and even a 'Fast Track' counter to service this new breed of customer.
"Online sales account for around a third of the total sales of the top 30 multichannel retailers, which means the remaining two thirds is still generated in store." Retail Week
Retail Week says that Argos now generates half of its sales online, and that three quarters of those orders are collected in its stores. What's more, click and collect customers are reported to spend twice as much as offline shoppers.
None of this would have been possible without the integration of the disparate areas of the Argos business into a coherent whole, so that customers and staff can view the availability of any item at every store at any time.
Of course it's one thing for a retailer to achieve this level of integration across its own websites, mobile apps and retail stores, and quite another to extend it to its external advertising. That is the promise, or at least the goal, of Google and Facebook with the latest incarnations of their local adverts.
Fashion retailers such as River Island were the first to adopt Google Local Inventory Ads back in 2016, and they saw impressive increases in store visits (17%) and sales (33%) while return on ad spend (ROAS) rose by 15%.
Fast-forward to 2020, and Google revealed that 65% of shoppers now intend to use online to confirm if an item is in stock, before going to a store to buy it.
True visibility of local stock information in online creative is the holy grail of this new generation of digital local adverts. And, remember, this is an addition to existing dynamic product advert features already offered by Google, Facebook and, to a lesser extent, marketplaces like eBay.
In this context, let's look again at a comparison of old and new classifieds. 
Key differences between old newspaper classifieds and new digital local ads
CREATIVE

(The creative visual of the ad audiences will see)
FORMAT
Old-fashioned classified advert.

Single product. Single shop.
Google Local Inventory Ads (LIAs)

Thousands of products, each with stock level, for potentially thousands of locations. A map of nearest store.
Facebook store traffic ads

Thousands of products, each with stock level, for potentially thousands of locations. A map of nearest store.
GEO TARGETED
Yes. Local so targeted to local residents.
Yes. Local so targeted to local residents.
Yes. Local so targeted to local residents.
HIGHLY TARGETED
No. All readers see the same advert.
Yes. Target radius can be edited to reach users very close to a physical store.
Yes. Target radius can be edited to reach users very close to a physical store.
DYNAMIC
No. All readers see the same advert.
Yes - dynamic so there are different products in each advert, triggered by each suer's current search.
Yes - dynamic so different products in each advert as triggered by each user's browse history.
WASTAGE
Very high not all readers will be interested in a limited range of products.
Very low. Users are targeted with the products they just searched for AND they are currently close to a store.
Very low. Users are targeted with the products they recently browsed AND they are currently close to a store.
ROI
Limited.
High. Combines efficiencies of online targeting and order processing with the upselling opportunity of a store visit.
High. Combines efficiencies of online targeting and order processing with the upselling opportunity of a store visit.
How do the different variants of local ads work, and what are the implications for product feeds for each variant? 
So how does it all work? How does all this product and stock information make its way into your Google Local Inventory Ads and Facebook store traffic ads, and your eBay marketplace campaigns?
Perhaps the best way of understanding local adverts, and all the other types of dynamic product adverts that are available, is by looking at their common components:
The creative layer. This is an HTML container, or shell, that sets out the font styles and picture sizes, and contains references to dynamic features, like maps and hyperlinks, that the advert requires for its functionality and its look and feel.
The product data feed. This is a spreadsheet or similar file that contains all the data about the products the retailer sells, complete with regularly updated pricing information and important additional attributes such as colour, size, brand etc, (many of these attributes are mandated by the platform owner Google, Facebook, eBay and Amazon etc and need to be heavily optimized in your product data feed for each platform). The product data in this feed is what drives the relevance and, therefore, the visibility of your product listings on search engines and it should be optimized thoroughly before you even consider running Local Inventory Ads. We've covered the process of product content syndication and optimising product feeds for Google, Facebook and various marketplaces adverts previously
In this article we will be focusing purely on the additional steps required to add a local inventory feed (or feeds) to dynamic product adverts to create dynamic local adverts that take full advantage of geo-targeting and click and collect.
Local inventory feeds. These are the additional feeds that are required for local adverts. They reference the location of all the stores you want to include in your local ads, and the stock level of every product available at each of those locations. Google, Facebook and eBay all have a different specification for inventory feeds, but they each have a fairly simple structure, requiring essentially store ids, product ids and the quantity of each product available at each store (the actual address of each store has been uploaded in a separate process – see below)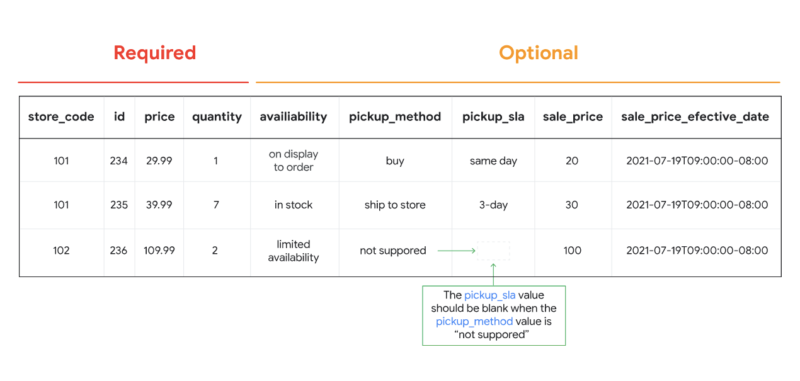 Facebook requires a separate product/inventory feed for each store, containing every product and the quantities available there
With potentially hundreds or even thousands of store locations, and stock data required for every product at every one of those locations, the local inventory feed powering Google adverts can run into hundreds of thousands, perhaps even millions, of rows. With a separate inventory feed for each location, Facebook feeds tend to be of a more manageable size, but there are more of them to update, usually several times per day!
How to create your Google Local Inventory Ad feed
This article assumes you are already running Google Shopping campaigns / product listing ads (PLAs) and as such you'll have set up Google Merchant Centre already.
Just to briefly touch upon how Google Shopping /PLAs work: they take the form of dynamic product adverts that have access to all of the products in a retailer's product data feed. Every time there is a product search on Google Shopping (and other channels) the page responds with adverts from retailers whose feeds contain matching products. This is the reason why optimizing feeds for Google search terms and attributes is so important.
Google Local Inventory Ads are an extension to these product campaigns, in that they use product matching AND location matching to deliver product adverts targeted to an individual store. As such, they require retailers to:
Activate Google My Business (GMB). GMB is a free tool that allows businesses to be found on Google search, maps and Google+. The business information provided in your Google Local Inventory Ads (and about your store locations generally) is updated here.
Claim your GMB listing and upload the following key information:

Business name
Opening hours
Contact details
Description of business
Category, e.g. retailer, restaurant etc.
Address
Images/videos
Location
Attributes such as "free wi-fi" and "wheelchair accessible"
Website URL
Inventory information for all your business locations
Google also provides insights into your business listing, so you can see how it's doing and how often people view it.
Activate Local Extensions
This is an important step, as it displays the address and location of your stores on a map and the distance of the shopper from your nearest store.
Activate Click and collect
When offering click and collect in your Google Local Inventory Ads, this process works best when the retailer opts for the most sophisticated option, the merchant hosted storefront. This means that while Google's adverts display your store locations and availability data, the actual order is placed one click away, on your own site.
According to Mark Batson, delivery director for Intelligent Reach, which manages the inventory feed for Argos LIAs, "It's actually a pretty simple structure…
Product ID | Store ID | Quantity | Price
1234 | ABC1 | 10 | 10.99
…but there is just a huge number of permutations (number of products x number of stores) so often the data runs into the high 000,000's or even millions. Argos, literally send us every stock change within seconds of it happening via an API. We then batch that up into hourly updates to Google. Other retailers tend to send us between one and four updates per day. 
Batson, confirms that the Google process has been simplified, or rather consolidated around a single file, but that can lead to increased complexity in feed management:
"The main stock element is now rolled up with the product data and we can use a flagging system to flag products that are or are not available online/in store. Labelling (and the accuracy of it) becomes increasingly important in that instance."
That is derived from a separate data feed that contains actual inventory data and also provides checks and balances. It tells Google there are X number of units available of a product in store Y.
For each product in a feed that is opted-in to 'pickup today', retailers must offer same day or next day pickup from the time the order is placed. Here's how the process works according to Google:
A customer clicks a Google Local Inventory Ad with distance annotation plus pickup availability text.
Google passes a Google My Business store code where an item is available at the retailer.
The retailer generates the store customized landing page for the clicked product.
On the retailer's website, the customer then has the option to buy or reserve the product online and pick it up at the store nearby.
Retailers must direct users to the store Google passes in the URL generated by the user's click, even if they can detect the user's location for themselves.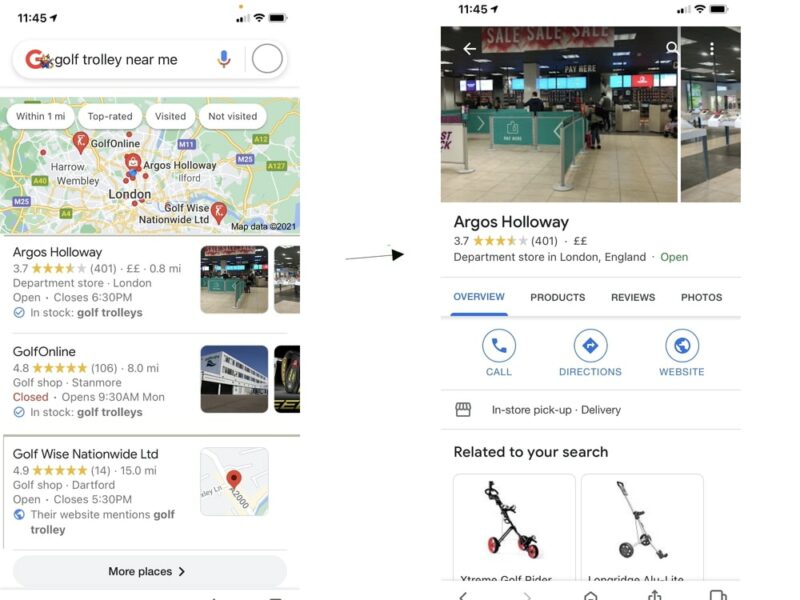 Several retailers have matching, local products. In this example, Argos is chosen
The Google Local Inventory Ads themselves appear as a set of matches that, critically, give the location of each store that with a matching product, and (where the data is available from the retailer) confirms whether the searched for item is in stock. Clicking on an entry leads to a storefront for a specific retailer with more detailed product listings and the option to buy. 
---
Google Local Inventory Feed Instructions
To create a local product inventory feed, go to the Feeds section under 'Products' in Merchant Center. At the top of the supplemental feeds table, click Add local product inventory feed. Follow the prompts and provide the following pieces of information about your data:
Scheduled fetch: You'll host a file on your website that contains data and schedule a regular time for Google to fetch updates. Updates are only applied to your account when the fetch occurs. Learn more about submitting feeds via scheduled fetches
Upload: You'll keep a file on your computer that contains data and regularly upload it to your account through SFTP, FTP, Google Cloud Storage or a manual upload. Learn more about uploading feeds
---
How to create a Facebook Store Traffic feed
In Facebook store traffic adverts the product data and local inventory information is combined into a single feed, with a separate feed required for each store location. This means that, as with Google LIAs, your Facebook store traffic ads will only work well if your product data is highly optimized for the platform.
We've covered Facebook dynamic product adverts in previous articles, but as a brief reminder about how they work, they are based primarily on behavioural retargeting. Retailers place FB retargeting pixels on their e-commerce site. The pixels track the products each user browses on the merchant's site. Then, when that same user turns up on Facebook, they are shown adverts that act as reminders about those same products. Of course there are many variations on this theme: retailers can upload their own customer data to create custom audiences, they can ask Facebook to create lookalike audiences that are similar to existing customers, they can display lookalike products and they can choose from a range of creative templates. The key thing is that, with the addition of store locations and local inventory data, a dynamic product advert can be set to trigger when a targeted user is close to a physical store.
Carousel ad format
Probably the best creative template for local adverts is the carousel. This scrolls automatically across ten screen widths, allowing multiple retargeting products to be shown as well as a map showing the nearest local store.
The key processes are:
Add your store locations to Facebook before you create store traffic ads. Remember to add business hours for each store.
Five key stages
Open Store Locations in Business Manager.
 Select Create+ in Ads Manager
Select Store traffic as your marketing objective
Select your budget optimization preferences
Select your store set
There are a few more relatively minor stages to review and fine tune your adverts, but substantially this is all that's required to create a store traffic ad campaign.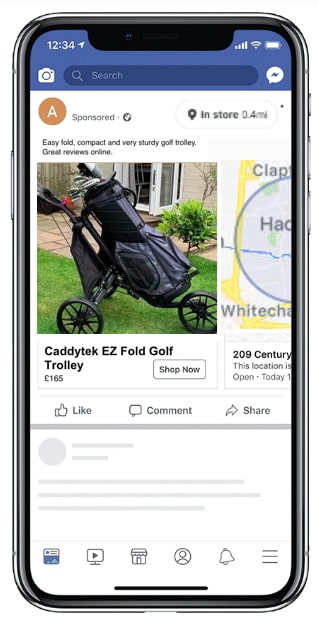 NOTE: The Facebook store traffic advert and feed spec look very like a dynamic product advert and feed spec except for the inclusion of location and availability.
It's a simpler structure than Google's, but then a separate store-specific version of this file, showing the availability of each item for each store, has to be uploaded for every location:
| | |
| --- | --- |
| Field | Description |
| id | A unique content ID for the item. Use the item's SKU if possible. Each content ID must appear only once in your catalog. Character limit: 100. Note: To use this item in dynamic ads, this ID must exactly match the content ID for the same item in your Facebook pixel code. This tells us it's the same item in your catalog and on your website. Example: 12345 |
| title | A specific, relevant title for the item. See product title specifications. Character limit: 150. Example: Blue Cotton T-Shirt |
| description | A short, relevant description of the item. Include specific and unique product features like material or color. Use plain text (not HTML) and don't enter text in all capital letters or include any links. See product description specifications. Character limit: 5,000. Example: Royal blue women's T-shirt in organic cotton. Relaxed fit. |
| availability | The current availability of the item. Supported values: in stock, available for order, out of stock. Note that if an item is out of stock, it appears as out of stock in sales channels and doesn't appear at all in ads. Example: in stock |
| condition | The condition of the item. Supported values: new, refurbished, used. Example: new |
| price | The price of the item. Format the price as a number, followed by a space and then the 3-letter ISO 4217 currency code. Always use a period (.) as the decimal point, not a comma (,). Don't include currency symbols such as $, € or £. Examples: 9.99 USD or 7.99 EUR |
| link | The URL of the specific website page where people can learn more about or buy the item. Links must be valid and begin with http:// or https://. Example: http://www.jaspersmarket.com/products/shirt |
| image_link | The URL for the main image of your item. Images must be in JPEG or PNG format, at least 500 x 500 pixels and up to 8 MB. See product image specifications. Example: http://www.jaspersmarket.com/products/shirt.jpg Note: If you change the image later, the new image must use a different URL or the change won't be recognized. |
| brand | The brand name, unique manufacturer part number (MPN) or Global Trade Item Number (GTIN) of the item. You only need to enter one of these, not all of them. For GTIN, enter the item's UPC, EAN, JAN or ISBN. Character limit: 100. Example: Jasper's Market |
---
Click and collect - so good they named it four times
Click and collect, also known as clicks-and-mortar, o2o (online to offline) and sometimes BOPIS (buy online pick up in store), has many benefits but also many challenges, most of them related to the cost of running physical stores and the difficulty of integrating them with e-commerce processes.
Even omnichannel pioneers like Argos have not been unequivocal in their commitment to the high street. Last year, Argos announced plans to open 350 more Argos stores in Sainsbury's and Argos collection points in supermarkets and convenience stores by March 2024. But at the same time it said there was less need for Argos standalone stores and will close around 420 branches.
Here are some of the key challenges of BOPIS, according to Forbes:
"A robust order management system (OMS) with enterprise inventory visibility is essential for an optimal BOPIS and customer experience. The OMS allows retailers to alert consumers that their order and payment are received and when their order is ready for pickup, empowering store associates to deliver personalized customer service, enhancing the customer experience and brand loyalty.
Stores must be appropriately staffed to support both in-store foot traffic and ecommerce order fulfillment, and associates must be adequately trained to deliver the optimal consumer experience. A lack of resources when leveraging BOPIS can do more harm than good for the brand if the bandwidth and training are not available to provide exceptional service.
Retailers must consider what changes need to be made to ensure logistical challenges are addressed before implementing BOPIS. This includes requisite communication, alerts and clear instruction to both consumers and store associates for a unilaterally easy, efficient BOPIS experience. And stores must also ensure adequate infrastructure, including dedicated parking, kiosks, storage and signage to enable easy navigation and the best customer experience."
Of course this also brings a real-time component to your feed management requirements i.e. inventory feeds need to be as real time as possible. Each feed needs to be optimized for each advertising/marketing platform and updated several times per day.
Against all this operational cost and upheaval, the best reason for investing in BOPIS is that so many customers demand it.
According to a US report The state of BOPIS 2021 by leading experience management platform Raydiant:
75.4% of respondents have used BOPIS at least once.
56% of respondents have used BOPIS 6 or more times in the past year
8.2% have used BOPIS 20 times or more.
And according to Business Insider Intelligence:
50% of shoppers said that they actually decided where to buy online based on whether they could pick their orders up in a physical store.
48% of shoppers said that saving on shipping costs was their key reason for using BOPIS. Speed (39%) and convenience (28%) were the two next most cited reasons.
Tellingly, 85% of shoppers said that they'd made an additional in-store purchase while picking up an online order. 15% said that they do so "somewhat frequently."
This tells us that BOPIS isn't merely popular with customers it can be highly profitable for retailers as well, as a driver of additional sales.
The new thinking is that an offline presence can be complementary to a successful online presence in the emerging omnichannel world. One of the shining examples of this is Halfords which has continued to thrive during the recent difficult trading conditions.
In its 2021 Interim financial report Halfords recently stated that its online sales grew by 148%, with Group revenue growth of 9.6% and profit before tax of £56.0m. Halfords has previously said that 85% of products ordered over the Internet were picked up in its stores.
Chief executive Graham Stapleton said he was very pleased with the trading performance in "one of the most challenging trading environments in recent history".
He added, "We will be training 100 more electric car technicians next year, bringing the total to 470. In addition, we will be growing the number of e-bike and e-scooter servicers in our stores from 400 to over 1,800."
Or as one analyst put it. "The customer buys a windscreen wiper or a bike light on the Internet, they pick it up in store, Halford fits it… and then services their vehicle while they wait. You don't get more omnichannel than that!"
---
10 benefits of Google LIAs and FB Store Traffic Ads
A click and collect sale is still an online sale, with all the targeting options, sales efficiencies and reduced cost of sale that that usually entails. The only difference is that the customer doesn't have the product delivered to their door.
Local ads add geo-targeting to existing search and behavioural targeting adverts, so they appear when a user is in market AND close to your store.
Local ads are typically shown to users who have requested a nearby pick up. So these users are self-selecting and they are clearly telling us they want shop in a local store.
Some customers can't wait for next-day delivery. They need the product today and can only be served by local pick up or same-day delivery.
Most customers choose to buy-online-pay-in-store (BOPIS) to save on delivery costs. Reducing the number of home deliveries saves retailers money too as the last mile is the most expensive.
Exposing new customers to physical store (or stores) is effectively a free upsell opportunity. Click and collect customers are new customers who spend more in stores than regular visitors.
Customer collections lead to reductions in cost of sale, fraud and even returns (those caused by obvious picking mistakes such as wrong item, size, colour etc).
The customer is always right.
Happier customers = healthier brand.
Increased targeting = better performance = greater ROI.
Want flawless Google Local Inventory Ads and Facebook Store Traffic Ads?
Our platform is powerful in creating and optimising your product data feeds to boost feed health and improve ad relevancy. You'll build flawlessly geo-optimised feeds to dominate "near me" queries to drive product visibility, test your product ad content to see what does and doesn't work, use your store information & inventory data to create a seamless shopping experience, have instore upselling opportunities to double sales and gain marketing agility through your ads. Book a demo now and our experts will show you the power of your platform.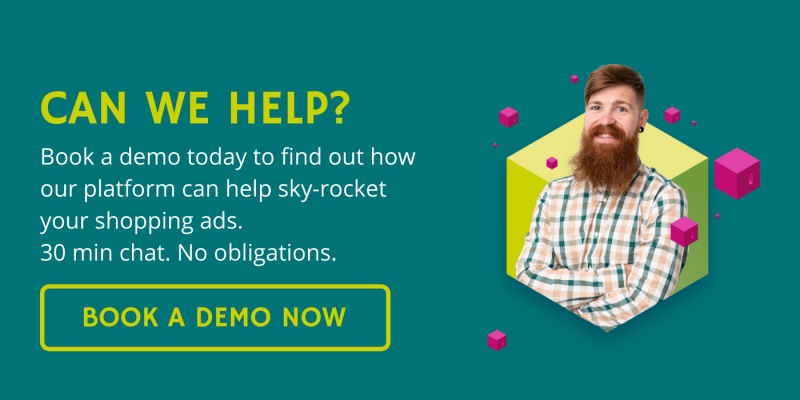 Tags