Instagram recently introduced a new way to shop on their app and users seem to like it – in fact, BigCommerce reported a 1,416% increase in traffic for businesses using Shopping on Instagram. This article will explain how to start selling on Instagram with the help of your Facebook product feed.
What is Shopping on Instagram?
Before Instagram became a new way to shop, the social platform was just that; a way to connect with others taking pictures of sunsets and selfies. Now, it's become a way for businesses to connect with those users and use their obsession for a good filter and angle to sell products.
In March 2017, the social platform released Shopping tags for business profiles. These tags included the name of the item and price and when users tapped on the tags, it took them directly to the retailer's product page. This is what they look like: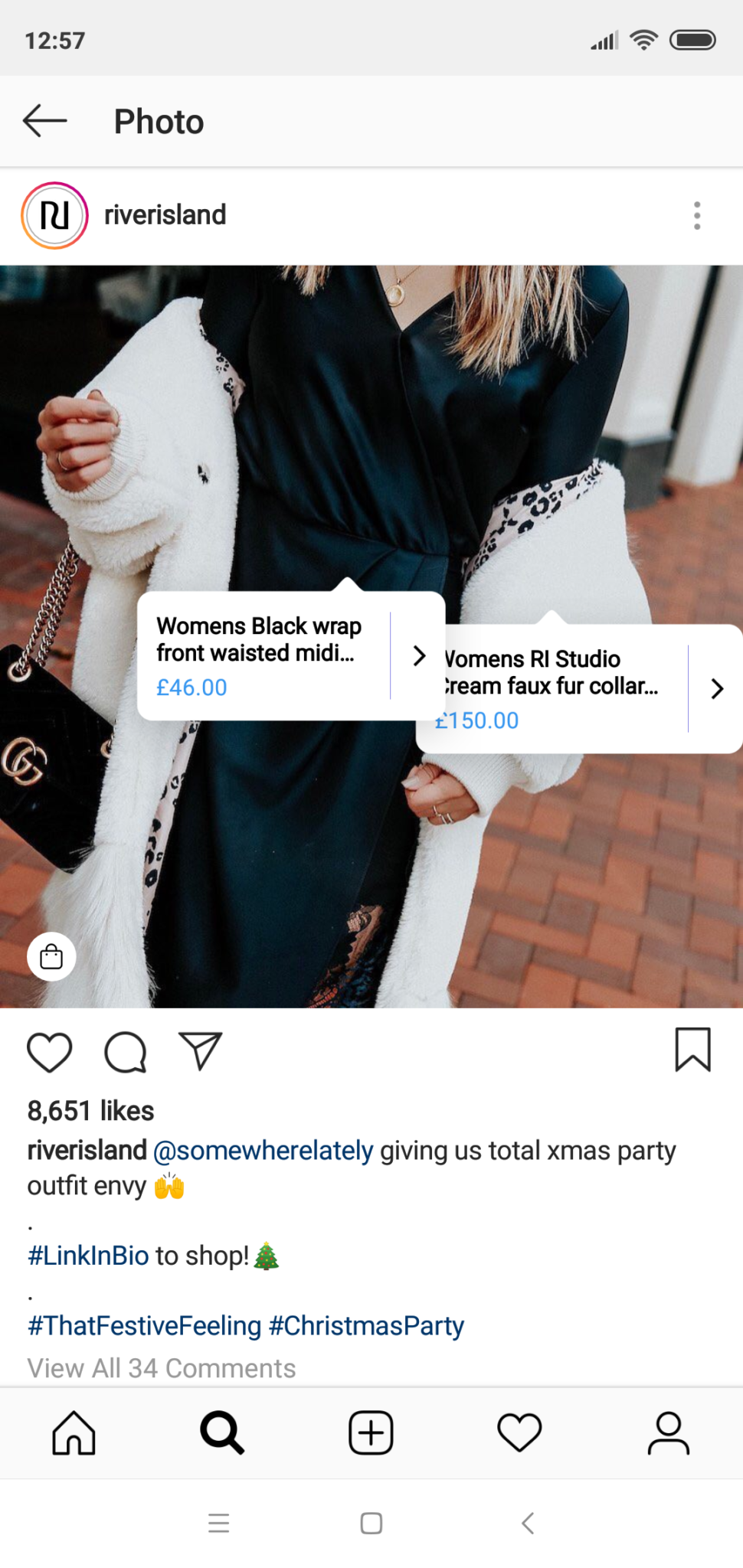 Now, in addition to these tags, Instagram has released a separate Shopping tag for profiles. Clicking on the 'Shop' tab will take you to the catalogue where you can view all Shoppable items. Clicking on one of these ads will give you the option to view the product page on the retailer's website.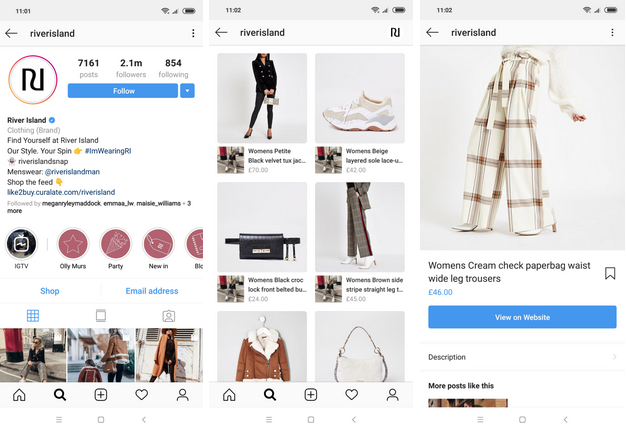 As well as introducing the Shop tab on these business accounts, Instagram has rolled out two new features.
Shopping in Explore
An important part of any ecommerce experience is personalisation to the consumer's tastes so that they see only what they might be interested in. Instagram has released a shopping topic channel in explore so that users can browse Shoppable items.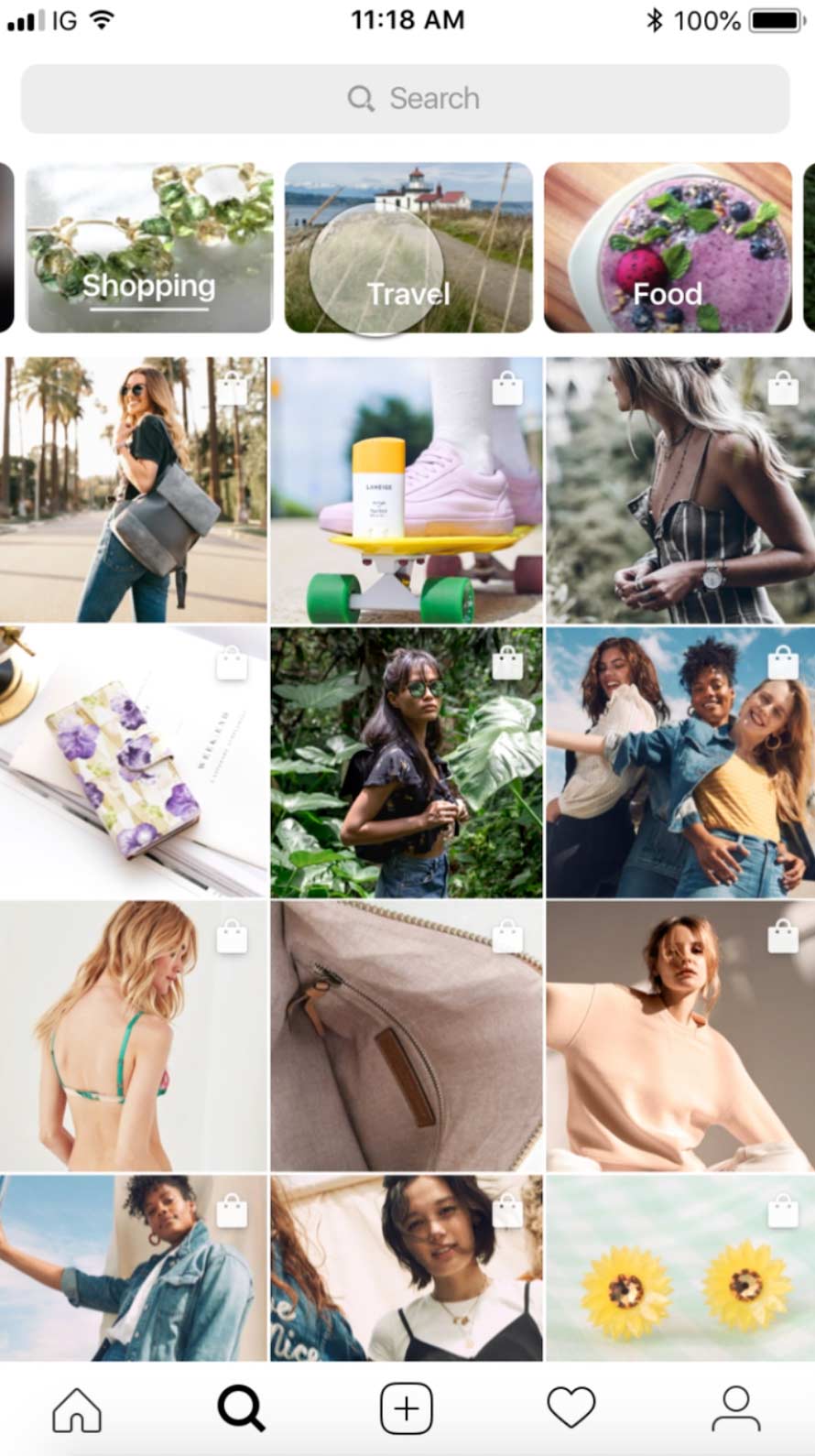 Shopping in Stories
Seeing the success of Instagram Stories, with over 400 million accounts using the feature daily, the social media platform rolled out a way for business profiles to make their Stories Shoppable.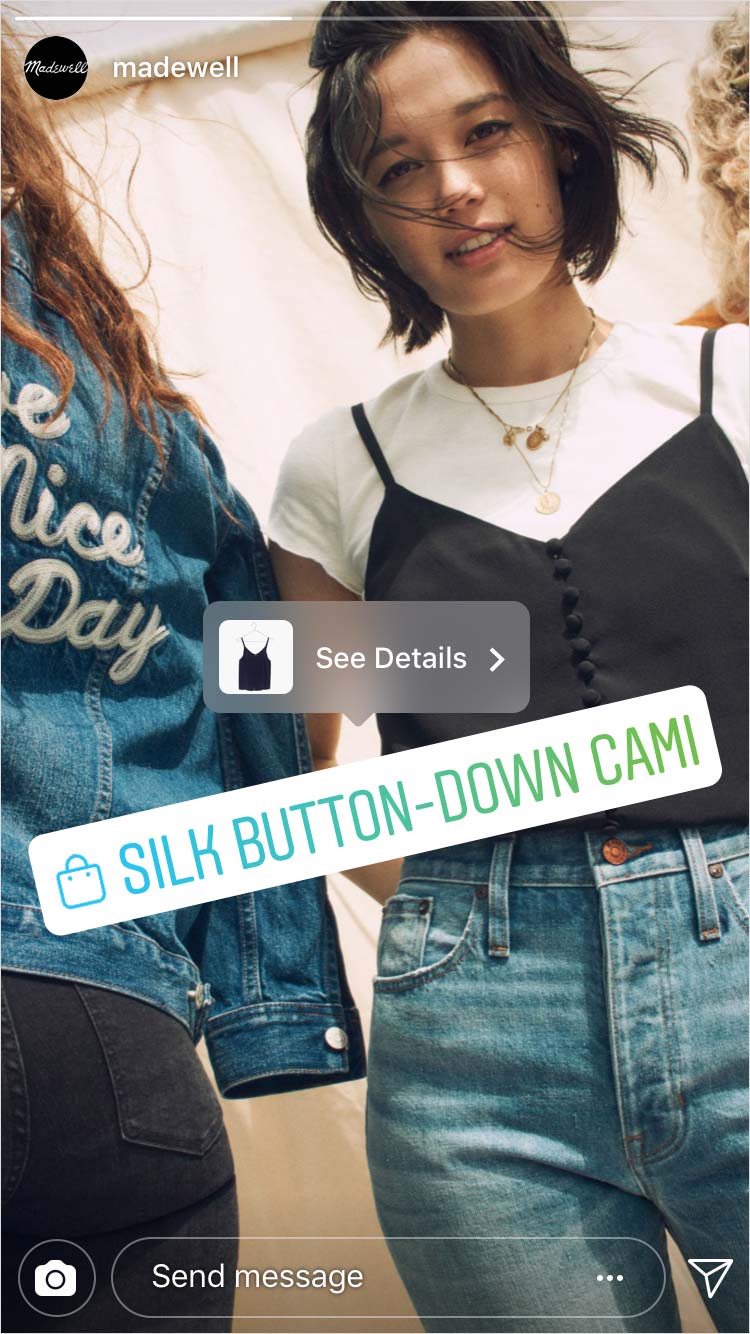 Are Instagram Shoppable posts important for retailers?
The social media giant is growing faster than ever, catching up to the Facebook app with a whopping 1 billion monthly active users(up from 800 million in September last year).
That's a huge audience for your business and something many are starting to take advantage of, including retailers such as River Island, Topshop, Lush Cosmetics and Sophia Webster. These retailers all have one thing in common: they sell aesthetically pleasing products, perfectly suited to the image-led social media platform.
In addition, Product Manager at Instagram, Layla Amjadi, mentioned:
"People consistently cite that one of their favourite things to do on Instagram is to shop"
So, while it's not going to be important for all retailers and brands, those who can generate like-worthy and attractive images with their products should read on.
Getting started with Shopping on Instagram
Before you even consider selling on Instagram, it's important to know that your Instagram Shop will be fed from your Facebook Business account. This requires that you create (if you don't already have) a Facebook product feed. This is will be explained in point #2.
The Intelligent Reach Platformcan create feeds for both your Instagram and Facebook accounts.
1. Fulfilling Instagram basic requirements
Before you can begin, you must ensure your Instagram account and business fulfils these basic requirements:
1. Your business must be located within participating countries.
2. Your Instagram account must first of all, be for a business that sells physical goods, secondly, have a business profile and third, comply with the social channel's commerce policies.
3. No age or country restrictions can exist on your Facebook business page.
4. Lastly, your Instagram business must be connected to your Facebook catalogue.
2. Connect your Facebook catalogue to your Instagram business profile
There are two ways to do this. It isn't necessary to set up a Facebook Shop tab to have a Facebook product feed, but if you would like to, follow these steps:
Adding a Shop tab to your Facebook page
Click on the 'Shop' tab on your Facebook page. If you don't see it, you will need to change your Page template.
Click 'Set up Shop' and enter your business address
Pick your currency and enter the email address connected to your business page. Once you create your Shop the currency cannot be changed unless you delete the Shop and create a new one.
Enter your state tax registration number for every state you have a business presence in.
Add products to your shop
Use a catalogue on Facebook Business Manager
Go to the Business Manager account that owns the Facebook page linked to your Instagram business account.
From here you can either create a new catalogue or choose an existing one. If you wish to create a new catalogue, this is best done with an optimised, complete and correct product data feed. This will include all relevant information such as image URLS, titles, descriptions, prices, categories and more.
For a full description on creating a catalogue on Facebook, go here.
3. Wait for your account to be reviewed
When you have completed the above steps, your Instagram account will be reviewed automatically for access to the shopping feature. For new catalogues, allow more time for review as this needs to be approved first. The process takes a few days.
4. Add product tags to your Instagram posts
Great! You're all set. Now you can begin adding those tags to your images.
To turn on your shopping tags, all you need to do is:
1. Visit your Instagram business profile.
2. Tap the ellipsis or gear icon in the top right-hand corner.
3. Tap 'shopping' under 'Business settings'
4. Select your product catalogue and tap 'done'
5. Start creating stories and shopping posts!
For Instagram posts, you can tag up to 5 products in one image, or up to 20 in a carousel. You can tag previous posts, so don't forget to go back and do those too.
In Instagram stories, you can add one tag per story – these are customisable in terms of colour and title.
As always, product data feeds are a vital element to driving new sales and an integral part of your ecommerce business, no matter on which channel you list your products. For more information about Shopping on Instagram or how Intelligent Reach helps brands optimise product data feeds and drive traffic and revenues, visit www.intelligentreach.com or get in touch with us.
Intelligent Reach helps retailers and brands increase product visibility and sales across ecommerce channels by improving, correcting and optimising your product data.

Tags