Amazon AU is expected to exceed 50,000 sellers by the end of 2018.
This should come as no surprise following the hugely successful launch of the site in December last year.
According to a statement issued by the marketplace: within the first 24 hours, tens of thousands visited the website and placed orders across all 23 categories. Country manager of Amazon Australia, Rocco Braeuniger, called it a "landmark day".
"From early in the day, we experienced visitor numbers that far exceeded our expectations," he said. "We will be working hard today and in the long term to continue to enhance our offering and to provide customers with an ever-increasing selection of products at low prices."
Amazon Australia's user base
In the months following the launch of Amazon.com.au down under, Amazon's user base expanded rapidly, reaching 10,000 sellers in March. It has been called the fastest expanding marketplace of its size, with 70 new sellers joining the marketplace each day.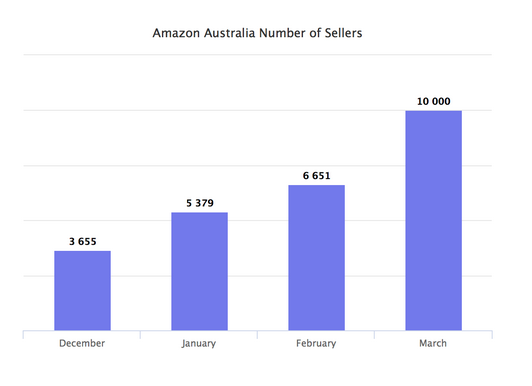 Source
Fulfilment by Amazon (FBA)
Fulfilment by Amazon (FBA) was introduced in February, a service, which, in 2016 was being used by 70% of active sellers globally. They operate from Melbourne's Dandenong South and the fulfillment centre is located in the Pellicano's M2 Industry Park.

FBA means that Amazon handles the shipping for sellers at a fee and provides more benefits in terms of how highly items rank.
Because Prime isn't active yet, however, Amazon offers free delivery within Australia to any orders above AUD$49.
According to Marketplace Pulse, 18% of the top sellers use FBA and many of them are not based in Australia because the service still allows the same two-day shipping guarantee. Tamebay predicts that the cost of Amazon Prime will average AUD$130–150 based on the UK and US cost.
There are no planned dates on when Prime will launch, but you can sign up for updates here.
Testing out new territories with Amazon

Marketplaces are a valuable and effective way of enhancing product reach, and visibility, with new territory expansion easier than ever before.
Over 50% of all product searches have been reported to start on Amazon, which suggests that Amazon Australia could grow massively in the next few years.
Read more about how marketplaces can massively increase revenue and customer aquisition here.
Get in touch to find out how to test out and expand into new territories.
{{cta('75dc38b6-53fc-4f21-87b0-3b45e5af0de1')}}

Tags